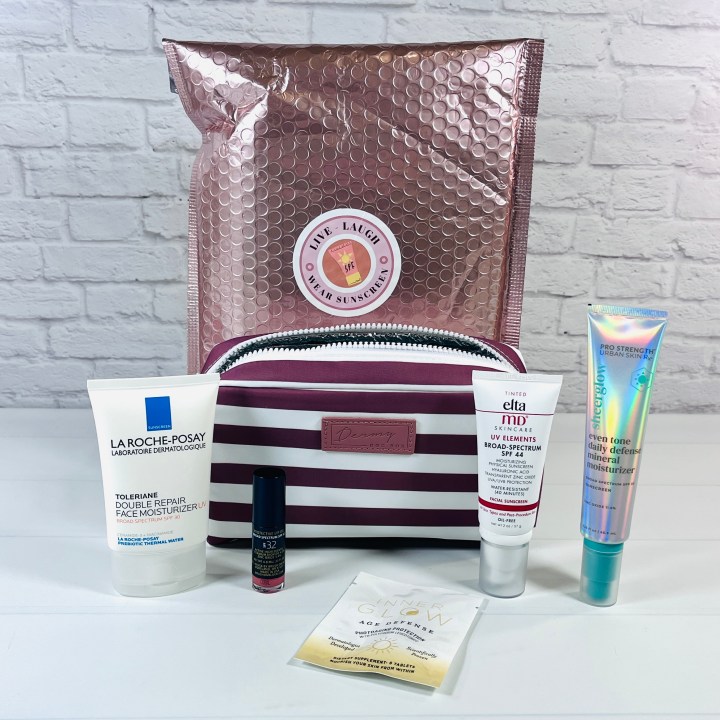 Dermy Doc Box for Summer 2022 came in a shiny rose gold mailer and had THREE full-sized sunscreens, a full-sized SPF lip color, and a sample of vitamins that may provide sun protection. Oh yeah, and it was all tucked into a sweet heat-resistant travel bag! See what I thought of the products below!
DEAL: Get $5 off your first box! Use coupon code HELLODERMY.
Dermy Doc Box Insulated Skincare Heat-Resistant Bag ($25.99) Surprise! This season's collection didn't come in a box, it was sent in a rose gold mailer (which for some reason said "Breo Box" on the return address label) and everything was packed into this adorable insulated bag! Of course, the boxes were kind of smushed but I'm going to recycle those shortly anyways. The bag isn't as dark as the above picture, but has dusty rose pink and white stripes. There's a tag on the side with the name of the subscription and the zipper pull says the name as well, but it's lowkey promo. The inside is lined with insulating material, like you might find in those cold bags from the grocery store, and there's a side pocket in there too. I always keep my sunscreens in a bag while at the beach or pool and this is a neat bag, I think it looks good and it can be washed off if any leaks happen.
Sorry, I couldn't help it, this shipment's bag was so cute!
Urban Skin RX Sheerglow Even Tone Daily Defense Mineral Moisturizer ($34) is a mineral type of sunscreen (reflects the Sun's rays) but this is a two-in-one product that also can be used as a moisturizer, so I have one less step in my beauty routine in the morning. The brand celebrates all skin tones so this product was formulated to go on sheer without any white cast, and although my skin is light in tone, I couldn't see any telltale places that looked weird. It also works as a makeup primer and my foundation sat nicely on top (not the same case with the product below). It left a "moist" feeling on my skin that some people might not like but I felt like it was absorbed after a while and it didn't bother me. It smells a bit like citrus due to some essential oils that were added to mask the scent. This is a daily type of sunscreen, use something else if you will be swimming or sweating.
La Roche-Posay Toleriane Double Repair Face Moisturizer with SPF 30 ($19.99) This chemical sunscreen (absorbs and neutralizes the Sun's rays) doubles as a moisturizer and is supposed to help restore the skin's barrier within one hour after applying and possibly keep skin hydrated all day. It contains glycerin, ceramides, niacinamides, and prebiotic thermal water from France. The SPF is the chemical type and the product truly felt like a moisturizer, and was good for my dry skin. Sadly, my mineral powder foundation didn't sit well on top of this, it left my skin looking patchy in places so I will use this on days when I don't plan on wearing that makeup. Please note that this sunscreen isn't waterproof so if you plan on swimming or sweating you will need to use something else.
Elta MD UV Elements Broad-Spectrum Tinted Facial Sunscreen ($38.50) This is a brand that my dermatologist recommends and before I received this box I was wearing Elta MD's SPF 40 sunscreen, which tends to leave a white cast, but this version is tinted. In fact, I was a little worried when I pumped some onto my hand, it looked a little too dark but it left me looking like I had a healthy glow, and I could almost skip my base makeup. In fact, my makeup paired best with this sunscreen. This is a physical sunblock with zinc oxide and titanium oxide and it is water-resistant up to 40 minutes. It has sodium hyaluronate to draw moisture to the skin and I didn't notice any scent.
Brush on Block Coral Protective Lip Oil ($25) Here is an SPF product that doubles as makeup! It's a lip-gloss with SPF 25 provided by the physical blockers titanium dioxide and zinc oxide. It is a peachy pink color and felt really nice on my lips, didn't feel oily or sticky, and had a light citrus scent (from tangerine oil). I think this is a good way to protect lips if you don't plan on swimming (a balm would work better in that case) and the color looked nice, it wasn't super bright and worked well with my coloring and the website shows it on several skin tones and it looked good on all of them too!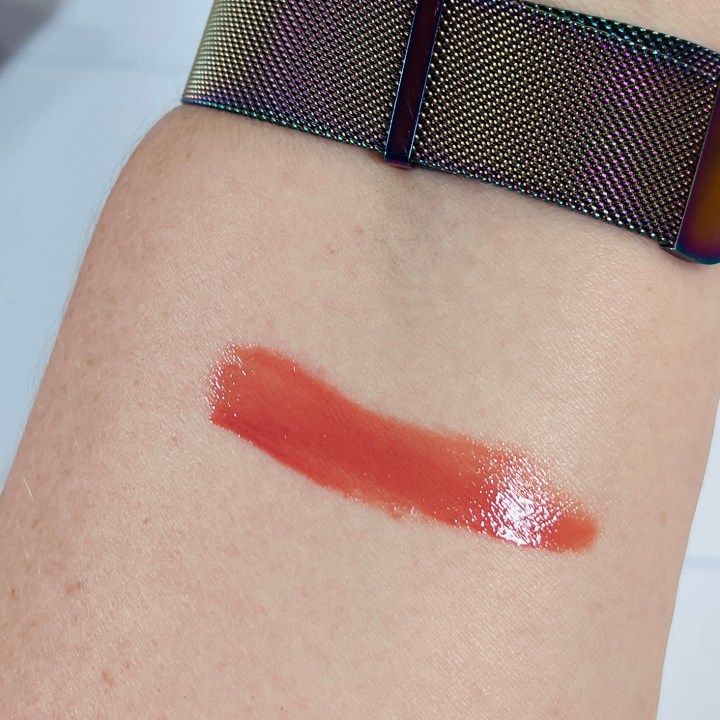 Here's the lip oil swatched!
Inner Glow Vitamins Age Defense Vitamins ($7) The idea behind these vitamins is that they can offer an extra does of sun protection from the outside in. It has ingredients like vitamin C, turmeric, fish oil, and more and like most (if not all) supplements, it hasn't been evaluated by the FDA. Personally, I think SPF on the outside of the body is the way to go but as far as supplements go it looks ok otherwise, but I'm not counting on it to protect me from sunburn.
I was exceedingly pleased with this quarter's products and bag, Dermy Doc Box outdid itself for summer! My favorite item is a toss up between the bag, the lip color, and the tinted sunscreen from Elta MD, but the other two sunscreens were no slouches and the vitamins were interesting. I think it was a wonderful idea to send some sunscreens that left no white cast, as it's important for everyone to find a sunscreen they can use, as anyone with skin can get skin cancer. I wear SPF every day on my face, not so much anywhere else (except when in the sun, beach, pool, etc.), and you can tell a big difference, my face doesn't have a lot of spots or lines while my arms look like those spots might all join together someday soon. My daughter asked me a couple of years ago what my most important beauty tip was and I told her it is to wear sunscreen. The value for this quarter's Dermy Doc Box was around $150!
Below are some inserts along with the product info guide.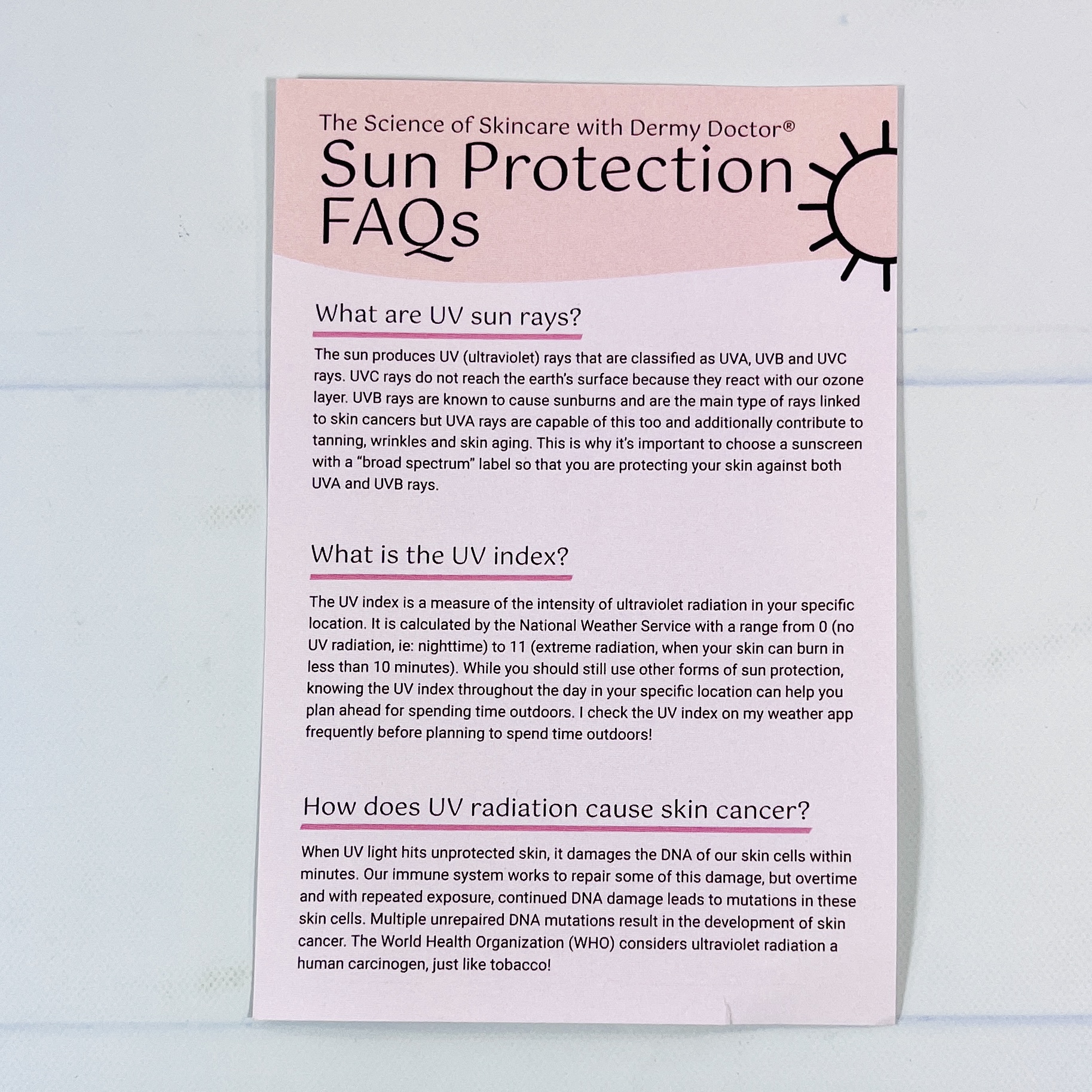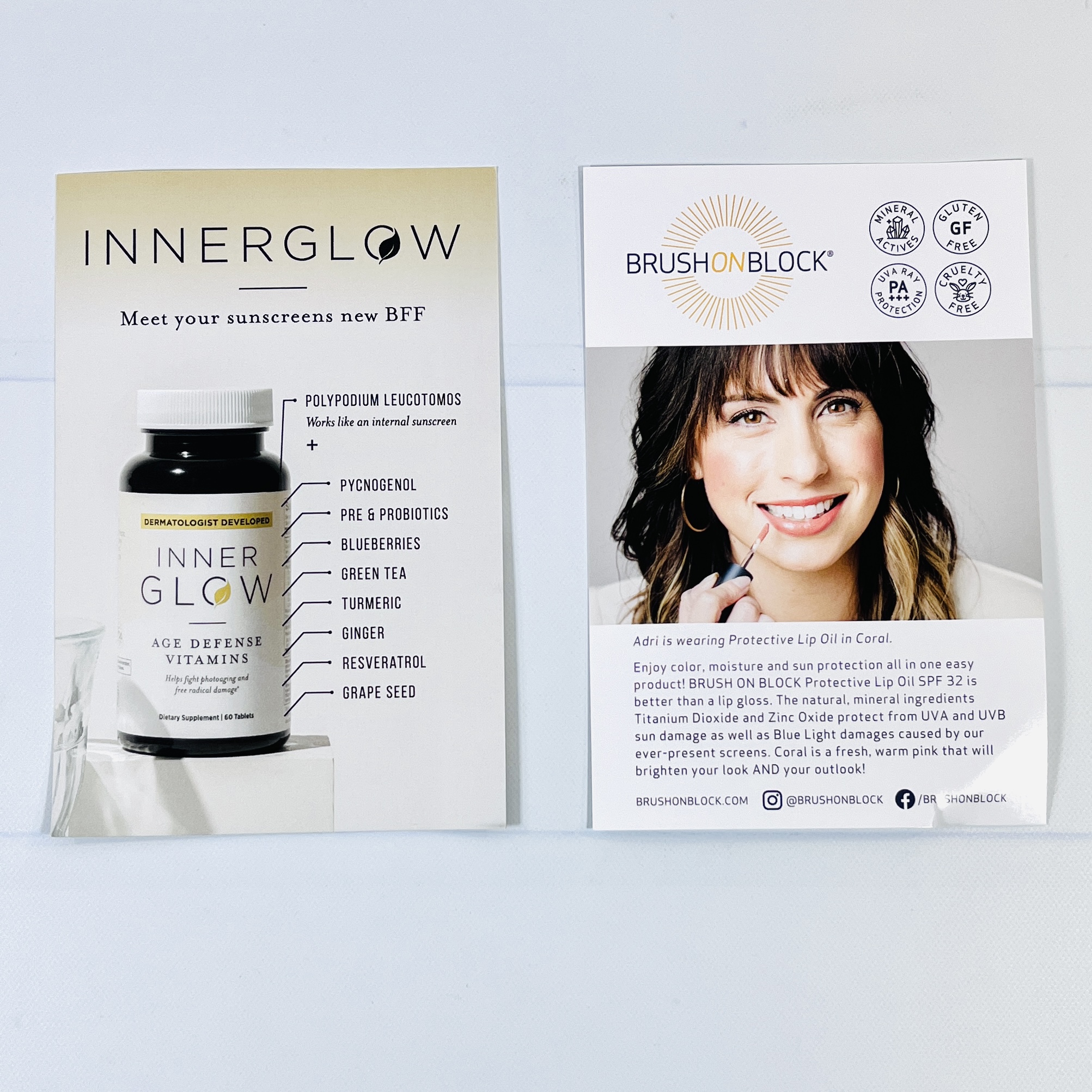 Dermy Doc Box is a quarterly subscription box full of skincare items that are curated by a board-certified dermatologist, Dr. Fatima Fahs. The boxes will contain 5+ skin and hair care items and will have a value of more than $100. The brands will be both drugstore and high-end and will be a combo of samples and full-sized. It's not customizable at this time but perhaps will be so in the future. Dermy Doc Box is $59.99 for a one-time purchase or subscribe and the price drops to $49.99! Shipping is free to the USA and it can be shipped to Canada for an additional fee.
What do you think of the Dermy Doc Box?