The June 2022 BOXYCHARM Premium theme was Express Yourself and had beauty items in a range of colors, from a bright pink blush to a neutral eyeshadow palette, plus some skin care, a makeup tool, and more. See what I received below!
There may be variations in the box – see the full spoilers here.
DEAL:
Subscribe now and get a FREE gift: VIOLET VOSS Sunkissed Summer Eyeshadow OR DR. BRANDT SKINCARE Triple Antioxidant Face Cream, PLUS $10 credit to July Drop Shop!
Use this link and pick your FREE gift at checkout AND get your exclusive $10 Drop Shop code via email within 24 hours of subscribing.
KORRES Santorini Grape Poreless Skin Cream ($39) This moisturizer is meant for those with oily, combo, or sensitive skin. It's a gel cream that has a light floral scent and it was absorbed immediately by my skin, and didn't leave behind a greasy feeling. It's supposed to blur pores and hydrate skin and some of the ingredients are glycerin, jojoba, grape extract, and sodium hyaluronate.
Shadow Moon Reusable Shadow Shield ($15) Well this is a nifty idea! It's a piece of silicone shaped like a moon that you can hold under your eye when applying makeup to avoid getting shadow fallout all over your cheeks. It can also be used as a guide when doing a winged liner look. You can even place it in the fridge and then use it under the eye to help depuff the area. Clean with soap and water after using. I ran into a problem when I tried to use it — I apply eye makeup while looking into a hand-held magnifying mirror so there was no way for me to use it and hold the mirror but if I ever decide to switch to a desktop mirror then I can take advantage of this moon (or I can apply makeup with my bathroom mirror but there might be worse things than fallout going on).
Patrick Ta Beauty Major Volume Mascara Black ($29) Usually I'm just ho hum about mascaras unless they are from Benefit but I really liked this volumizing version from Patrick Ta. I applied two coats and I could see a difference when I looked into my magnifying mirror (see above). It also has peptides and glycerin and those are supposed to help support healthy lashes (I guess by helping them stay hydrated?).
Sandbar Beauty Shadow Light Eyeshadow Primer ($28) This primer looks white but there's no color at all left behind after I applied it to my lids. It's supposed to help shadow look more intense and last longer and I wear a shadow primer every day so I was excited to receive it in my box. I prefer the type of primer that is more like concealer but this will get used up
Dominique Cosmetics Silk Tone Cream Blush ($22) I have a light skin tone and this blush was perfect for my coloring, leaving a pretty pink flush without being too bright or dark. I rubbed my finger over the top and then dotted it on my cheeks before lightly patting it into the right look and that was it, all done.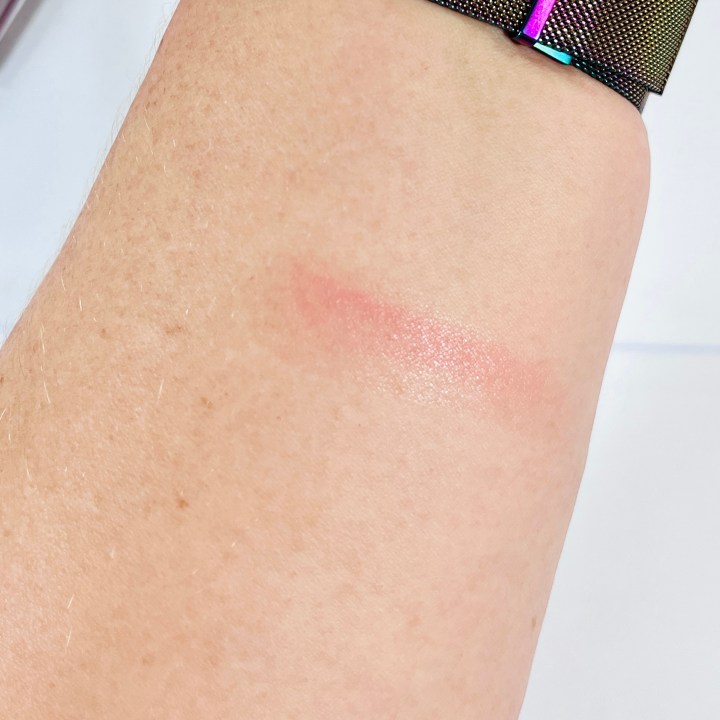 Here's the blush swatched. It doesn't look like much but it was perfect for my coloring.
Lorac PRO Palette Artist Edition Meraki ($45) Wowza, what a lot of shadows! I received something like 48 shadows in one week so I'm only swatching a few but the colors in this palette are pretty and neutral, and they come in shimmers and mattes. They are arranged a certain way but there was a metal key included so the pans can be popped out and placed back in the palette however you want them. There is a suggestion that the colors will go on brighter/darker if you use a wet brush, but I was pretty happy with applying them dry. There was fallout on the colors I used, and at first I thought the colors were too tame but when I looked at my final finished eye I was happy with the results.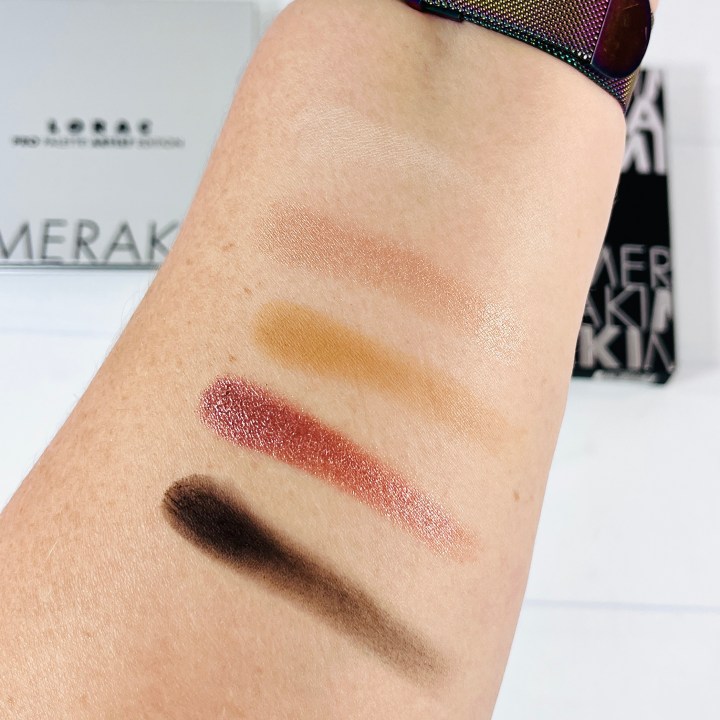 I swatched a path diagonally through the palette, starting in the top left corner and ending in the bottom right, so from top: Cream, Rose, Clay, Rose Quartz, and Jet Black.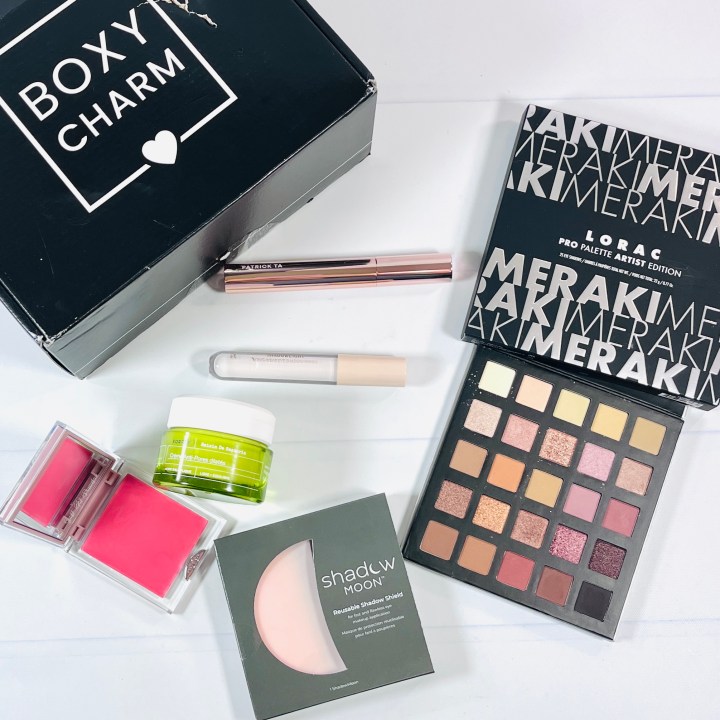 There were some definite hits in this June collection from BOXYCHARM Premium! I was super pleased with the blush, it was perfect for my coloring and easy to use, plus, it didn't look chalky like some powders can on my dry skin. I also liked the mascara and the palette, and both of those will get lots of use. The moisturizer isn't moist enough for my skin and the moon wasn't really my thing since I use a hand-held mirror when applying eye makeup. The lid primer isn't the best that I've tried but worked fine. The value for my box combo was around $178 and had a mix of well-known and new-to-me brands.
Below is the product info card plus a couple of box opening pictures.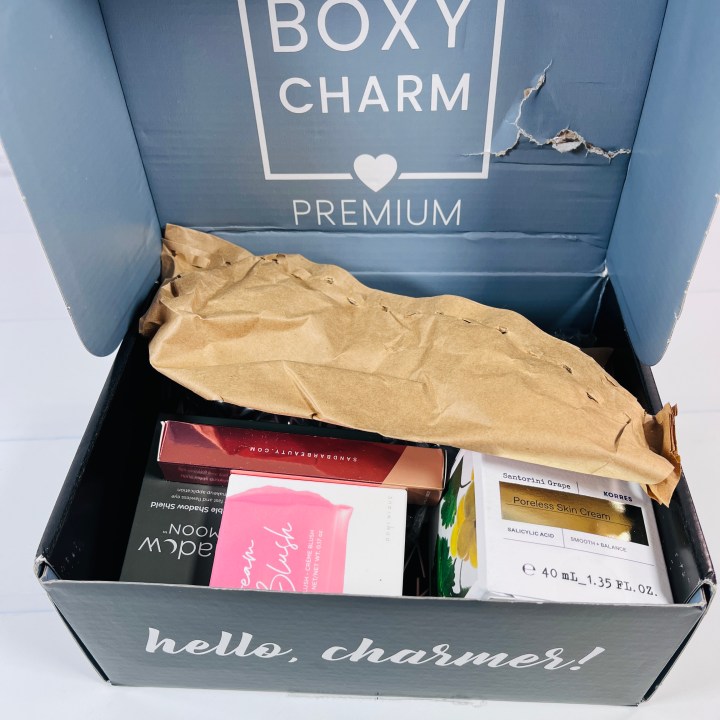 BOXYCHARM Premium is a beauty box from BOXYCHARM (who also has a base box for $27.99 a month and a BOXYLUXE upgrade option). For $39.99 per month (price drops for longer terms), you'll receive 6 items with 2 items chosen by the subscriber. They also state an average value of around $215 per box. BOXYCHARM's premium subscription box was voted by our readers as one of the best beauty subscription boxes for 2022 – and a best skincare box, and a best makeup subscription!
Did you get BOXYCHARM Premium? What's your favorite item?