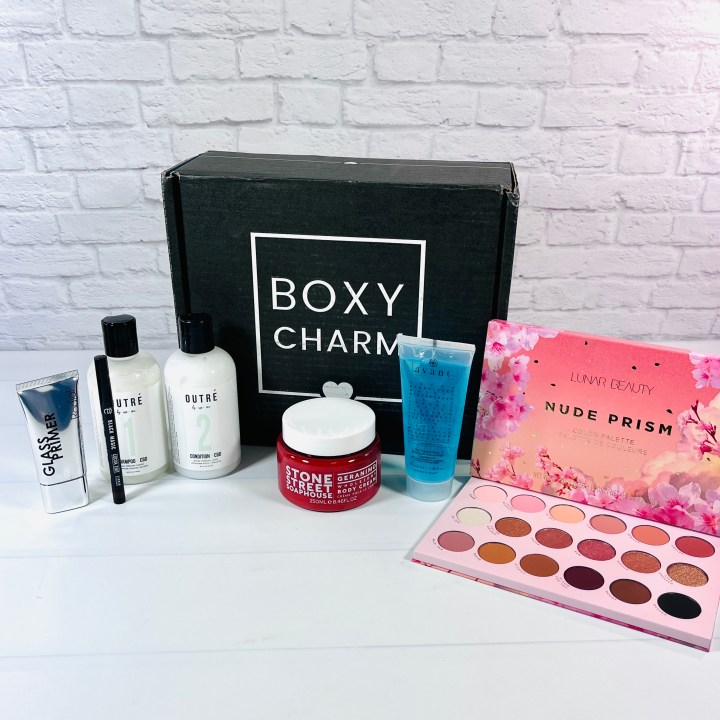 The July 2022 BOXYCHARM Premium theme was Status:000 and came with beauty items that, in at least in 4 out of 6 products, smelled nice, and everyone received a lovely palette. See what else I received below!
There may be variations in the box – see the full spoilers here.
DEAL: Subscribe now and get a FREE gift: VIOLET VOSS Sunkissed Summer Eyeshadow OR DR. BRANDT SKINCARE Triple Antioxidant Face Cream, PLUS $10 credit to July Drop Shop!
Use this link and pick your FREE gift at checkout AND get your exclusive $10 Drop Shop code via email within 24 hours of subscribing.
Outré Shampoo + CBD/Daily Moisture & Repair ($32) and Outré Conditioner + CBD ($34) Here's a product that's packaged differently than what is shown on the brand's website (there's no pump). I have to tell you that I can't try these products due to the last two ingredients, which are preservatives that are so prone to causing irritation that they have limits on how they can be used (like in rinse-off products only vs body creams). That's too bad because they sure smell wonderful (but I avoid fragrance on my scalp too, boo hoo). The CBD is supposed to be anti-inflammatory and the products are supposed to hydrate hair and leave it silky soft and easy to comb.
Avant Blue Volcanic Stone Purifying & Antioxidising Cleansing Gel ($110) I don't get the high price tag on this brand's products, especially with the 8th ingredient being fragrance on the brand's website, 6th on the BOXYCHARM website, plus the container is different, no pump on top like the version shown on the brand's website. It's supposed to be non-drying and supposedly soothes skin while fighting wrinkles and discoloration. I'm not sure where they got the name "blue volcanic stone" but there is blue dye added. It wasn't super foamy, didn't rinse completely off, and left my hands sticky, maybe it was the dimethicone (I couldn't use this on my face). I also didn't care for the scent, which reminded me of perm solution for some reason.
Stone Street Soaphouse Geranimo Wholesome Body Cream (about $32) This is a new-to-me brand that carries a small line in only two different scents, and Geronimo is an herbal floral scent based on geranium. The cream itself is more like a lotion and it was absorbed quickly and felt non-greasy. The fragrance lasted for a few hours and although I liked the lotion itself, I don't think the scent was for me, it was kind of mature and old-fashioned but not too terribly strong, just enough for me to go what's that smell, and then to realize it was me.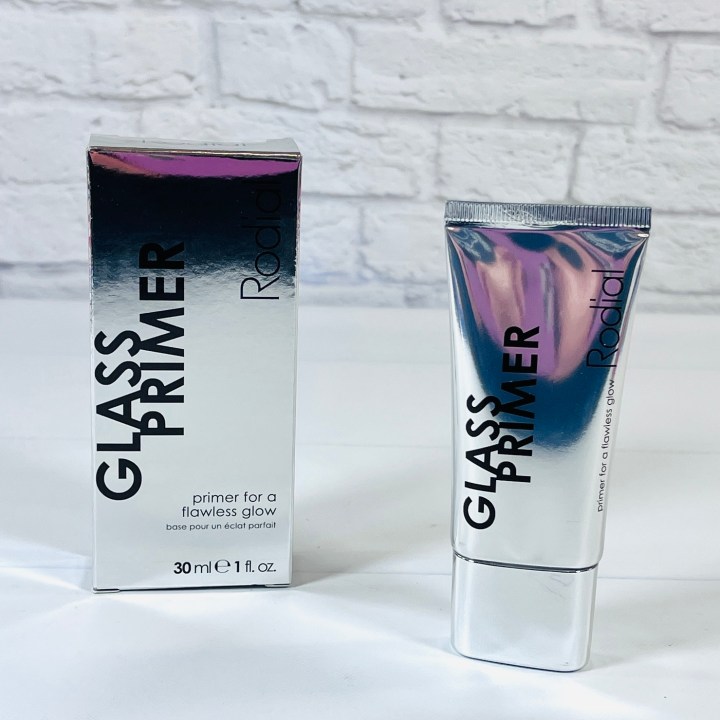 Rodial Glass Primer ($39) I looked for this product on other sites since the reviews on the brand's website tend to be super glowy (ha ha) and discovered Walmart carries it for $25. It's a lightweight makeup primer that at first smells like menthol (for a cooling effect I guess) and then smells like Beautiful by Estee Lauder, which is a lovely scent for the body but not really what I want on my face. The primer itself has a shimmery golden/peachy/pink sort of shimmer that changes with the light which is fine if this is the only makeup product you wear on your face but it was covered up as soon as I applied my base.
EyeKo Black Magic Cocoa Edit Liquid Eyeliner ($22) I'm not a fan of liquid liners, I will always prefer a pencil, but I appreciated that BOXYCHSRM sent a cocoa brown shade rather than black. I still had a hard time applying it, my hand isn't that steady, but the result was ok, nothing stunning though and I had to go back over it with powder to get a darker color payoff.
Here's the EYEKO liner swatched.
Lunar Beauty Nude Prism Color Palette ($48) What a pretty palette, it even has a raised, holographic moon on the front! Inside I found 18 colors, with 6 of them being shimmers and 12 of them matte. I want to warn you that this is sold as a "color palette" rather than an eyeshadow palette (despite what BOXYCHARM calls it) and the brand's website has the following warning/disclaimer: "Pressed Pigments Contain Pigments Which According To Us Law May Not Be Suitable For Use On The Eye Area" so use with caution. The mattes were a little chalky and the shimmers were very pretty and didn't feel like chunky glitter. I like the shades and there is enough pink in here to make it not feel like a warm neutral collection meant for autumn.
It's so many shades so I swatched the first two from each row, but here's their names: Bare, Cherry Blossom, So Icy, You're Golden, Milk Tea, and Tease.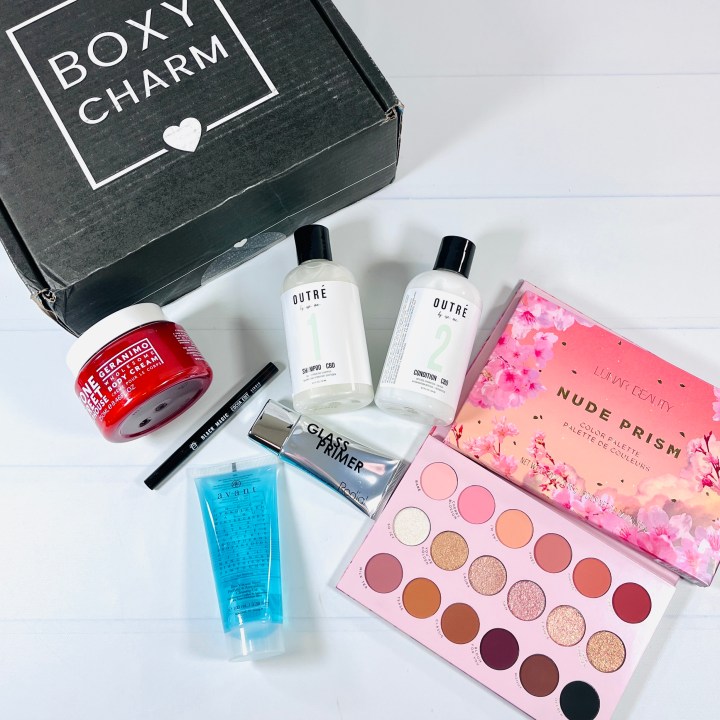 There was a combo of new-to-me brands and some that I've received before in subscription boxes but oddly never see in stores like Sephora or Ulta. I liked the consistency of the body lotion, it was great for this extreme heat we are having in Texas. I also liked the palette, the colors worked well for me and I appreciated that the shimmery shades weren't chunky. The rest of the items are wonderful if you like scented products on your face and scalp but I prefer fragrance-free hair and skin care items due to my skin's tendency to become reactive to certain ingredients (my body is less sensitive). I also liked that the eyeliner was in a color, any color, other than black. The value for my box combo was around $317 but then again, most of these items are only available at their own brands websites and Avant prices always seem excessive. I think this is a great subscription for those who are up for trying anything!
Below is the product info card plus a couple of box opening pictures.
BOXYCHARM Premium is a beauty box from BOXYCHARM (who also has a base box for $27.99 a month and a BOXYLUXE upgrade option). For $39.99 per month (price drops for longer terms), you'll receive 6 items with 2 items chosen by the subscriber. They also state an average value of around $215 per box. BOXYCHARM's premium subscription box was voted by our readers as one of the best beauty subscription boxes for 2022 – and a best skincare box, and a best makeup subscription!
Did you get BOXYCHARM Premium? What's your favorite item?