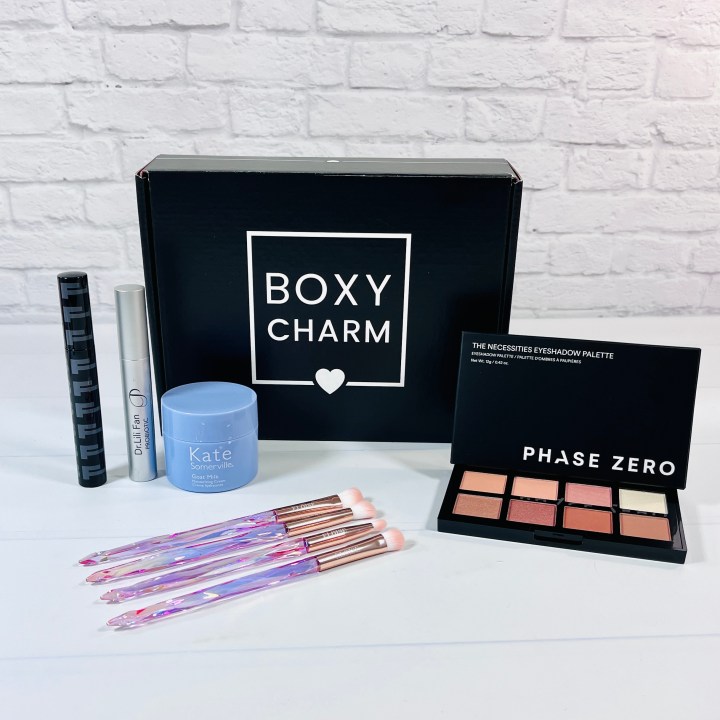 The July 2022 BOXYCHARM theme was STATUS:000 and I received 5 items in a good assortment of beauty categories. I am especially loving the eye shadow palette, but check out what else I received below!
Keep in mind that BOXYCHARM sends many box combos so your box items and value may be different than mine. There are variations in the box – see them here.
DEAL: Subscribe now and get a FREE gift: VIOLET VOSS Sunkissed Summer Eyeshadow OR DR. BRANDT SKINCARE Triple Antioxidant Face Cream, PLUS $10 credit to July Drop Shop!
Use this link and pick your FREE gift at checkout AND get your exclusive $10 Drop Shop code via email within 24 hours of subscribing.
Eloise Beauty Prism Luxury Eye Shadow Brush Set ($22) I wasn't familiar with this brush brand and while they worked well enough they don't seem very luxurious. They have lightweight handles that are cute and are made of synthetic bristles. There's a fluffy tapered blending brush, angled blending brush, domed eyeshadow brush, and pencil brush. I think I have better brushes in my collection but they are nice to look at.
Kate Somerville Goat Milk Moisturizing Cream ($76) I have to say this doesn't look as impressive for the price as the bottle shown on the Kate Somerville website, which happens to have a pump on it (I guess I'm stuck dipping my fingers in it instead). Some of the ingredients include goat's milk protein, glycerin, jojoba oils, and coconut oil. It's supposed to be mildly exfoliating and hydrating and may be safe for those with sensitive skin. There's not really any scent and my skin absorbed it so quickly I couldn't tell if it was still there or not!
Dr Lili Fan Probiotic Xlash Enhancer ($68) I'm a skeptic, I can't help it, but this product claims to grow healthier lashes in 4-12 weeks so let me know if you see any results. You're supposed to apply once a day to the lash line (like you would liner) or directly to the lashes but don't get it in your eyes. I pretty much always get liquid liner in my eyes so I wasn't excited to try this product. I went ahead and applied it and either didn't get it in my eyes or wasn't bothered by it if I did. It had a slight scent but it wasn't perfumed, just natural and maybe a bit herbal. It has a peptide complex to promote growth.
Beauty For Certain Whole Lotta Mascara ($32) I am not really picky about my mascara because in most cases it doesn't do a whole lot for my lashes, and sadly this brand was no exception (now Benefit, that's a game changer). It claims to increase volume and double to look of my lashes but even though I used two coats I couldn't see any difference between this and mascaras that are much less expensive.
Phase Zero The Necessities Eyeshadow Palette ($39) According to BOXYCHARM this is a new release so there aren't any reviews on the brand's website yet (but those tend to be rather limited to glowy words of phrase rather than anything helpful). The colors are as the name suggests, necessary for creating a warm neutral, every day sort of eye shadow look. The swatches on the brand's website look much darker than mine (shown below) but overall, I liked this palette, and I appreciate that it isn't made with talc. The color payoff from the shimmery shades was kind of weak, but I bet they would look better if my shadow brush was spritzed with a setting spray first (and yes I wore lid primer first).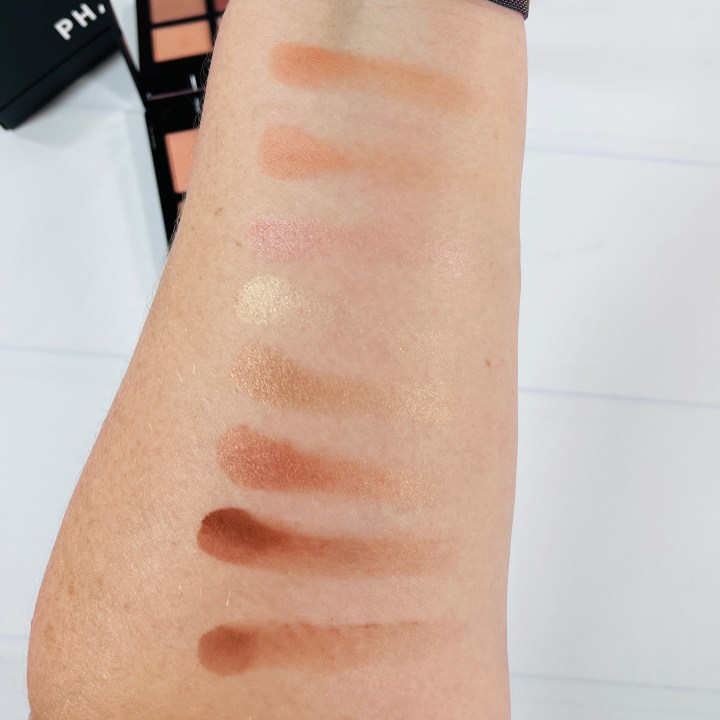 Here's the Phase Zero palette swatched with one swipe through the color each time.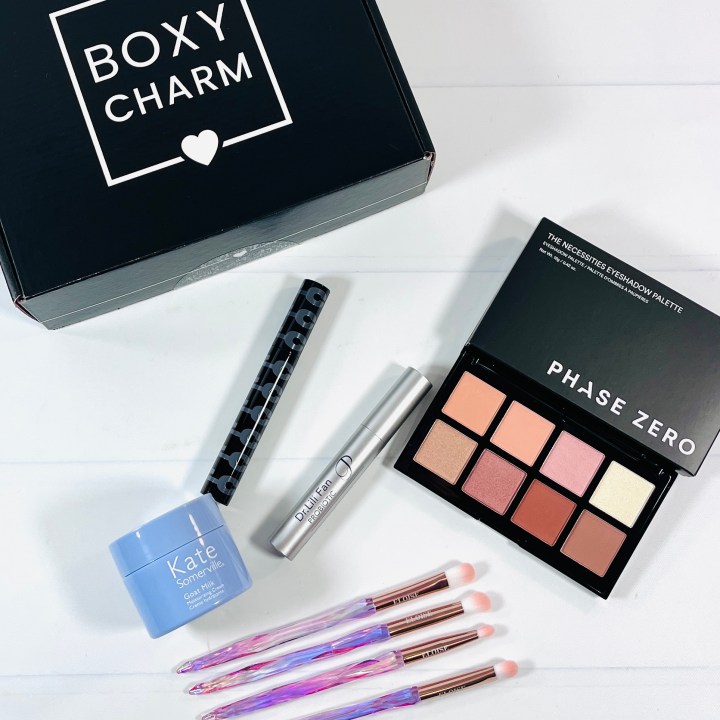 I was really happy with the shadow palette I received this month, it may have been neutral but I tend to prefer colors like that rather than orange, blue, and yellow (all colors I have also received from BOXYCHARM) so it's sweet that they switch it up. The moisturizer was also a favorite, and I appreciate that it had no added fragrance. The mascara was basic and that's fine with me, I have two daughters and there never seems to be enough mascara! I also liked the makeup brushes even though they weren't the hardest working of my brush collection but sometimes it's nice to use something that's just pretty and fun. The value for my combo was around $237 but only one of these brands was familiar to me (Kate Somerville).
Below is a box opening photo as well as the product info card.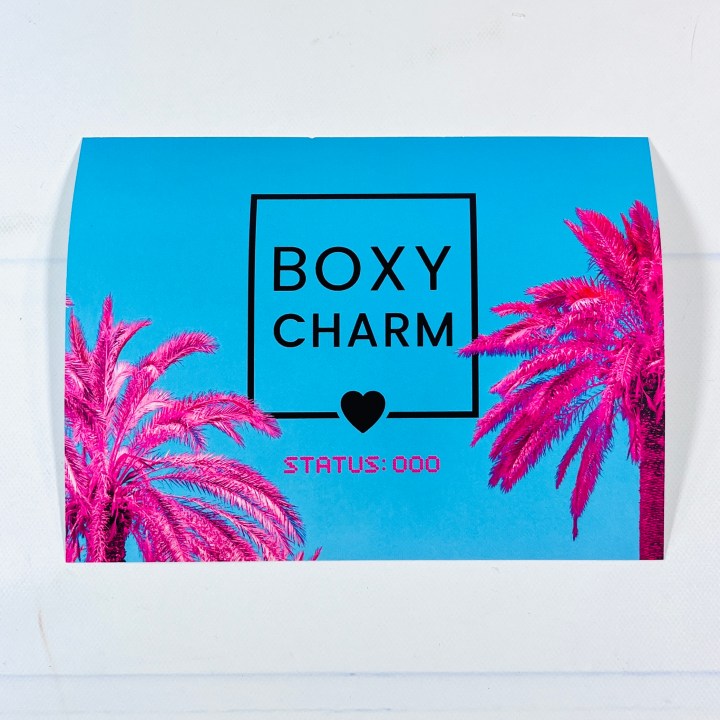 BOXYCHARM is a makeup and beauty subscription box that sends out 5 full-size items every month. Products include makeup, skincare, and beauty tools and each box has an average value of around $175. BOXYCHARM is $27.99 a month with discounts for those who prepay for longer terms. This subscription was the top pick of our subscribers for the best makeup subscription boxes in 2022!
What's your favorite item in this month's BOXYCHARM?