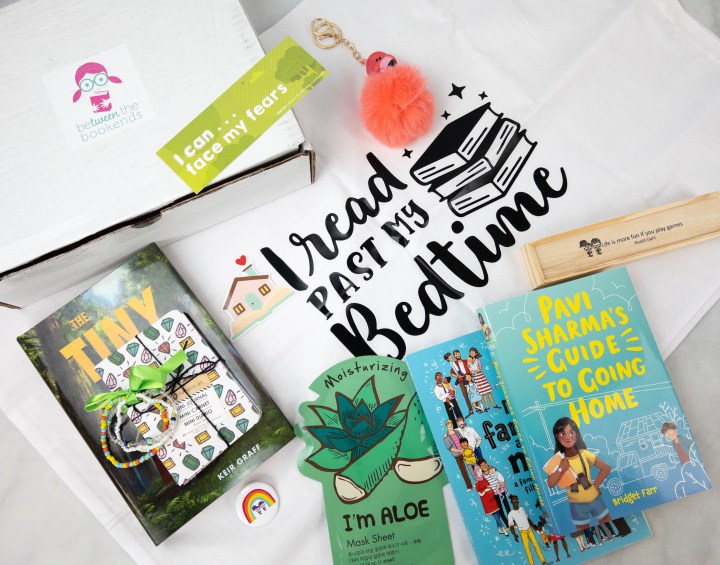 beTWEEN the Bookends always provides interesting middle-grade novels worthy of adding to any tweens' to-be read list! June 2022 Tween Box was themed A HOME beTWEEN THE PAGES, and it encourages children ages 9-13 to read while having fun with all the bookish goodies included in the box. It makes a great surprise for book-loving tweens!
DEAL: Get 15% off on your first month on any subscription plans! Use coupon code HELLO15.
My Family and Me A Family History Fill-In Book ($9.99) helps tweens to get to know their family tree more! It's a fun and colorful activity book with quizzes, interviews, family-themed games, and get-to-know-your-family activities. There's even a customizable family tree and a world map to guide them to track where your whole clan came from. It's an enjoyable family project to get down with this summer vacation.
Pavi Sharma's Guide to Going Home by Bridget Farr ($14.45) is a fresh story about the value of family and home. It's about Pavi Sharma, who is on a mission to save a fellow foster kid from the home that still haunts her nightmares. The entire narrative is well-written from the first-person point of view, and my tween enjoyed the adventures in it. The story also has humorous concepts with a mix of seriousness. Everything about it is interesting – great storyline, well-developed characters, etc. It even features a good insight into foster care.
The last book in the box is The Tiny Mansion by Keir Graff ($8.99). It's a story about a twelve-year-old Dagmar who must spend the summer off-the-grid with her family in a tiny house. It's a fast-paced read with lots of adventures. The protagonist has a great character – she's courageous, resourceful, funny, and pretty much self-aware. The entire story leaves a message or realization of what is truly important. It's a good story about family, oneself, and friendship in all.
Now, let's take a look at the bookish items for tweens!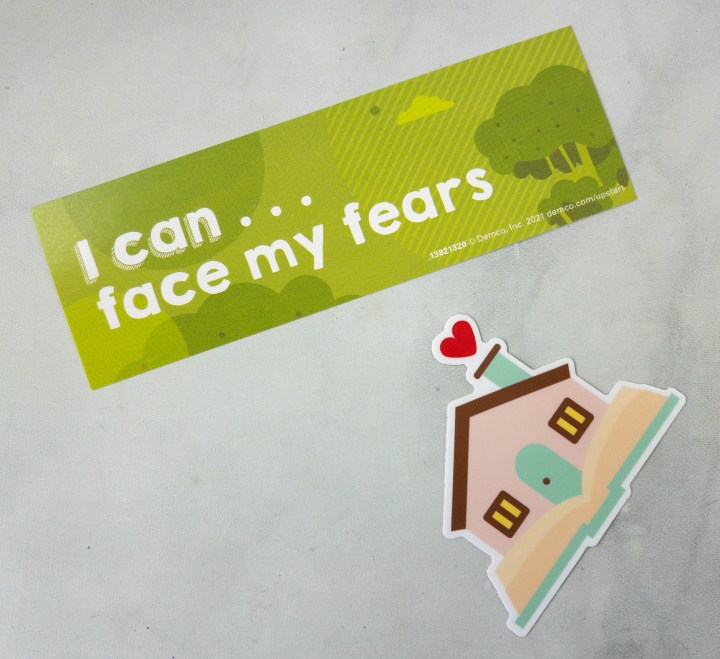 Here's a bookmark and vinyl sticker! The bookmark looks pretty simple with the text that reads, "I can…face my fears" over a luscious green background, while the vinyl sticker accurately shows what the theme of this month's book box is all about – a home between the pages.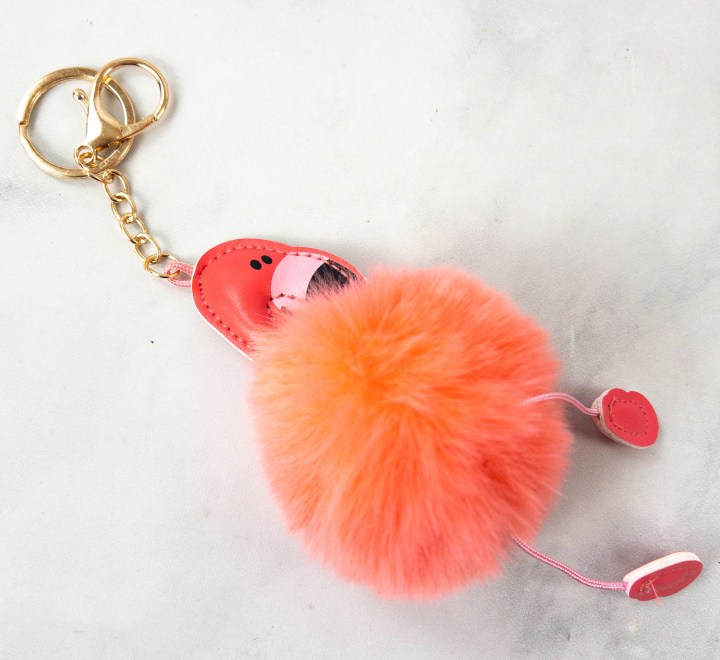 This flamingo keychain is so cute! The body features a soft pompom, which makes it look so adorable. It also has a gold keychain ring and claw hook so tweens can easily attach it where they want to!
For tweens' journaling hobby, the box included a set of mini journals! There are three journals, each with different cover designs and 16 quality pages. There's one with colorful touches over a white base, one with a pink base color and text "be unique" in front, and one with gemstone drawings! They're pocket-sized, so they're portable and convenient to bring anywhere.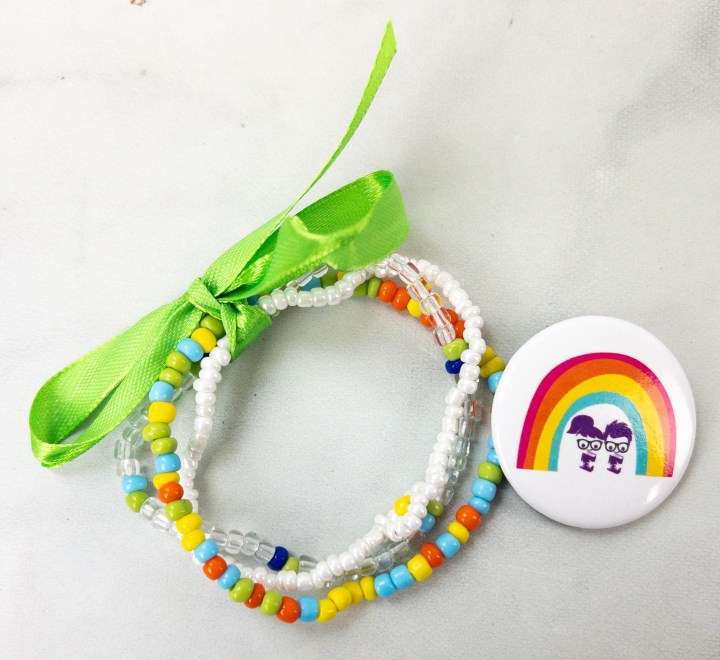 There are also accessories in the box: a colorful bracelet and a button pin. The bracelet looks dainty and trendy with its beaded design. Tweens can wear one alone or stacked, and it would still look pretty. The button, on the other hand, has a simple design. It features a rainbow over the beTWEEN the Bookends logo. Tweens can attach it to their backpacks, tote bags, or pouches!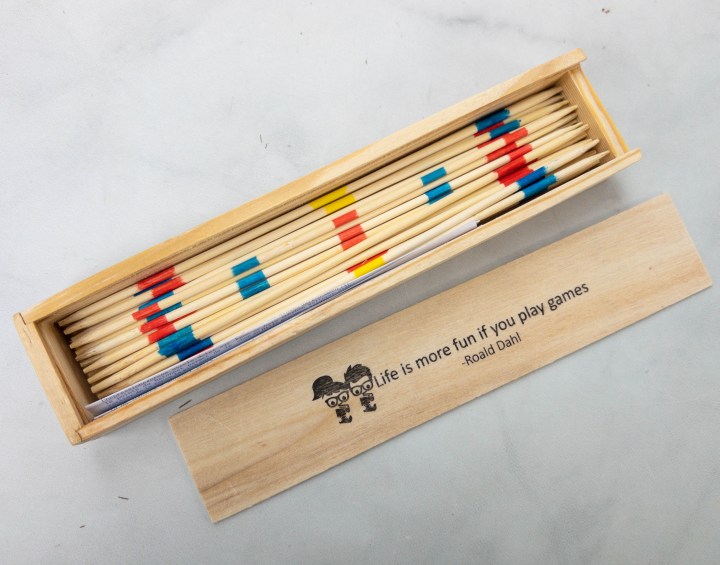 To encourage sibling fun or family time, here are pickup sticks. It's a set of bamboo pickup sticks with red, yellow, and blue bands. They arrived in a wooden box for easy storage, and there's an insert with playing instructions. It also has the logo printed on the box slide-out cover with a quote from Roald Dahl: Life is more fun if your play games.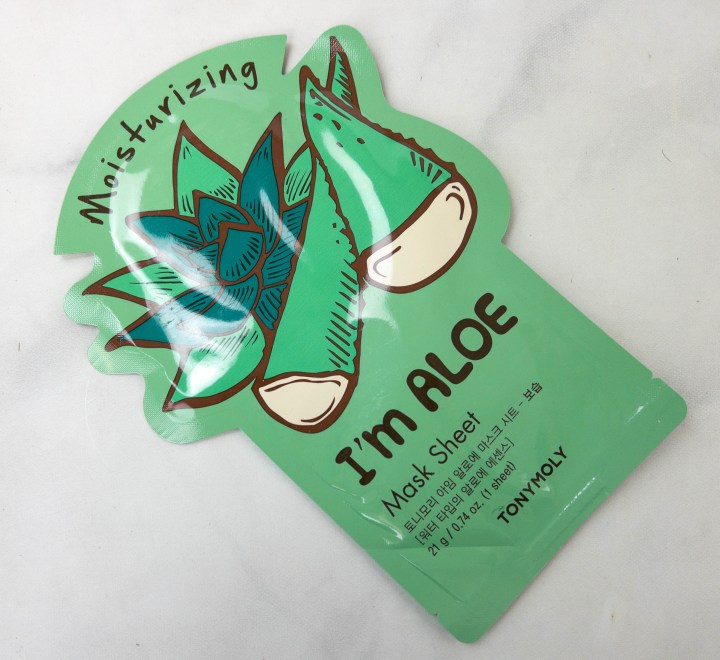 Tony Moly I'm Aloe Mask Sheet keeps tweens' skin in hydrated condition. It's from Tony Moly, a known cosmetics and skincare brand in South Korea. The key ingredient is aloe vera, which provides maximum hydration to dry skin and helps soothe sunburn or irritated skin. This sheet mask also helps reduce acne marks and scars, and it's great for all skin types – normal, dry, or combination.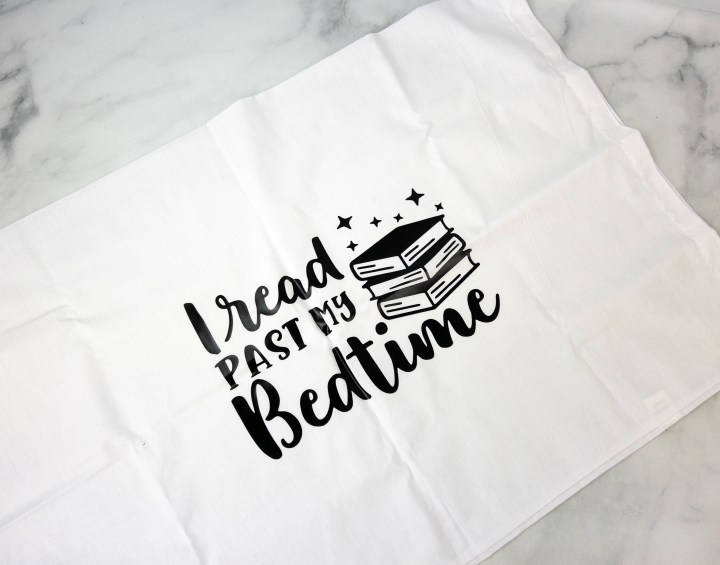 This pillowcase tells the truth for my tween, who enjoys reading past bedtime. It's a white pillowcase with a simple print, so it can be easily paired with other beddings. The material used is also smooth and soft!
This subscription box for tweens is overflowing with bookish fun! There are more than one book in the box, so they won't run out of new reads. Aside from the middle grade novels, there's even an activity book to keep them busy! The tween lifestyle items also added extra fun and excitement to the box, from the bookmark to the pillowcase. This subscription never disappoints, and it makes a lovely gift for tweens – whether they already love books or you're just starting to encourage them to read more!
Monthly boxes also include a card with the theme in it. Here's a look:
beTWEEN the Bookends is a monthly book and lifestyle box for tweens. There are 6 subscriptions available – the Tween Box for kids age 9-13 ($50) that includes 2-3 books plus 6-8 age-appropriate beauty and lifestyle items, the Mini Box ($35) that includes 1 book and 3-4 beauty and lifestyle items, the Early Readers Box for kids age 6-8 ($50) that comes with 2-3 books plus 6-8 age-appropriate beauty and lifestyle items, the Read to Me Box ($50) that comes with 2-3 picture + activity books plus 6-8 lifestyle items, the Just the Books Box ($22). Shipping is FREE to the US, and $15 to Canada. This subscription box is curated by Jillian, who came up with the idea of a book subscription for tweens when she was 12. She created the box in hopes to keep girls reading for fun!
They also now offer Gender Neutral Boxes for each age group. These boxes are $42.50 each, and they will include all books from the full-size boxes, along with 3-5 of the same items (but no jewelry or beauty items). Boxes will be wrapped in green tissue paper and sealed with the alternate logo.
What do you think of the beTWEEN the Bookends box?