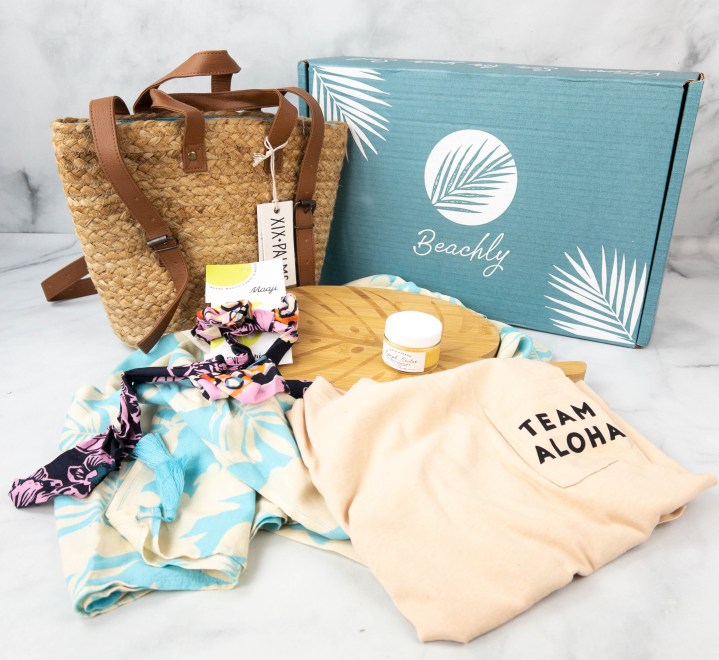 Summer has come, and it's Beachly Women's Box's time to shine. The Summer 2022 curation included lifestyle goodies and one surprise beauty item to make your summer travels better than ever! There are six items included in the box, all of which add a ray of sunshine to the already fun summertime with tropical prints and pops of color! Continue reading to find out what summer items will make the season worthwhile.
DEAL: Save $30 on your first box when you use the coupon code SAVE30 OR Get a FREE BONUS BOX with your first box when you use the coupon code BONUSBOX!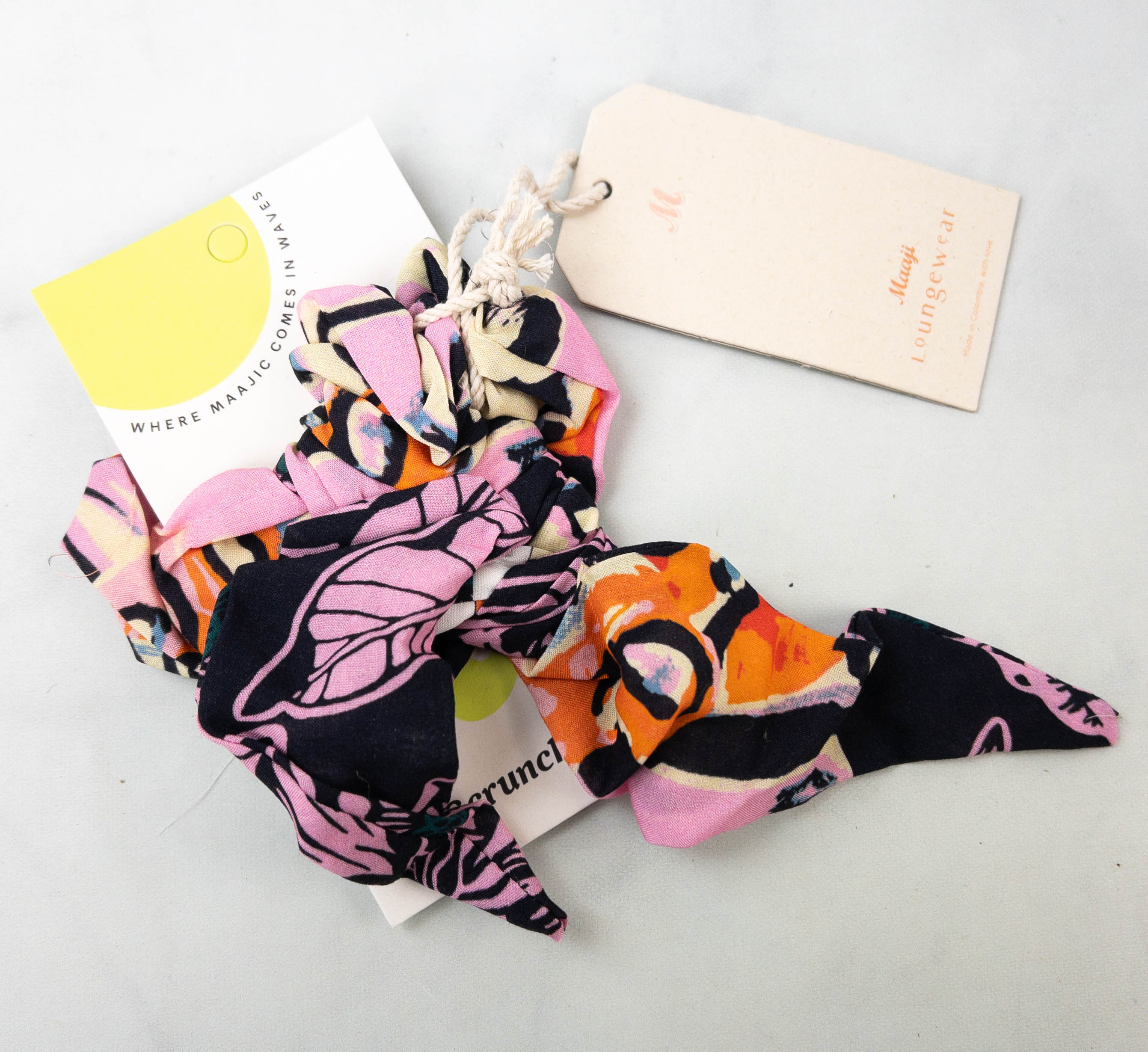 Beachly Exclusive Maaji Waimea Hair Tie and Scarf ($20) is the ideal accessory choice for summer! It stylishly secures the hair with tropical prints and a nice colorway composed of dark and light hues of purple with a splash of orange. You can be creative with it, and extend the long tie for endless styling options. Aside from using it as a scrunchie, you can also use it as a scarf, bracelet, headband, or knotted accessory to any bag! It's so cute!
This season's box has product variations! Subscribers can choose between Bella Sunglasses by Diff or Beachly Exclusive XIX Palms Endless Summer Throw ($75). I picked the latter, and I have zero regrets. Made with a lightweight fabric designed with palm prints, the throw is the perfect item to bring beach vibes to the home or to carry on any beach adventure. It has a tassel on each corner for added tropical flair. Beachly suggests using it as a tapestry piece on a wall, but it can also be used as a picnic blanket or a fashionable pareo tied around the waist.
Beach-inspired home goods are my faves, and I'm so glad the box included a Beachly Exclusive Monstera Cutting Board ($44). I smiled from ear to ear at the sight of it because it's so stylish. I'm in love with the design! This item will sit perfectly in every kitchen, and I don't think I'm ready to use it as a cutting board. I might at least use it as a serving board. It will make the loveliest serving piece for lunches by the beach or a cute accent on countertops this summertime!
There's also a Special Beauty Surprise in the box. It's Earth Harbor Nymph Nectar Superfruit Radiance Balm ($38), a clean and cruelty-free beauty product that helps bring back the skin to life by nourishing and hydrating it. Made with sea fruit and super berries rich in vitamins C, A, E, K, omegas, and bio-actives, it helps fight premature skin aging while giving you plump and dewy skin. It melts quickly and is fast-absorbing without the tacky feeling. You can use it on your face and neck as a moisturizer, sleeping mask, or rescue repair treatment to restore firmness and protect the skin from environmental damage. It's also ideal to use on lips and cuticles, and it has such a pleasant tropical scent. If you like goodies like this, you can also subscribe to their quarterly beauty box!
Another Beachly Exclusive item is XIX Palms Shorebreak Picnic Cooler Bag ($99). It's cute and functional! The bag has a natural beachy vibe with vegan leather straps and a custom-printed tropical-themed inside lining. It has prints similar to the endless summer throw, making them the perfect match. This bag has backpack and handbag straps, so you can style it and wear it however you want. Whether you need to go on a brunch date or hit the beach carrying your beach essentials, this cooler bag is a cute companion!
To complete our summer beach picnic, here's a Guava Shop Hawaii Team Aloha Pocket Tee ($44) in a light peachy color! It's super soft, plus it's thin and lightweight, making it the perfect outfit for summer getaways. It has an airy feel when worn and it's really cozy! I also like the simplicity of the design with just the word Team Aloha on the pocket and the back.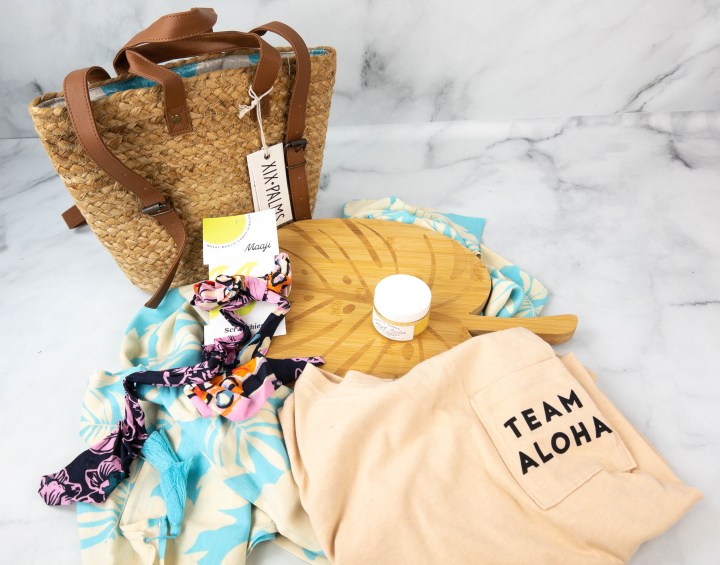 Who would say no to this fun curation? The Summer 2022 box is incredible! I love that the items are all made for us to enjoy the summertime with a beach picnic theme. There's a summer throw to lay on the sand, a Monstera-shaped board for serving tasty snacks, and a bag where you can put all your beach essentials. To keep beach babes stylish, they also included a tee and a scrunchie. The included moisturizing balm is also a useful item for anyone who loves to spend time at the beach, as it keeps the skin nourished and smooth. If you're a beach person and you want high-quality beach-themed goods, this quarterly subscription won't disappoint!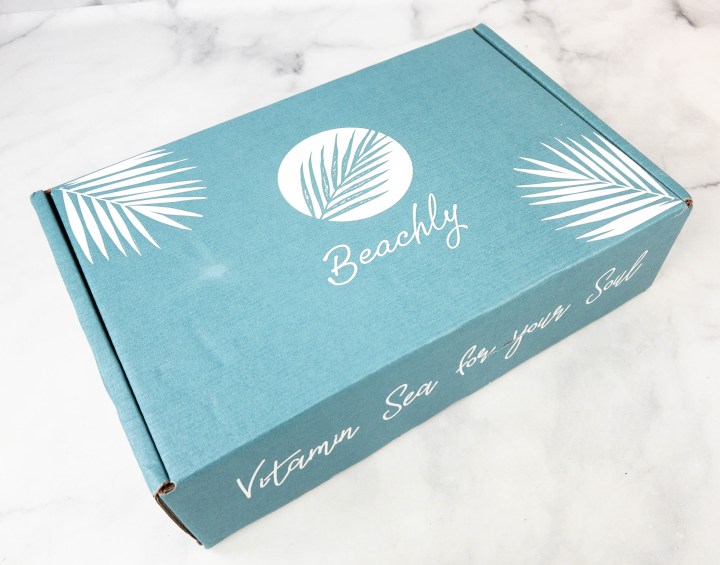 Beachly Beauty Box is a beach-inspired beauty subscription that focuses on cruelty-free and clean beauty products. Each box includes 4-6 beauty products, which may include lip balms, fragrances, cleansers, moisturizers, nail polish, and hair masks. It's $29 per box, with free shipping for the first box and $2.99 shipping for the recurring boxes. They promise at least $75+ retail value in each box. Beachly offers two other subscriptions – the Men's and Women's coastal lifestyle subscription boxes! Each quarterly box includes beach-inspired apparel and accessories worth $250+. Beachly also has recently launched Beachly Starter Box, a great way to try the box before you get a seasonal subscription!
What do you think of the Beachly Beauty Box?