Walmart Men's Grooming Box is a limited edition offer that comes with a toiletries bag, men's grooming supplies, and an offer for a free magazine subscription (to be emailed after purchase). This box is a one-time purchase and is $12.98. I reviewed the items with my husband to get his take but also tried some of the products myself because #1, some were gender-neutral (unless blue and grey are colors reserved only for men) and #2, I can't just keep writing "it worked fine" over and over again, which is sometimes all I can get out of my husband. This bag is still available as of this post and I thought it was a pretty good deal — see what we got below!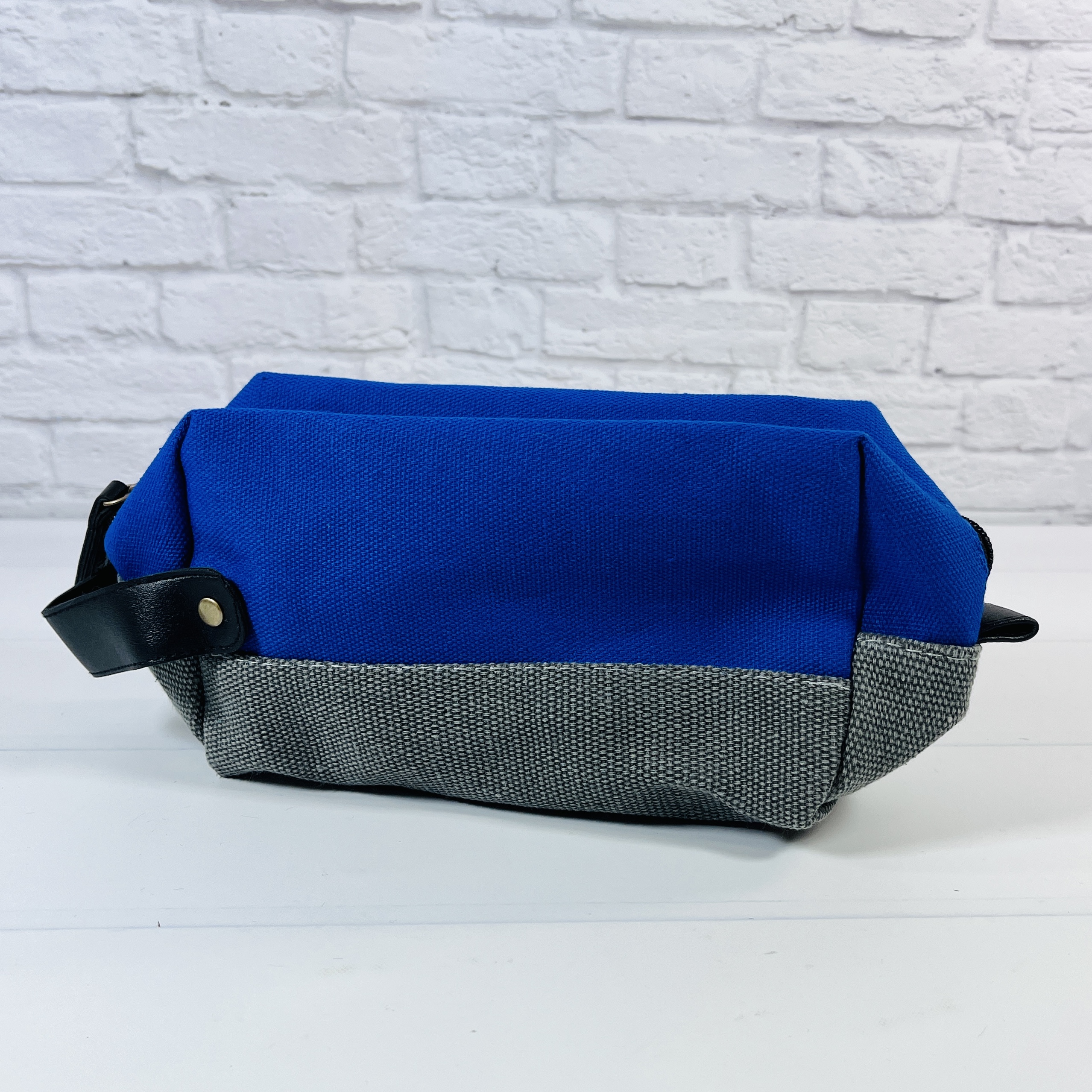 The items come in a Walmart limited edition bag ($12 listed value). I think the outside is twill while the inside is lined with water repellant material, I would just stick the whole thing in the sink to wash it off if needed. There's a zipper over the top and a carrying handle.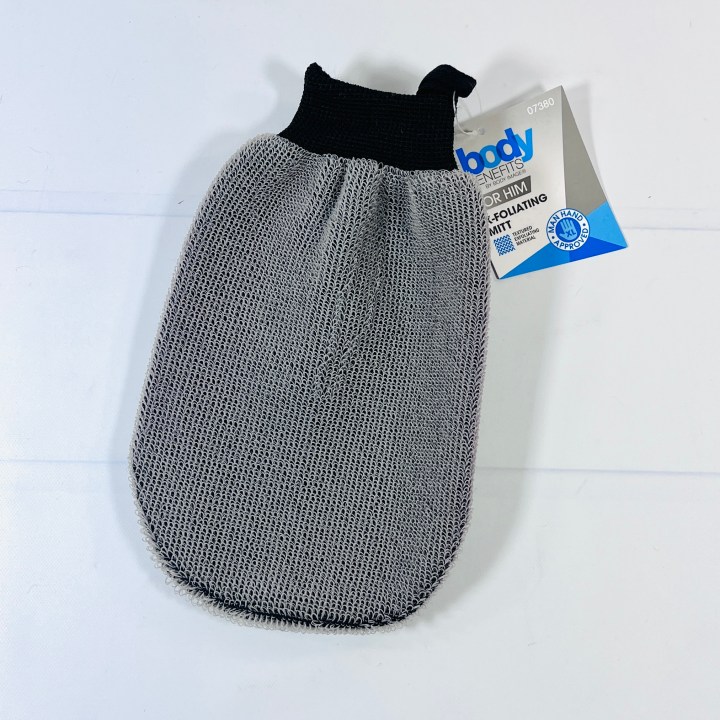 Body Benefits by Body Image For Him X-Foliating Mitt ($5.21) This is an exfoliating mitt, just place your hand inside and pass it over your soapy arms and legs. It works better than a body pouf and left my skin smooth afterwards but not scratched. Pay special attention to elbows, knees, and heels.
Body Benefits by Body Image XL Back Scrubber ($3.88) I guess I used this incorrectly because I didn't know that you are supposed to put a bar of soap into the scrubby pocket, but I just passed the soap bar over that part before using and it worked really well like that. In fact, I liked this much better than using a back brush — back brushes tend to make me feel like I'm tearing my skin but I didn't feel like this was too rough, and yet it worked really well. The scrubby part in the middle is made of the same material as the mitt shown up above.
Body Benefits by Body Image For Him XL Shower Sponge ($3.83) This shower pouf is 40% bigger than the pretty purple/pink version I have hanging in my shower. Now that I think about it, I don't reach for mine very often, and that's probably because it feels too small. Otherwise those are the only two differences, color and size.
Body Benefits by Body Image For Him 2×2 Face Brush ($2.83) I'm embarrassed to say how much time I spent trying to figure out where the batteries would go in this product. After all, 90% of similar devices I've received in boxes for women have been motorized. Turns out this one isn't, it works on elbow grease. The chunky body is supposed to mimic an electric razor! There are two different types of bristles, with the grey set in the middle being scrubbier than the blue kind on the outside.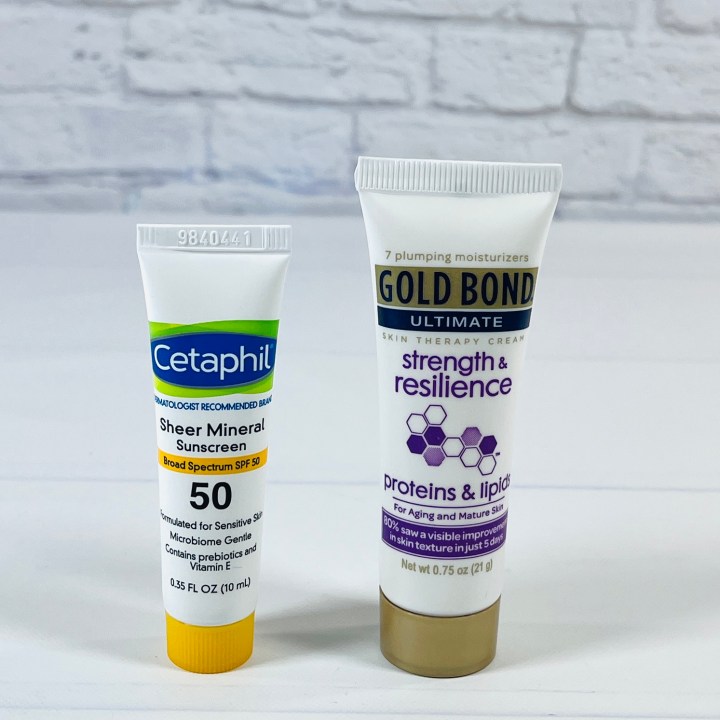 Cetaphil Sheer Mineral Sunscreen SPF 50 ($3) I was excited about this sunscreen at first, but it left a horrible white cast, and I'm pretty pale to begin with so I can only imagine how it would look on darker skin tones. Seriously, I have skin that tends to be red/pink so this made me look purple at first and then ghostly pale. I cannot see me wearing this on a daily basis, but it is water resistant so I would wear it to the pool with no problem.
Gold Bond Ultimate Strength & Resilience ($0.79) is a body moisturizer that is meant for aging and mature skin to provide lipids that may be lost due to the way our bodies age. It was easy to apply and didn't feel overly greasy and it had a light scent that reminded me of, I'm not quite sure, maybe cookies or cake mix for some reason.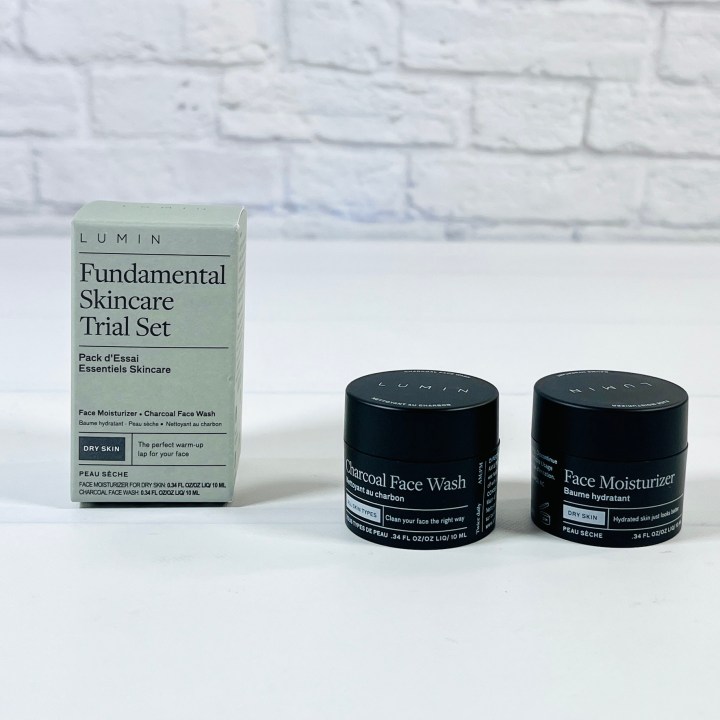 Lumin Fundamental Skincare Trial Set ($9.97) This travel-sized set comes with a cleanser and moisturizer. The cleanser is supposed to deeply cleanse the pores with charcoal but it wasn't harsh or gritty. I was a creamy sort of lather and didn't leave my skin dry afterwards, plus, it has a light herbal scent that is pleasant. Lumin has three options for their face moisturizer: Dry, Combination, and Oily, and this sample is for dry skin. It spread easily and leaves the skin looking and feeling soothed and soft. It also has a light herbal scent. This set seems like a good combo and I'm going to urge my husband to use them for a couple of days (so he can get away from the Noxzema).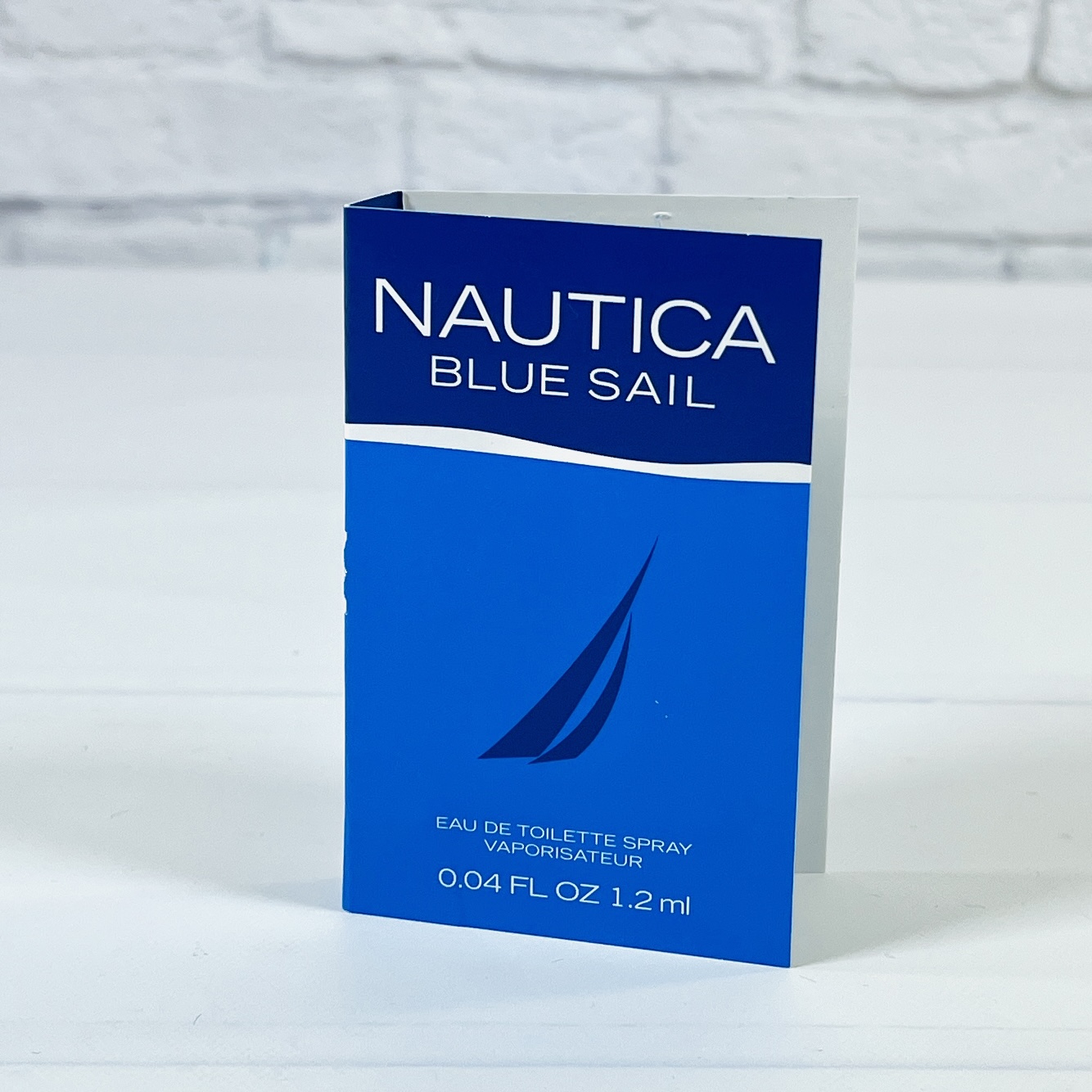 Nautica Blue Sail Eau De Toilette ($0.28) One product I didn't try is this cologne, although I thought it smelled great on my husband. This is a clean green scent that also reminds me a bit of the sea, or at least colognes that are supposed to smell like the sea. It's funny but my husband owns one bottle of cologne, something by Dior and that was modeled by Johnny Depp, and so I'm glad he has something different to try in case he wants to branch out, plus, a sample is easier to carry on vacation. Some of the scent notes listed are green leaves, water notes, and moss and although green apple is also listed I'm not picking that up, but overall, this is a good everyday scent for summer.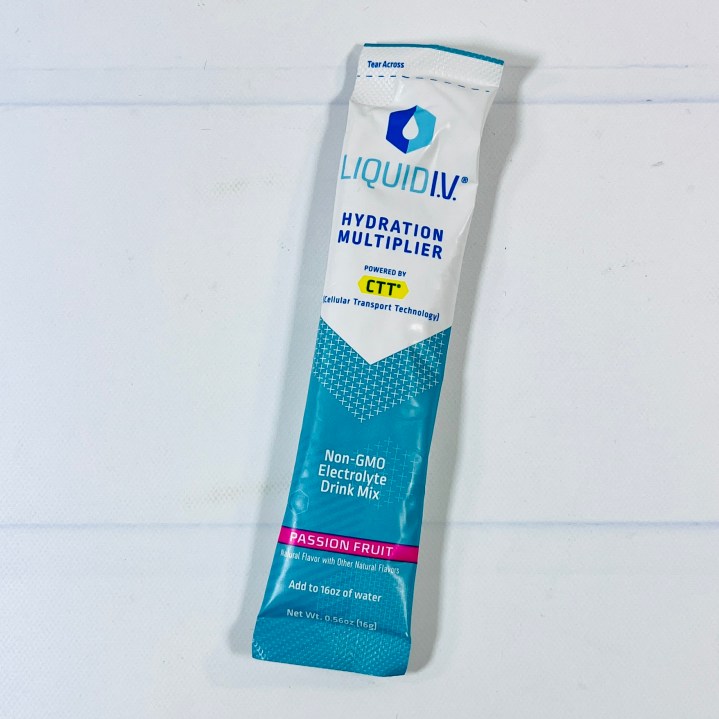 Liquid I.V. Hydration Multiplier Drink Mix ($1.50) I'm not a fan of rehydration drinks because they are full of sodium, but I guess that's kind of the point. This pack has 22% of a persons allotment of sodium for a day, and that's just in one drink. As far as the flavor goes, it's better than some I have tried, I liked the tropical fruitiness, but of course it sweet and salty at the same time.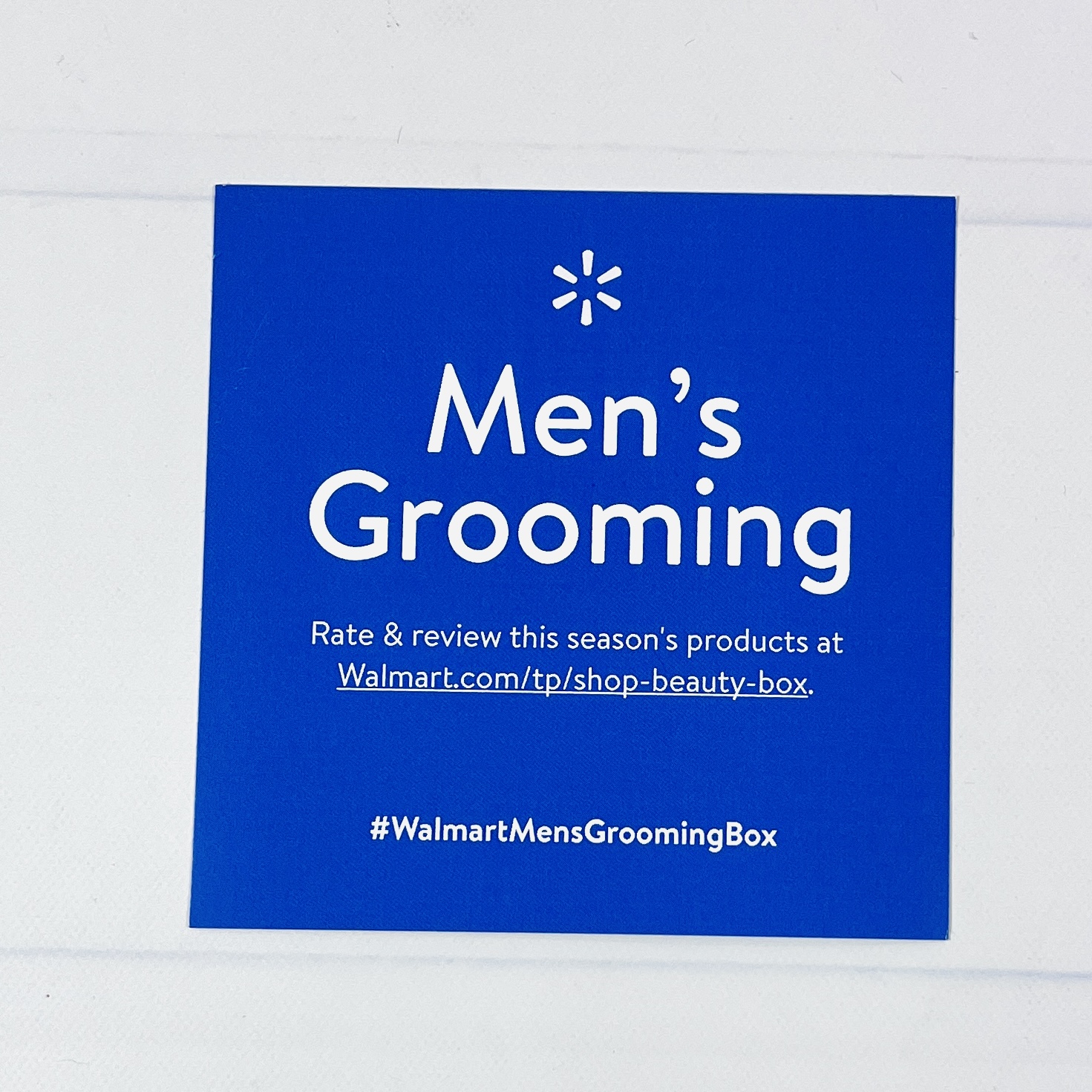 You can rate and review the items in this box at the Walmart website, or even stock up on full sizes of your favorites. They included a QR code for quick access.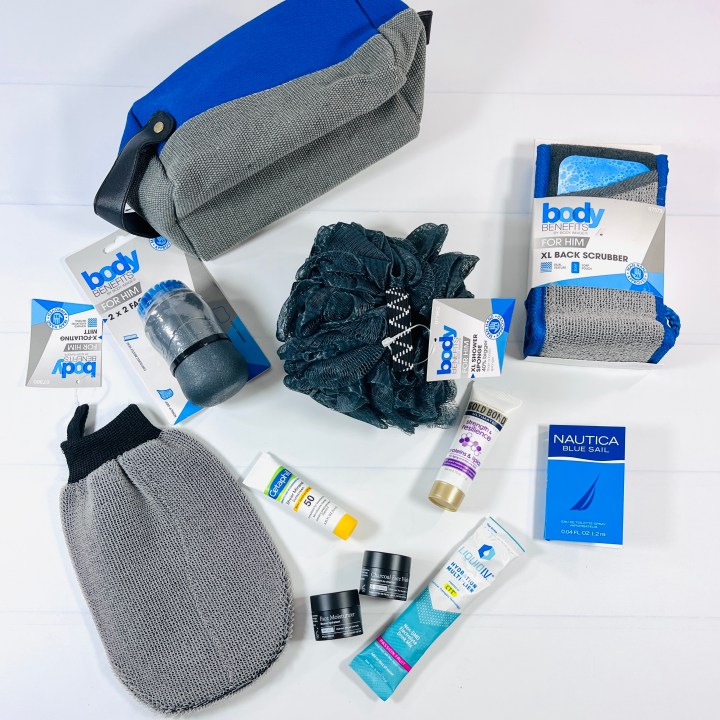 I'm kind of shocked because this limited-edition box was meant for men and I really enjoyed most of the products myself! The scrubbers and other "tools" worked really well and I would purchase them again for sure. The skincare items were pretty universal, even the two that were specifically marketed to men. The cologne and toiletries bag are two items that I personally have no use for but that's because I have tons of toiletry bags already and I prefer fragrances that aren't as strong or clearly meant for men. My husband appreciated those and everything else as well. I thought the value was pretty good too but most of all, I thought every item was usable. This would make a great gift for Father's Day or just because, although it's a limited edition and once it's gone then we will have to wait until they come out with a new collection.
Walmart Limited Edition Men's Grooming Box features hand-selected men's grooming products. Each new season brings different items and a reason to refresh your stash. In your box, you'll find sample grooming products and tips on how to use those and other items sold at Walmart and on Walmart.com.
Are you getting the Limited Edition Men's Grooming Box from Walmart?