Vine Oh! is a quarterly wine and lifestyle box that aims to help women relax and recharge. The theme for this shipment was Oh! Summer Fun! and it had 3 wines (check out the offer below to see how to get that 3rd bottle free for the life of your subscription) and some fun summery beauty and lifestyle products like a beach towel, leave-in conditioner, and sunglasses. Check out our review below!
DEAL: Save $10 off + FREE extra bottle of wine + FREE shipping on your first box with coupon code HELLOWINE. For a limited time, use this same code to get an extra free bottle FOR LIFE!
Vine Oh! comes with two bottles but the code above will get you a third bottle free for the life of your subscription. You choose from red, white, or a mix of both when you sign up, and I want to let you know that there is a monthly wine-only box if you prefer (or in addition to the quarterly wine and lifestyle item box).
2018 Tines California Merlot ($24) This Merlot has notes of dried figs, blackcurrants, and cinnamon and would pair well with beef, strongly flavored cheeses, and lamb. My husband prefers red wine and said this one smelled fruity and was smooth. He had just snacked on cheese and told me they went really well together. I tried a sip and thought it was medium-bodied and dry but not mouth-puckering.
2019 Speechless Sauvignon Blanc ($24) I prefer white wines and this one has notes of Asian pear, citrus, and Thai basil, what a unique combo! It pairs well with dishes that have green herbal ingredients, chicken, and goat cheese. It has moderate acidity and was pretty easy to drink, and was fruity with a combo of pear and a hint of lemon.
2019 Wicked Bliss California Pinot Grigio ($24) The notes listed for this white wine are white peaches, white flowers, citrus, and sea spray of all things! It pairs well with pasta and rice dishes, salads, and seafood, all things I especially want to eat in the summer! Our summer lasts a long time here in Texas and so I am saving this bottle and will open it in a month or two. I use a lot of white wine in cooking (risottos, chicken sautés, etc.) so I am especially happy to have received two bottles of white wine.
Host & Home Beach Towel ($13.25) Here is an item that comes in a set of four. According to the tag, this is 30″ x 60″ but the website says 30″ x 70″ but either way I would expect it to shrink since it's made of 100% cotton. I prefer cotton towels to any other kind. It's colorful and fits nicely in my pool bag and is easy to take care of.
The Lyfestyle Co Beach Mist After Sun Spray ($23 on Amazon, $42 on the brand's website) The directions say this can be sprayed on the body or face and it's supposed to hydrate the skin after a visit to the beach or pool or whatever. The ingredients are mainly water, glycerin, salt plus aloe and plant extracts, and other stuff like preservatives. There's not enough here to really provide much moisturizing properties, it doesn't lock in moisture or leave the skin silky or anything like that. It's pretty much a watery spritz that may provide a cooling sensation as the water evaporates. Oh, and it smells a bit like lime and lavender. It's a refreshing spray that you might use midday as a pick-me-up.
Sunflower Food Company Milk Chocolate Sunny Seeds ($2.75) These are simply chocolate candy-coated sunflower seeds and they come in a happy assortment of colors for summer. I appreciate that they didn't melt during shipping and they taste good and only a handful is needed to calm my snack cravings. They would also look great sprinkled on cookies or cupcakes, baked into cookies (instead of chocolate chips), or separated by color and used to make flower patterns on desserts.
My Amazing Leave-In Conditioner ($7.98) I try to avoid using scented products on my super sensitive scalp, so I sprayed this into my palms three times and then ran it through the ends of my hair. I had been swimming earlier that day and my hair is always tangled afterward, even after it was washed, and this helped me get the comb through my thin, straight hair easily. It smelled nice too, like a unisex perfume, warm with a hint of floral notes.
SolarX Sunglasses ($23 listed value) I could only find these listed in bulk so I'm not sure of their actual retail value. Top Gun made its long-awaited return and I would expect aviator glasses to come back with it; after all, they look exceedingly nice on Tom Cruise! Unfortunately, I don't have Maverick's bone structure so Wayfarers will always be my go-to but these look super sharp. They are lightweight, it barely feels like they are on.
Laritzy Athena Eyeshadow Palette ($48) This palette has 4 matte and 5 shimmery shades to play around with, and there isn't a super dark color to be seen. They aren't very saturated but that is ok when it's summer, as I don't want a heavy look on my eyes at this time of year. The palette is very big, look at how much product is in each cavity!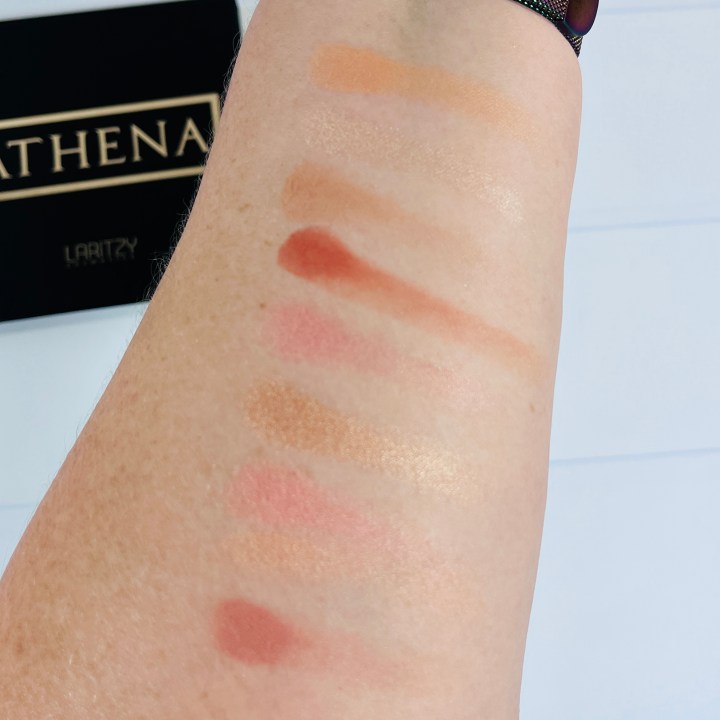 Here's my swatch. Sometimes it's hard to capture a good shimmery shadow pic, sorry about that!
What a fun box, I was happy to use everything that I received in this Oh! Summer Fun! Box from VineOh! The shadow palette has beautiful shades and should last for a long time, the palette will probably expire before I can use it all up! The wines were delicious and I especially liked the Sauvignon Blanc, it was perfect for a summer evening. Everything in the box worked well for me with the exception of the sunglasses, because those things are about 1/3 of the size of my entire face, it is comical how bad they look on me. I will get a lot of use out of that towel and the conditioner got the tangles out of my hair and left it silky soft.
If you have a recurring subscription then the next box should ship around September 9th.
Below you will find the product info brochure as well as a box opening picture.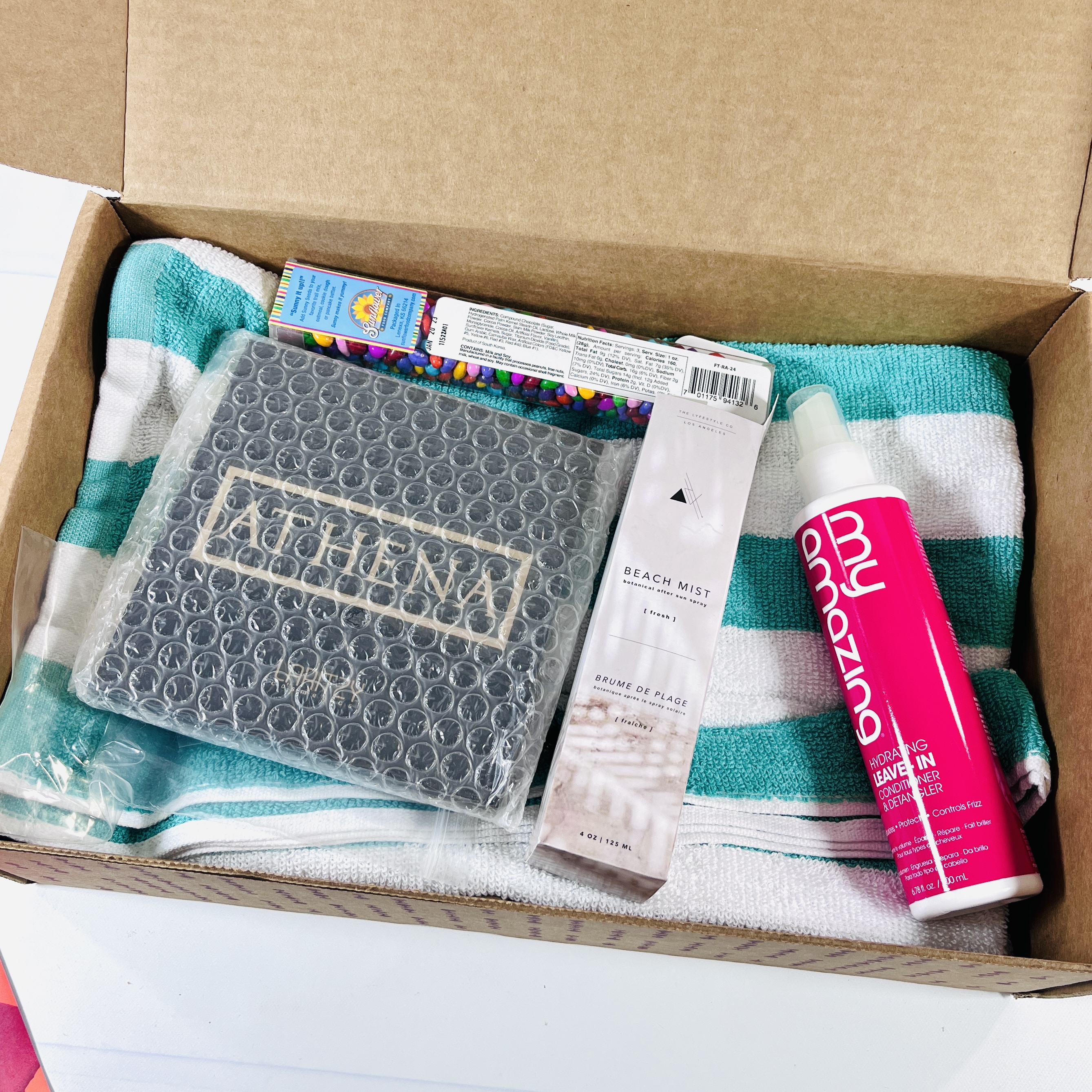 Vine Oh! is a quarterly subscription box and one of the first wine subscription boxes to include lifestyle items for women. Each seasonal box will include 2 bottles of premium wine, plus 5-6 full-size items that are fun, rejuvenating, and delicious. Subscribers can choose their wine type preference: white wine, red wine, red & white wine, or sweet wine. Every box will have a retail value of $120 or more! Vine Oh! is $59.99 a box and shipping is free and delivered to your door.
What did you think of Vine Oh?