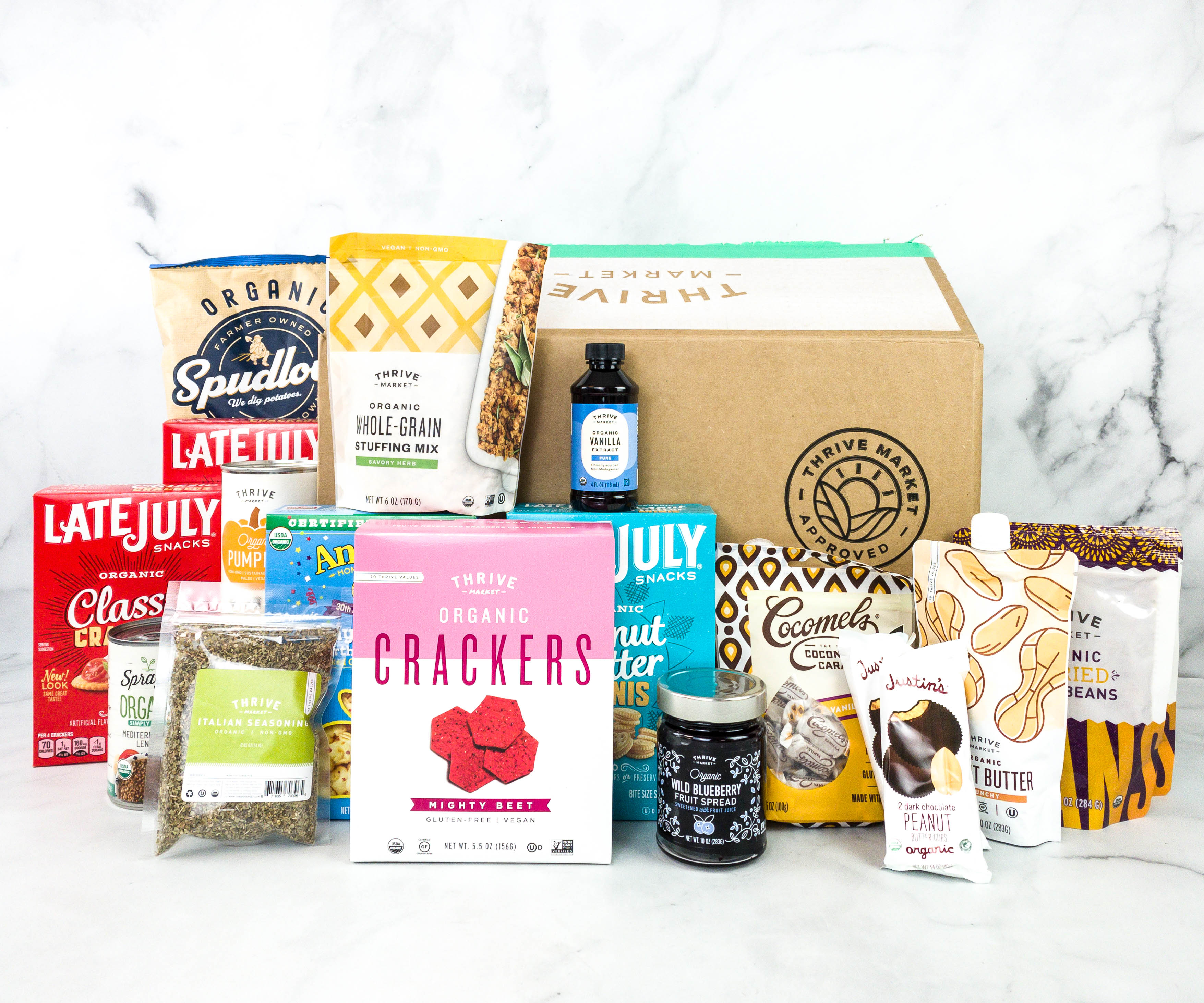 Thrive Market has a hot coupon to try out their shopping membership that makes healthy living easy! With a Thrive Market membership, you can buy healthy food from top-selling, organic brands at wholesale prices. That includes items that are great for special diets, like paleo and keto, vegan and raw! Whether it's everyday cooking basics, healthy snacks, or special and gourmet goodies, they have everything you need to improve your healthy grocery shopping habits.
Get 40% off your first order, plus, get a FREE gift when you sign up for an annual Thrive Market membership! Use this link to checkout – no coupon needed. Gift offers may vary.
NOTE: You can try Thrive Market risk-free for one month to make sure it's the right fit for you. You can cancel anytime during your risk-free 30-day trial. For $59.95 a year, members save on the highest-rated products from the most trusted organic and non-GMO brands.
Check out all our Thrive Market reviews to find out more about this subscription box!
Thrive Market has over 6,000 wholesome food, home, and beauty products – including organic & non-GMO food, clean beauty & bath, safe supplements & vitamins, and nontoxic home care products – and organic, biodynamic, or sustainably produced wines! You can sift and sort their selection by paleo, ketogenic, gluten-free, vegan, vegetarian, and raw lifestyles too. With fast & free shipping on orders over $49, your groceries will arrive quickly. Enjoy member-only prices on products curated just for members, free gifts, samples, and deals every day.
For every paid membership, Thrive Market donates one to a family, student, teacher, veteran, or first-responder in need (they've donated over 1 million memberships so far!). They're the largest U.S grocer to receive B-Corp certification, which includes being carbon neutral, building & maintaining an internal Mission Task Force, and continually donating to causes that matter most.
Thrive Market has a Low-Price Promise and a Money-Back Guarantee! They'll match the price for any product to ensure you're always receiving the greatest deal. Plus, with their Savings Guarantee, if you don't save enough to cover your annual membership price at the end of the year, Thrive will refund you the difference in Thrive Cash when you renew.
Thrive Market is an online market offering the highest quality, healthy and sustainable products, delivered at member-only prices. Thrive Market promises its community of 700,000+ members guaranteed savings, along with better quality and service, the ability to shop by diet with 70+ filters, and the conscious convenience of carbon-neutral shipping straight to your door.
There's quite an extensive quiz to take when you sign up for Thrive Market to help show you products that match your lifestyle. They have a whole store with thousands of products, including Thrive Market Goods, a top-quality house name brand!
When you check out, you can also choose to donate your savings to Fight For Food Equality Now. Choose everything you want – and whether you want it on subscription or as a one-time purchase, and your personal care, beauty products, toiletries, and household cleaning items will be delivered to you quickly – and carbon-neutral too!