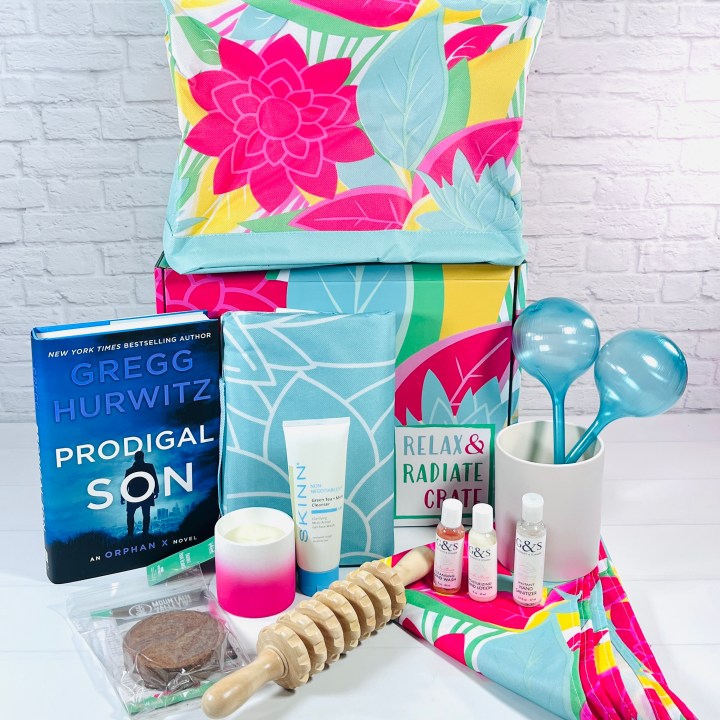 Relax & Radiate Crate is a quarterly collection of thoughtfully curated products chosen by The Girlfriend, an AARP-sponsored website especially for Gen X women over 40, and CultureFly. Each box is $50 per quarter, and will contain 7-12 unique and custom-designed home, beauty, and wellness items with a value of over $200. The items support mind, body, and soul. This is a review of the Spring 2022 Crate (the Summer Crate is scheduled to ship in July).
Prodigal Son: An Orphan X Novel by Gregg Hurwitz ($13.99) Normally I would be happy to get just about any book in a subscription box but I'm rather miffed that I received book 6 in a series I've never read before. This is also in the assassination, vigilante justice, and conspiracy thriller genres and those aren't really my type but I might have made an exception if it was the first book. I asked my husband what he thought and he didn't seem happy with the page he glanced at so I will gift this to the library for their book sale. Subscribers received one of 6 different hardcover books and most of them look to be thrillers.
Back Massager While the tag on this roller says it's for the back, it can be used elsewhere, like on the arms and legs. You could probably put it on the floor and rub your feet over it too. There are 7 "wheels" on the roller and it is 11″ long from one end to the next. It works best when someone else is rubbing it over your back of course!
Plant Watering Globes There were two plastic watering globes included. You fill these with water and then place them in a houseplant and it is supposed to gently release water over a certain period of time, maybe two weeks? I haven't tried them yet, and I only have once houseplant, but the color is pretty. These are 10″ tall and the end is slanted and reminds me of acrylic reusable straws but with a bulb.
Mountain Valley Seed Co. Grow-Your-Own Herb Kit I automatically give all DIY kits nowadays to my 18-year-old daughter, she loves them (and I'm not a fan). Subscribers received one of 3 different seed packs and mine is curly-leaf parsley. The instructions were basic: place soil puck in a planter or bowl, add water and fluff, sprinkle with the seeds, and keep moist.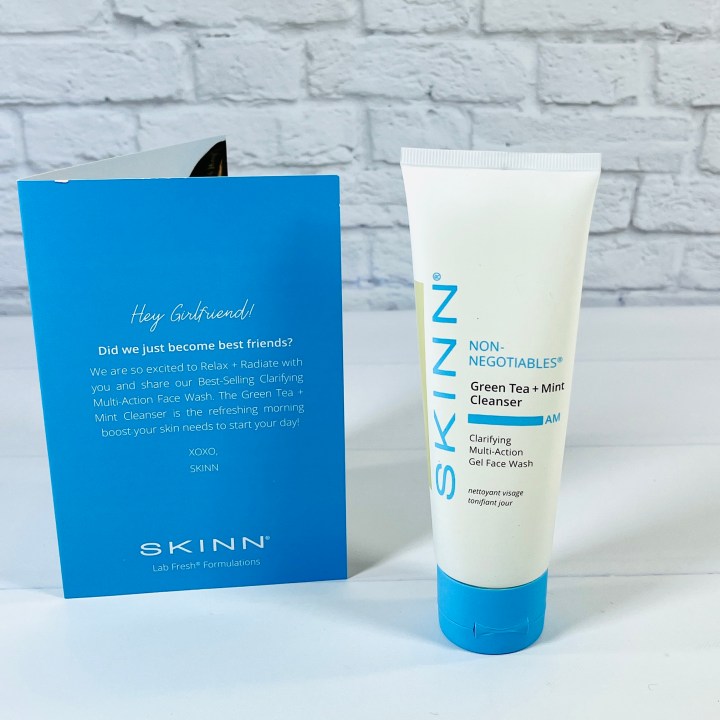 SKINN Clarifying Multi-Action Face Wash in Green Tea and Mint ($12 – 2oz.) This is a clarifying cleanser that is meant to be used in the morning. To me, "clarifying" means "removes oil". This box is generally meant for those in the Gen X age group, so people who are between 42-57 years old (and I fall into this demographic). This cleanser seems like it is meant for those with oily skin, not usually a concern with this age group I would think. I use a very gentle cleanser in the morning that doesn't foam, as there's really no need for it. This one was drying to my skin. It is supposed to smell like mint and it does, but it also has the strong scent of tea tree, and so it ends up smelling medicinal. It may work better to remove makeup and skincare at the end of the day, followed by a really good moisturizer.
Gilchrist & Soames Healthy Hands Trio ($2.10) This is a travel-size set of hand care basics from a company whose products you may encounter in a hotel and that may be the only place they are available except maybe online. The soap smells pretty good, the lotion seems a little off, and the hand sanitizer expired back in April, before I received the crate. This was the only spoiler item and sadly it wasn't all that exciting.
Soy Wax Candle The candle is in a "Spring Cherry" scent and the holder itself is pretty, I like the color. This candle has a light floral scent and should burn for several hours over several days. The booklet states that a candle in a seasonal scent will be included from now on in each quarterly crate.
Ceramic Planter Pot I was surprised that the planter was made of ceramic (and not plastic), and it is a very neutral color — beige. It measures 4.75″ tall and about 4″ across the top. There is a plug-in at the bottom that you can remove for drainage. I gave this to my daughter too, she planted the parsley in it and hopefully, it will grow! (This is currently sitting on the windowsill, just waiting for nature to take its course.)
Set of 4 Cloth Napkins Here we are getting into the super coordinated part of the box. First up is a set of 4 polyester cloth napkins. These measure about 17″ x 17″ and have a vibrant tropical floral print that is very eye-catching and cute.
Packable Picnic Blanket The next item has a sea foam color throughout like the items above and below but without the other tropical colors. It is lined with plastic on one side to keep dampness from seeping through. I'm not sure that it's washable, it may need to be hosed down after use to clean it up. It's a generous size and folds up into a much smaller piece with a handle attached for easy transportation to your destination. It's about 60″ x 60″ and folds up to around 9″x 6″ x 1.5″-ish. I'm really excited to have this! During Covid we would go to pick up food and then try to find a clean table outside somewhere to sit and this would certainly make me feel better about eating at some questionably clean places.
Picnic Basket Here is another item I think will be very useful — it's a foldable picnic basket! It has a thermal insulation liner inside, kind of like those bags you can get at the grocery store to keep your frozen goods from melting on the way home (I would still pair this with a frozen ice pack or three). It's roughly 10″ x 13″ x 9″ and has two zipper pulls that meet in the middle. The only thing I don't like is that the handle is snapped in place and doesn't come off so you can't open the lid all the way up and it's a little awkward to fill but otherwise is fine. I think this should be more than adequate for holding a picnic for a family of four. We are supposed to travel to a nearby state later this summer and this would be great for storing drinks, sandwiches, and snacks for the trip and unlike my Igloo it won't be hard to store at our destination.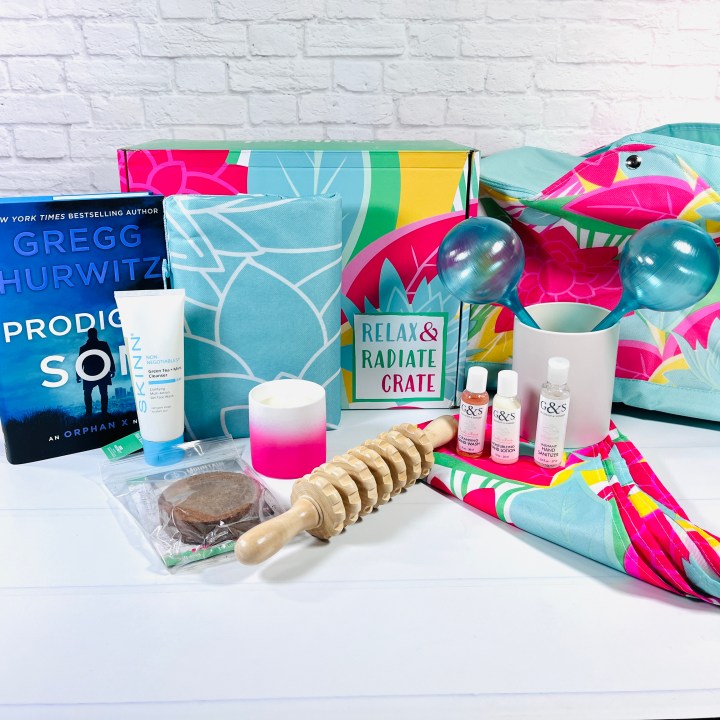 While there were a few misses for me personally, overall I enjoyed the products in the Spring 2022 Relax & Radiate Crate! The color coordination was spot on and the ocean blue and vibrant pink colors helped bring cohesiveness to the box. I was especially excited to receive the picnic basket and blanket, I really needed something like that and yet didn't realize it until I had them in my hands. My daughter was thrilled to plant the herb seeds into the planter, it was quick and easy, although waiting for parsley to sprout could take a while. I wasn't thrilled with the hand care set, but that's a low-value item anyways, and I would have preferred pretty much any other book shown on the list of those sent out because book 6 in a series I've never read is disappointing. The other items rounded out the box nicely, candles are always in season and a wooden massager can help ease the knots out of my muscles at the end of the day.
Below is another box opening picture plus you will find the product pamphlet that was included in the box.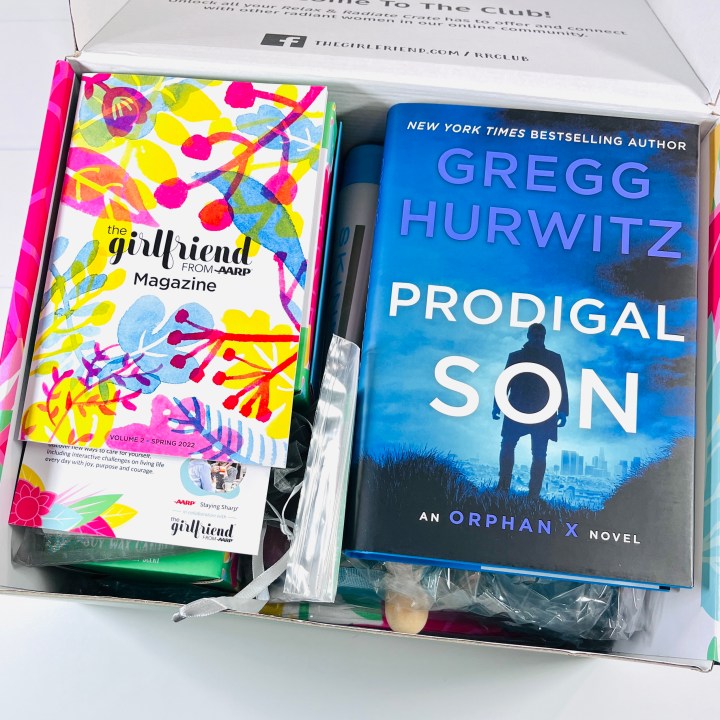 The Relax & Radiate Crate is a quarterly subscription box filled with a collection of unique and custom-designed products selected to bring you comfort while nourishing your mind, body, and soul. Each seasonal box includes 7 to 12 items hand-picked by members of The Girlfriend team and community, averaging $200 or more in retail value. Each box also includes a copy of an all-new Girlfriend Mini-Magazine produced exclusively for Relax & Radiate Crate subscribers.
Relax & Radiate Crate subscribers also get access to an exclusive online community where you can connect with others, access special giveaways and offers, and provide input on upcoming crates.
Get a collection of thoughtfully curated products that'll keep you radiating your best self all year round. Each crate comes with a seasonal selection of unique and custom-designed home, beauty, and wellness items.
Are you getting the Relax & Radiate Crate Spring 2022 box?