Get all the healthy, sustainable, everyday essentials you need, all in one place!
Public Goods, a sustainable goods membership marketplace, has a new deal exclusively for Hello Subscription readers! Public Goods is a simple, affordable marketplace where you can pick up all the sustainable goods you need, without having to make too many choices. If you get overwhelmed by trying to pick the best item at the store, Public Goods will eliminate your decision fatigue – they sell one of almost everything – and it's all Public Goods brand. The packaging is simple too – which avoids visually cluttering your space.
Clean, inside and out. Just one version of every essential in just one place. Healthy. High quality. Sustainable and ultra affordable.
The Public Goods Membership is a $59 annual membership fee, but you'll get two weeks free of the membership when you place your first order. The membership fee allows Public Goods to maintain affordable and simple DTC prices on everything they offer. Members also get free shipping on orders $45+ ($100+ for Canada), access to wholesale bulk shopping and more.
Ethically sourced and environmentally friendlier products sets Public Goods apart. Their eco-friendly choices include sugar cane bottles to tree free paper and toxin-free ingredients.
Get 25% off your first order. Use this link and the coupon code HELLOPGA.
25% off first Public Goods Order
NOTE: You'll automatically be subscribed to Public Goods Membership when you order. After your two weeks free trial, you'll be charged a $59 annual membership fee.
Public Goods Offers: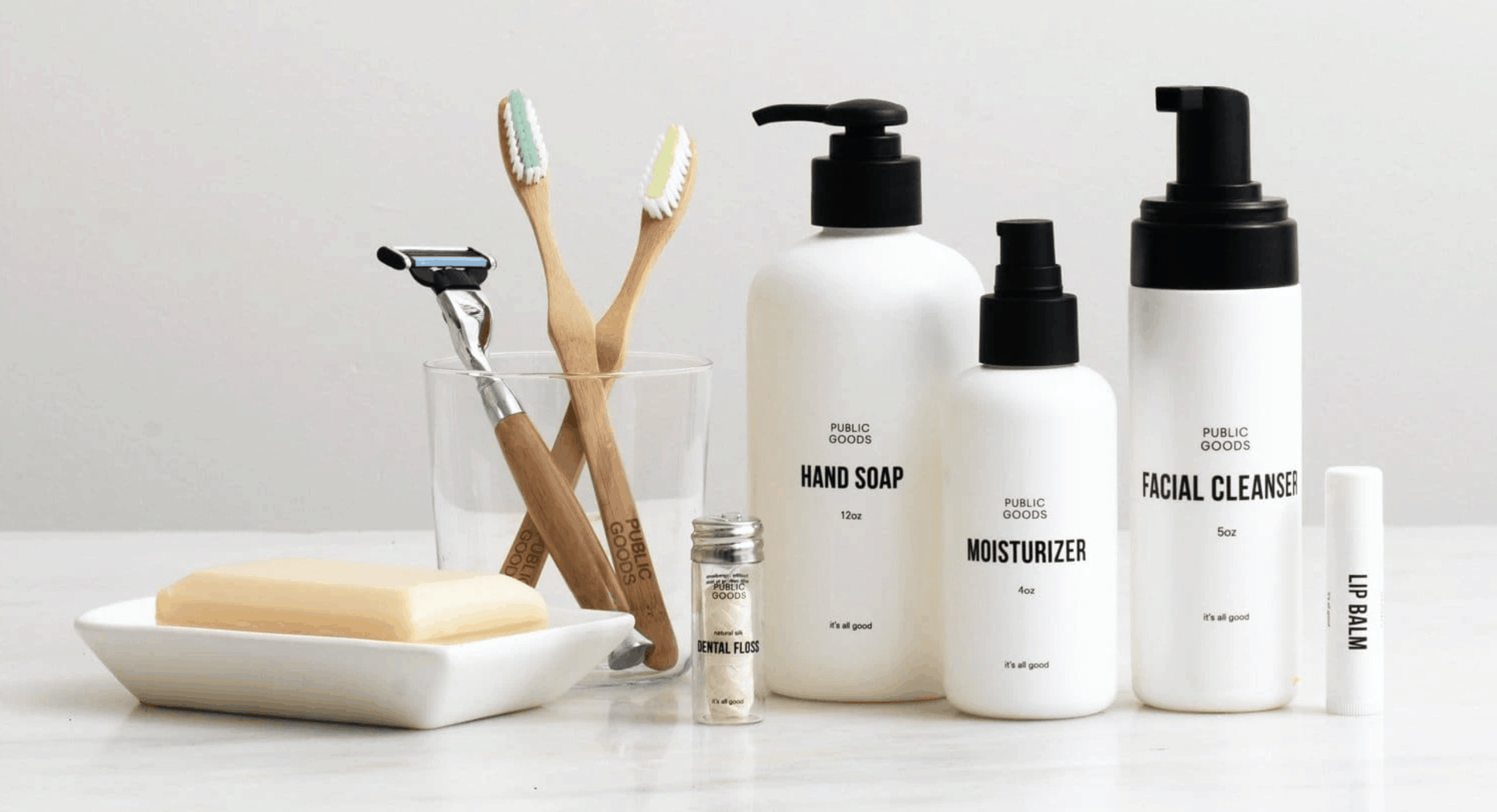 Personal Care
Everything from the basics – soap, hair care, dental care – to everyday essentials, including facemasks!

Household and Home Essentials
Kitchenware (they have a complete tabletop collection!) to cleaning supplies. Compostable trash bags to mandarin basil dish soap!


Healthy Foods and Grocery
Want to keep your kitchen supply simple? Staples like all-purpose flour (and gluten-free too!) pair with simple mixes and other pantry staples like coffees and teas.


Vitamins and Supplements
Choose what you need to stay healthy – vitamin C, multivitamins, and B12 are all on the menu.
Dry dog and cat food and treats for both! Don't forget the catnip or compostable dog waste bags.
CBD salve, tincture (unflavored or peppermint) and vegan softgels.
Are you getting Public Goods?