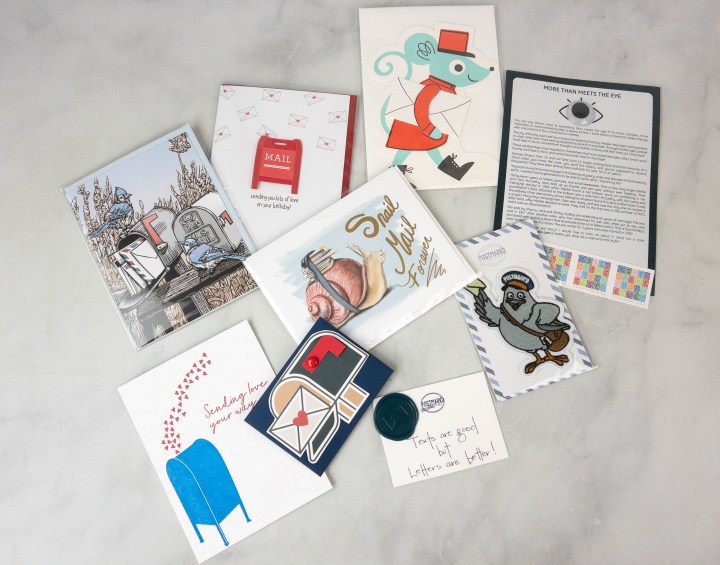 A new batch of beautiful greeting cards, postage stamps, and postcards came our way from Postmark'd PostBox. The June 2022 box was themed MEET ME AT THE MAILBOX, and all the items inside were, of course, about snail mails and letters. There's even an artsy doodad for extra fun! I saw a lot of mailbox designs, which piqued my interest right away!
DEAL: Get 40% off or $10 off your first box when you sign up for a 3-month subscription. Use the code HS404ME.
As a fan of snail mail, I really love receiving subscription boxes like this! The box includes Postmark'd PostBox's signature blue envelope. This time, it is designed with a mailbox and an envelope sealed with a heart. It looks even cuter with the red signal flag! Inside is a note with a wax seal that reads:
Texts are good but Letters are better!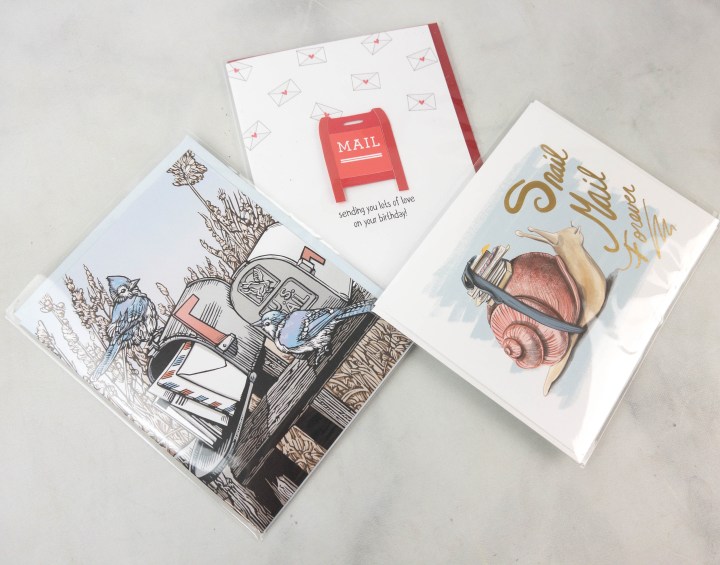 Here's the set of greeting cards included in the box!
The first one is Blue Jays at the Mailbox. It looks exemplary with a classic illustration of blue jays happily having their time sitting on mailboxes waiting for their mails! You can send this card to a friend or relative to ask how they're doing.
Birthday Mail Box is the best card to send to wish someone a happy birthday! It features a pop-off image of a red mailbox bound by love envelopes for a 3D effect. It looks simple but delivers a great message of love and appreciation for your loved ones' special day! It's also paired with a red envelope.
The Snail Mail Forever card is in landscape orientation but still looks marvelous with a drawing of a snail carrying mails on his back! It simply states "Snail Mail Forever", which I live by too! There's also an envelope where I can seal it in.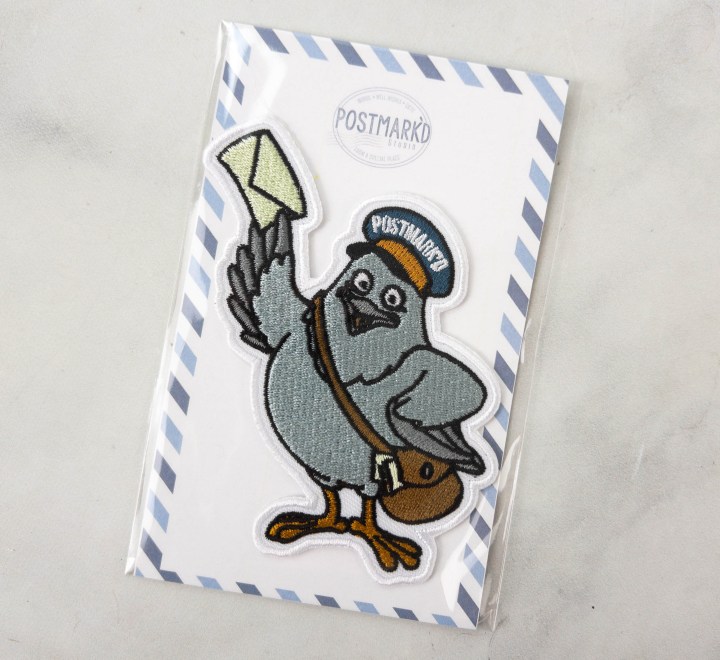 BONUS: Postmark'd Mail Carrier Pigeon Patch. It's Postmark'd PostBox's friendly logo – a mail carrier pigeon! It looks adorable in that Postmark'd mailbird hat while holding an envelope. The embroidery work is great, and it's ideal to use on denim, tees, backpacks, or tote bags. You can also send this one along with your letter as a gift!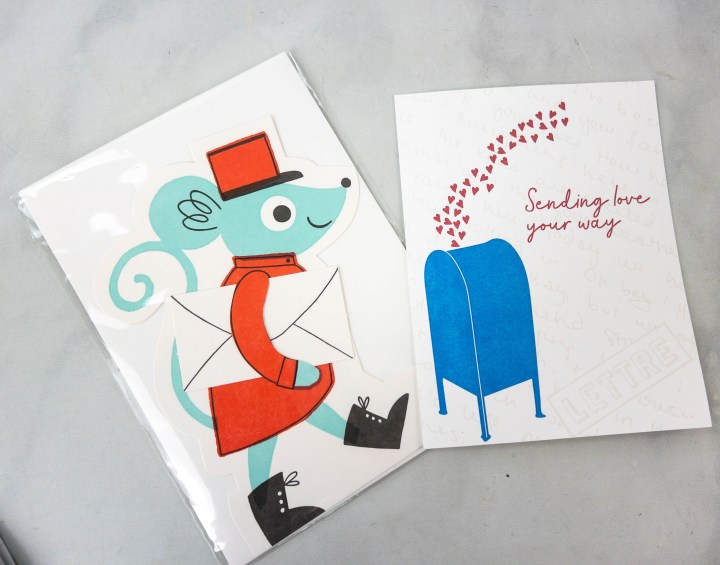 Mouse Post is a uniquely shaped, flat die-cut postcard that will have your receiver thrilled! It looks cute with a royal mail mouse holding a sealed envelope. It also came with its own envelope where you can tuck it in. Slide the small envelope out from under his arms to unveil the secret message in gold foil!
Since the theme was all about mailbox, here's another postcard in the box that matches it! The Mailbox Postcard features a simple illustration of a blue mailbox with little hearts flying in! There's a text on it that reads, "Sending love your way".
Both postcards have ample space on the back for writing your messages, the receiver's info, and the stamp! They're both cute, and I can't wait to use them!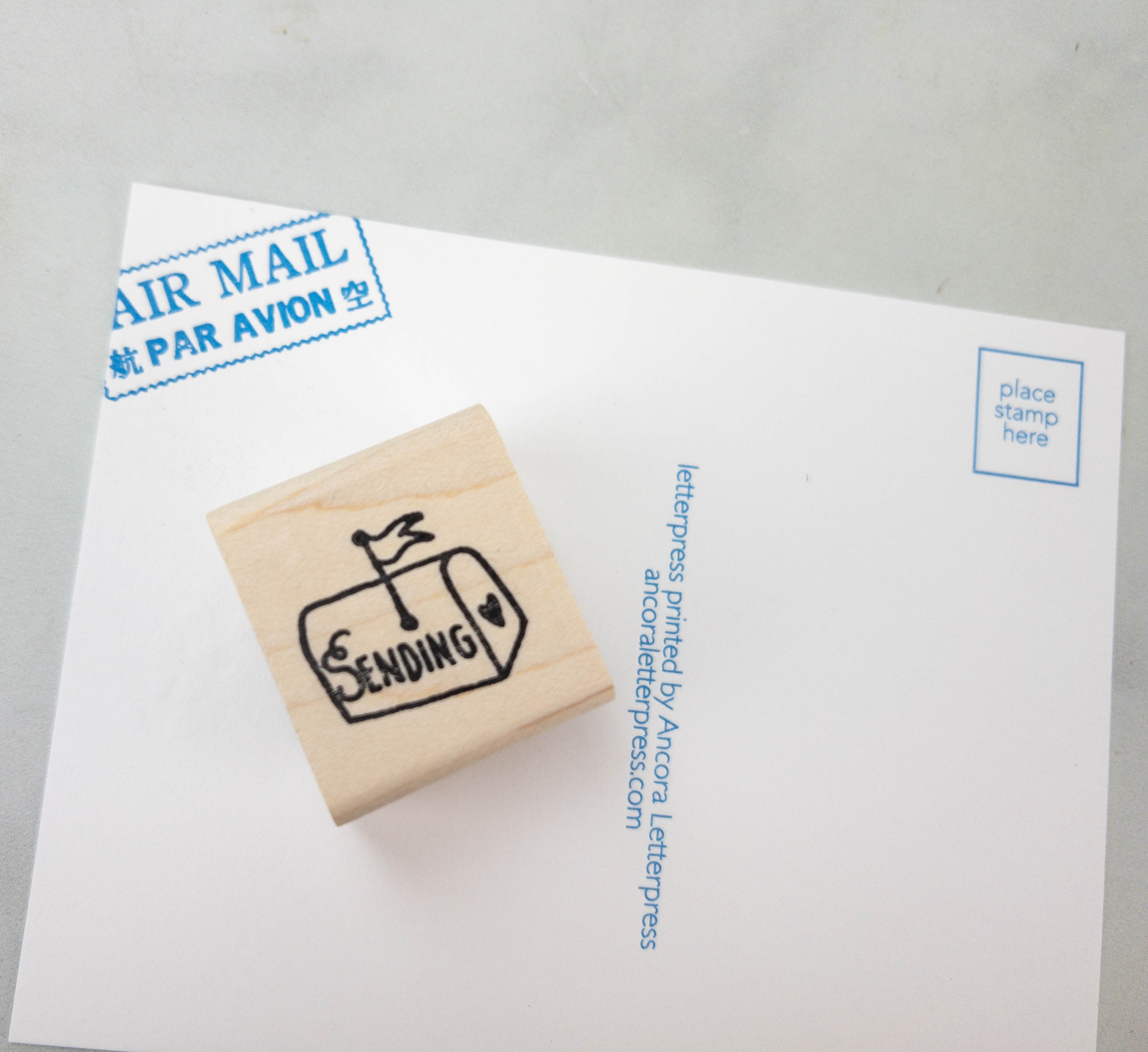 This month's artsy doodad is a "Sending ❤" Stamp. It features a mailbox with an image of a heart. You can definitely use this for stamping your cards before sending them out!
This month's Postmark'd PostBox is nothing different from past boxes – they make me happy! Everything inside is a true gift to snail mail fans. There are three greeting cards, two cute postcards, a bonus embroidery patch, and a stamp to design the cards! Not to mention, all of them represent the mailbox theme well. I also appreciate that each card is paired with an envelope. As always, there's postage so I can easily send a card whenever I please! If you enjoy sending and receiving snail mails as I do, this subscription is for you!
One thing I like about PostBox is that they elegantly wrap all the items. This month, they're neatly stacked and tied with jute twine. There's also a card with fun facts about the theme for the month. Here's a closer look: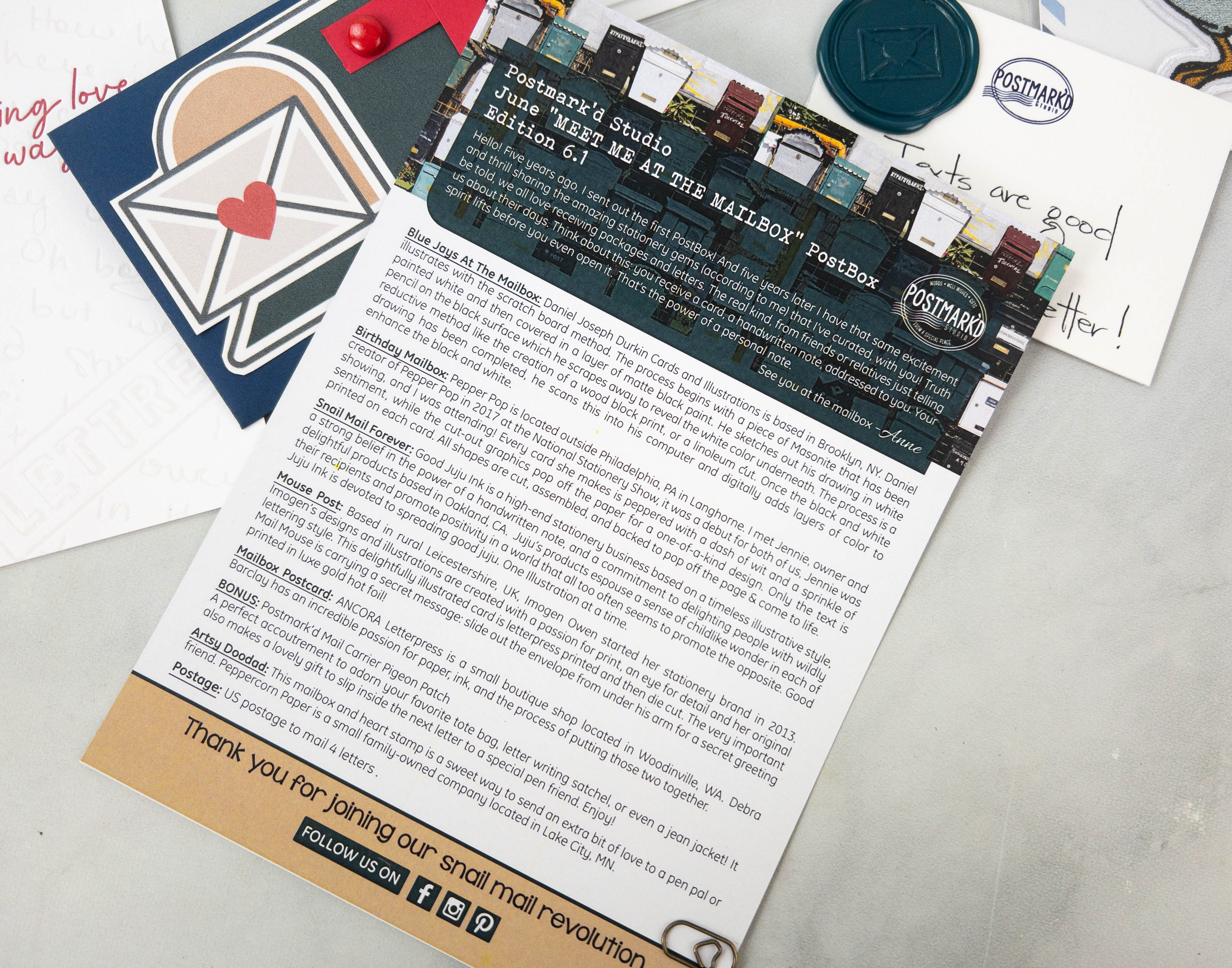 PostBox by Postmark'd Studio is a monthly paper & stationery subscription. Every box costs $25 a month plus shipping and contains a variety of handcrafted greeting cards, postcards, stamps, and other stationery items. There's a new theme to look forward to every month, and they even send random gifts on some months, so you don't want to miss a box! Also, you can save on longer subscription plans!
Postmark'd Studio's greeting card subscription is a reader fave – it made the list in our 2022 readers' choice picks of best stationery and greeting card subscriptions!
What did you think of this month's PostBox? Which card was your favorite?