The May 2022 box from My French Country Home is here and I am loving the theme – Blue & White! This is one of the fancier subscription boxes out there and they send items made exclusively in France, and in fact it ships directly from that country too! Check out the items I received, including a handmade candle in Limoges porcelain – check out the review below!
Rose et Marius Porcelain Candle (around $155) My French Country Home has 3 different scents available for order in their online shop but the Rose et Marius website has so many different combos of reusable jar and candle replacements available. I received a candle scent called "un vin rosé sous la tonelle", or "rosé wine under the arbor". The scent notes include strawberries, patchouli, and white cedarwood, and it is unlike any candle I have ever smelled before. It's sweet and warm and smells like a fine perfume. Now, the container it comes in is made of Limoges porcelain. The metallic accents are platinum. I haven't burned this candle yet, but I have enjoyed it's beautiful scent while it's been sitting in my office (it's now on my fireplace mantle and I catch a whiff every now and again). This candle came with a certificate of authenticity for goodness' sake, I can't just burn it! Candle refills are around $42 each.
Antique Glass Bottle The glass bottle that each subscriber receives will vary from box to box as they are antique and can come in different sizes and shapes. Mine is about 7″ tall and is olive green. I think it would be perfect for holding a single stunning stem. You can find unique bottles like this at the online shop where the listed value is $40.
Fragonard Hand Towel (about $27) I think this set of hand towels is charming, check out the different plants on each one! These can be used in a guest bathroom but I think they would work well in the kitchen too. They are made of 100% cotton and measure about 19″ x 12″ before being washed.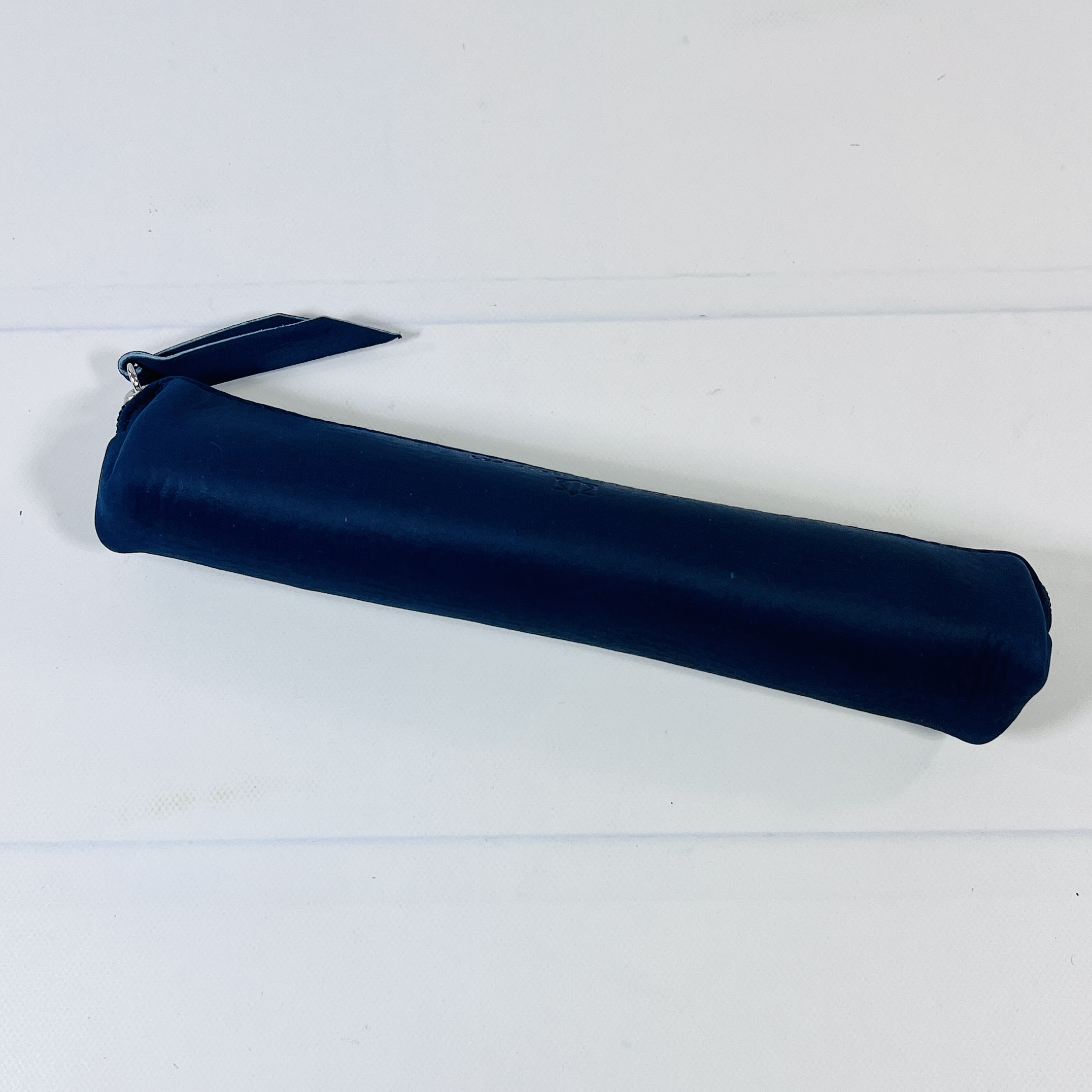 Ateliers Foures Leather Pencil Case ($40) At first I thought this pen/cil case was a little too small to do much but then I remembered how I am always digging around in the bottom of my purse for my pen when I get to the grocery store (I need to cross off those list items as I find them). I managed to fit 3 pens in there and was still able to zip it up. This will make them much easier to find when I need them!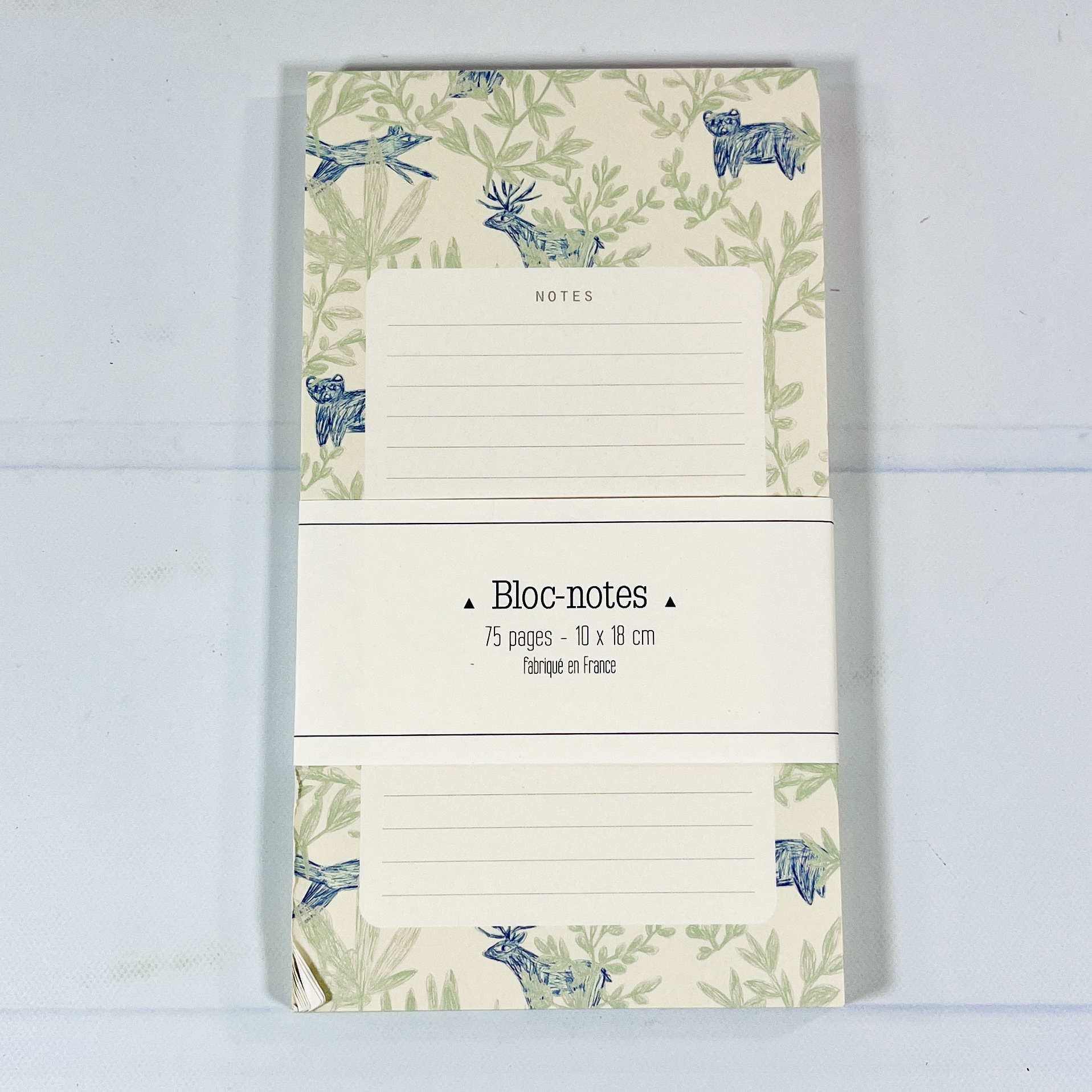 Season Paper Notepad (Around $9 for similar item) There are 75 pages on this cute notepad that is decorated with what appears to be woodland creatures of some sort. The pad measures 7″ x 4″.
Fabienne De La Croix Watercolor Print A print by an artist will be included in each shipment and the artist will remain the same throughout the year and then you will have a mini cohesive collection! This print can be framed or propped up for display but it also opens up like a greeting card and came with a matching envelope if you would like to send it to a friend. It may require extra postage because it measures 8″ x 6″.
Labelle Earrings (Similar item is available for around $37.65 here) I found a similar earring style on the Labelle website called "Lucky" due to their resemblance to a four-leaf clover. This one has a white mother-of-pearl insert and is covered in micron gold plate. I don't have pierced ears (they closed up due to allergies) so I will pass these along to one of my daughters.
Fragonard Thank You Gift ($22) Whether you are a quarterly or yearly subscriber you will receive a bonus gift, and this quarter it is a fragranced hand cream from Fragonard. It's possible that scents may vary but I received Jasmin Perle de The, which is jasmine pearl tea. I thought Margot Elena had beautiful packaging but this is absolutely lovely, with a seahorse and gold metallic accents. The scent has notes of lemon, jasmine, and green tea and there is a line of coordinating products available. The ingredients include glycerin, shea butter, and apricot seed oil and it's not greasy and the smell is wonderful.
My French Country Home The Magazine ($14.95) You can order the My French Country Home magazine directly or have it delivered with your box for an additional charge. It is a beautiful magazine and I love travelling via my couch and especially like looking at the lovely gardens that are featured. (NOTE: The magazine was complimentary for the May and February boxes, but future boxes won't have it unless you email to let them know you would like to add the separate magazine subscription).
As always I was enchanted and delighted with the products in the latest box from My French Country Home! The theme was perfect and makes me think of summer, with deep blue water and bright sunlit beaches for some reason, maybe inspired by the Côte d'Azur? The candle is so fancy that I hesitate to burn it, but it sits prettily on my mantle for now. I also appreciate the pen case, no more purse diving for writing utensils. The hand towels are adorable and the hand lotion smells lovely. The earrings are perfect for summer and will make a nice gift for someone since my ears aren't pierced. This is a special box and I can certainly appreciate the quality and craftsmanship of the products and the thoughtfulness that goes into the theme and curating of the items.
Below are a few more box opening pictures plus the fancy brochure that came with the box.
My French Country Home Box (formerly My Stylish French Box) is a quarterly lifestyle box that sends authentic and stylish items all the way from France! The box is curated by Sharon Santoni, an author and the blogger behind My French Country Home. This box is based in France and they work directly with highly coveted and timeless French brands to create a box that will help chic up your home and self. They send 6-8 items in each quarterly box. This box is $285 a quarter.
Any thoughts about My French Country Home Box? Let me know what you think of the Blue & White theme!