It's time to see what came in my Loti Wellness box for this month! June's theme is REVITALIZE and I enjoyed trying out a hydrating face mask, luxurious lotion bar, and ginormous bath bomb! Read on to see the full review of the June Loti Wellness box plus grab a coupon!
DEAL: Save 10% on your first box! Just use this link and coupon code SUBSCRIBE10.
Revitalize Workbook The monthly workbook has 14 pages for us to work through. There are activities and worksheets inside to get us motivated to try new things and break out of the same old, same old. Routines have their place, but we are also looking out for the next experience, so let's get out there and do this!
Simmer & Co. Simmer Mix in Be Witty ($12) Simmering ingredients on the stovetop can be a quick way to freshen up the house, but of course you must be vigilant and watch it carefully so the water doesn't evaporate completely and burn. You dump the contents into a pot and fill the rest of the way with water, bring to a boil, then reduce heat to a simmer and again, keep an eye on the stove. You can place the contents in a container in the fridge and it should last for about 2 weeks. This mix includes oranges, limes, grapefruit, Earl Grey tea, and hibiscus and I want to remind you that it is a home fragrance product and not meant to be used as a tea for drinking.
Tiny Acts Co. Kindness Cards in the Compliment theme ($15) I have all kinds of cards for myself thanks to subscription boxes but this set is meant to be given away! You choose a card and then look for someone to pass it along to. If the card says "I love your shoes", look for someone with amazing taste in footwear and pass it along. There are 53 cards in all.
Soak Bath Co. Lotion Bar ($19) Oh, this skin softener smells like chocolate, and since cocoa butter is the first ingredient that makes sense! The rest of the ingredients are sweet almond oil, coconut oil, and beeswax, very simple. This is one of those push-from-the-bottom type of applicators, so make sure to push it back down gently before replacing the lid. Rub the bar over dry skin and that's about it. Perfect for heels, elbows, or all over arms and legs.
Soak Bath Co. Bath Bomb ($6) I received a bath bomb in the Sweet Orange scent but it may vary from box to box. I must say, this is one of the heaviest bath bombs I've ever held! In fact, the brand's website mentions that you can cut it into two halves if you like for a future soak session. It has baking soda and citric acid plus mine is scented with sweet orange essential oil and has orange peel pieces. It also has coconut and avocado oils so be careful as the tub may be slippery when emptied.
Di Morelli Hydrating Face Mask ($8) It's so hot here in Texas, and probably everywhere else too, so sitting with a cooling mask over my face sounds pretty nice about now. This hydrating sheet mask has glycerin, niacinamide, tea and ginger extracts, cica, sodium hyaluronate, and more — in fact, it claims to have 14 plant ingredients to "repair and restore" the skin. Place on a clean face and let sit for around 15-20 minutes. You can pat any remaining serum into skin afterwards.
Cutie Oil in the scent Mia ($17) Well, this is interesting! It's a cuticle oil that can double as perfume. I prefer to think of it as a perfumed oil that is perfume, I don't need fragrance on my cuticles. It has a combo of several oils that include coconut and macadamia, plus parfum with notes of pink peony and jasmine. It has a sweet floral scent and I will store it with my perfumes because I don't want to accidentally apply this to my lips!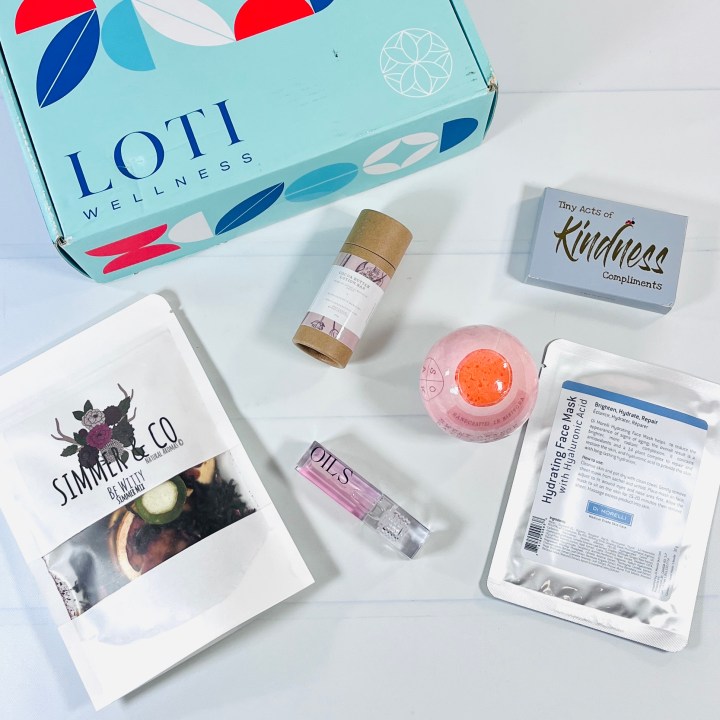 What a great assortment of items in the Revitalize-themed box from Loti! There was a simmer mix to help the home smell invigorating, plus a bath bomb that will do the same for the body. The face mask is perfect for when you have a few moments to put your feet up, and you can always watch a show or funny cat videos while you wait. The compliment cards may take a little more daring, because you may have to talk to strangers in order to get rid of them. I liked the cuticle oil but will use it as a perfume, and my favorite item was the lotion bar, it smells like chocolate!
Below you will find the product info card!
DEAL: Save 10% on your first box! Just use this link and coupon code SUBSCRIBE10.
Loti Wellness is a subscription box with a focus on self-care. The box has a monthly theme curated by therapists to focus on items and rituals to promote positivity and improve one's self. Loti Wellness works with local brands and small businesses whenever they can, and choose cruelty-free and natural products. The box will have 5-7 products for self-care and wellness. The box is $45.95 USD with lower prices on multi-month subscriptions and drops to as low as $37.95 USD when you sign up for 12 months. Shipping is $10.95 USD.
What do you think of this self-care subscription?