Kencko has an amazing deal for new subscribers to their super easy smoothie, gumdrops, and bowls subscription! Whether you're trying to switch to healthy eating habits or you simply love smoothies, Kencko makes it easy to incorporate organic fruits and vegetables to your daily diet, without rigorous preparation needed. Find the best smoothie flavors through a customized box and get all the vitamins and fiber you need!
Save 10% on your first box of smoothies, gumdrops, or bowls! Just use this link to shop, and use the coupon code kenckopartner at checkout.
OR Get a FREE Bowl with your first box of 12 bowls order! Use this link and use the coupon code FREEBOWL at checkout.
Kencko transforms fresh, organic fruits and veggies into handy single-serving instant smoothies. Each one contains about 80 calories, and gives the same nutritional benefits as 2 cups of fresh produce. Simply mix the powder into water or your favorite milk for a quick, healthy boost – wherever you are.
Looking anything else for breakfast, lunch, or in between? Kencko also offers Gumdrops and Bowls! Kencko Gumdrops are $47.84 per month ($2.99 per packet), with 16 packets per box. These gumdrops are your answer to your midday energy slump and sugar cravings and help you get one of your five a day! Bowls are your complete and balanced plant-based meals when you need a quick lunch – just add hot water. Get 12 flavors for just $6.90/meal – that's $59.80 per month.
Your daily drop of joy: gummies made from 100% fruits and vegetables. All the juicy sweetness, no refined sugars.

Meet the kencko bowls! It's lunch when you don't have time for it. We're rolling out something new to make eating well easier – even on your busiest days.
About Kencko:
Kencko offers a healthy and delicious breakfast smoothie subscription! Subscription starts at $2.99 per smoothie for a 20-pack plan OR $2.69 per smoothie for a 30-pack plan OR $2.49 per smoothie for a 60-pack plan! Plans ship biweekly or monthly. Trial pack is also available for $5.29 per smoothie.
Here's how it works:
To sign up, just head to the shop and pick your preferred plan and shipment frequency. Don't forget to claim your free shaker bottle – it's BPA-free, dishwasher-safe, and helps cut plastic waste! Another subscriber perk is free dietitian consultation (valued at $300), available as an add-on when you check out. Get nutrition advice by phone, text, or email whenever you need support from an expert.
When your smoothies arrive, you can try them right away. Choose water or milk, add the powder, shake to mix your smoothie, and enjoy! You can have 2 servings of a fruit and veggie smoothie for your morning health boost in just a minute!
Here are the benefits you'll get:
Kencko uses fresh farm ingredients, which are flash-frozen to ensure you can get all the good stuff, a.k.a. vitamins, minerals, fiber, carbohydrates, and protein. The ingredients also undergo a slow drying process which removes water content and preserves its taste. The smoothies come in powder form and the good news is that it's shelf-stable!
Here's the Smoothies menu:
Each smoothie has a particular health benefit, which might help you choose the smoothies for your customized box if you have a particular health goal.
The smoothie choices include Ambers for repair, Aquamarines for endurance, Beet reds for performance, Corals for performance, Crimsons for brain boost, Golden Plums for skin health, Golds for recovery, Greens for energy surge, Jades for mental focus, Mint Greens for mental focus, Mochas for mental focus, Peaches for skin health, Pumpkins for recovery, Purples for anti-inflammatory, Reds for skin health, Rubies for balance, Scarlets for invigoration, and Yellows for immune support. Regardless of which smoothie you choose, it's packed with nutrients and it doesn't have added sugars or sweeteners!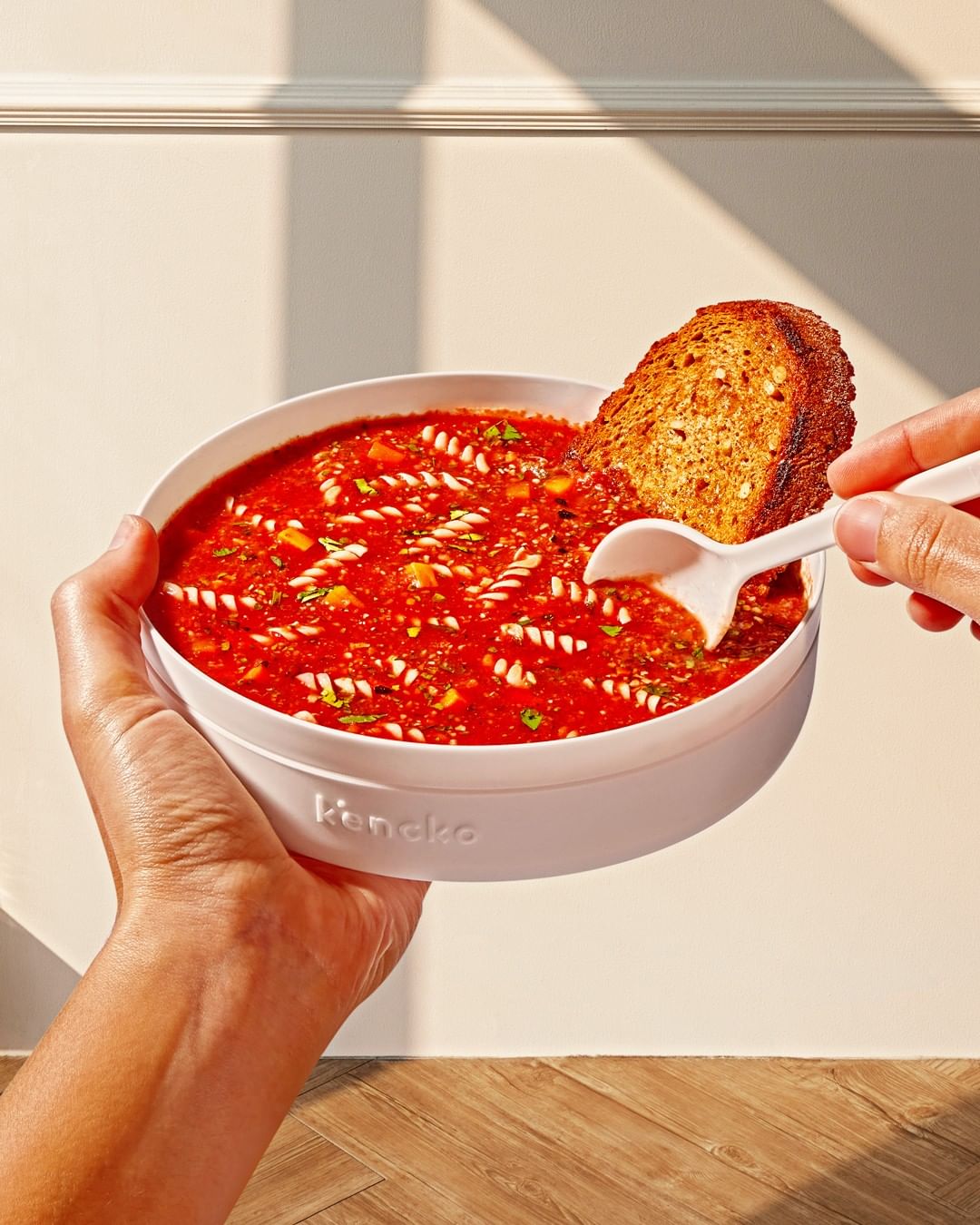 Kencko Bowls are delicious, nutritionally balanced, plant-based meals made from natural ingredients. It runs as a subscription and costs $82.80 (or $6.90 per meal pack) every two weeks, every three weeks, or every four weeks, depending on your desired delivery frequency.
As of the moment, there are six shelf-stable selections of mouthwatering dishes designed to nourish and satisfy tummies: Mush-Vroom (Wild Mushroom Cousotto) & Souper-Fast (Minestrone) to energize, Easy Chickpeasy (Meditteranean Couscous) & Speed Dhal (Lentil Dhal) to rebuild, and Beet That (Beetroot Soup) & Curry Up (Golden Curry) to support.
Each meal is high in fiber, vitamins, antioxidants, and all-natural deliciousness! On every pack, you'll find the recommended amount of water to pour into your bowl. It only requires 30 seconds of your time to prepare! Plus, all you will need is hot water to have a healthy lunch fix, mess-free and hassle-free! The best thing? You can carry your lunch wherever you go! It really is the ideal go-to subscription to revitalize lunchtime routines.
Are you getting anything from Kencko?