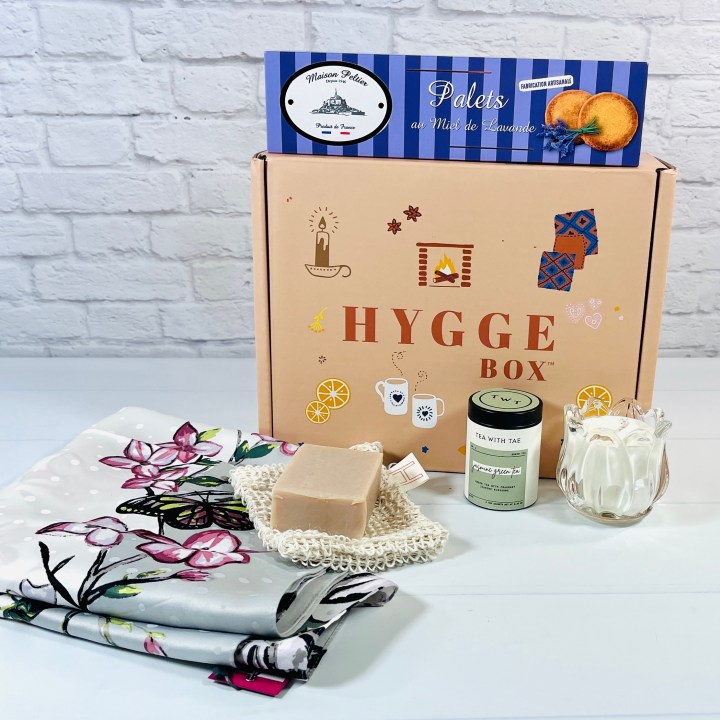 Hygge Box is perfect for those who like to get cozy and comfy in their homes. Hygge is all about that kind of lifestyle, sort of like self-care for the mind, body, and soul. The theme this month was all about appreciating the joy of spring and the items were reminiscent of the great outdoors – a floral-shaped candle, cookies with a hint of lavender, and a scarf with blooms and bugs (don't worry, they're things like butterflies). See what I received below! Please note that this is a review of the Deluxe Box and that extra item is at the end of the review.
Blomst Tulip Candle ($28) There's not much scent with this candle (it's "naturally" scented) and it's made with a blend of soy and beeswax. The glass jar looks like a tulip, so cute! The glass can be reused after the candle is spent.
Maison Peltier Lavender & Honey Cookies The snack treat this month comes from France and is perfect to go alongside a cup of tea or coffee. They are slightly sweet crispy/chewy cookies, similar to shortbread. They are sweetened with sugar but also lavender honey, and while they don't taste like either one of those flavors, they are yummy. I received a box with two sealed packs of two thick cookies each, so four cookies total.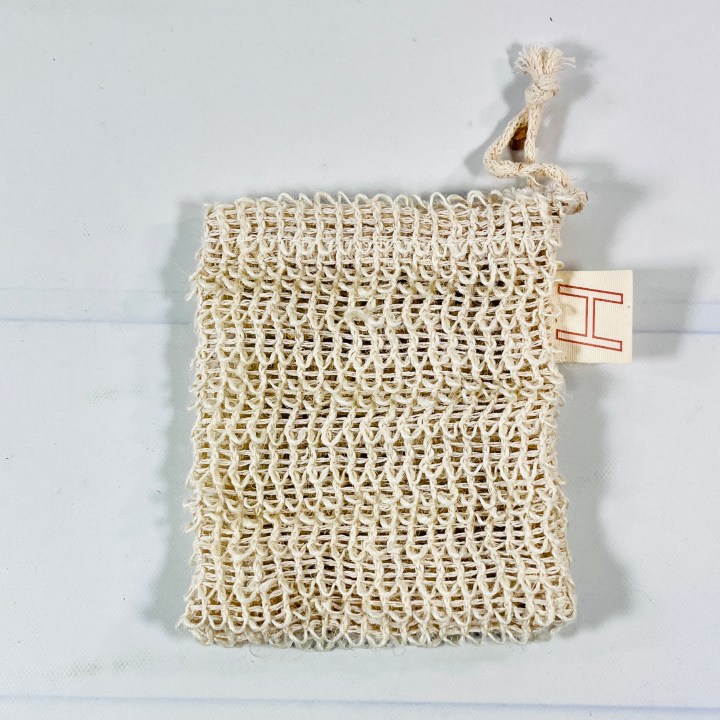 Sisal Scrubber Bag Sisal is a natural material that comes from an agave plant. In this case, it has been turned into a sort of scrubby or loofah, something to exfoliate the skin without being too harsh. This is meant to be used on the body and it has an opening so you can stick a bar of soap inside, then rub the combo on your arms and legs to clean and remove dead skin cells.
Biancamore Soap Buffalo Milk + Pomegranate (about $8.56) You can place this soap inside the sisal bag shown above but I will stick it near my kitchen sink, I prefer to use bar soaps while cooking. This one has a light scent and is fragranced. It says "Pomegranate" but I don't think that's the scent (which is lightly floral and milky) but there is pomegranate bark extract listed in the ingredients.
Tea With Tae Jasmine Green Tea ($6.99) I love jasmine green tea, ever since I had it at a Chinese restaurant as a child. Make sure to keep the heat just below the boil and steep for no more than 3 minutes to avoid getting bitter tea (green tea is sensitive that way). There were 5 sachets inside the travel-friendly tin.
Deluxe Box
Vince Camuto Spring Blossom Scarf ($28 list price, now $24.99) I wish I was a scarf person but personally, I can't say I've ever worn a scarf (other than the warm kind you wear when it's winter and cold outside). This one is made of polyester and measures about 72″ x 18″. Sometimes I wrap scarves around a bag (despite not wearing them, I still have quite a nice collection!). We just visited Washington, D.C. recently and there were dogwood trees in bloom which I had never seen before but which captured my eye. I think some of the flowers on the scarf are dogwoods, and I've long been a fan of butterflies (and I spotted a dragonfly and ladybug).
I am all about self-care and coziness and so the items in Hygge Box are always welcome in my home! I was especially fond of the tea, jasmine green tea has long been a favorite of mine. I also liked that the cookies weren't too sweet and were perfect for pairing with the tea for an afternoon break. While I don't wear scarves I do like the print on this one and will tie it around a handbag. The soap, scrubber bag, and candle round out the box and theme and were perfect for inclusion in this box!
Below are some box opening pictures along with the product information card!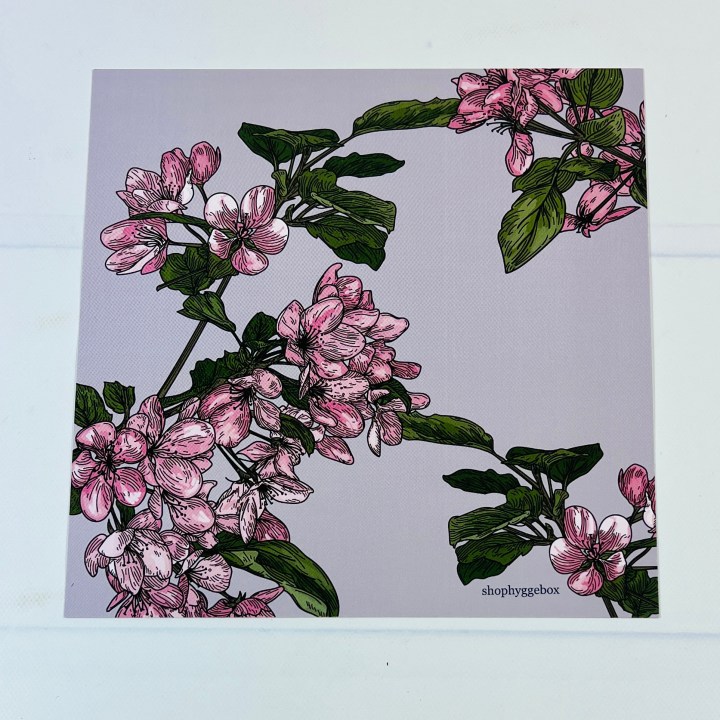 Hygge Box is a monthly subscription box for those who want to surround themselves with comforting objects that contribute to a sense of coziness and general well-being. You can choose from the Deluxe Hygge Box ($40 for 5-7 items) or the Standard Hygge Box ($29 for 4-5 items) and shipping is extra. Items sent may include candles, drink mixes, edibles, home decor, or wellness products.
What do you think of the Hygge Box?