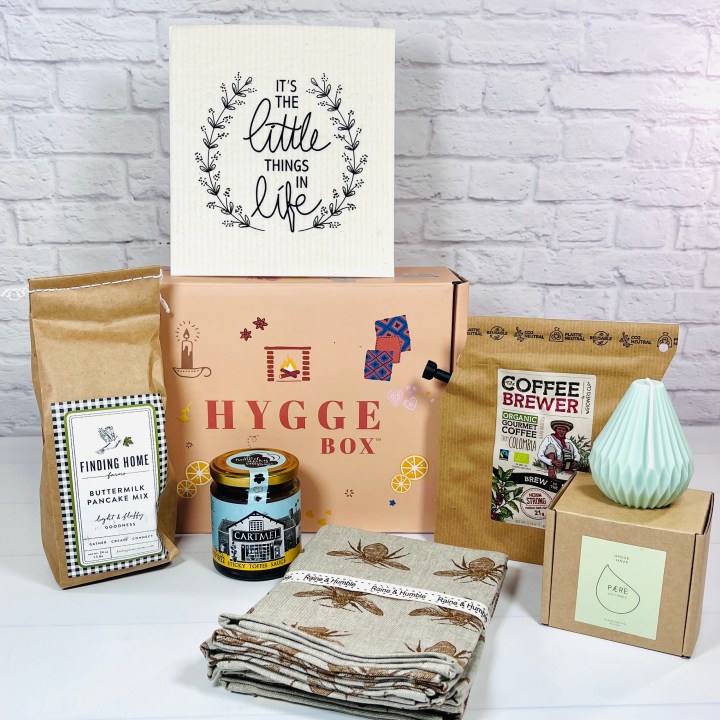 Hygge Box is perfect for those who like to get cozy and comfy in their homes. Hygge is all about that kind of lifestyle, sort of like self-care for the mind, body, and soul. The theme this month was Rise & Shine and came with products to help us start they day in a hyggelig way with a pancake mix, a candle, and coffee. See what else I received below! Please note that this is a review of the Deluxe Box and that extra item is at the end of the review.
Swedish Dish Cloth You can use this reusable dishcloth the same way you might use either a regular dishcloth (wiping counters or washing dishes) or how you might use a paper towel (sopping up spills or washing windows). It can be machine washed over and over again but you should lay it flat to dry instead of sticking it in the dryer.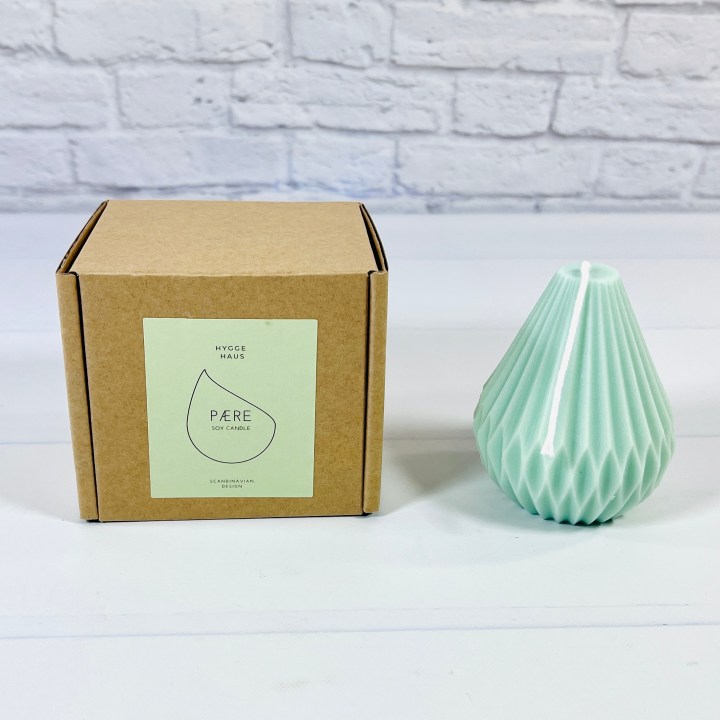 Pære Soy Candle I think there is a candle in each box and this one reminds me of a pear, thanks to its name, color, and shape. You will need to set it on a fireproof dish before burning or use it for decoration. It doesn't have any scent.
Cartmel Sticky Toffee Sauce (about $2.57) My daughter saw this in the fridge and knew it was from England, but can you believe that in the two years I lived there, I never tried sticky toffee pudding? This is similar to caramel or dulce de leche, except it was exceptionally smooth and almost fluffy when at room temperature (but was thicker once I placed it in the fridge). It has a note of molasses which is absent from the versions found in the U.S. It can be poured on ice cream, eaten as a dip with apples, sautéed with bananas and a bit of rum, or pour it on top of the pancakes from below. I prefer to eat it right off the spoon!
Finding Home Farms Buttermilk Pancake Mix ($10) If you want a home-cooked breakfast in no time, reach for this pancake and waffle mix! Add oil, water, and egg and you should have breakfast on the table quickly.
The Coffee Brewer Organic Gourmet Coffee ($2.08) Here is another product from Europe — Denmark, to be exact (although the beans are from Columbia). You simply pour hot water in the bag according to your taste (there are lines to guide you), seal it up, and then wait a few minutes before pouring. There is enough inside for 2 cups of coffee, and you can rinse the bag, refill with your own ground beans, and then use it over and over again (like on a camping trip or while staying in a hotel). The tasting notes mention roasted almonds, pomelo, and chocolate but I don't drink coffee so I can't really say. I am tempted to use this to make iced coffee though.
Deluxe Box Item
Raine & Humble Honey Bee Napkins ($17.99) I really missed out on a life-long opportunity to collect things with bees on them (my name means honeybee) because I've been focusing on butterflies for so long, but I have a few apian items now in my home and am happy to add these cloth napkins! These are made with a recycled cotton blend and they measure 16″ x 16″. There are four in the set and the bees have mustard-colored bodies on a taupe linen-type background.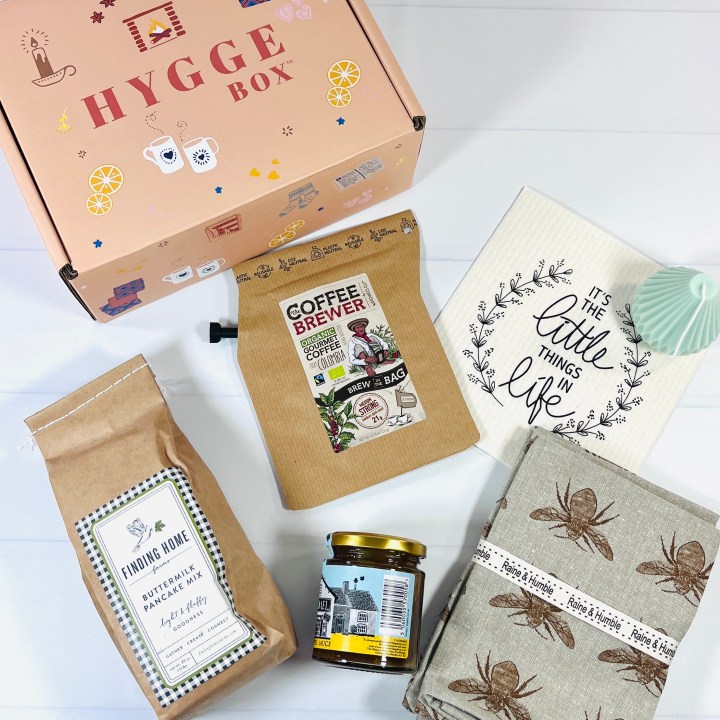 My mornings are off to a great start thanks to the June Rise & Shine themed box! I haven't tried the pancakes yet but plan on making them soon, and there is plenty of mix so I can make the waffle version too. I have already worked my way through half the jar of sticky toffee sauce and I'm not ashamed to say it's been straight off of the spoon each time. My daughter was thrilled to receive the coffee and I adore the bee napkins, they are so cute. Hygge Box introduces me to items I might not find otherwise, like the Swedish dishcloths and pear-shaped candle. They always send things that resonate with me and I enjoy using the products in my life, whether it's a reusable item or a one-time snack.
Below are some box opening pictures along with the product information card!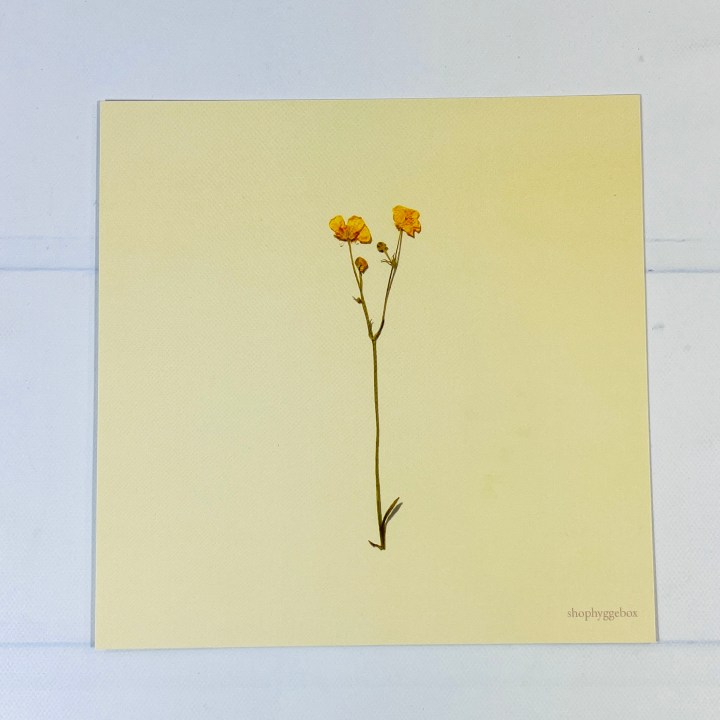 Hygge Box is a monthly subscription box for those who want to surround themselves with comforting objects that contribute to a sense of coziness and general well-being. You can choose from the Deluxe Hygge Box ($40 for 5-7 items) or the Standard Hygge Box ($29 for 4-5 items) and shipping is extra. Items sent may include candles, drink mixes, edibles, home decor, or wellness products.
What do you think of the Hygge Box?