GLOSSYBOX offers beauty must-haves whatever season it is! The Summer 2022 limited edition box was called FEMALE FOUNDED, and it celebrates female-owned businesses and their incredible stories. There were 11 products inside, with a mix of haircare, skincare, cosmetics, and accessories that will revamp your beauty ritual. Continue reading to know which brands were featured in this limited edition box.
GLOSSYBOX LE boxes are sold separately from the monthly subscription box. The subscriber price is $35, while the non-subscriber price is $30.
DEAL: Subscribe today and get your first box for $16 when you use the coupon code PERFECT16!
I received three packets of FGBG Daily Dose Vitamin Gummies ($15)! They come in different flavors, with each pack containing two vitamin gummies. The pink one is for Hair, Skin, & Nails, and they're strawberry flavored. The yellow vitamin pack is mixed berries & orange flavored Women's Multivitamin formulated to boost energy, immunity, bone health, and overall healthy appearance. The Summer Glow Tanning Gummies are new to me, and their flavor is inspired by Miami Vice cocktail – a mix of strawberry and coconut. These supplement gummies are 100% vegetarian and made without gelatin and lactose. They're also packed in daily on-the-go packets, so you can take them anytime and anywhere!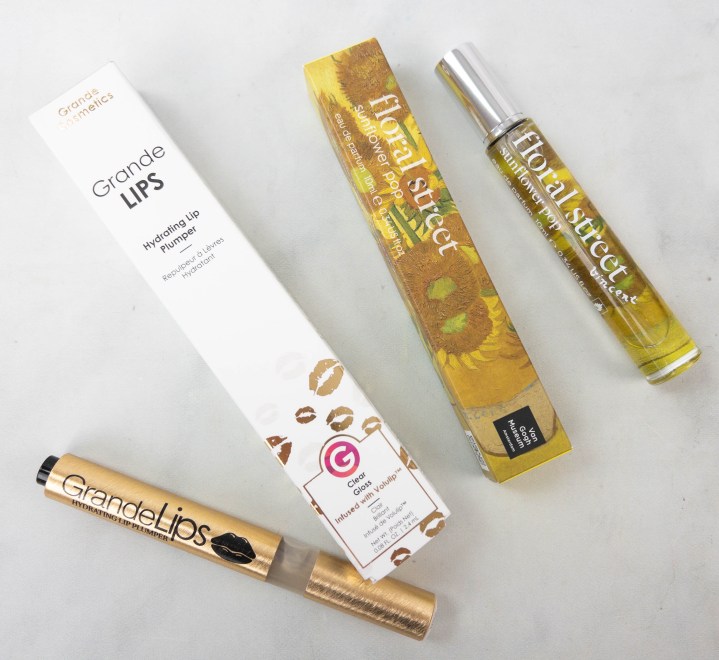 To help us achieve fuller-looking lips, here's Grande Lips Hydrating Lip Plumper – Clear ($27)! It contains Volulip™ and hyaluronic acid that moisturizes, improves firmness, and promotes plumper-looking lips. This lip product also has vitamin B3 with conditioning and smoothing properties. To use, just click the button on the bottom to get the product out and apply. Then, you'll feel the plumping effect after 3-5 minutes! Another great thing is that it can be used alone or mixed with other lip products.
The first thing I noticed about Sunflower Pop Eau de Parfum Travel Spray ($32) is the pretty sunflower packaging, which is Van Gogh-inspired! The fragrance itself didn't disappoint either, as it smells fruity, citrusy, and zesty with a hint of sparkling freshness. Scent notes include mandarin and bergamot, with honey and bellini accord. It's also vegan and cruelty-free!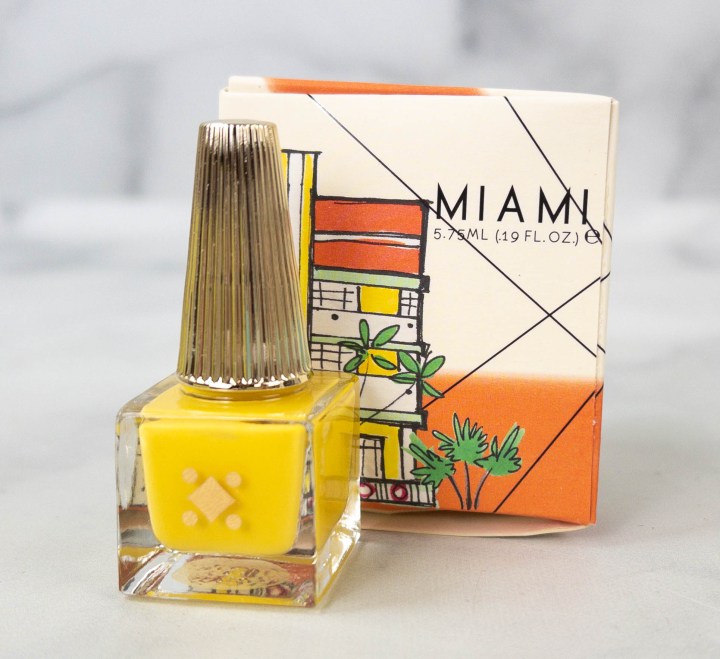 Deco Miami Nail Polish – Tequila Sunrise ($8) is a nail lacquer with a bright yellow color that exudes happy, sunny vibes. It applies smoothly and only needs 1-2 coats for full color. It's like sunshine in a bottle – the perfect color to pull off this summer!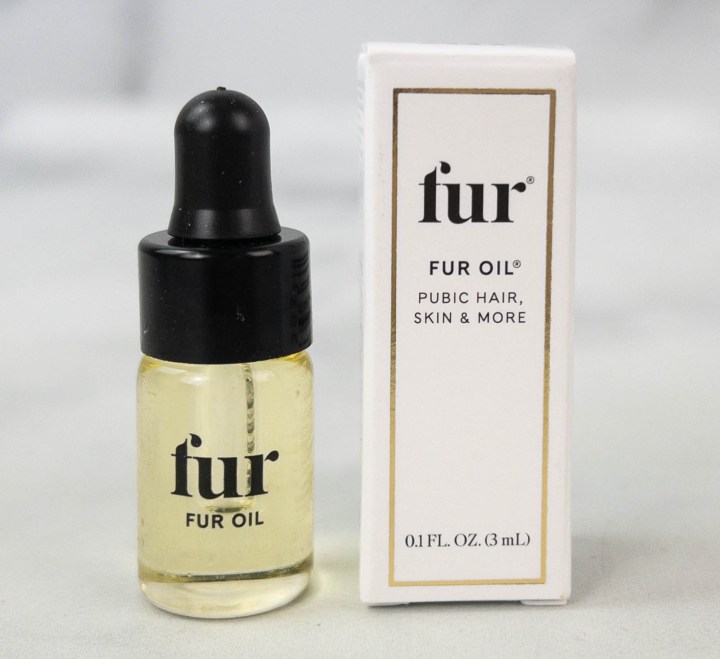 I received Fur Fur Oil ($2.08) in deluxe sample size! It helps moisturize and soften hair in sensitive areas while soothing the skin and reducing ingrown. Containing grapeseed and jojoba oil, it's gynecology tested and absorbs quickly without the greasy feeling. It smells nice as well! The oil is packaged in a glass dropper bottle, making it easy to use. You can also use it as a cuticle softener, scalp conditioner, and bath oil. I'm not sure that I've ever received this product in a subscription, although I've definitely had it on my want to try list, so I thought it was great for it to come in this box!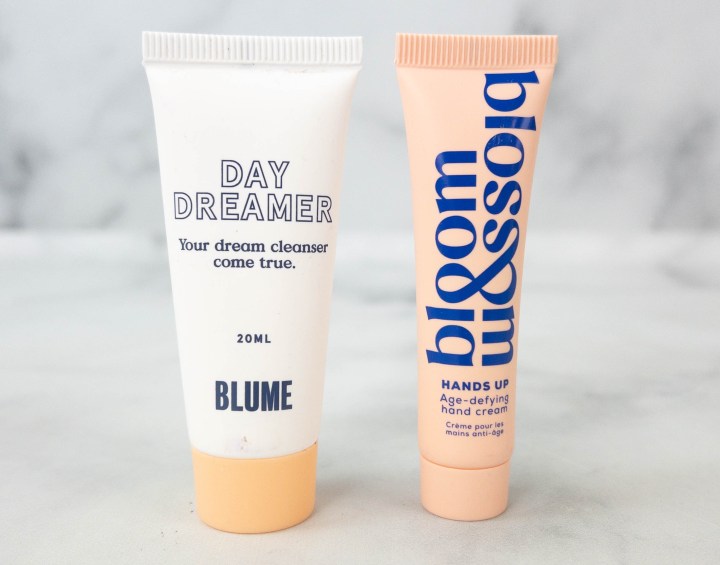 Blume Daydreamer Super Gentle Face Wash ($3.33) cleanses the skin without stripping natural oils! Extra rich and creamy, this cleanser is made with rapeseed oil and grapefruit extract which evens out skin tone and shields the skin from free radicals. It also contains chamomile and lavender that soothes and calms redness, acne, and bacteria. Even sensitive skin can benefit greatly from this cleanser!
No more dry hands, because Bloom & Blossom Hands Up Age-Defying Hand Cream ($15) comes to the rescue! It has licorice root extract, shea butter, and niacinamide that hydrates and nourishes the skin, helping restore its softness and healthy appearance. This hand cream is also fast absorbing! It applies smoothly to the skin and leaves no sticky residue. Another thing to love about it is the pleasant scent of bergamot, ylang ylang, and cedarwood. The product is vegan and cruelty-free to boot!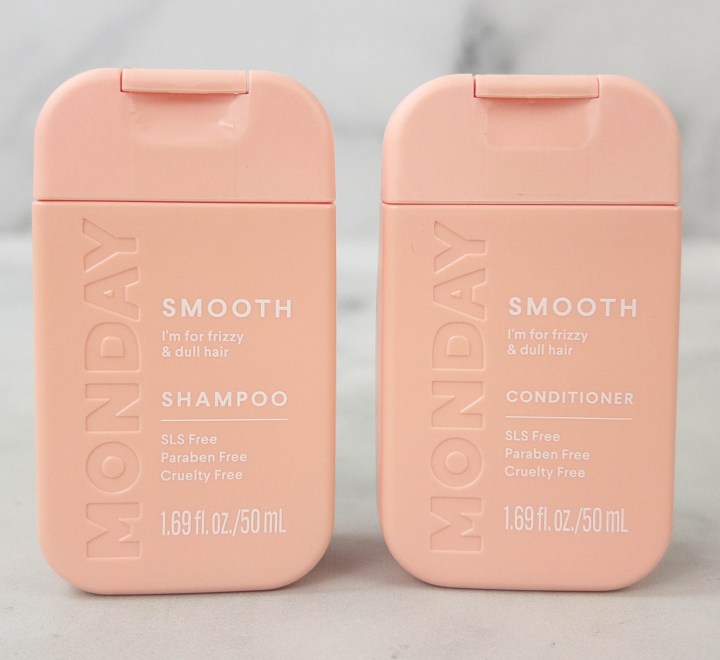 Monday Haircare Smooth Shampoo & Conditioner Minis ($5.98) come in cute and unique packaging, with safety seals to avoid spillage while in transit. Ideal for frizzy and dull hair, this hair care duo is formulated with coconut oil, shea butter, and vitamin E, which hydrates and nourishes the hair and scalp. Both are gardenia scented, which smells cool, bold, and fresh!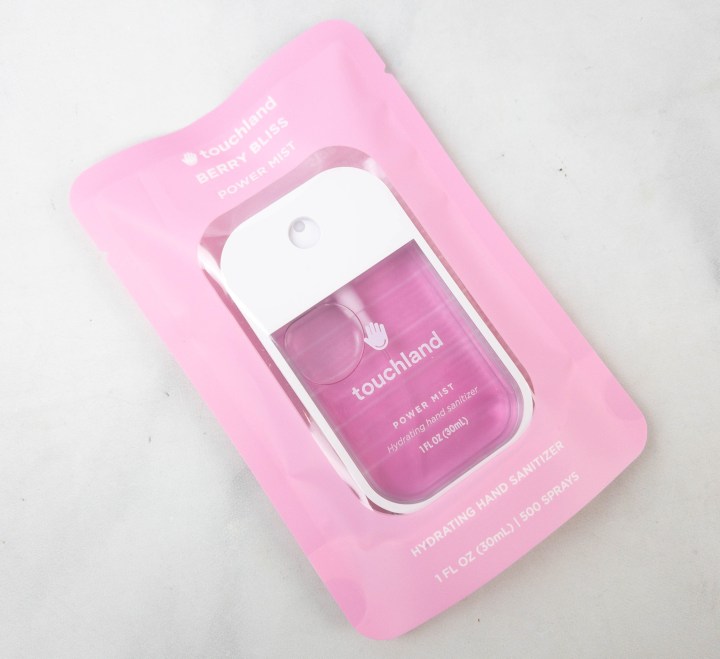 Touchland Power Mist – Berry Bliss ($9) keeps hands germ-free, and it has chic packaging too! The formula contains aloe vera and lemon essential oils that moisturize, nourish, and purify the skin. This hydrating and softening hand sanitizer also has a pleasant smell, with scent notes of ripe strawberries, black raspberries, crisp apple, and peach scent notes with vanilla bean as the base. It dries immediately without feeling tacky or sticky after. I would definitely carry this with me wherever I go!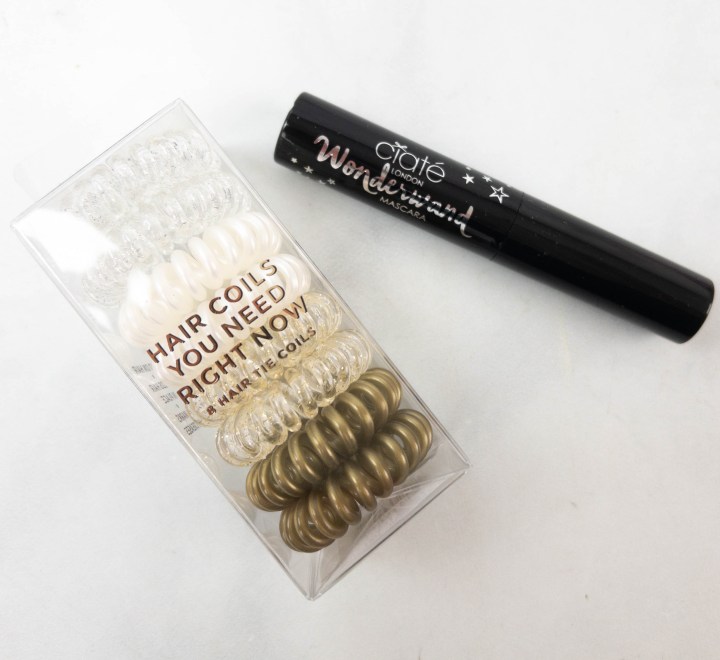 For those with long hair, Kitsch Stargazer Hair Coils ($5.99) help keep it neat, whether you're enjoying the sun or just lounging at home! There are 8 pieces of this telephone cord-style hair tie in the box, and they are durable but they don't crease and tug the hair.
To cap off the box is Ciate London Wanderwand Mascara ($10) in carbon black shade. It has the ideal brush to give the lashes intense volume and beautiful curls. This mascara doesn't smudge and flake as other mascaras do. It effortlessly creates a high drama false look with just three applications! Plus, you can throw it in your pouch and carry it everywhere you go.
The Limited Edition box is brimming with summer essentials! From haircare to the skincare, there are amazing products to use in the box. Everything comes from female-founded brands, which is a joy to the heart. There are sample gummy multivitamins, lip plumper, perfume, nail lacquer, face wash, hand cream, shampoo and conditioner, hand sanitizer, mascara, and hair coils. There's also a hydrating oil in the box for sensitive areas, which I found interesting and unique. The box has a total value of $133.38. There are even several full-sized products, which made the entire curation really worth it!
For Summer 2022, the LE box was designed with abstract paintings of women. There's also a text on the box that reads, "Female Founded". Each GLOSSYBOX also includes a booklet with product descriptions. Everything is wrapped in purple tissue paper and tied with a purple ribbon for an elegant feel! See it here: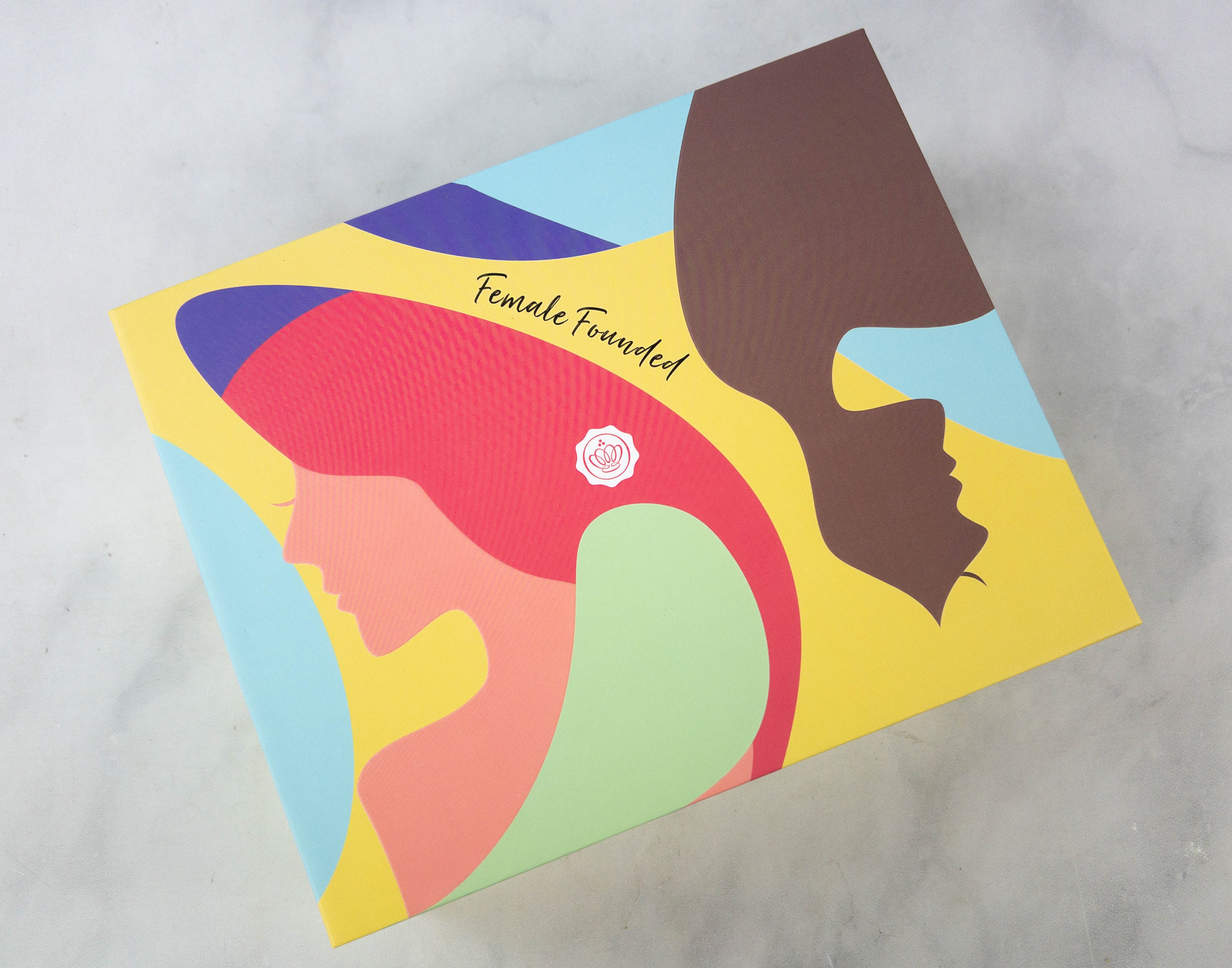 GLOSSYBOX is a monthly beauty subscription box with at least 5-6 luxury samples – many full sizes – per month for $21.
GLOSSYBOX is a reader fave and near the top of the readers' choice best beauty subscription box awards list!
NOTE: If you choose to subscribe to a recurring Monthly Plan between the 15th to the end of the month, you automatically agree to the following month's charge.
What did you think of this month's GLOSSYBOX?