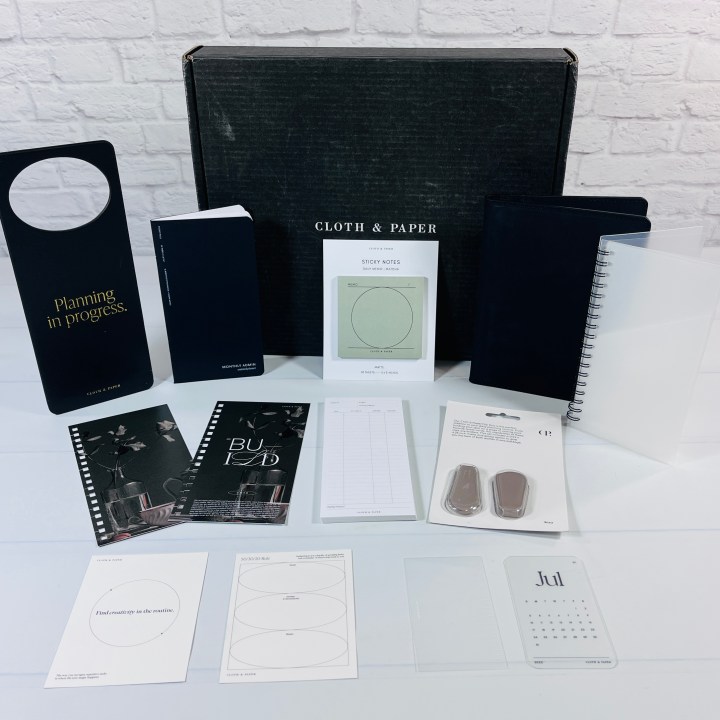 In the latest box from Cloth & Paper I received a leather folio, some inserts to fit that folio, and lots of wonderful pens (my favorite part!). If you are new to this box then know that they have a few different subscription options, and you can choose planner sizes based on the planner you use at home or work. This is a review of their Penspiration AND Planning + Stationery combo, which is $54.99 a month and drops to as low as $49.99 a month when you choose the 6-month term. This is the May box, and they send calendar cards etc. two months in advance, so you're never behind or have to worry about getting those supplies late.
DEAL: Get 10% off your first box! Use the coupon code HELLOSUB10 at checkout!
Planning + Stationery Box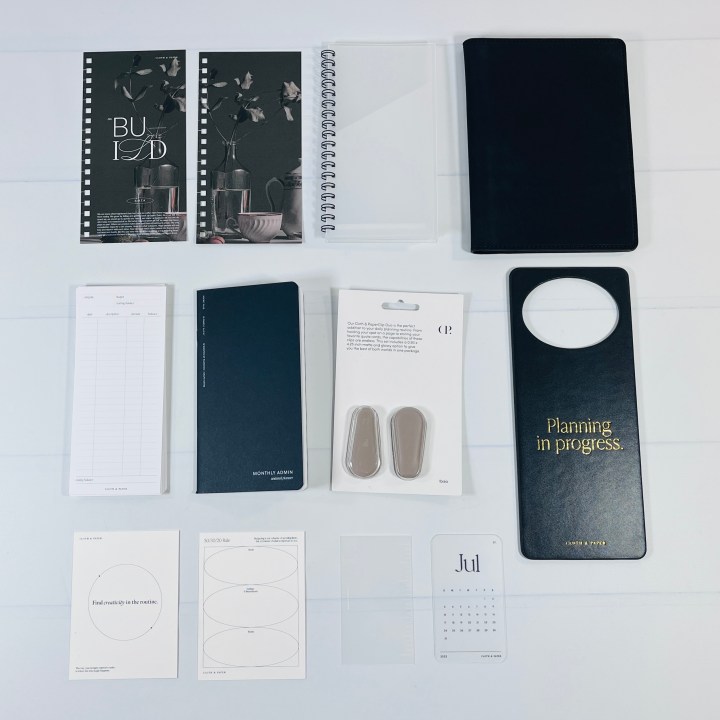 Here's everything in this month's Planning + Stationery Box. NOTE: This was a special box in honor of Cloth & Paper's founder's birthday. The items in this month's box will fit in the leather folio shown later in the review and therefore it isn't customized to the planner size you selected at sign up.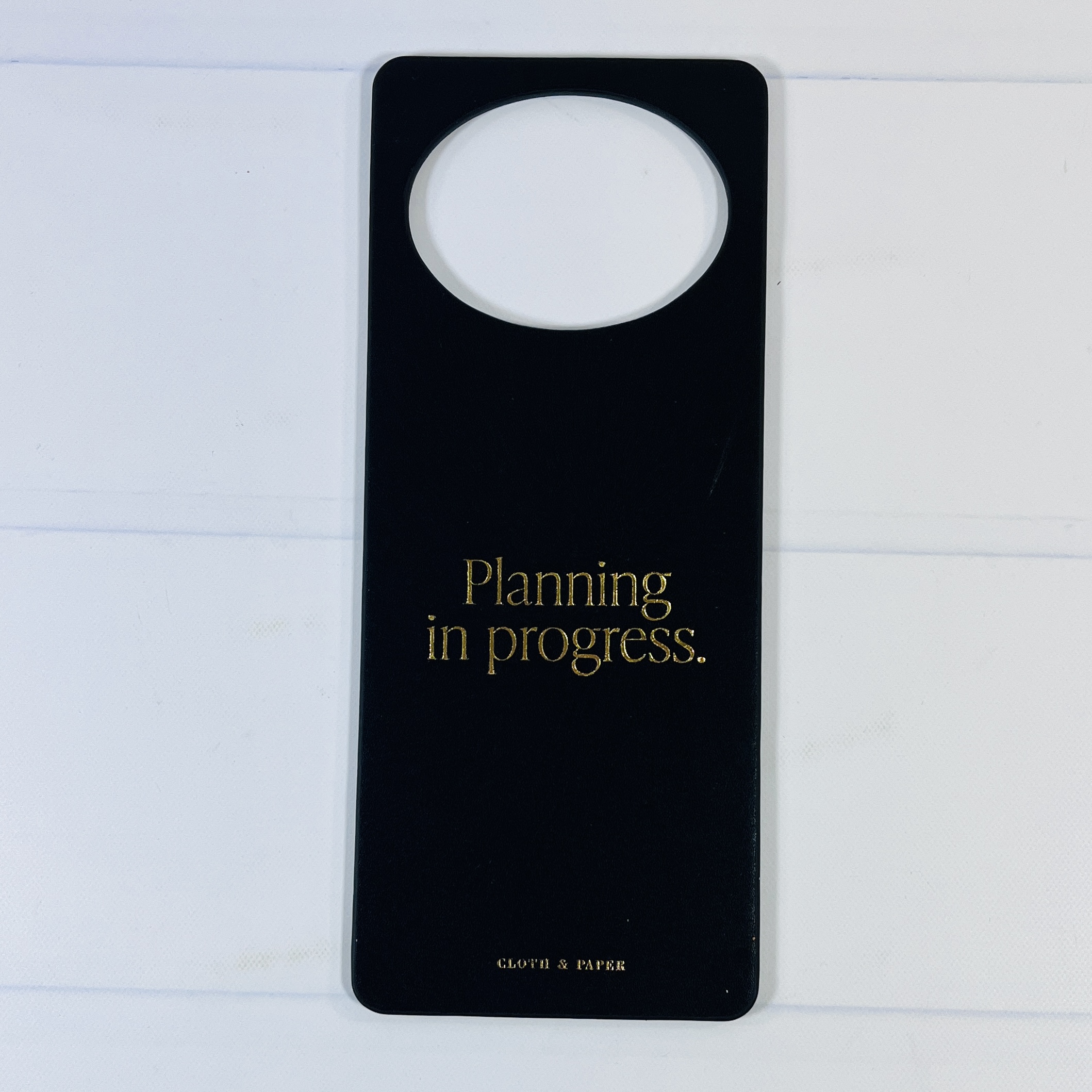 Door Hanger is double-sided and made of "vegan" leather and is embossed with gold metallic lettering. It seems pretty sturdy and should last for a while, although be careful or it will get scratched up.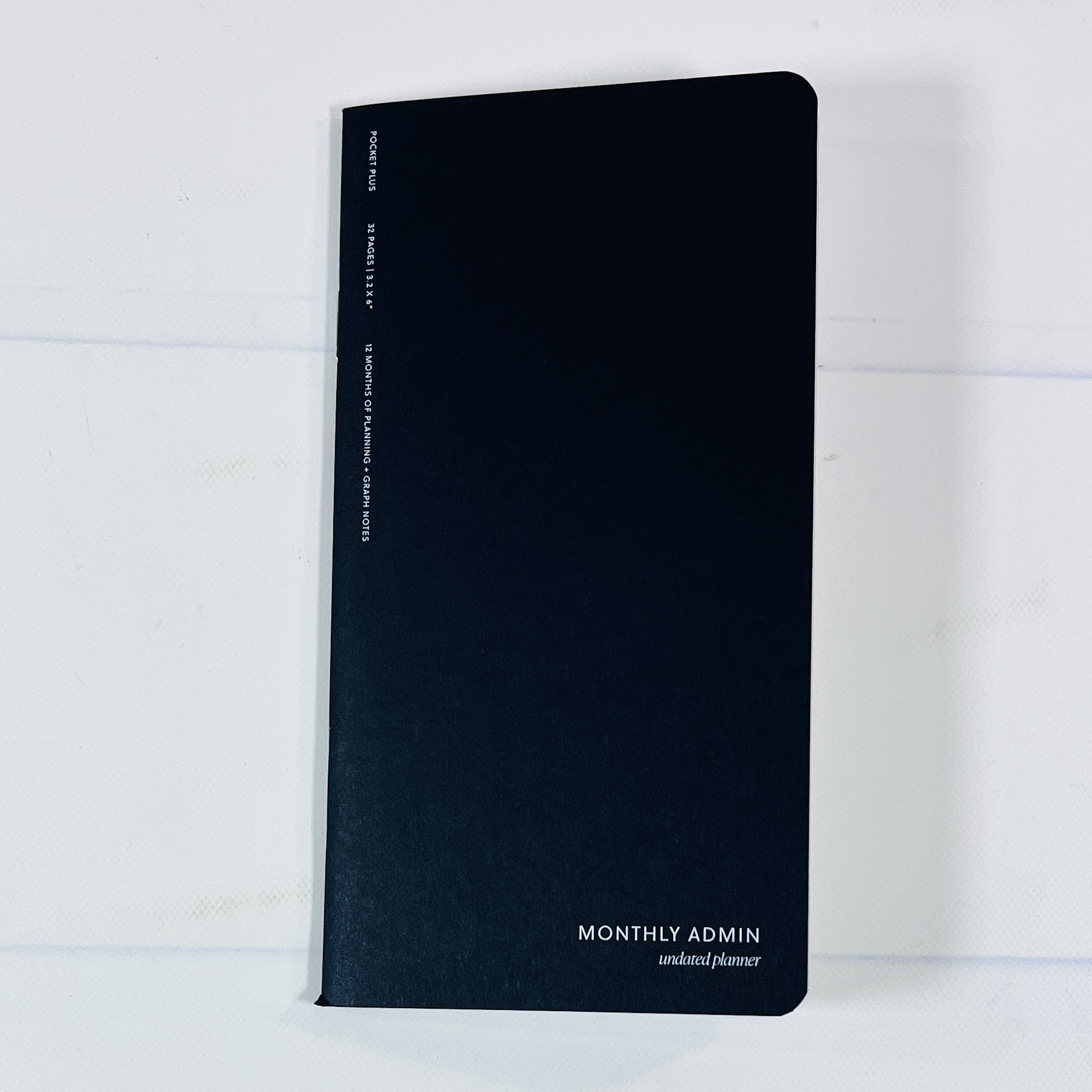 Monthly Admin Undated Planner This 6″ x 3″ planner will fit into the folio shown later in the review. It has 32 pages, enough for 12 months worth of planning ahead. One side has a gridded page while the one across from it has space to fill in a calendar (you can start with whichever month you prefer), a space to note tasks and important dates, and a look ahead for the next month.
Pocket Plus Build Dashboard Duo This duo can be placed on the Spiral Folder System (shown below) which can then be placed inside the leather folio. You can place one in the front and the other at the back, like a book.
Cloth & Paperclip Duo Now here is something I am really excited about! These are clips that can be used to mark pages in your planner, a book, etc. One has a matte finish while the other is glossy (like it was laminated!) and I could use several more pairs like this. You can slide through the pictures above and see it in use in my regular Cloth & Paper planner setup.
Leather Folio Here is the leather folio, which is made of nubuck and is soft, kind of like suede. It measures 6.75″ x 5″ and has pockets and slots inside for holding inserts and cards. There was a card included that describes how to take care of the leather.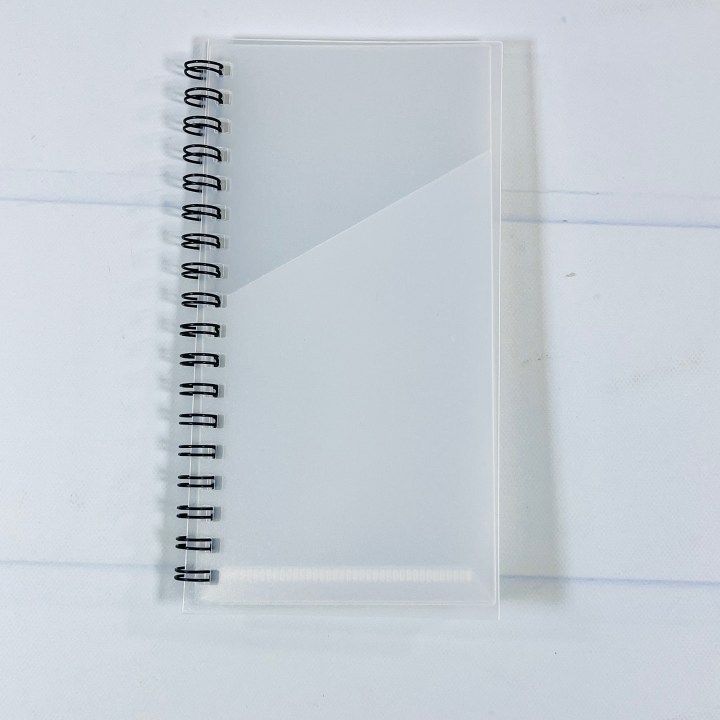 Spiral Folder System Here is a mini folder system that slides right into the folio. It has a front and back cover and 8 pages with a pocket slot in the front of each one. I have to say that while I had no problem sliding the admin planner in, I still haven't been able to get the spiral folder into any of the three long slots in the folio.
Cash System Cards You can slide one of the 15 Cash System Cards into the spiral folder and I think the idea is to keep track of spending a la the "cash envelope" method. Let's say you want to spend no more than $200 on dinners out for the month, or $50 on books. You would place $200 in an envelope marked "dinner out" and once that money is gone, you will need to stop eating out. The card helps you keep track of each category.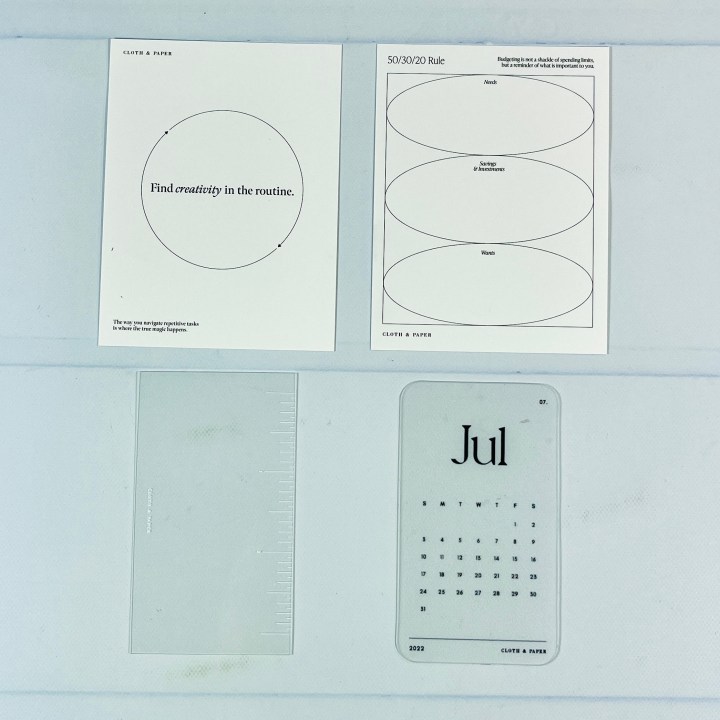 There were four journaling cards. I think these would work better in the new leather folio we received since they are small but if you have clips (like the new pair we received in this box) or a clear card holder insert then that might keep them handy in a bigger planner system (I tend to loose them otherwise).
There is always a card that shows and describes what is in the box. This is helpful because it's not always obvious to me at first glance. There is also an unboxing page on the Cloth & Paper website plus they show the products on their YouTube channel!
Penspiration Box
Here's all the items in the Penspiration box!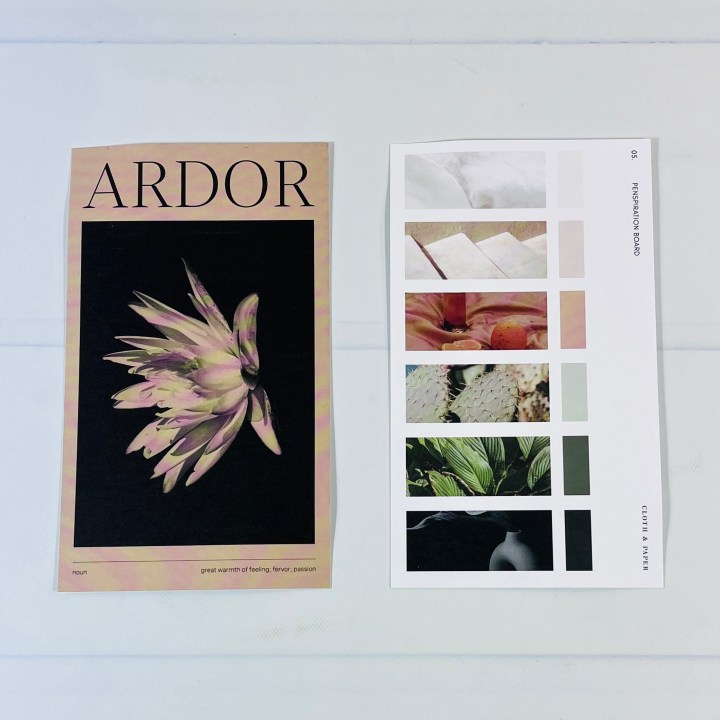 The card on the left is a journaling card and has space on the back for a few sentences. The Penspiration Board is on the right and has the items and color palette that influenced this month's box. The back is a pen test sheet (shown with swatches below).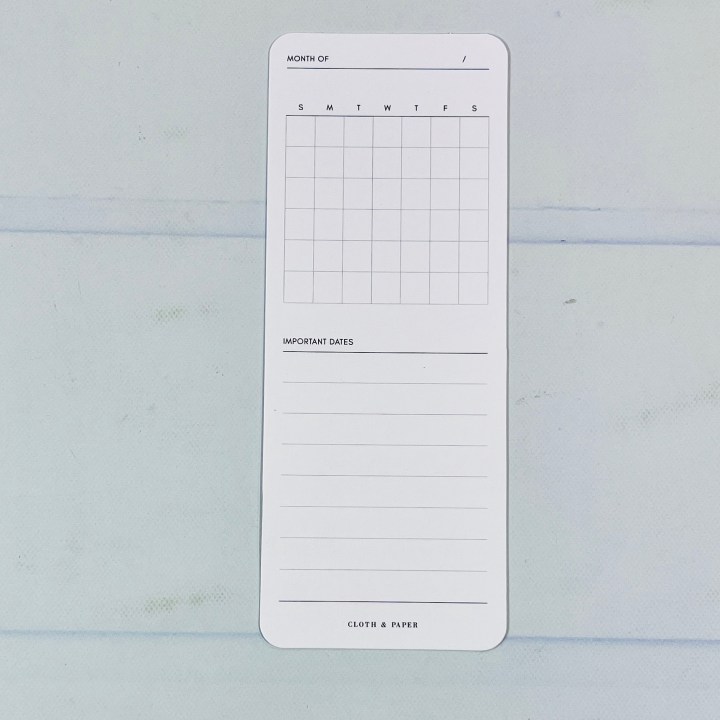 This is a calendar card and can be used however you like.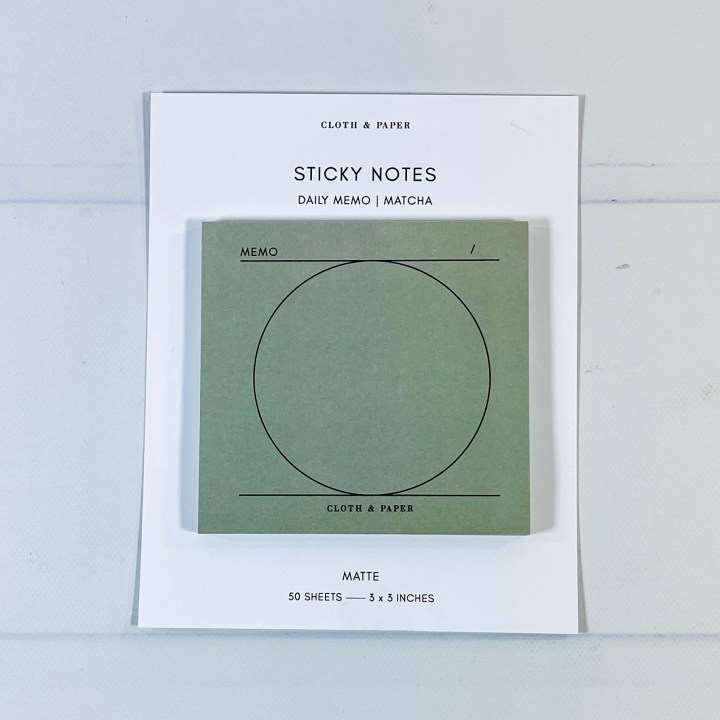 Daily Memo Sticky Notes is in the color Matcha and there are 50 sheets on the pad. This is 3″ x 3″.
Pens The Cloth & Paper website has all of this month's pens listed and they will mention if there are, say, one of 4 different barrel colors. All five pens this month have black ink but there are three different nib sizes. I love the pens from Cloth & Paper and have them close at hand at all times!
The mini folio and inserts were a surprise item this month — if you were expecting items to fit your personal planner then they weren't in this box but should be back in June's box. I am especially happy to have the Cloth & PaperClips, those will come in handy and I don't think I have anything like that. I also was a fan of the pens, which write so smoothly and are always in a cup on my desk.
Below are a couple of box opening pictures.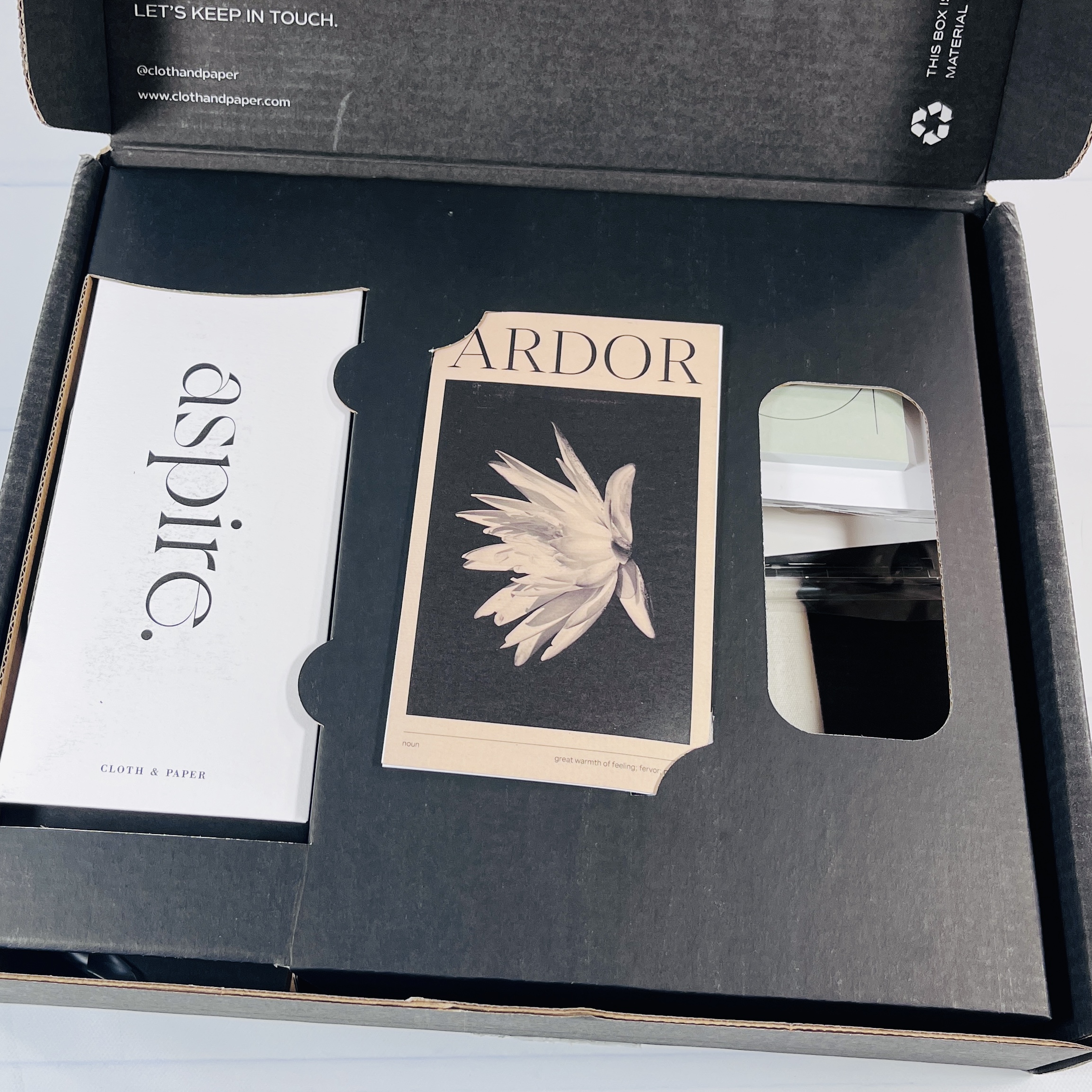 Cloth & Paper offers a monthly subscription box of their planner supplies, inserts, and writing instruments. The items look sleek and Cloth & Paper believes "there is luxury in simplicity". The Planning + Stationery box is $39.99 a month but drops to as low as $36.99 a month when you sign up for a 6-month term. The Penspiration box is $21.99 a month but drops to $19.99 a month for the 3-month plan. The Penspiration AND Planning + Stationery combo is $54.99 a month and drops to as low as $49.99 a month when you choose the 6-month term. Our readers love this subscription – Cloth & Paper was voted as the top pick for the best stationery subscription this year!
DEAL: Get 10% off your first box! Use the coupon code HELLOSUB10 at checkout!