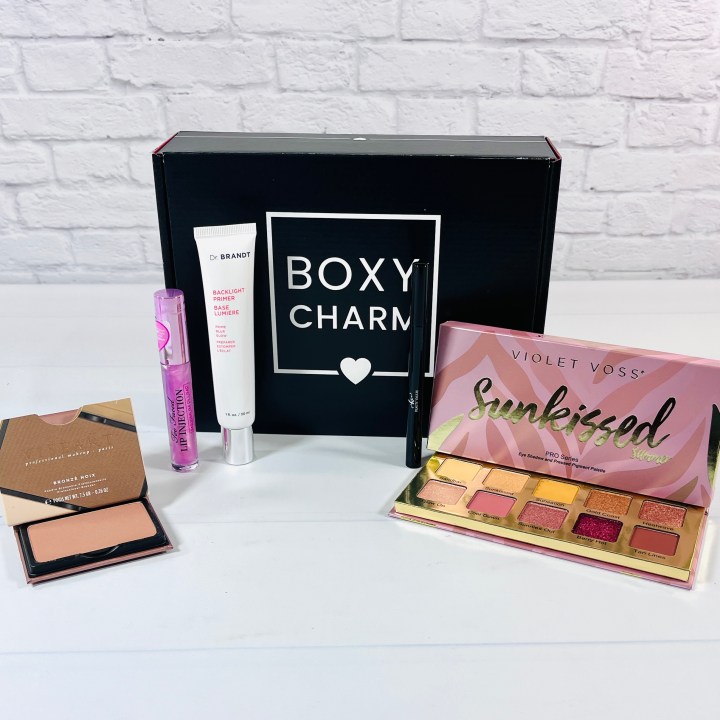 The June 2022 BOXYCHARM theme was Express Yourself and I received 5 items that are all meant to be used on my face, so I can express myself through my bright eyes, sunny skin tone, and pouty lips — see what I received below!
Keep in mind that BOXYCHARM sends many box combos so your box items and value may be different than mine. There are variations in the box – see them here.
DEAL: Subscribe now and get a FREE gift: CIATE LONDON Trend Edit Palette in Cranberry, AESTHETICA Cream Contour Kit, OR FARMACY Honey Grail Facial Oil, PLUS $10 credit to June Drop Shop!
Use this link and pick your FREE gift at checkout AND get your exclusive $10 Drop Shop code via email within 24 hours of subscribing.
Dr. Brandt Backlight Primer ($38) I feel like most primers lately seem to do a similar job performance-wise. They are also somewhat shimmery, which is great if you don't wear foundation but is immediately covered up once that base is applied. This has dimethicone and the mica provides a shimmery, glowy finish and this peachy-colored product was easy to apply and smelled like lavender.
Too Faced Lip Injection Maximum Plump in the shade Original ($32) I know these plumpers always say they can increase lip plumpness over time but I've never had that happen, pretty much the only thing that will do that is an actual lip injection from the doctor's office. What this does is stings lips so that they become irritated and therefore it creates an inflammatory response. The results, which are marginal, fade shortly after the stinging is over, and I must say it was probably the most painful of all of the lip plumpers I've tried. The things I like about this product are the smell, which reminds me of the strawberry-flavored lip glosses of my youth, and the glossiness, which has a hint of pinkish purple brightness but no color. One last note: This brand is cruelty-free but the product isn't vegan as it is colored with carmine.
Violet Voss Sunkissed Summer Eye Shadow and Pressed Pigment Palette ($37) Please note that this palette is called an "eyeshadow and pressed pigment palette", which means some of the shades are not approved for use on or around the eyes according to the FDA (there is even a disclaimer on their website) so use at your own risk. The colors are pretty, although there's too much yellow for my taste. I used the lightest matte color as a base and then applied some of the less-chunky glitter to my lids and experienced a lot of fallout. I had more shimmer under my eyes than on the lids, and that was after using primer. You may want to spray a makeup setting spray on your brush before dipping in the shadow, that usually works when nothing else will.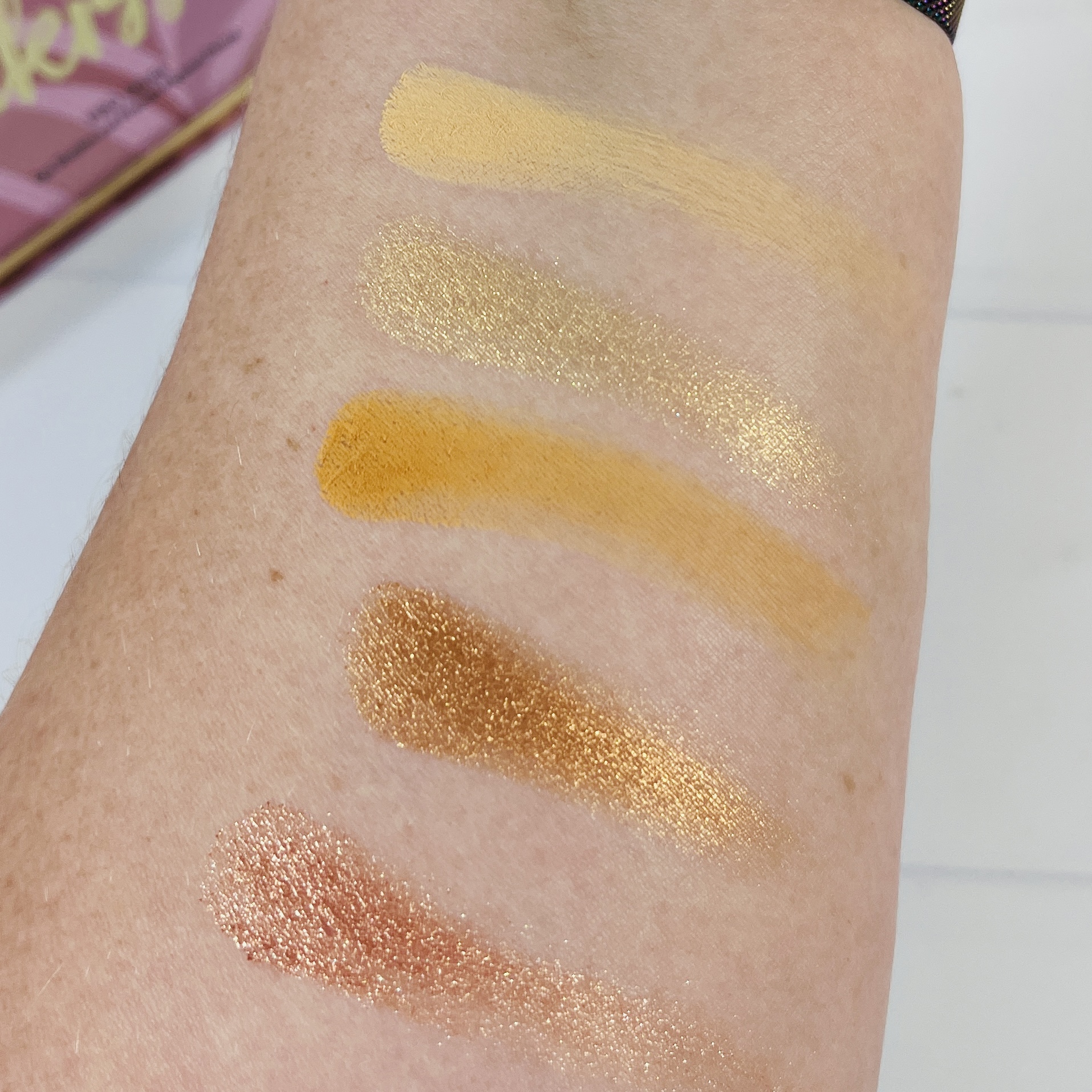 Here is the Sunkissed Summer palette swatched.
Viseart Bronzer in Bronze Noix ($30) I am not usually excited to receive bronzer but only because I am pretty pale and most have an orange tint to them that makes me look like I have dirt on my face. This bronzer was the exception! I received the lighter shade, Bronze Noix, and it worked really well for my light complexion, it would have taken a heavily packed brush to make a mistake with this color. I swiped it on my cheeks and forehead, and yay, no orange look anywhere, just a have-you-been-in-the sun kind of vibe. Nice! It has the barest hint of shimmer, but it wasn't shiny on my face.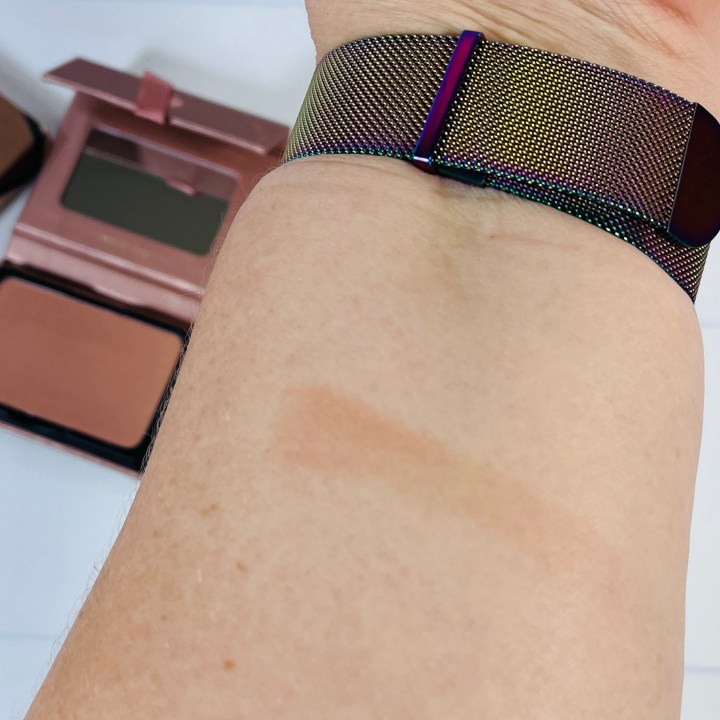 Here is the bronzer swatched.
Beauty Vaulte Eyeliner in Black ($18) I have a history with black liquid liners, we don't really get along. Sadly, this version wasn't a fit for me at all. It was runny and got in my waterline and smeared and wouldn't go on nicely and then when I blinked it got in my crease. I should know better by now but I always give them a try just in case, but this was too hard to work with.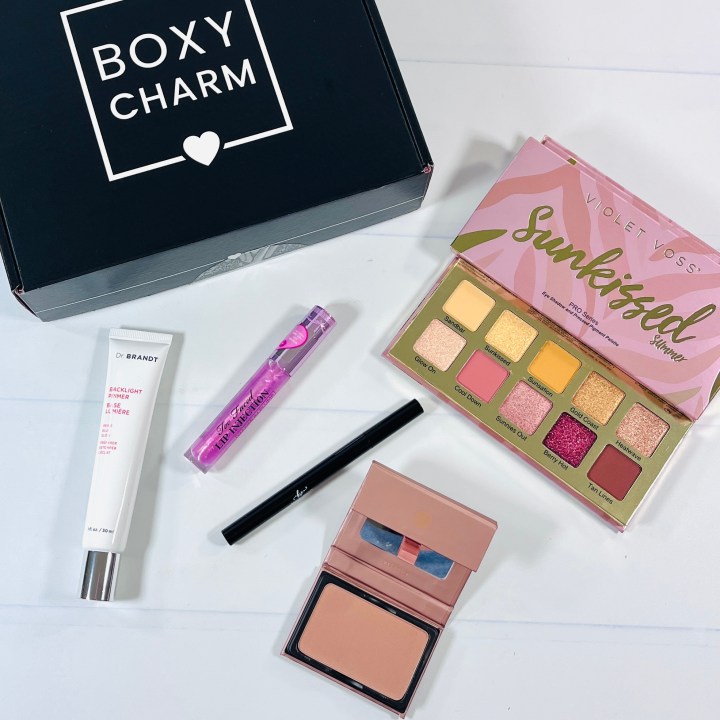 No other subscription sends me as much makeup as I find in BOXYCHARM! This month's box had colors I can work with, with a basic black liner, pouty lip plumper, and shimmery primer and shadows. My very favorite item of the month was the Viseart bronzer, this was perfect for my skin tone and wasn't overly dark or orangey or hard to use, I am super excited to own it! The value for my box combo was around $155. Let me know what you got in your box and which products were hits or misses!
Below is a box opening photo as well as the product info card.
BOXYCHARM is a makeup and beauty subscription box that sends out 5 full-size items every month. Products include makeup, skincare, and beauty tools and each box has an average value of around $175. BOXYCHARM is $27.99 a month with discounts for those who prepay for longer terms. This subscription was the top pick of our subscribers for the best makeup subscription boxes in 2022!
What's your favorite item in this month's BOXYCHARM?