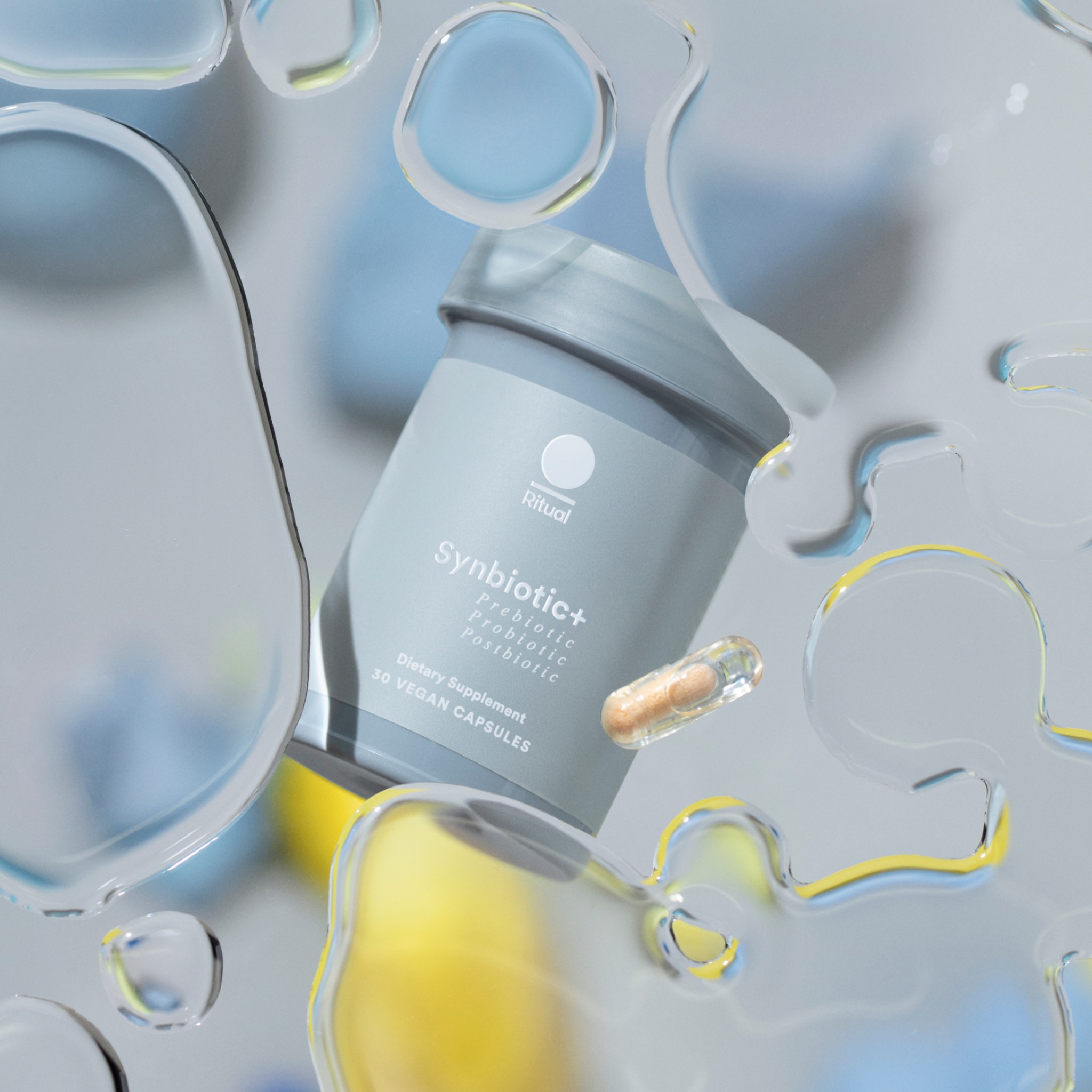 Good gut health is the key to overall wellbeing. It benefits not just good digestive flow but the immune system too! Probiotics and prebiotics are widely popular for their importance in gut health. And it's no surprise that many people start taking synbiotics to maintain general health and well-being.
But what are synbiotics? Generally speaking, synbiotics are a combination of probiotics and prebiotics that help the host by increasing the survival and activity of good bacteria in the gut.
There are numerous choices available, but there's one easy way to get your hands on synbiotics without spending hours poring through bottle labels in medicine stores and pharmacies. Ritual stepped up the game by adding postbiotics to prebiotics and probiotics. Their new offering is Ritual Synbiotic+ – a combination of prebiotics, probiotics, and postbiotics in one to help support a balanced gut microbiome.
5 Reasons Why Ritual Synbiotic+ is Great For Improving Gut Health
1. Prebiotic, probiotic, postbiotic in one
Ritual's Synbiotic+ is a daily three-in-one prebiotic, probiotic, postbiotic supplement designed to help support gut, digestive and immune health.
Prebiotics are a great source of food for your gut's healthy bacteria. They go to the lower digestive tract and act as food to help the healthy bacteria grow. Probiotics, on the other hand, are live microorganisms intended to have health benefits when consumed. They're made up of good bacteria that help keep your body healthy and working well. Lastly, postbiotics are bioactive compounds made when the friendly bacteria in your gut (probiotics) digest and break down fibers (prebiotics). They have a healing effect on people by supporting gut barrier function.
The formulation is encapsulated in a delayed-release, stomach-acid-resistant minty capsule. It helps deliver the synbiotic+ directly to the colon, where probiotics survive and grow. There's no need to buy individual supplements as they're made up of three biotics that work together in your digestive tract.
2. Clinically studied vegan capsules
They partnered with ProDigest in Belgium (one of the leading experts in in vitro simulations of the gastrointestinal tract) to conduct a study simulating the human colon. This process allowed them to measure the physiological impact of synbiotic+ on the human body. According to research, it dramatically enhances microbial diversity and increases the growth of beneficial bacteria.
Every batch of synbiotic+ is rigorously tested for purity and composition, ensuring that what you read on the label is what's inside the capsule. It's also third-party tested to give you peace of mind that these vegan capsules adhere to regulations and guidelines, assuring the quality and potency of the product.
3. Traceable ingredients
Each Ritual synbiotic+ capsule contains a clean formula, made with vegan, gluten-free, and non-GMO ingredients. There are 11B CFUs in each delayed-release capsule that ensures the biotics dissolve later in the small intestine (with or without food), where they are intended to do their job.
They believe that people have a right to know what goes into their bodies and where it comes from, which is why their synbiotic+ are made traceable. Full supplemental facts are available on their website to give you a proper and deeper understanding of what your synbiotic+ capsules are comprised of and what they do.
4. They're also shelf-stable
Unlike most pills you see in drug stores or pharmacies, Ritual Synbiotic+ doesn't need to be refrigerated. The bottle and the daily capsules are designed with moisture-controlled technology to protect the probiotic strains, so you can rest assured that your capsules are working most efficiently. You can store your synbiotic+ together with other daily supplements you take, where you can easily see them.
5. Delivered monthly
Because Ritual Synbiotic+ is a subscription, you'll receive your capsules on a regular basis. They show up in your mail monthly, so you don't run out of essentials for your gut health and overall wellbeing. You can even control your delivery date. Whether you pause or rush your orders, shipping is always free! If you don't like what Ritual can do for you, they also offer a 30-day money-back guarantee. Plus, it's easy to cancel at any time – no strings attached, no hard feelings!
Do you take any gut health supplements like Ritual Synbiotic+?