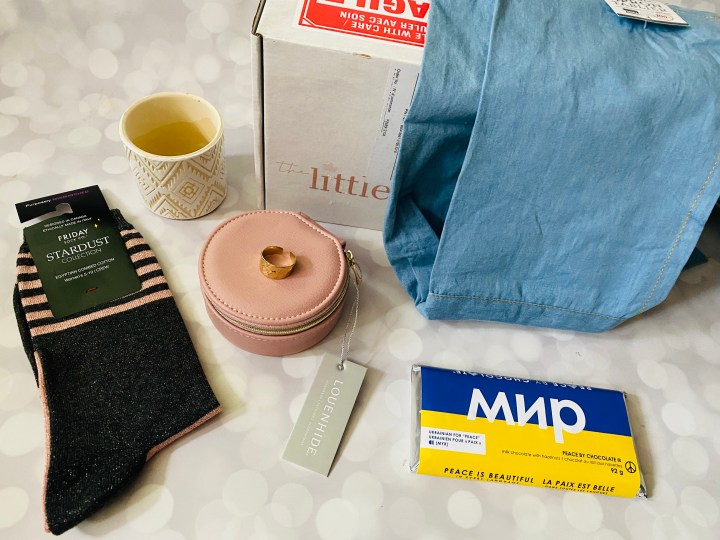 The Spring 2022 Edition of the Little Shop Box is full of beautiful Canadian items to help you embrace warmer weather! From cute accessories, CHOCOLATE, and some fun additions to the home, everything in this box is Canadian!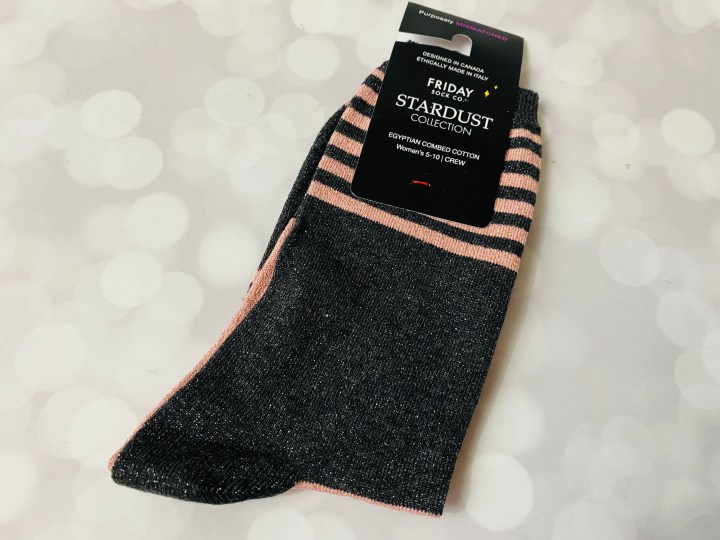 Friday Sock Co Stardust Socks. ($18 CAD) Designed in Canada and made in Italy, Friday Sock Co's thing is mismatched socks that coordinate together. They are made of brushed Egyptian cotton. The Stardust line features a subtle glitter thread in the sock to give it extra sparkle!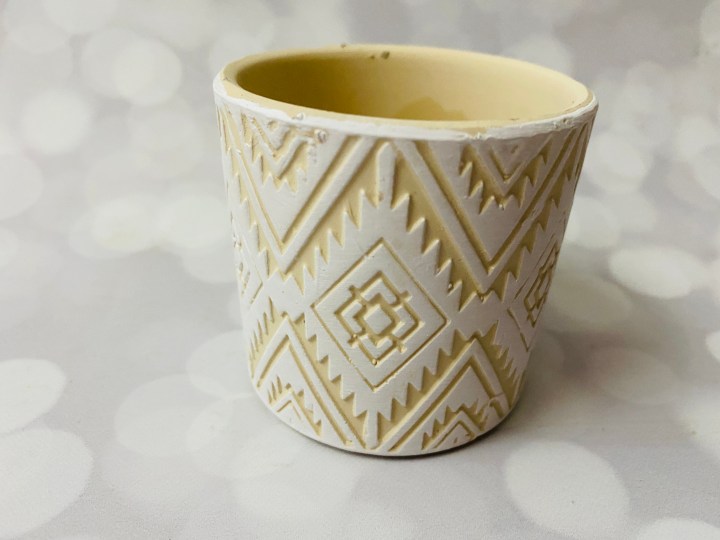 AdV Mini Planter. AdV is a wholesale retailer based out of Quebec – I received a lovely set of placemats by their design company in a previous box. This is a lovely little planter with a geometric design. This would be great for housing a small succulent or holding a candle!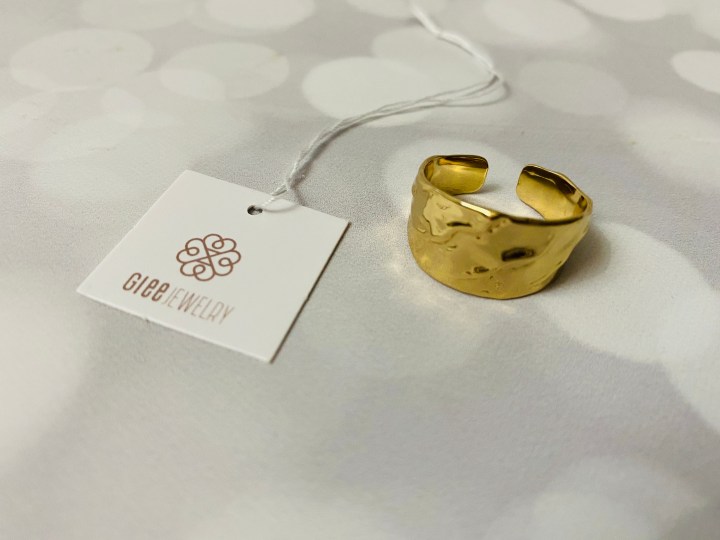 Glee Jewelry Ring (Similar design, $20 CAD) This ring is gold with a beaten textured pattern. It is adjustable due to the open style. Glee Jewelry is based out of Victoria, BC.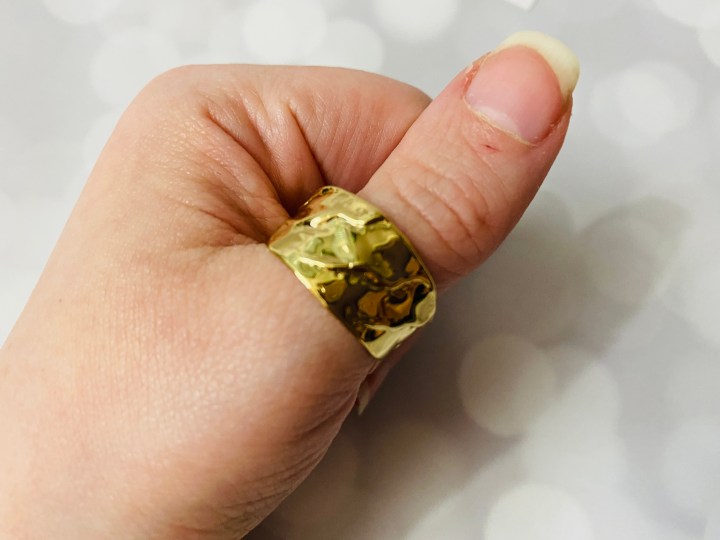 You can really see the interesting texture!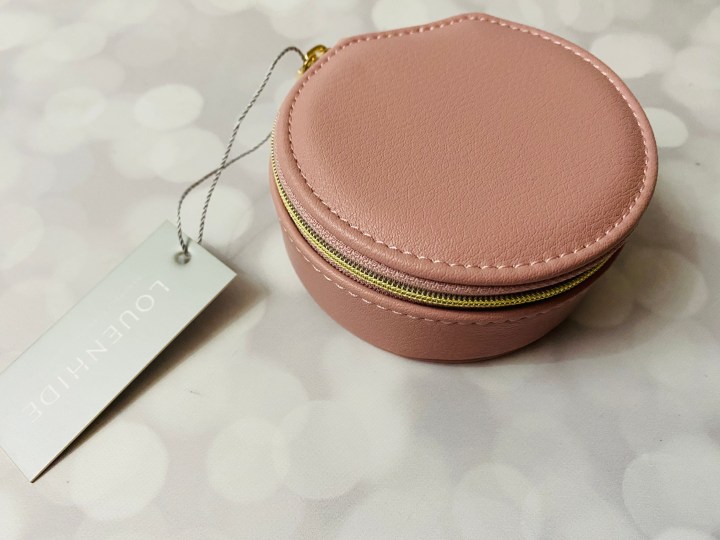 Louenhide Cisco Jewelry Case. ($25 CAD) This adorable little travel case features a strap for storing earrings, a small elastic pocket for other jewelry, and the standard ring holder and other compartments as well.
It's made of vegan leather which is very soft to the touch, and the interior is also soft so metal won't get scratched.
Peace By Chocolate Bar. ($5 CAD) Peace By Chocolate is a chocolatier owned by Syrian refugees who came to Canada in 2016. Their story is well known here in Canada and there's a movie documentary about their journey coming out this month! Their chocolate always has meaningful messaging and this bar is in support of Ukraine. It is high-quality milk chocolate with delicious hazelnut inside! Proceeds from the sale of these bars go directly to aid in Ukraine.
Now Designs Classic Light Blue Denim Apron. ($30 CAD) One of my favourite designs, Danica Studios, now has a sister brand called Now Designs! This light denim apron is 100% cotton and has cute pockets to store recipe cards and other small items. The shape is meant to invoke classic farmhouse style, so while it is unisex the cinched waist and subtle pleats give it a more feminine silhouette.
The Spring box contained 6 full-size items from Canadian designers and creators. I really love this box because they always include a nice mix of items, from skincare to household goods, and so on. All of the makers are Canadian which I appreciate, and the price of the box works out pretty well in terms of value.
The Little Shop Box is a quarterly subscription featuring Canadian small businesses and artisans. Subscribers can choose to pay quarterly (CAD $87.99), or annually (for a reduced price at CAD $79.99 per box) and can also purchase the boxes for one time only (CAD $87.99). Little Shop Box donates 5% of all profits to organizations providing relief and support to communities for important issues.
Are you getting this subscription?