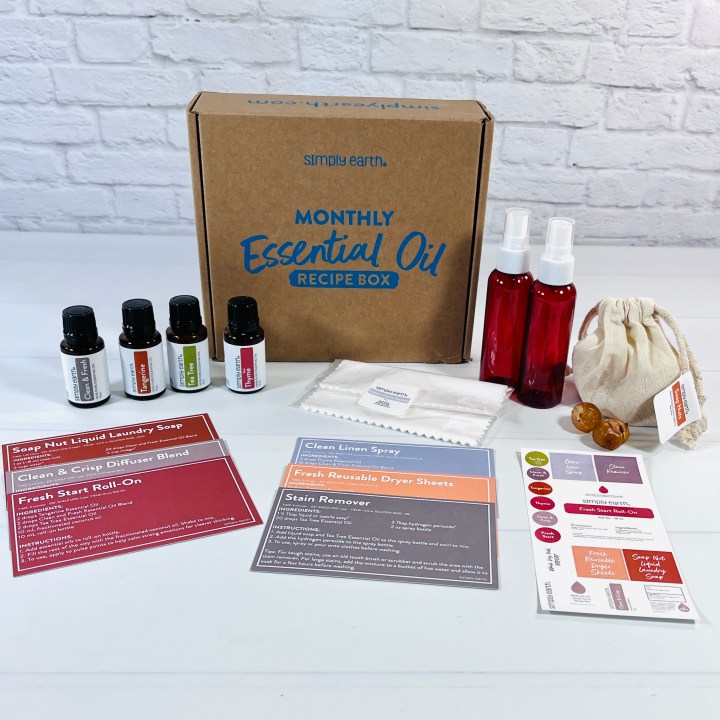 It's time to see what's in my Simply Earth April 2022 essential oil box! This month I received 3 single oils and one blend and we're making our own laundry products! Have you ever heard of soap nuts? Learn more about them and see how to make a linen refreshing spray and reusable dryer sheets!
DEALS: Receive a FREE Big Bonus Box with your first box. Deal applies automatically, just VISIT AND SUBSCRIBE. Plus, get a $40 gift card you can use for your next box or future purchases!
NOTE: Please keep in mind that these oils need to be diluted before using and should not be used by pregnant or nursing women or on children under age 2. Be careful when using around older children and pets. If you have further questions, please contact your health care provider. These oils and recipes are not meant to replace medical care when needed. They are fun to use and may help replace traditional products if you prefer to use more natural options.
Clean & Fresh Essential Oil Blend ($11.99) Our blend of the month has fir needle, neroli, lemon, and grapefruit essential oils. It smells as good as it sounds, with a hint of pine and lots of sunny citrus.
Tea Tree Essential Oil ($12.99) Tea tree oil comes from Australia and has a medicinal scent that you can usually spot in skincare and other products, it's very unique. It can help fight acne (it's antibacterial) and might treat toe nail fungus.
Thyme Essential Oil ($18.99) Thyme smells herby and a bit woody, and you may be familiar with it if you are a semi-adventurous cook. It can help soothe sore muscles and relieve an upset stomach.
Tangerine Essential Oil ($9.99) Tangerine oil comes from the peel of the citrus fruit so if you've ever peeled a tangerine then you have an idea of how it smells. It may help support immunity.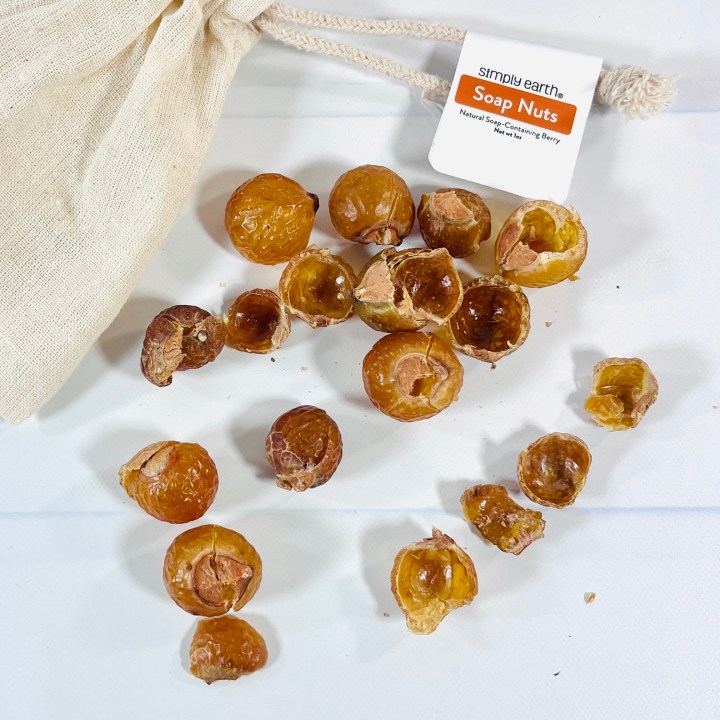 Soap Nuts Soap nuts or soapberries are a fruit that can be used to make, you guessed it, soap! There was a recipe card included this month that describes how to use them to clean your laundry.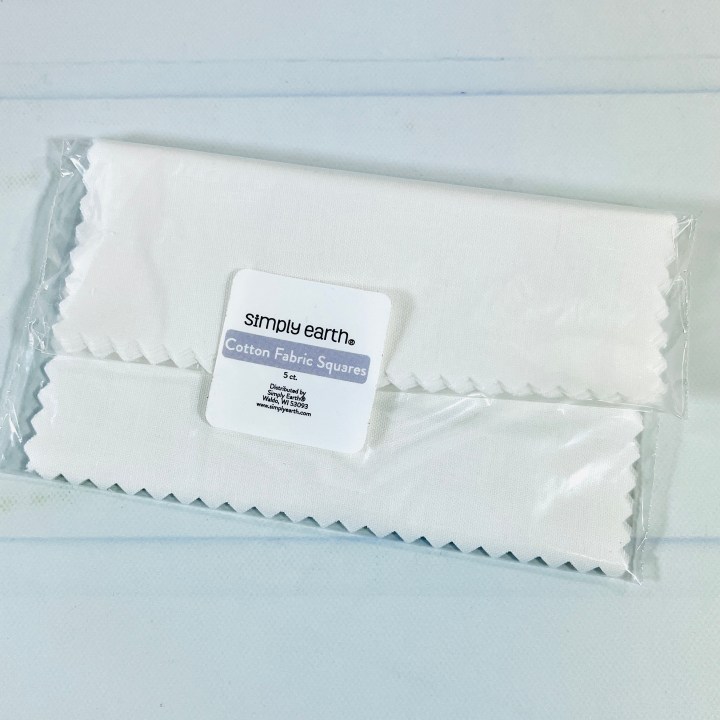 Cotton Fabric Squares These will be used as reusable fabric softener sheets.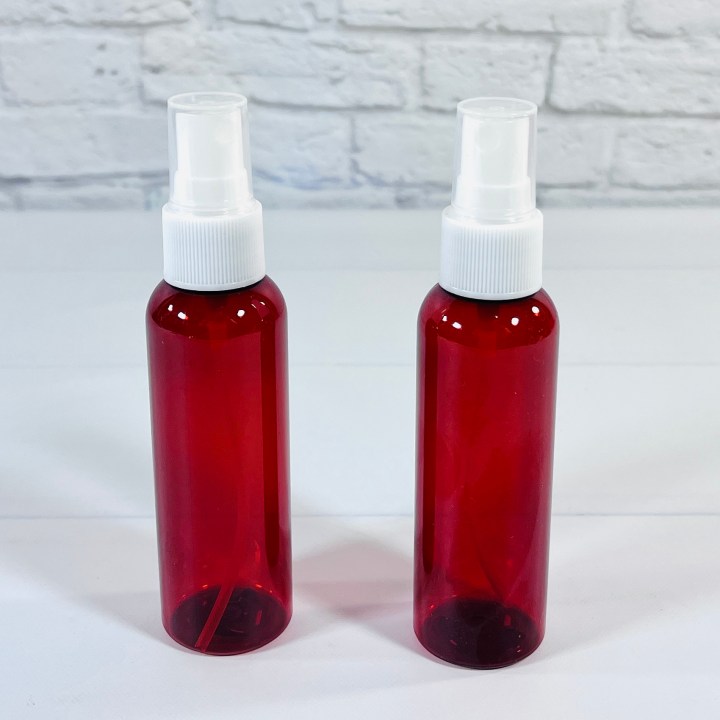 Amber Spray Bottle These spray bottles are made of PET-free plastic and the amber color is supposed to help the product last longer.
I received a sheet that has pre-scored stickers that can be placed on the product containers after completing a project. I also received 6 recipe cards that have information about Simply Earth on the back. The cards describe the oils, products included in this box, the charitable organization of the month (always related to fighting human trafficking), a sneak peek at the oils coming next month (and any extras you need on hand to complete those future projects), plus even more info about how to earn discounts and where to reach out for help if you have any questions.
One thing I've noticed is that more and more recipes are calling for additional items like Geogard preservative or solubilizers to help give the products a longer shelf life (most need to be dumped after about 4-6 weeks) or to help water mix with oil. Those items will need to be ordered separately.
Below are a couple of the projects I have completed so far!
NOTE: I haven't made the dryer sheets or laundry soap because number 1, I didn't have all of the ingredients and number 2, my machines are fairly new and I don't want to risk voiding the warranty for any reason.
The easiest way to get started is to diffuse the oils. I used the appropriate amount of oils and then topped with some water and turned on the machine. I'm not a fan of tea tree oil and this was one of the strongest scents, along with the thyme, which made my home smell kind of clean but in a hospital sort of way.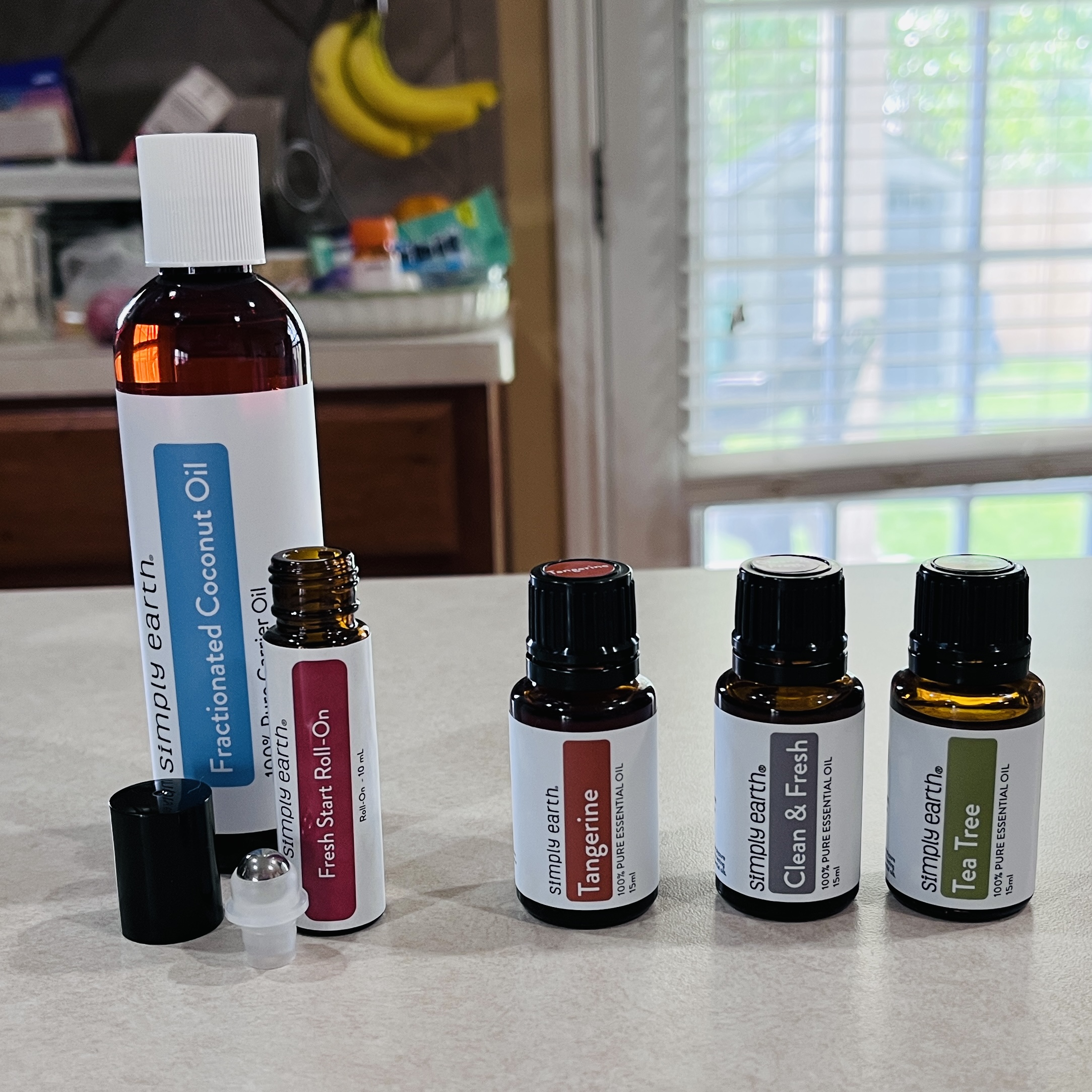 The roll on was super simple, just drop in the correct amount of essential oils and top with fractionated coconut oil (both the roller bottle and coconut oil came in my Big Bonus Box). I put the label on first and I made sure to really push down on the rollerball top so that nothing would leak out, there shouldn't be a gap. Again, I wish I hadn't used the tea tree oil, it's not a smell that I enjoy so I can't see me reaching for this very often. Tea tree to me smells somewhat like furniture polish, but not the lemon kind. Maybe something used to finish furniture? I don't know, but between that and having used it in a acne product, I am finding it's not really all that good to my nose.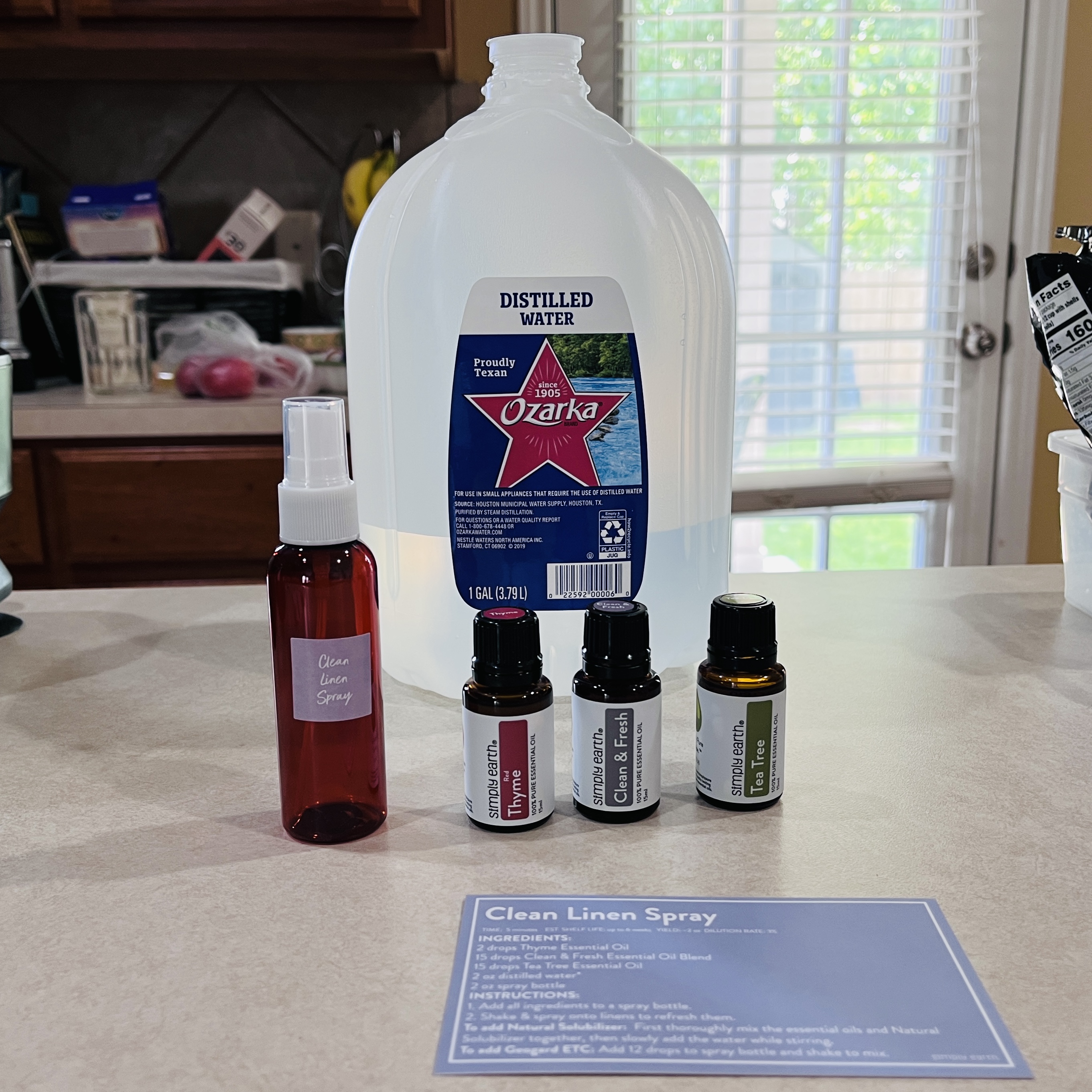 Finally, I made a Clean Linen Spray and did I learn my lesson and leave out the tea tree? No I did not but that's because I recognize that it has antibacterial, antifungal, and other properties so I left it in. This will need to be tossed after a few weeks unless a preservative is added.
I like that Simply Earth is trying to help us turn to "greener" cleaning methods and all of these recipes look pretty easy to complete, even the couple that I didn't try. I guess overall I wasn't a fan of the scents this month but that's only because I don't care for the smell of tea tree oil, although I believe it has a place in the linen spray. There are lots of ways to make planet-friendly changes and I think that's what Simply Earth is going for, as some people believe ingredients in traditional cleaning and beauty supplies are "toxic", and this is a fairly easy way to replace some of those items if you feel like you need to, or maybe you just want to try your hand at making home and beauty items, and it works for that purpose too.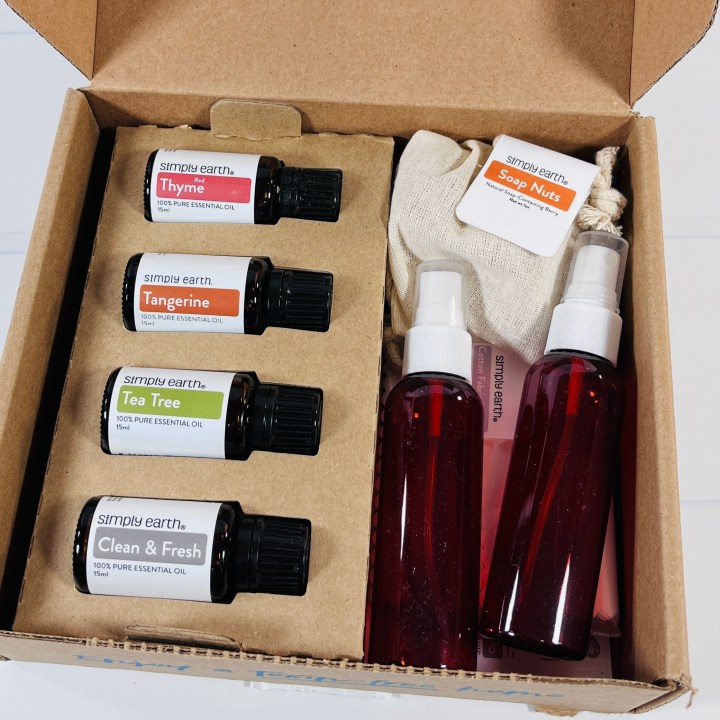 Simply Earth is a monthly subscription that sends high-quality essential oils along with recipes and ingredients to make natural beauty and home products! Each box comes with 4 essential oils, containers, extra ingredients to make the recipes, and 5 – 7 recipes on recipe cards. When you sign up (and every 6 months thereafter) you will receive a free Big Bonus Box full of extra containers and ingredients needed for the recipes, such as carrier oils and bottles. Simply Earth is $39 a month. They feel strongly about giving back and donate 13% of all profits to help end human trafficking.
Simply Earth's essential oil subscription made the list in our 2022 readers' choice best green & eco-friendly subscription list!
What do you think of the Simply Earth box?