Puzzle Culture quarterly box for Spring 2022 is here and the theme is ROAD TRIP! I received a 1000-piece puzzle, two decks of playing cards, a travel mug, and a vinyl sticker and I'm really excited about the theme and artwork, they are definitely my style!
DEAL: Get 10% off any subscription! Use the coupon code HELLO10.
Road Trip 1000 Piece Puzzle – Adventure Road, art by Tanja Burmeister I am loving the design of this quarter's puzzle! It has a surf van, camper, peace sign, hang loose hand, waves, palm trees, mountains – I couldn't help thinking of my home state, (Southern) California, when I saw it! It came in a reusable cloth bag and the pieces look standard for a puzzle. There was a card that has the whole picture for reference and I can't wait to start on this puzzle with my daughter, who will be home for the summer real soon!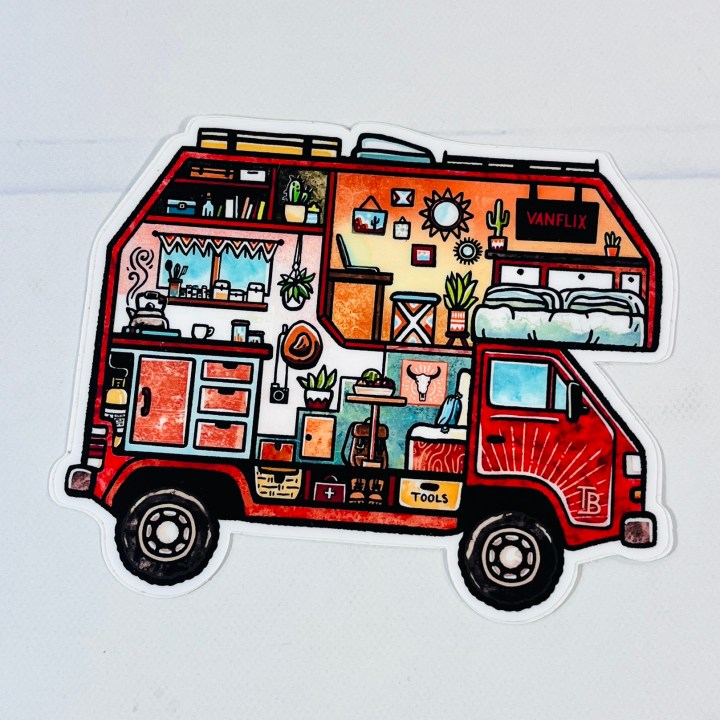 Premium Artist Sticker from Tanja Burmeister (4.19 Euros, around $4.41 USD) I love stickers and this vinyl camper looks similar to the one on the puzzle. It is pretty big, about 3″ x 4″. If you like the boho travel vibes of this theme (like I do) then check out the rest of the items at the website I linked too, they have shirts and all kinds of cool stuff available.
Set of 2 Dry Decks playing cards from NOD Products in Travel ($11.99) I really like these waterproof cards, and there are two sets in the box! Let me say that I appreciate that the fronts of the cards are pretty classic – I received two sets of custom-made cards in other subscription boxes (not from Puzzle Culture) that were "artistic" but I couldn't even use them to play solitaire. My oldest has already requested them for an outdoor party she will attend later this summer, she said they are perfect both because of the theme and the fact that they are waterproof.
"First Coffee" Eco-Friendly Travel Mug You can find a similar item here but obviously this is branded and specially ordered for the box. It didn't come with any info but the bottom of the cup says it holds 280ml (about 9.5 ounces) and is for temperatures between 20-120 Celsius (68-248 Fahrenheit). The lid has a gasket inside to keep the cup from leaking and you can twist the top to reveal the sipping spout.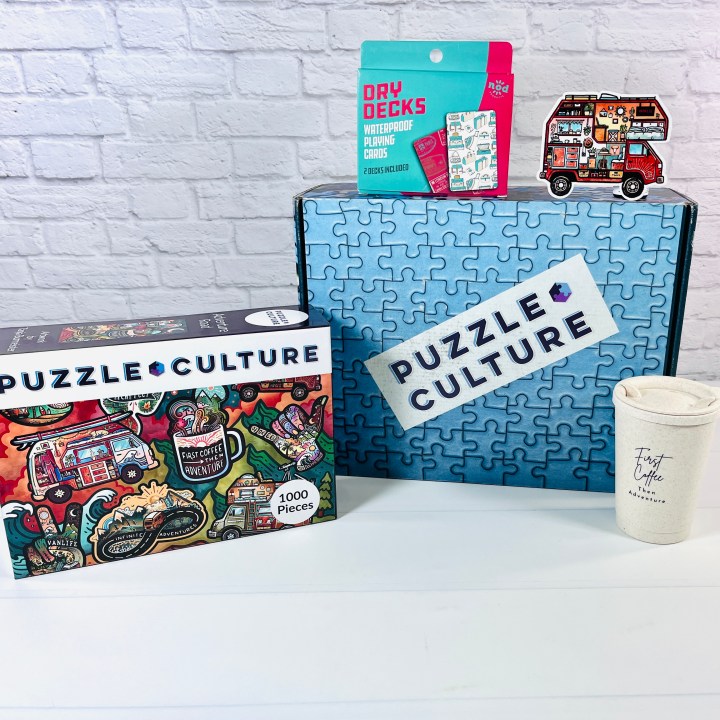 I feel like hitting the road again thanks to the Spring 2022 Puzzle Culture items, but this puzzle will be worked on at my kitchen table. I don't know where you do puzzles in your home, but our dinner table is put out of business when we work on puzzles, and puzzle time is a great time for my daughter and I to talk or just hang out together (and helped us keep our sanity during the early months of Covid lockdown). We have done some traveling since last summer, although it's been in cars and planes, but as a child, my dad had a camper he would mount on the truck for trips to the mountain, and throughout my high school years we took many trips in our 5th wheel trailer. My grandparents made sure to keep playing cards in their RV and we would often play poker or rummy, so I think playing cards were a great inclusion. All this is to say I was really excited by this season's theme and it reminded me of my childhood too, so bonus points for that, thanks Puzzle Culture!
Below is a box opening picture and the product info card.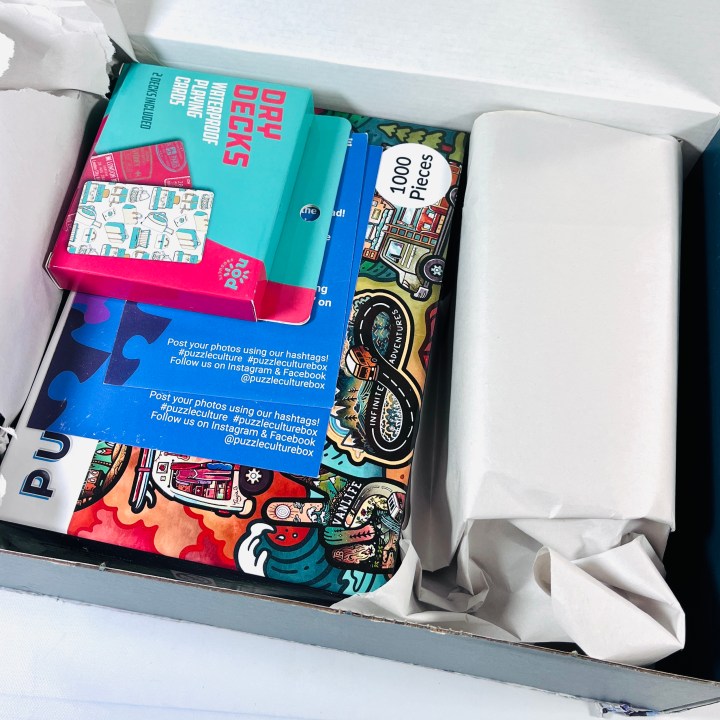 Puzzle Culture is a quarterly subscription box especially for jigsaw puzzle fans! Each box comes with an exclusive 1000-piece puzzle along with 3-5 gender-neutral, quality items that are related to the theme or puzzles in general. Puzzle Culture is $44.99 a quarter (there's also a monthly plan for $34.99 that includes a 500-piece puzzle).
What do you think of this quarter's box?