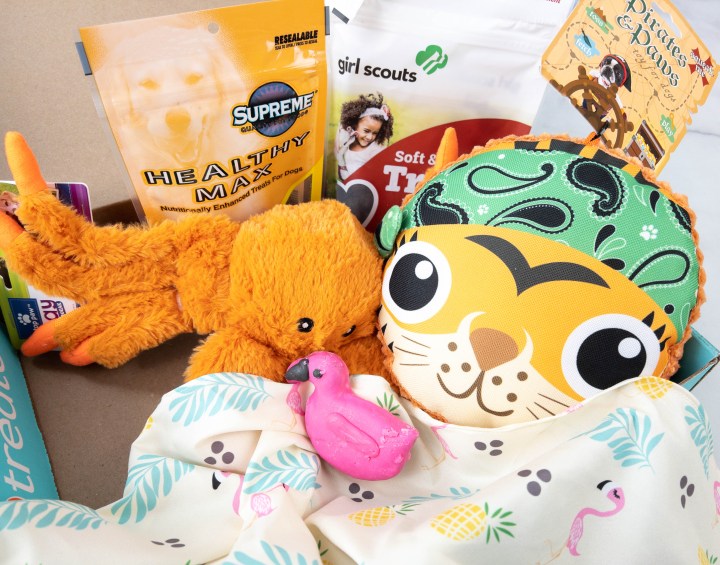 It looks like summer has arrived early because of Pet Treater Dog Pack Deluxe April 2022! The pack included items with summer vibes, like the crab & pirate plushies and a flamingo gourmet cookie. As always, there's a cute bandana for dogs, and it's printed with flamingoes, pineapples, and palm fronds. My furbabies loved all of the goodies, learn more about them out below!
DEAL: Get 10% off your first month with coupon code DOGPACK10.
Every month, a gourmet cookie is included in the pack. This time, we received a flamingo cookie! From the cookie itself to the pink frosting that covered it up, everything is made with premium, dog-friendly ingredients. It looks so cute, and my dog gobbled it down in no time, which only means it's delicious!
There are also two packs of nutritious and delicious treats for our pups! Both treats are made in the USA and packaged in a resealable pouch for easy storage and to preserve flavors.
Supreme Healthy Max Hip & Joint Dog Treats satisfy dogs' taste buds and provide hip and joint support at the same time! These protein-packed treats are made with real chicken, which my pets enjoy. They're enhanced with glucosamine and chondroitin to maintain healthy joints. Each bite is also rich in antioxidants that help slow the effects of aging. Plus, they're soft and chewy, perfect as a daily treat to your pooch!
Girl Scouts Soft & Chewy Treats Bacon Flavor is for all breeds and sizes! These tasty dog treats are made with natural ingredients like maple syrup, dried bananas, and sweet potatoes. They also include real pork as a high-protein source and whole-grain sorghum for a dose of fiber and antioxidants. They can be given to dogs as a daily treat or training reward!
Now, we're onto the dog toys! Crab Squeak Dog Toy looks like a fuzzy spider at first glance. There's a big squeaker ball inside the plush, and it also squeaks when you pull the legs apart. Every time it squeaks, my schnauzers go wild! We also received the same toy back in our August 2021 Deluxe pack. It feels very soft and furry, and it's perfect for playing fetch or tug of war.
Here is the second dog toy in the pack. Pirates & Paws Dog Toy is a pirate-inspired plushie, ideal for cuddling, playing toss, or fetch! This cat pirate looks good in a green bandana. The face part of the toy is made up of a canvas-like material, while the back part has corduroy-like, textured ribs for a unique chewing experience. It also squeaks!
Spring had just begun, but we're already feeling summer because of this month's Pet Treater Dog Pack Deluxe. The whole pack looks cute with tropical island vibes – flamingoes, pirates, pineapples, and more! It feels very refreshing with those cute details. There are even healthy treats that my pups enjoyed! The dog toys resulted in lots of tail wagging, and I'm happy to see them have fun playing. Overall, it's a fun pack! If you want to reward your dog once a month, this subscription is a perfect choice.
Pet Treater Dog Pack is a monthly dog subscription! Every month you receive at least one bag of treats made in the USA or Canada along with one toy each month for $15 and free shipping. Small, medium, and large dog options are available. Subscribers have access to secret deals and add-ons. It's formerly known as Mini Monthly Mystery Box for Dogs and Pet Treater Dog Box Mini. Pet Treater Dog Pack is a smaller version of Pet Treater's Deluxe Dog Pack. Both of these subscriptions made our reader's list of their favorite dog subscription boxes for 2021 and 2020!
What do you think of this month's Pet Treater Dog Pack?