There's no shame in spoiling your fur baby once in a while, and Pet Treater Dog Pack Deluxe makes sure you know that! For March 2022, they sent a box with two cute-looking toys, two packs of treats, one gourmet treat, and a stylish…..bow tie?! For proud pet pawrents like I do, it sure is another exciting package to unbox to see more tails wagging!
DEAL: Get 10% off your first month with coupon code DOGPACK10.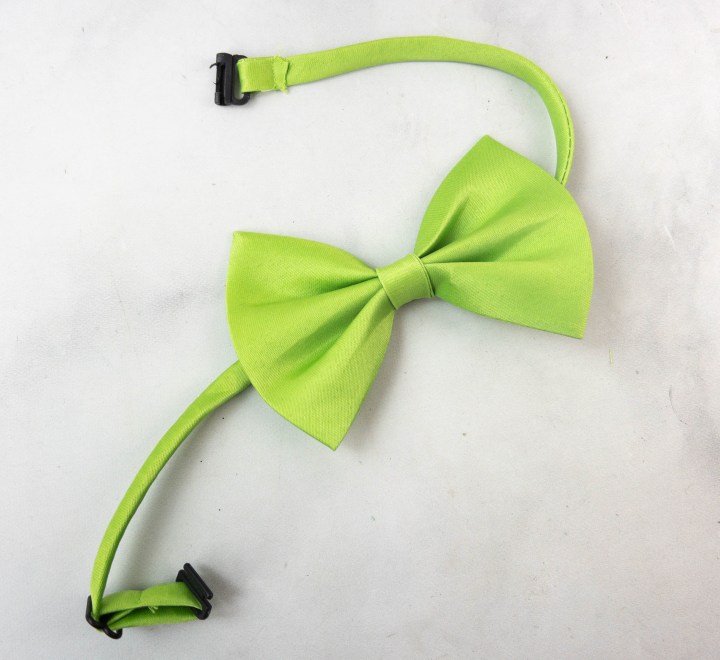 Looking a little different from the usual box, this month's pack included a bow tie instead of a bandana. It's an apple-green tint that's quite appealing to the eyes! The hardware attached to each end makes it easy to fasten to your dog's neck, and it's adjustable too. It looks simple yet stylish, allowing you to create a gentle(dog) style!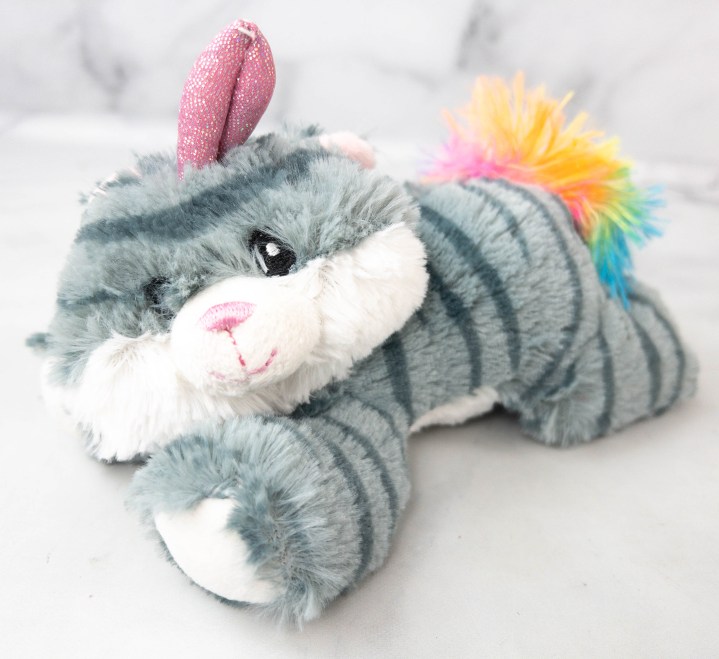 To keep dogs happy and entertained, the box includes dog toys. There's a fluffy cat-unicorn plushie that's great for cuddling or playing fetch, and it also comes with a squeaker inside. The furry tail is just too cute! Another toy in the box is a watermelon plushie (not in photo). It's pretty soft and the "seeds" on it are embroidered, so it's safe for dogs to play with.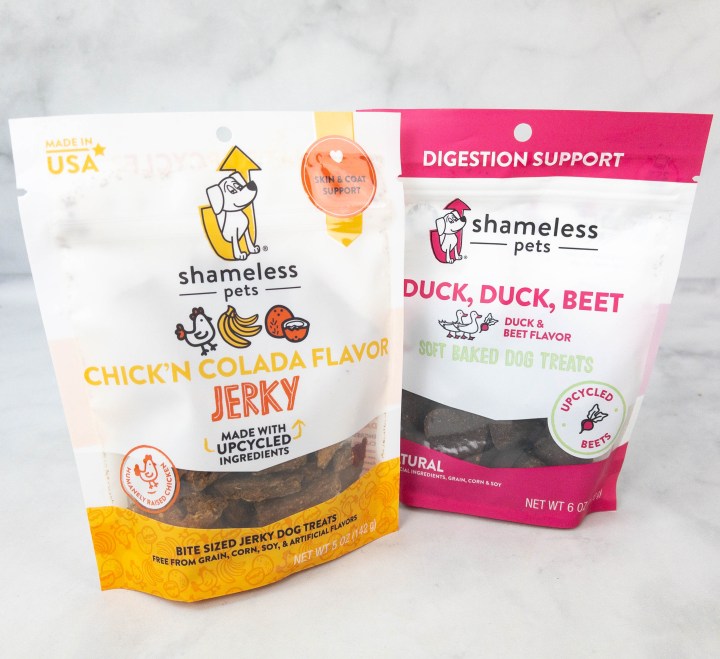 Of course, tasty treats come in the box as well! These healthy treats came from Shameless Pets, a brand offering USA-made, upcycled dog treats.
For digestion support, Shameless Pets Duck, Duck, Beet Duck & Beef Flavor Dog Treats ($6.99) is an ideal treat to give your dog! This all-natural treat is made from upcycled beets and also duck flavored. It contains no grain, corn, and soy, making it safe and delectable for dogs!
Shameless Pet Chick'n Colada Flavor Jerky Dog Treats ($8.99) is for skin and coat support. It's an all-natural treat infused with tropical flavors that make the dogs wag their tails! Ingredients include humanely-raised chicken and upcycled bananas and coconuts. Just like the first bag of treats, it's free of grain, soy, corn, and artificial flavors, so you can feed it to your pups without worries. This jerky treat is chewy, and my dogs enjoyed it.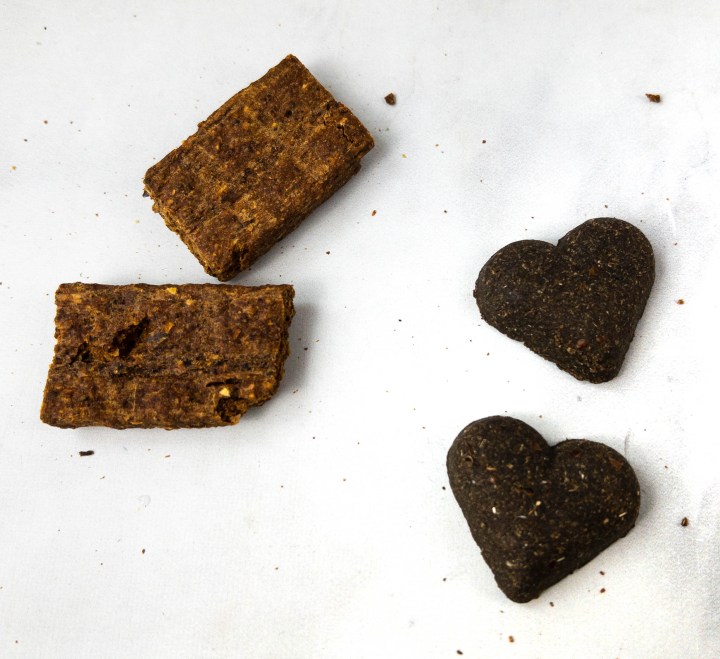 Both treats are bite-sized. You can feed them to your pet daily as a treat or as a training reward!
The gourmet dog cookie is a staple in every Pet Treater package! This month, it's a handmade lucky four-leaf clover treat. The cookies and frosting are all made with dog-friendly ingredients, like whole wheat flour and oats that my dog loved. It looks cute covered in green frosting! No doubt my pup devoured it in just seconds!
Pet Treater doesn't disappoint when it comes to bringing fun and excitement to my dogs. This month, instead of the usual bandana, the box included a bow tie and it looks so cute. My pups also enjoyed playing with the toy, especially since it squeaks. After playing, they munched on the gourmet cookie and treats included in the box. My schnauzers liked both so I'm really happy. It's another fantastic box to spoil my dogs with!
Pet Treater also offers a smaller dog pack. See it here: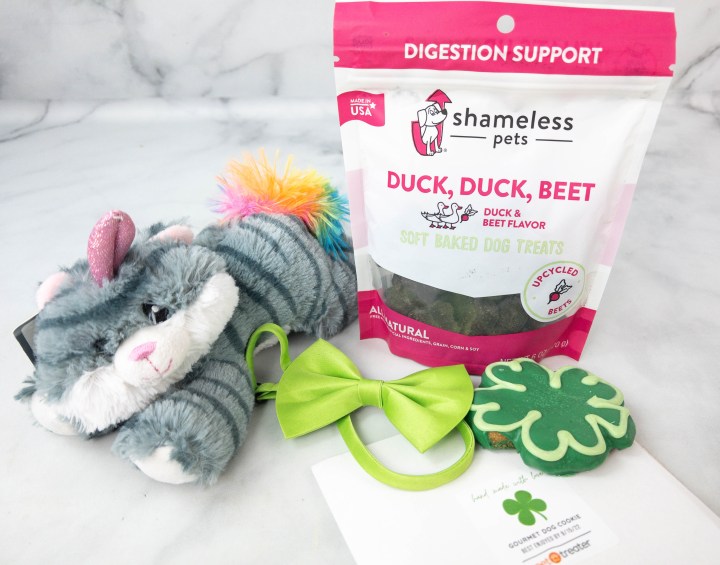 Pet Treater Dog Pack is a monthly dog subscription! Every month you receive at least one bag of treats made in the USA or Canada along with one toy each month for $15 and free shipping. Small, medium, and large dog options are available. Subscribers have access to secret deals and add-ons. It's formerly known as Mini Monthly Mystery Box for Dogs and Pet Treater Dog Box Mini. Pet Treater Dog Pack is a smaller version of Pet Treater's Deluxe Dog Pack. Both of these subscriptions made our reader's list of their favorite dog subscription boxes for 2021 and 2020!
What do you think of this month's Pet Treater Dog Pack?