Welcome To Camp Olive & June! The Olive & June Box for Summer 2022 is available now! The Summer 2022 limited edition box is $90, and will come with new and exclusive must-paint nail polishes of the season. Already have the Olive & June kit?  Get the new shades for $60! You can also save more by joining the Olive You Annual Club Membership, which is $30 per year, and will give you 10% off + FREE Shipping + member surprises!
DEAL: Save 10% on your first order! Use the coupon code WELCOME10 at checkout.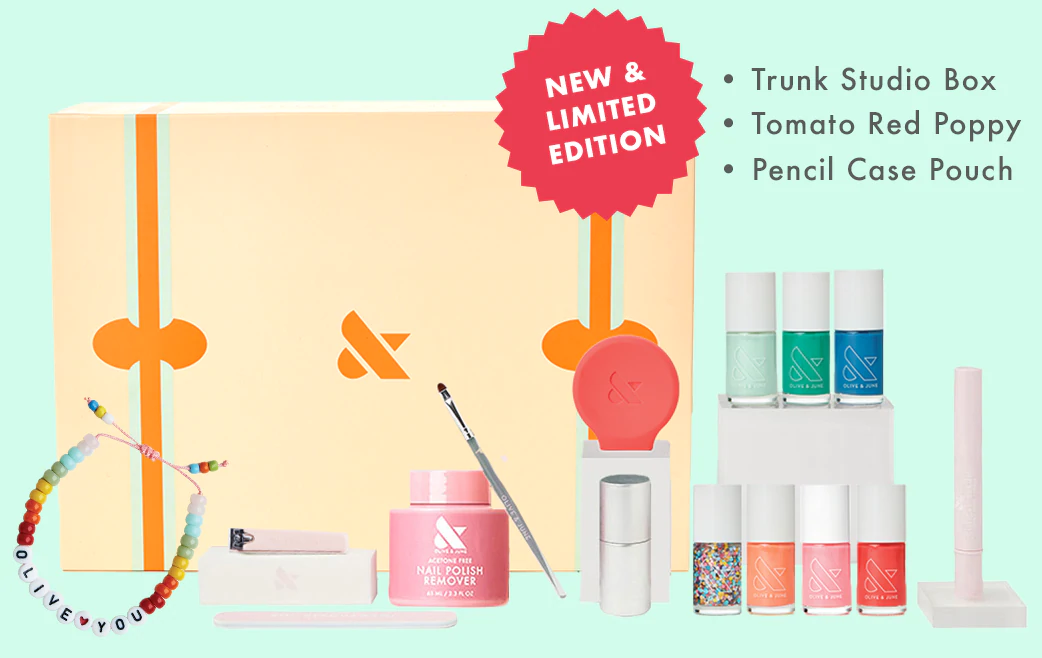 The Summer 2022 Box ($90) includes:
6 Polishes + a new glitter
Limited Edition Tomato Poppy
LImited Edition Trunk Studio Box
Limited Edition Pencil Pouch
Cuticle Serum with Cactus FLower
Super Glossy Top Coat
Clean Up Brush
Nail Polish Remover Pot
Flat-Edge Mani Clippers
Dual-Grit Mani File
Nail Buffer Bar
Limited Edition OLIVE YOU Friendship Bracelet
Here are the Summer 2022 shades:
Pen Pal – bubblegum pink
Sleeping Bag – pastel mint
Field Day – watermelon red
Blue Canoe – denim blue
Green Canteen – teal green
Counselor in Training – cantaloupe orange
Sprinkle Cookie – rainbow confetti
Super Glossy Top Coat – long-lasting shine
About Olive & June:
Most people don't have an at-home nail routine — and the women who do aren't excited about it. The reason why? It's hard. It's that simple. Painting is tricky, polish is fussy, and the right tools are nowhere to be found. So we created The Studio Box mani system, innovative tools like The Poppy, and high-performance products like our long-lasting, 7-free polish to make it easier and more fun to achieve salon-quality results on your own.
What sets Olive & June apart from the others? The Poppy Universal Nail Polish Bottle Handle!
Meet Poppy! Our patented universal polish bottle handle makes painting your own nails easier, faster, and better than ever. Pop it on top of your favorite polish for a comfy grip, more control, and even, steady strokes. A perfect mani every time.
Get Poppy and 7 other top mani tools in the Mani System.
What do you think of Olive & June?