This month, we're heading to Shibuya, Japan with nmnl to learn about their fashion and culture! The May 2022 nmnl theme is Shibuya Summer. Featuring adorable products from both Korea and Japan, let's dive into what nmnl has in store for this month!
DEAL: Use this link and use the coupon code PIKACHU22 to get FREE PErfectly Pikachu Beauty Bonus! Ends 5/31 MIDNIGHT JST.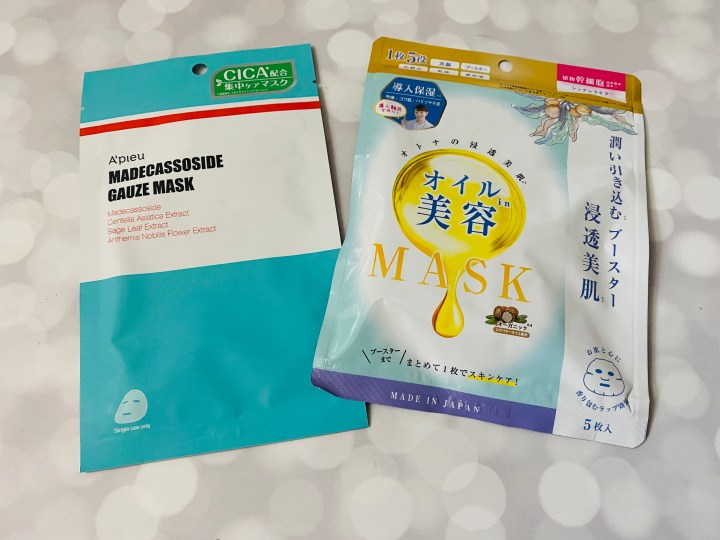 A'pieu Mask. If you haven't tried Centella, are you even living? Centella asiatic extract is an herb that helps with healing, inflammation, and hydration! I love finding this ingredient in my Korean beauty products so I was very happy to see this sheet mask with it as its star ingredient!
ST Beauty Oil Mask. This pack of 5 masks (yay!) has a potent essence that acts are a toner, treatment, and serum all in one! Masks like these are great for value and convenience as you get a week's worth of treatments in one package! The downside is I do find that usually, the mask quality (fabric) is lower quality, or not as well-fitting, but these were pretty decent!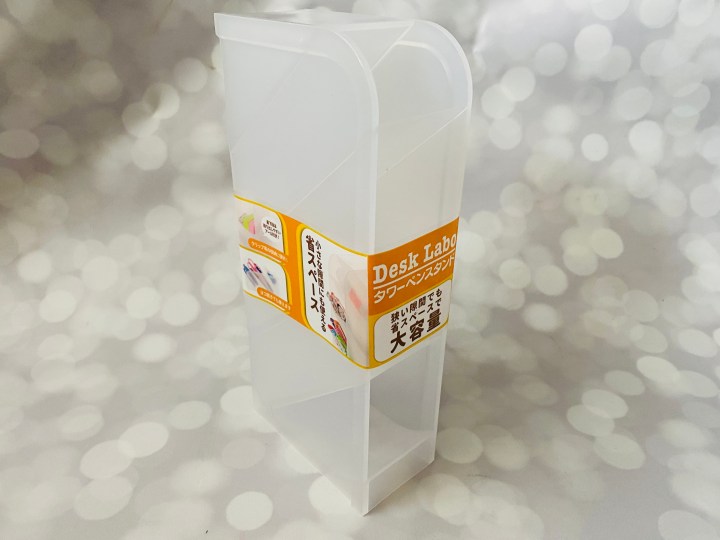 Desk Labo Organizer. I was originally a bit confused when I pulled this item from my box, but as nmnl explains in the book, cases like these are now super popular for organizing eyeliners, makeup brushes, and so on! The versatile design means you can stand it upright or lay it down flat depending on what you like!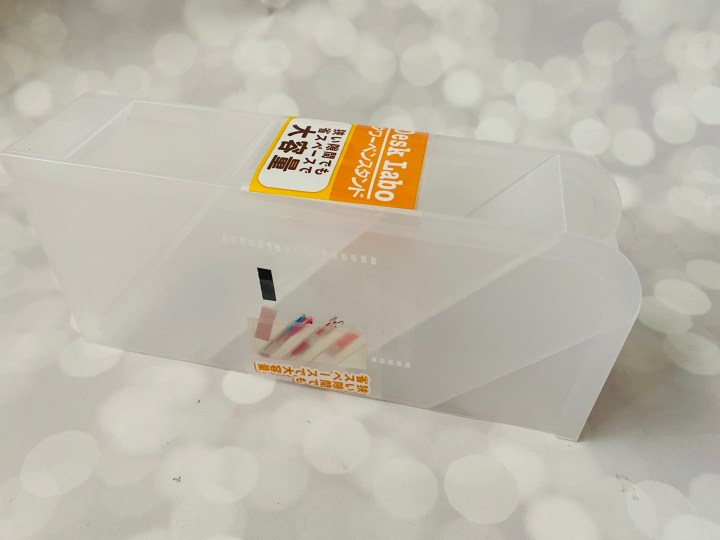 Here it is laid down horizontally.
Crayon Touch Metallic Eyeliner. This sparkly peach eyeliner is great for lining the eyes to highlight them. I also like using these sorts of skin-tone colours in the tear ducts and lower lashline. This didn't wear very long and so using it on the waterline would likely not work so well, but it was very fun to play with.
Choosy Lip Mask. I love lip masks even though they look so silly! They add a nice boost of hydration and are great to wear while you're getting ready to go out.
Missha Eye Shadow. Wow, the marbling design of this shadow is so eye-catching! I love the combination but I'm curious to see how it looks – keep reading for a swatch!
Witch's Pouch Glam Glitter Gloss. This gloss is packed full of duochrome glitter that shifts from coral to pink! It's a bit sticky but it's so much fun!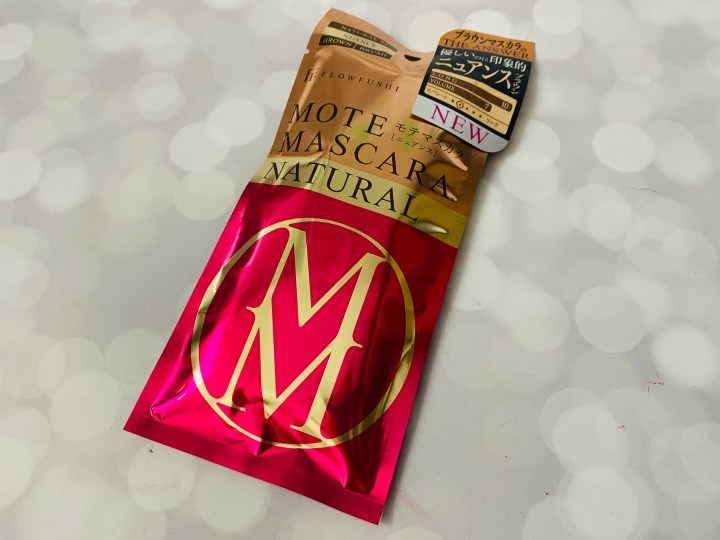 Mote Natural Mascara. I was SO EXCITED to see this product! Mote is a really popular drugstore brand in Japan, and I have used their eyeliner before and loved it! This mascara is meant for a more natural look, so it is a dark brown instead of black.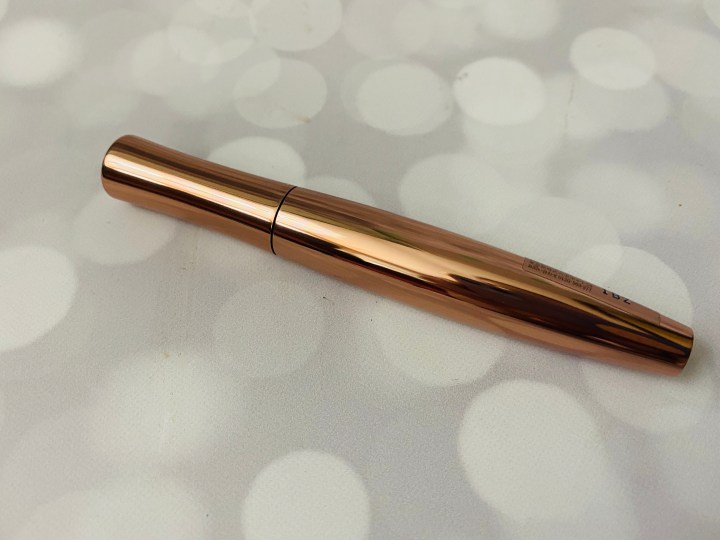 The packaging is metallic and sleek!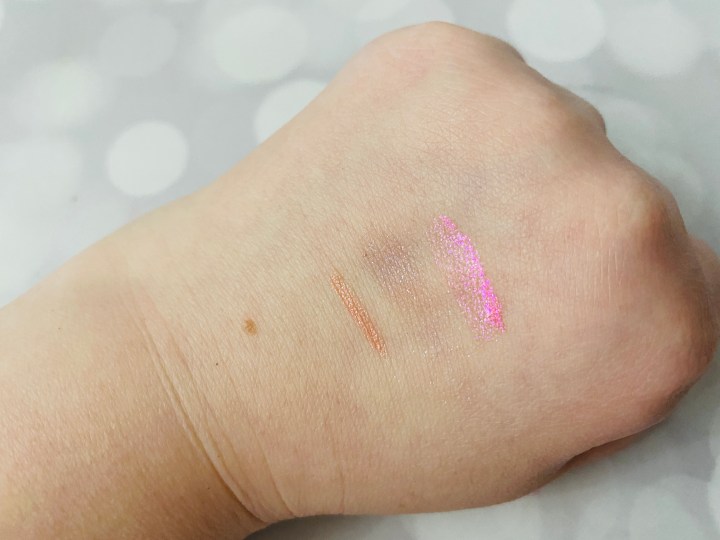 Swatches! This month's box was packed with colour! The marbled eyeshadow swatched out to be a nice taupe with red, green, and purple glitter in it. I love the pink gloss as well!
This month's nmnl was a lot of fun due to the variety of colourful products and great skincare items. The only dud for me was the eyeliner because it just didn't last on my skin, but overall I was pretty happy with the selection!
Here's a peek at the magazine for this month: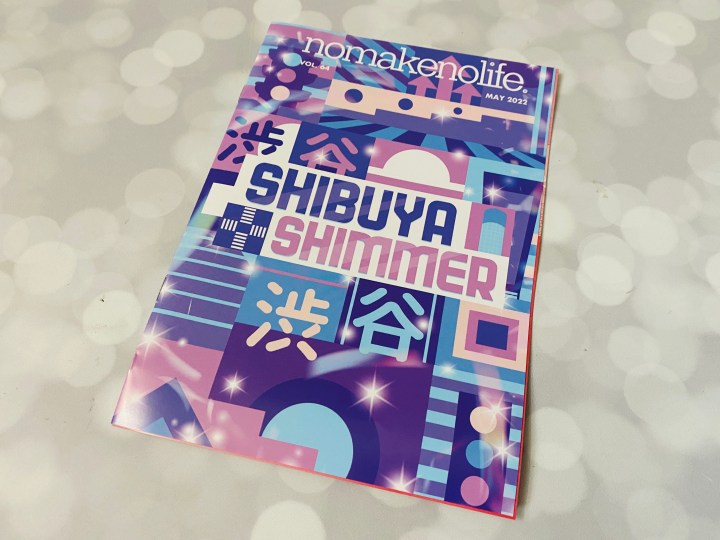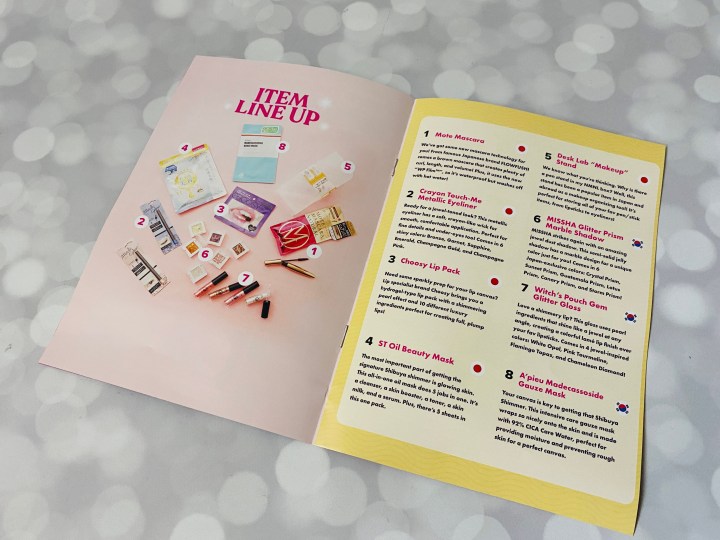 nmnl (nomakenolife) is a monthly beauty subscription box by the brains behind Tokyo Treat and Yume Twins. Each box has 8-9 Japanese and Korean beauty items, which may include skincare, makeup, hair care, bath & body items, and beauty tools. The subscription is $35 per month, but it can go lower if you subscribe to a longer subscription plan. It's $33.5 per month on a 3-month prepaid plan, $32 per month on a 6-month prepaid plan, and $31.5 on a 12-month prepaid plan. Shipping is $12.50 to the US, and is about the same for other countries.
Nomakenolife's subscription box made the list in our 2022 readers' choice picks of best makeup subscription boxes!
What did you think about this month's nomakenolife?