It's time to see what came in my Loti Wellness box for this month! This month's theme is CULTIVATE CARE and came with self-care items like body lotion and a gentle soap. Read on to see the full review of the May Loti Wellness box plus grab a coupon!
DEAL: Save 10% on your first box! Just use this link and coupon code SUBSCRIBE10.
Cultivate Care Workbook The monthly workbook has several pages, 14 for this month's book. There are activities and worksheets inside to help us focus on taking better care of ourselves, whether that means physically, emotionally, or in other ways.
Grace & Stella Lavender Lotion ($24) My goodness, this is a huge tube of body lotion! It's made with stuff like mineral oil, glycerin, shea butter, rosehip oil, cocoa butter, and aloe. The lavender scent comes from parfum but isn't super strong and fades quickly. It was easy to rub into my skin and should last for quite a while.
Anitako Organics Natural Lip Balm in Raspberry ($5) I'm a sucker for a classic minty lip balm but sometimes it's fun to switch it up. This shea butter-based lip balm has raspberry flavoring and a slight hint of tint (that doesn't show up on skin) thanks to alkanet root extract. It is easy to swipe on and the flavor is fruity, like a nice Italian soda.
Mrs. Meyer's Clean Day Soy Candle in Peony Scent ($4.49) This mini candle has a 12-hour burn time and is made with soy and palm oils. It's scented with parfum and essential oils. This one has a strong floral fragrance and I haven't burned it because it's not my kind of scent, but it will make a nice addition to a gift bag.
Dr. Botanicals Natural Cleansing Bar in Avocado and Cucumber ($6.99) I prefer to use bar soaps for my hands so I was happy to see this in the box because I'm almost out of my current soap. This bar should last me a long time, and it has a soft fragrance that doesn't particularly smell like cucumber, but shouldn't flavor my food when I'm cleaning up during dinner preparation. It created plenty of suds and rinsed off fully and quickly.
Tru Earth Eco Strips Laundry Detergent ($21.95) This seems easy to use — just tear off a strip and place in the washing machine with dirty cloths and it will dissolve into earth-friendly detergent! Each sheet can be torn (they're perforated) and I received the version that is fragrance-free. You can use two strips for larger loads, or 1/2 strip for teeny ones. I think this would be a wonderful product for anyone but especially for those who have no storage space or who have to do laundry outside their home (I'm thinking college students especially). It worked fine to clean my laundry and I just had to tear the strip into pieces and drop it into the soap dispenser of my front-loading washer.
Ma Soirée Nail Wraps in Helios (Styles vary, $15) I think this looks pretty neat but can honestly say they are not my style. Helios has a light pink background with gold-tone marbling. The kit includes 16 self-adhesive nail wraps plus an alcohol swipe and a nail file. They can be used on natural or fake nails and may last up to 2 weeks.
Self-care is always a great theme and we received a lot of different products to choose from. I especially liked the body lotion because the scent was subdued and the lotion was easy to spread and the perfect consistency for this time of year. I was also a fan of the lip balm, soap, and the eco-friendly soap strips. The candle wasn't my kind of scent and the nail strips are in a pattern that's not for me but that doesn't mean others won't love them, it's just personal preference!
Below you will find the product info card and some more box opening pictures.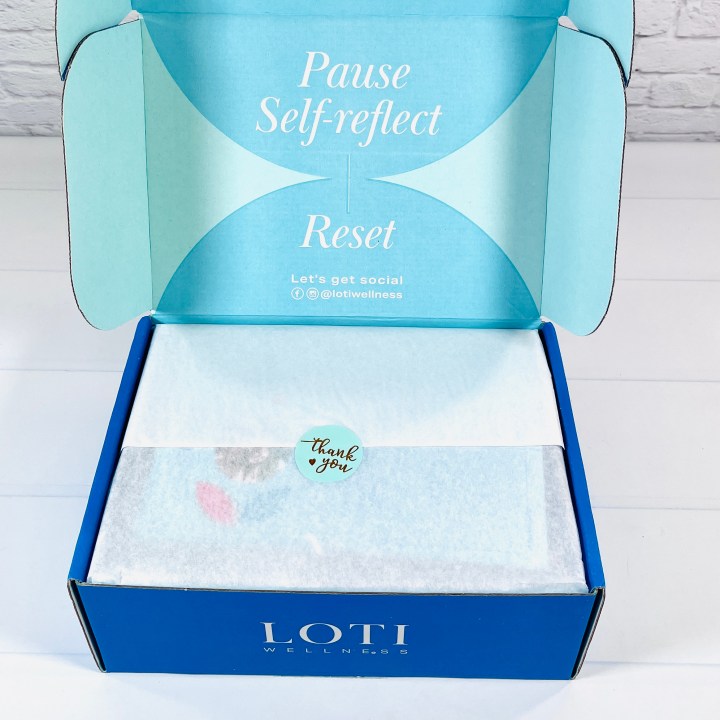 DEAL: Save 10% on your first box! Just use this link and coupon code SUBSCRIBE10.
Loti Wellness is a subscription box with a focus on self-care. The box has a monthly theme curated by therapists to focus on items and rituals to promote positivity and improve one's self. Loti Wellness works with local brands and small businesses whenever they can, and choose cruelty-free and natural products. The box will have 5-7 products for self-care and wellness. The box is $45.95 USD with lower prices on multi-month subscriptions and drops to as low as $37.95 USD when you sign up for 12 months. Shipping is $10.95 USD.
What do you think of this self-care subscription?