Hygge Box is all about enjoying the simple things in life that contribute to a sense of contentment and overall coziness. The April 2022 theme was Nature & Nurture and contained products to help us take care of ourselves in different ways, such as sipping a tasty tea to start the day or providing items to get us cleaned up before bed. This is one of my favorite boxes, I always look forward to seeing it in my mailbox!
Dirty Lamb Apricot Cleansing Oil ($42) I like the idea of a natural oil cleanser, but I'm not sure they are the best for my skin. After applying, I rinsed my hands under water and of course the oil stayed on my hands, so I never feel like it's able to touch the grime underneath (like the makeup and dirt on my face) but of course others swear by this product. I tried it and followed with a second pass using my regular cleanser just in case. This product doesn't emulsify like some oil cleansers on the market, and the ingredients sound pretty much like a natural face or body oil that might be applied after cleansing (such as rice bran oil, apricot seed oil, and argan oil plus some essential oils). I will use this as a body oil instead as it smells really lovely. EDIT: My older daughter saw this in my office and said it is her favorite cleanser so it has gone to a happy home!
Hygge Haus Face Cloth ($8) This washcloth is made of bamboo microfiber plus cotton and is 10″ x 10″ before washing (and please wash before using for the first time and after every use). It is super soft and comes with a Hygge Box bag that will be repurposed for some other use (or I guess you could take it on the go if you like).
Hygge Haus Belyse Soy Candle ($16) What an interesting candle, I've never encountered one shaped like this before! I think it looks a little bit like a piece of art so I'm not sure I will be burning it anytime soon, it's so unique. It doesn't have much smell, but again, I haven't burned it so it might have a scent when lit.
Good & Proper English Breakfast Black Tea ($5.66 USD) Ahh, a cup of strong black breakfast tea is the first thing I drink when I get up (like other people drink coffee). This one is a blend of 3 different types of black tea and there are 15 compostable bags in the pack. I thought it was a bold blend and tamed it with some sugar and milk (like I do every morning no matter the tea brand) but it had an additional floral note that my usual tea doesn't have and it was extra special because of that.
Chuao Chocolatier Honeycomb Chocolate ($6.99) My daughter loves honeycomb candy, she always buys a piece from the bulk bin when we visit Sprouts. This delicious bar has bits of that candy mixed into dark chocolate. I consumed 3 pieces on each of two nights (there are 12 pieces total) so I will save the rest for my daughter, who will be visiting from college this weekend, yeah!
The following item is in the Deluxe Hygge Box only!
Pretty Bee Fresh Beeswax Candle Rolling Kit ($16.29) I've received a few craft kits from Hygge Box and they have all been so different from each other, way to keep it interesting Hygge Box! My younger daughter will be home to stay for the summer soon and I know she will enjoy rolling these sheets of beeswax into candles, I have the feeling it will be pretty simple to do. Inside the box I found four sheets of beeswax in two different sizes, plus 4 wicks, and again, in two different sizes so choose the correct one when making your candles. EDIT: My daughter was in her room all of 5 minutes before she came out to show me the candles she had rolled up, and not only that but she completed the wool rabbit kit that came in last month's box — she loves the crafts from Hygge Box!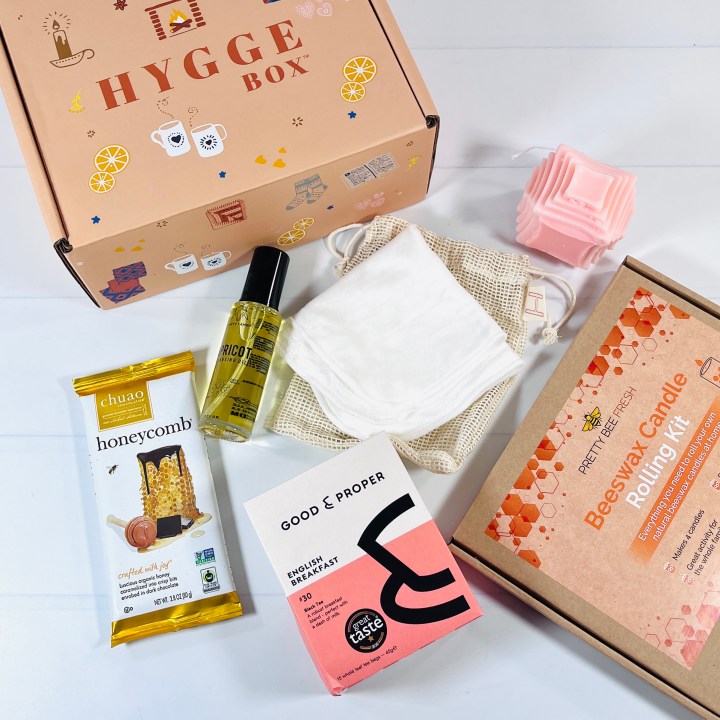 The April Hygge Box had some bee-youtiful items that were just my cup of tea! I especially liked that tea, it was bold and flavorful and perfect for starting my day. The candle is like a mini piece of art, I keep staring at it every time I pass my desk. The chocolate was tasty and I now have a wonderful assortment of soft face clothes thanks to various subscription boxes. The candle kit will delight my daughter, she loves to assemble all sorts of crafts. The retail value for my Deluxe Hygge Box was around $95.
Below are some box opening pictures along with the product information card!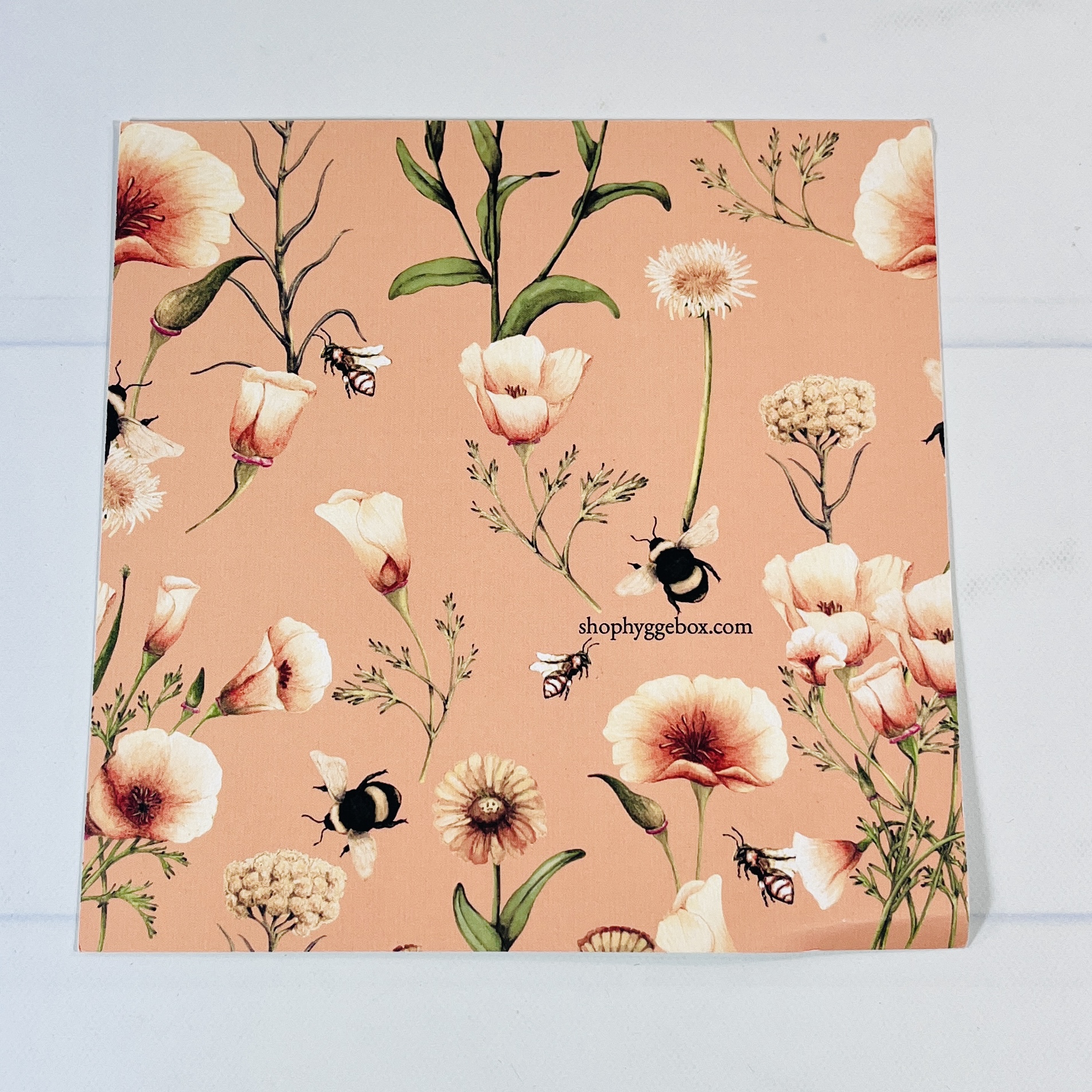 Hygge Box is a monthly subscription box for those who want to surround themselves with comforting objects that contribute to a sense of coziness and general well-being. You can choose from the Deluxe Hygge Box ($40 for 5-7 items) or the Standard Hygge Box ($29 for 4-5 items) and shipping is extra. Items sent may include candles, drink mixes, edibles, home decor, or wellness products.
What do you think of the Hygge Box?