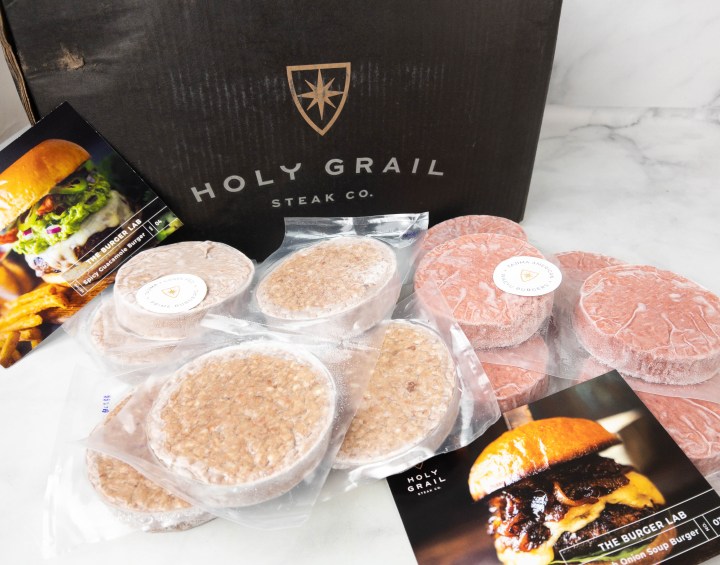 Here's everything you need to know about this burger subscription.
Burgers make great lunch or dinner options! The good news: you don't need to visit a high-end restaurant to eat the best burgers, because you can make them at home with high-quality burger patties that are better than even the fanciest burger joints!
We all need to make time for burgers once in a while (for our fam, it's a once a week treat), and Holy Grail Steak Burger Lab is a great way to have delicious, ready-to-cook burger patties delivered to us. This subscription sends top-quality burger patties every three months, with each box filled with two types of burgers.
Why have an ordinary burger when you can have the best burger available? Holy Grail Steak Burger Lab gives you access to Holy Grail's exclusive beef and pork collections quarterly, expanding your burger experience. From wagyu and Mangalitsa pork to Santa Carota carrot-finished burger and other propriety blends, a new wave of burger bliss is heading your way!
Holy Grail Steak Burger Lab Pros & Cons
Holy Grail Steak Co says it's okay to indulge in some meaty goodness, and it's exactly the invitation we need to taste some of the world's best burgers! It's now time to look into the advantages and disadvantages this burger subscription has:
Holy Grail Steak Burger Lab Benefits
Excellent quarterly selections
Burger patty quality is at its peak
Free shipping available
Holy Grail Steak Burger Lab Drawbacks
Price is on the higher side – $99 for 12 patties. But they're really, really good.
Holy Grail Steak Burger Lab Review
All About Holy Grail Steak Burger Lab
So many burgers, so little time! Burger Lab by Holy Grail Steak Co. is a subscription service that delivers high-quality burger patties right to your doorstep.
When you join Burger Lab, you will receive two types of burgers from the brand's exclusive line of beef and pork quarterly. Each box includes a total of twelve 8 oz burger patties – six of each type, plus recipe cards for inspiration. Subscribers also gain access to Holy Grail's online community, where they can share their creations, compete for prizes, and be among the first to try new products.
How does Holy Grail Steak Burger Lab work?
Holy Grail Steak Burger Lab works in the same way as typical subscriptions do. You shop online from the comfort of your own home and wait for your package to arrive in the mail.
This burger subscription delivers a premium burger experience at home by sending the most delicious and mouth-watering combinations of premium patties you can ever imagine! It allows you to explore more flavors and ingredients that will please your palate.
With Burger Lab, possibilities are endless! Never run out of premium quality burger patties to cook and enjoy any time you crave! Order once and expect a delivery knocking at your door every three months. Delivery is on auto-pilot. Just hit the "Add To Cart" button, and expect your first shipment to arrive in 1-3 days!
How much does Holy Grail Steak Burger Lab cost?
Focused on giving subscribers premium quality burger patties, the price for the subscription reflects the quality. It is a bit high on the price index compared to the average cost of burger patties in the market.
The subscription costs $99 every three months and includes two types of burgers in each box. There are twelve 8 oz patties in total, which puts it at $8.25 per patty. Shipping is FREE when you use this link and the coupon code BURGERLAB at checkout!
Where can I buy Holy Grail Steak Burger Lab?
Burger night? Done right! You can purchase a box through Burger Lab's website. Their page has a straightforward and easy-to-use interface, making navigation a breeze! Your virtual cart will appear, listing all the orders you've placed once you click on the "Add to Cart" button. These premium patties aren't available anywhere else.
An option to include a gift note is also available if you're gifting the subscription. Tap on the checkout button, then provide your shipping and payment information, including your contact number.
Where and how does Holy Grail Steak Burger Lab ship?
Holy Grail Steak Burger Lab currently ships to the lower 48 states only. As of the moment, they do not ship to PO, APO, and FPO addresses or the states of Hawaii or Alaska. Your shipment arrives Tuesday through Saturday via one of three shipping options – ground shipping, standard shipping, or overnight (1-day air) shipping. Upon request, Saturday shipping or expedited shipping can be arranged. All orders take 1-3 days to process and arrive.
How is Holy Grail Steak Burger Lab packaged?
All orders come in insulated packaging, ensuring your burger patties arrive fresh when they reach your home. Burgers were flash-frozen for freshness, then individually vacuum-sealed to retain flavor. The burger patties were wrapped in honeycomb paper and sealed with a sticker. Boxes are packed with dry ice to keep them chilled and frozen during transit. The recipe cards came in a kraft envelope secured with a Holy Grail Steak Co sticker. All packaging – boxes and liners – are 100% recyclable!
What products does Holy Grail Steak Burger Lab sell?
Holy Grail Steak Burger Lab carries a variety of burgers made exclusively from their beef and pork programs. Subscribers have the chance to try two different patties every three months. Some of the premium patties you can look forward to are Wagyu Beef Burgers, Carrot-Fed Burgers, Wagyu Brisket / Short Rib Blend, Seasoned 50/50 American Wagyu / Kurobuta Pork, Mangalitsa Pork, and 50/50 American Wagyu Kurobuta Pork.
My Holy Grail Steak Burger Lab Review
Trying out the subscription for the first time, I'm really excited about what burger patties to explore and taste!
My order came in a black box with the Holy Grail Steak Co. branding printed on all sides. Upon opening the box, you'll see the recipe cards inside a kraft envelope. It's also worth noting that each patty is individually sealed. And unlike many sealed packages, these were easy to open!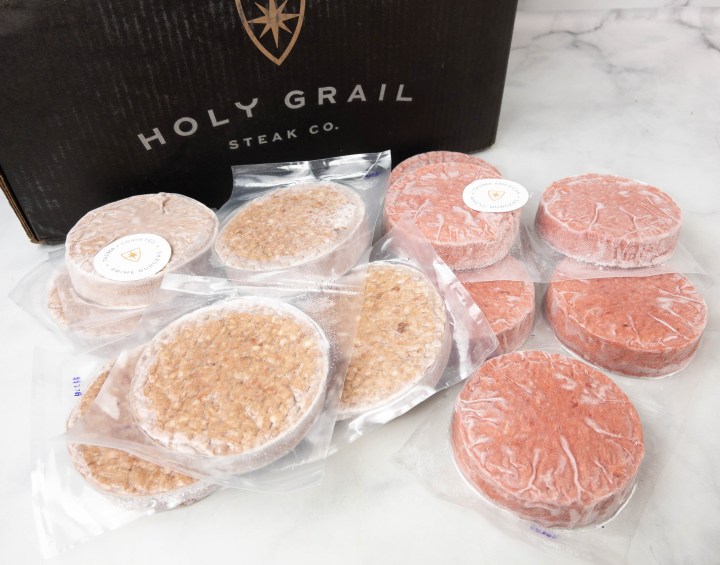 Holy cow! There are twelve burger patties in the box, and they're thick! Plus, they were still frozen when they arrived at my home. Tajima American Wagyu burgers and Tajima Grass-Fed Prime burgers were the two burgers I received in the box.
Tajima American Wagyu Burgers ($30) has higher fat content which results in its overall tenderness and juiciness! This particular burger is made from American-raised world-class cattle, fed with the traditional Japanese wagyu diet. It cooks faster than regular beef patty and tastes best medium-rare and it also produces a savory aroma while it cooks!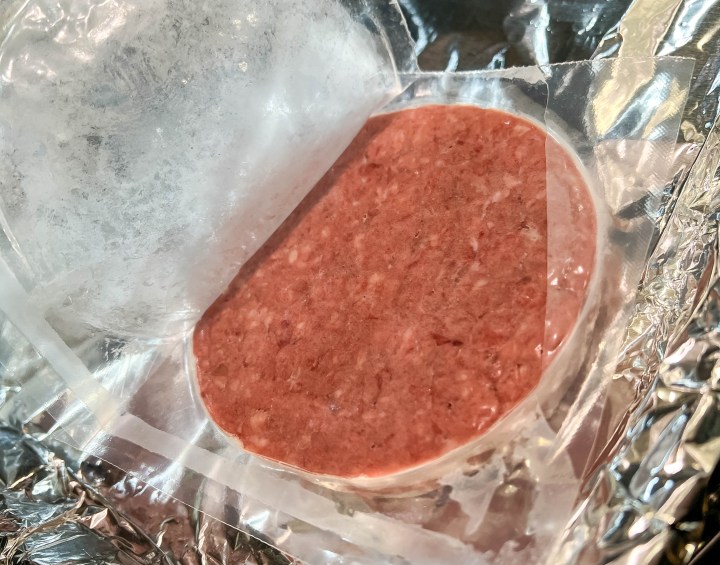 The meat itself is rich and oozing with flavor. Although made into a patty, it still has a buttery texture and unrivaled flavor that's genuinely addicting! And they are HUGE! Back behind this giant burger is a stack of 2 regular (quite large) burgers. That means the Burger Lab patties are super thick and juicy with a full half pound of meat in every one of them. And they really are absolutely oozing with juice.
Up next is Tajima Grass-Fed Prime Burgers ($20)! This patty takes you to a complex world of taste. The meat is sourced from black cattle that have been fed on grass year-round, then expertly blended 50/50 with Tajima wagyu. It has a rich, buttery, juicy, and luxurious all-in-one taste that'll make you ask for more. Packed with so much beefy flavor, it makes one of the best patties to use when making burgers for the whole family!
Here's a look at the recipe cards included in the box: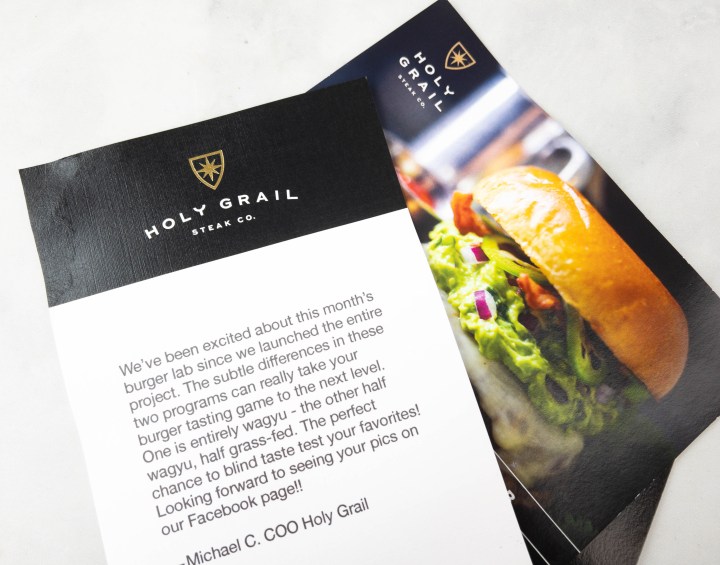 With this subscription, it's easy to create quality burgers at home! Whether you copy the recipe from the card or experiment with burgers with your choice of toppings, it will taste great considering the quality of the burger alone! The box has 12 individually vacuum-sealed servings, six of each type, which was enough for my family of six. Pan searing is still the best way to prepare them since it can sear in its own rendered fat, keeping it extra juicy! It's also a convenient way for us to check out and try different burgers.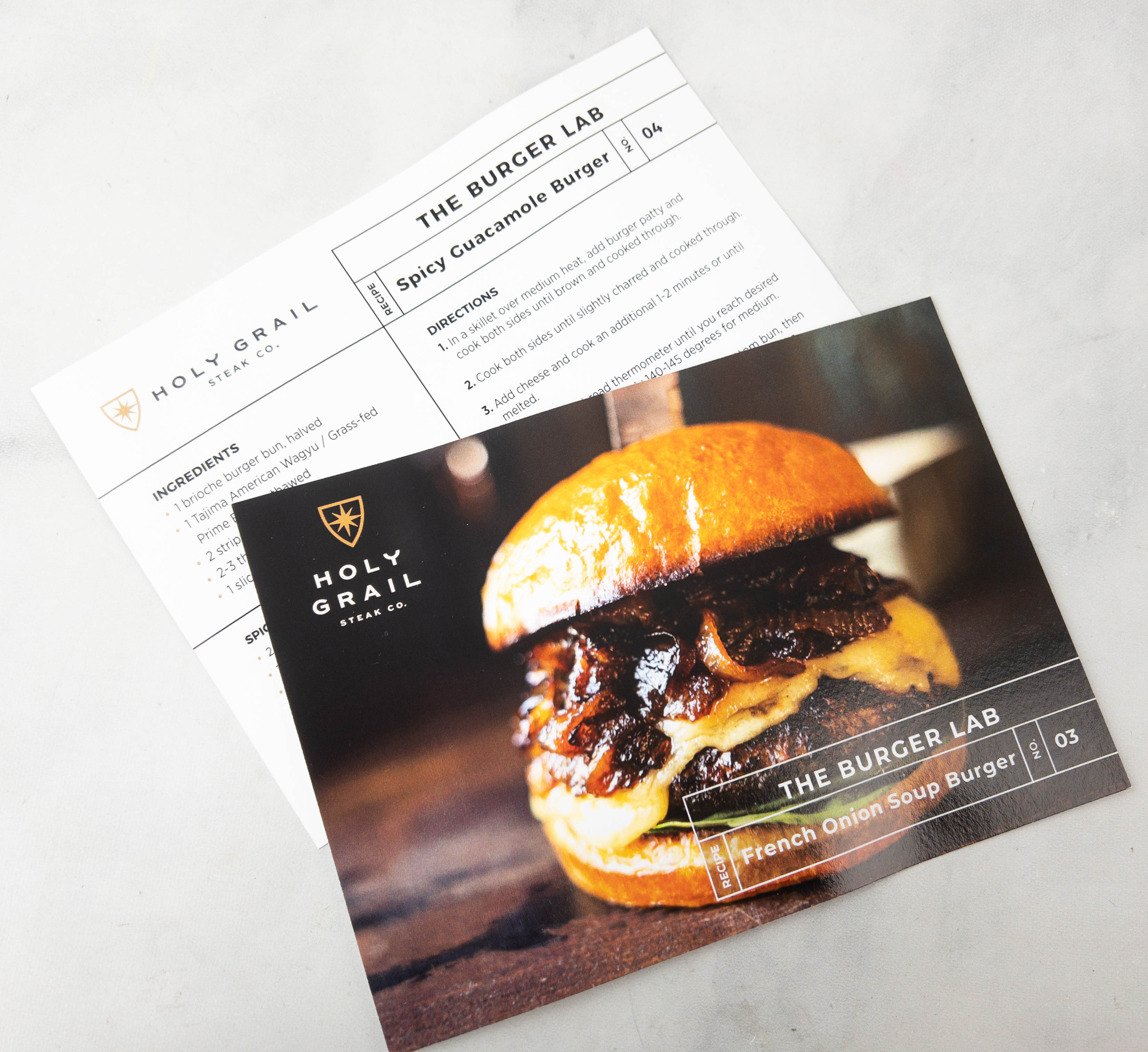 One of the suggested recipes is French Onion Soup Burger. The step-by-step cooking directions are easy to follow, even for non-experts. Aside from the patty, suggested ingredients include yellow onion, butter, gruyere cheese, baby spinach, and brioche buns.
This is how our French Soup Onion Burger turned out! It was thick and meaty, with the cooked onions adding an extra kick of flavor. 10/10 would make again.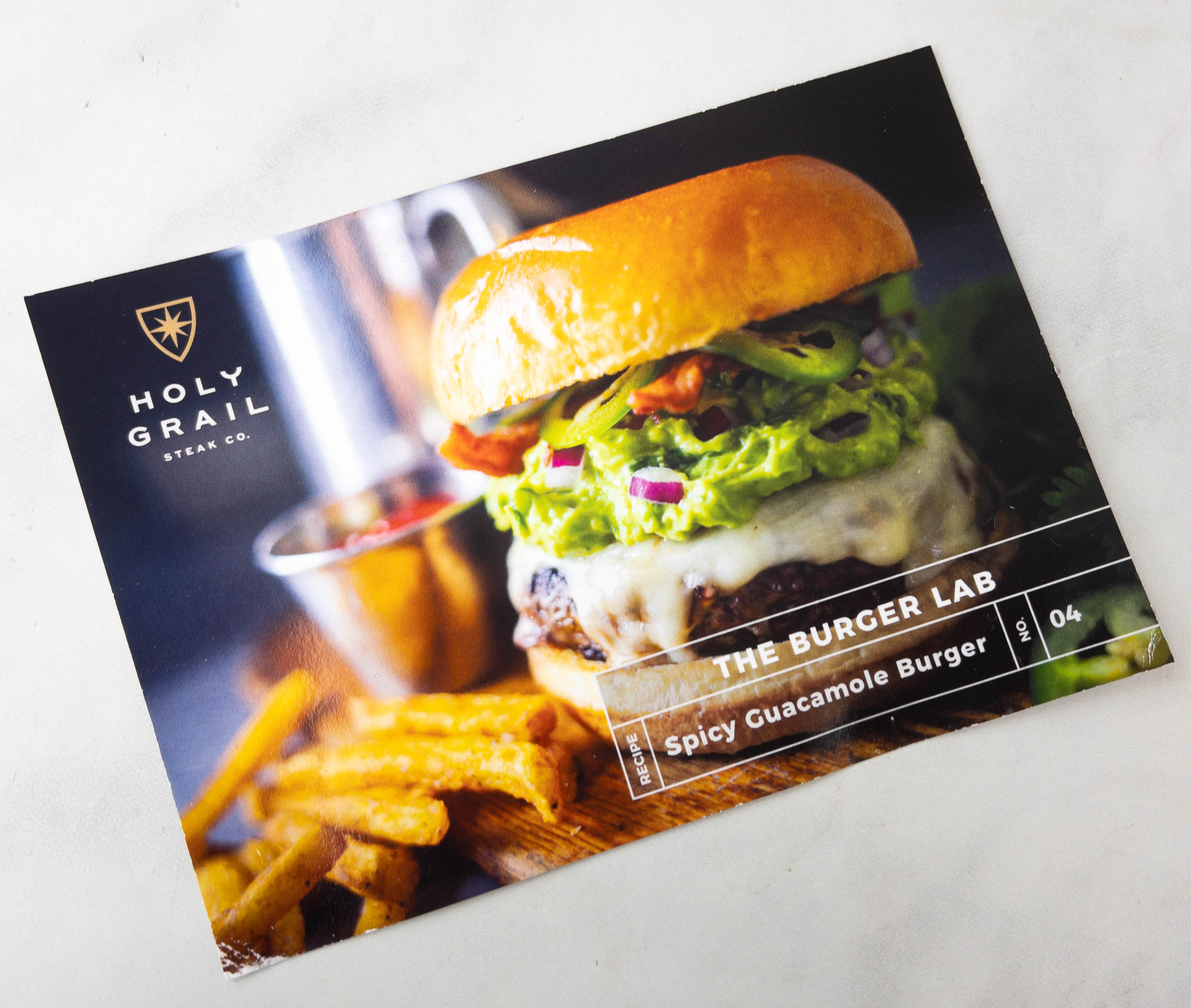 For spicy burger lovers, there's also a recipe for Spicy Guacamole Burger! This is also easy to make, except you have to make your own guacamole from scratch – we just used some from the store. It can be served with seasoned fries and tortilla chips as well!
The burger was juicy, plus the spiciness of the jalapeno complemented the buttery guacamole perfectly! The recipe called for Monterey Jack cheese, but we subbed in Havarti. It was sublime.
Is Holy Grail Steak Burger Lab Worth it?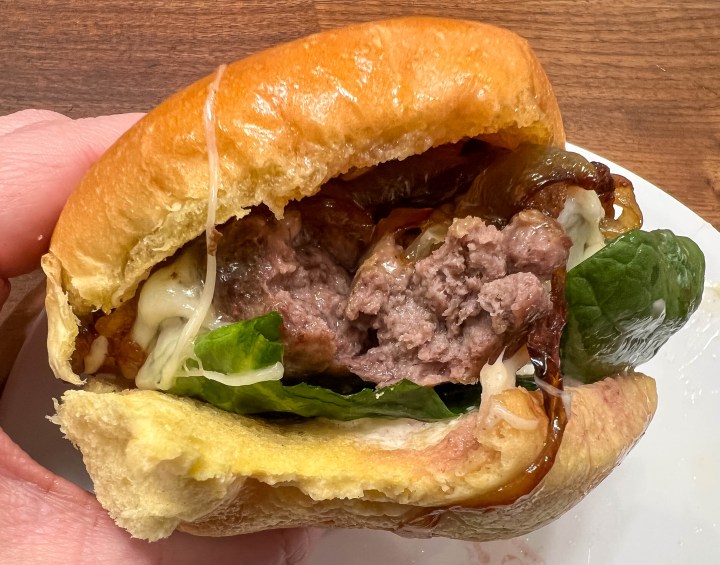 Holy Grail Steak Burger Lab is relatively new to the burger scene, but it has certainly made a great impression on me. The burgers they sent were nothing short of extraordinary, and the quality is unsurpassed! Sure, the subscription is a bit pricey, but it's a good chance to discover some of the world's best burger patties that you can't easily find on your own or at your local grocery stores.
The subscription process was also smooth sailing. You just have to order online, then wait for your shipment to arrive directly at your door. Everything inside the box is wrapped up nicely and packed with dry ice to keep them frozen absolutely solid while en route. The convenience of trying varieties of burgers at home deserves a nod! If you have some bucks to spare, it's worth giving a shot, even if only once in a lifetime. Now that I've tried the subscription, and tasted these burgers against my regulars, I'm going to have a hard time with regular patties – Holy Grail's are so delicious!
Are you a burger fanatic? Let us know what you think about Holy Grail Steak Burger Lab!