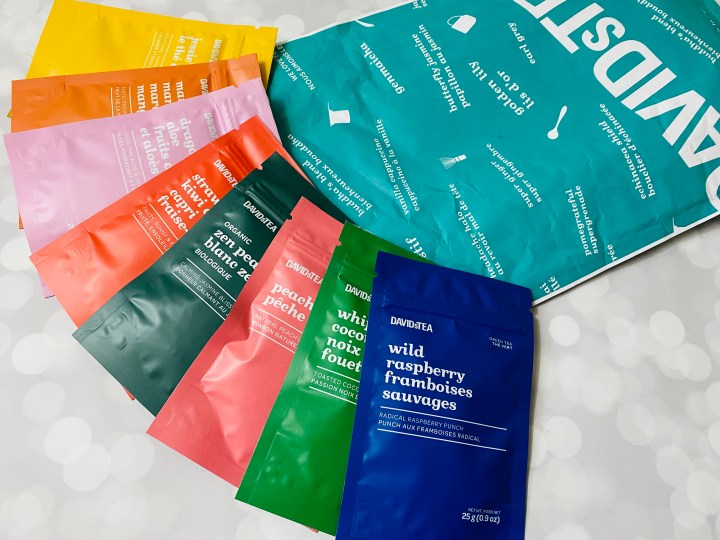 Summer is coming! The weather is getting warmer and it's time to swap out our mugs of hot delicious tea for bright, fruity iced tea! Of course with David's Tea, you can go either way, but the summer collection is packed with light and breezy flavours!
Wild Raspberry Green Tea. I'm not normally a green tea drinker but shockingly BOTH green teas in this set were absolutely fantastic. I did try them hot, not iced, but I was really pleased with the bright, juicy berry flavour of Wild Raspberry, which also has flower petals of hibiscus, pomegranate, and rose.
Ingredients: Apple (apple, citric acid), Green tea, Hibiscus, Natural (raspberry, pomegranate) flavouring, Raspberry, Pomegranate petals, Rose petals, Stevia extract.
Whipped Coconut Green Tea. Of the two green teas, this was my favourite. It was SOOOOO creamy and smooth, and the coconut adds the perfect amount of sweetness so you don't need to add agave or honey or similar. This would be delicious iced too.
Ingredients: Green tea, Apple, Roasted rice, Coconut chip (coconut, sugar), Coconut rasp, Lemongrass, Natural (coconut, cream) flavouring, White chocolate (sugar, cocoa butter, whole milk powder, sunflower lecithin), Popped rice, Stevia extract.
The Wild Raspberry leaves are packed with dried fruit!
You can see bits of coconut blended in with the elegant long green tea leaves!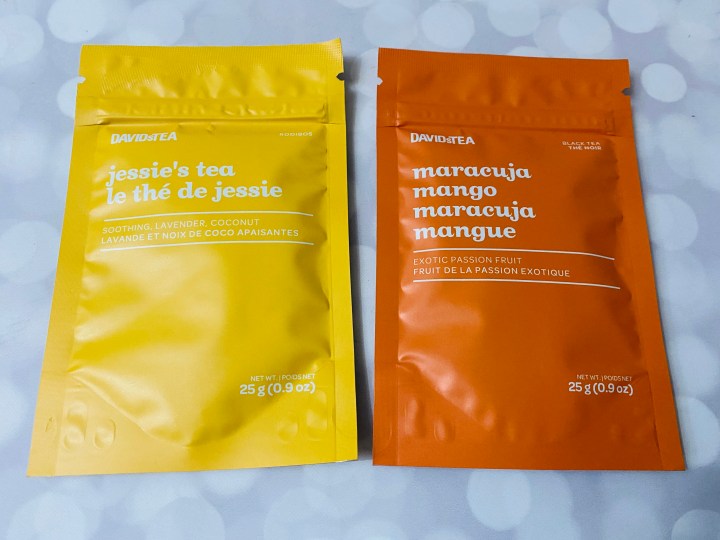 Jessie's Tea Rooibos. I like rooibos tea because it lends well to cream and sugar same as a black tea, but without caffeine. This blend of lavender and coconut will be the perfect soothing drink before bed in my opinion! I don't normally enjoy lavender as a scent but weirdly I don't mind it as a flavour.
Ingredients: Rooibos, Honeybush, Coconut, Lavender, Blue cornflower, Natural and artificial (coconut, cream) flavouring.
Maracuja Mango Black Tea. Yay, a black tea! Maracuja is a passionfruit that has an intense flavour. Combine it with mango and you have a super powerful fruit tea! This would taste fantastic iced!
Ingredients: Black tea, Mango (mango, sugar), Pineapple (pineapple, sugar), Natural (mango, passion fruit) flavouring, Sweet blackberry leaves, Marigold flowers, Passion fruit bits (glucose syrup, passion fruit juice concentrate, apricot pulp, modified starch, sodium alginate), Natural sweet blackberry leaf flavouring.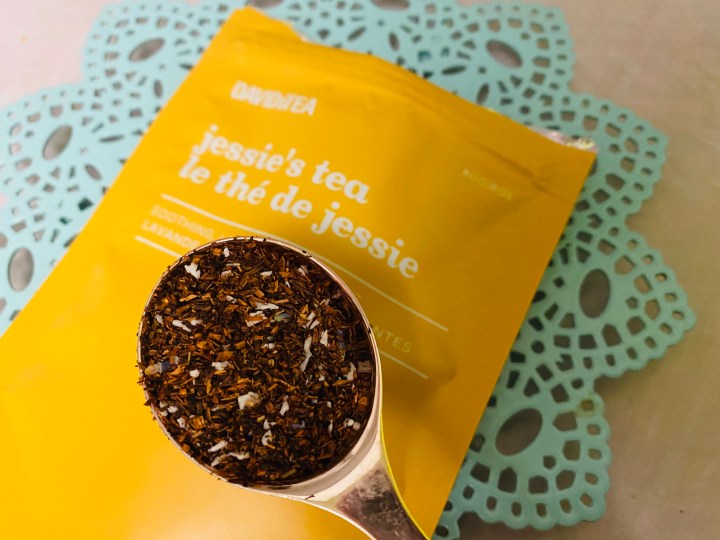 It's a little bit hard to see but if you look closely you can see the purple lavender petals!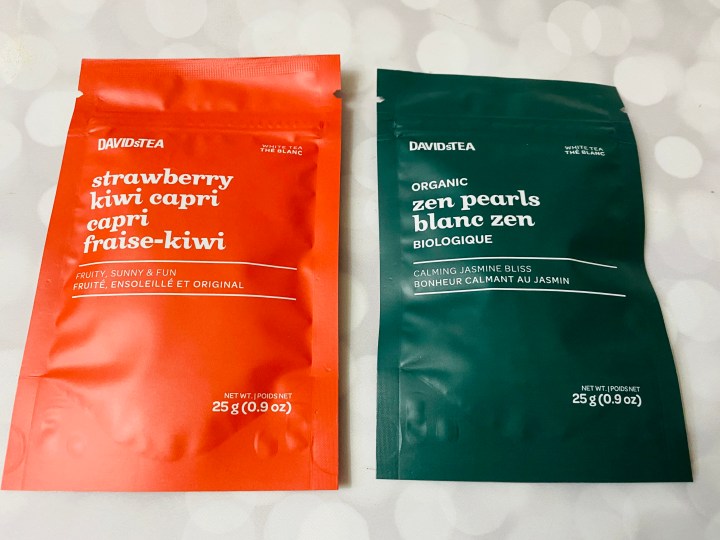 Strawberry Kiwi Capri White Tea. Another amazing fruity sounding tea that will be delicious with ice — strawberry and kiwi combine to make, as DT puts it, a grown up juice box! The juiciness of these flavours with the light flavour of white tea is perfect for hot weather.
Ingredients: Apple (apple, citric acid), White tea, White sugar, Orange peel, Hibiscus, Natural (strawberry, kiwi) flavouring, Lemongrass, Strawberry, Kiwi, Raspberry leaf, Marigold petal.
Zen Pearls White Tea. A soft, fragrant white tea made with hand rolled leaves infused with jasmine flower. This smells very soft and slightly sweet.
Ingredients: Organic rolled white tea from Fujian Province, scented with jasmine flowers.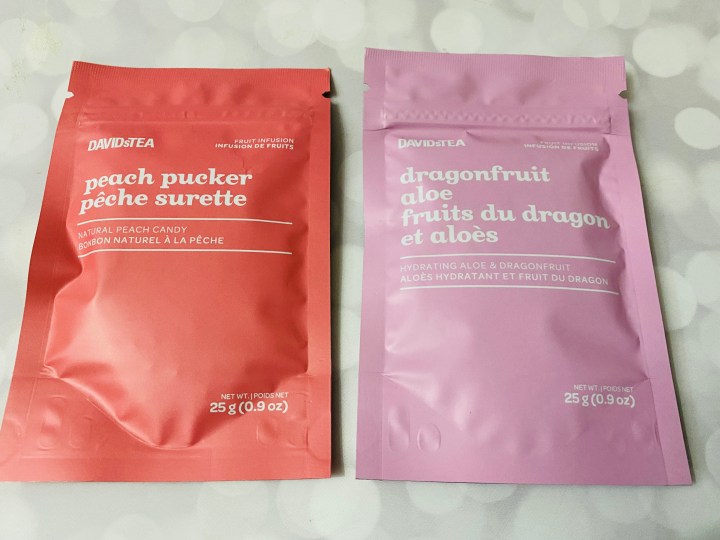 Peach Pucker Fruit Infusion. Sour and sweet just like a fuzzy peach candy! DT recommends making this into a TeaPop, which is a term I haven't heard in years! Ages ago, like maybe ten years ago, a TeaPop was something you could make (or order at the shop) where tea is mixed with carbonated water to make a healthier "soda."
Ingredients: Acidified apple (apple, citric acid), Apple, Candied pineapple (pineapple, sugar), Peach (peach, rice flour), Natural (peach, Spanish cherry) flavouring, Beetroot, Candied peach (peach, sugar), Mountain everlasting.
Dragonfruit Aloe Fruit Infusion. This was the only dud in the group for me personally, since I don't really like dragonfruit. I'm definitely intrigued with aloe as an ingredient for its hydration, but the flavour is something I just can't get past!
Ingredients: Apple, Candied pineapple (pineapple, sugar), Hibiscus blossoms, Dragonfruit, Natural berry flavouring, Coconut shreds, Rock sugar, Raspberries, Aloe vera powder.
DT has switched from a bulky box to a fully compostable mailer. Seeing the signature teal in my mailbox made me so happy. The compostable mailer has the cutest little dancing tea leaf!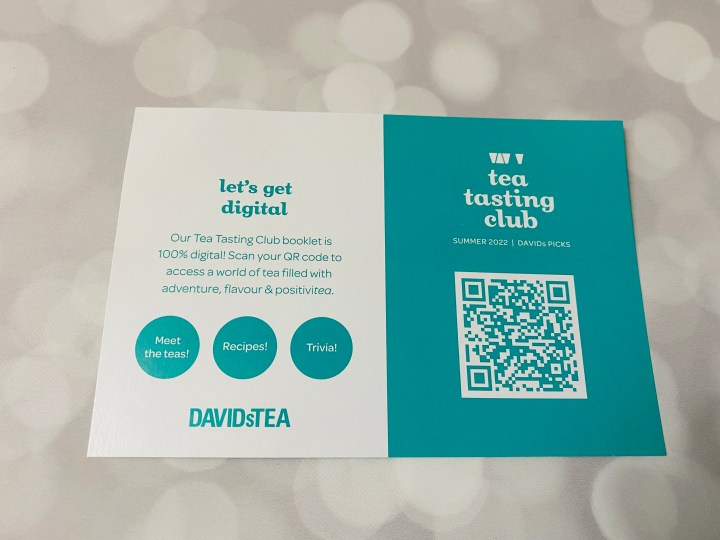 Also, the tea tasting booklet is now digital. I always liked leafing (no pun intended!) through the magazine in the past but I understand why they've gone digital. Scanning the QR code brings up the digital booklet. This is also emailed to you ahead of the box's arrival.
David's Tea Tasting Club is $35 per quarter, and includes exclusive teas, recipes, trivia, and more! There are currently four options to choose from: DAVIDs Picks which features traditional and trending teas including limited edition blends, Organic or the teas you know and love from the organic collection, Caffeine-free for those who like to sip before bed, and Garden To Cup which has single-origin teas from around the world.
What did you think of the Tea Tasting Club?
Visit David's Tea Tasting Club to subscribe or find out more!