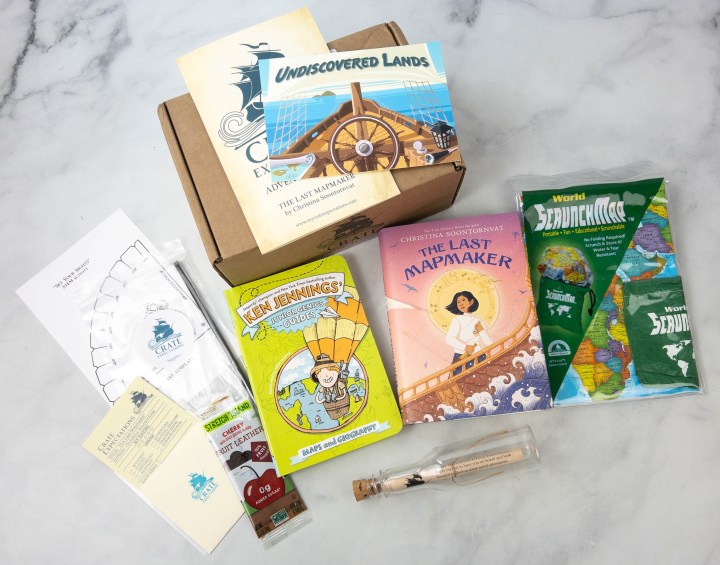 It's another adventure-filled box from Crate Expectations this month! The May 2022 box took kids on an exploration of UNDISCOVERED LANDS with two great books, a tasty treat for a sweet reward, a STEM experiment to perform, plus extra bookish goodies to make the reading adventure extra fun and exciting. Continue reading to know more!
DEAL: Get 10% off your first purchase! Use coupon code HELLO10.
The Last Map Maker by Christina Soontornvat ($14.39) is a Thai-inspired fantasy adventure novel centered around twelve-year-old Sai. She joined an expedition to map the Southern Seas, only to discover later that the ship was heading to the fabled Sunderlands, home to dragons, dangers, and riches. It is suspenseful and thought-provoking, with plenty of adventures and surprises that draw my kids' attention. The entire story is beautifully written, and there are some magical elements that added life to the whole narrative. It relays a real-life message that you cannot change what already happened in the past, but you can definitely draw what's ahead of you! It's a wonderful read with a heart and a story of finding one's place.
Also included in the box is Junior Genius Guides: Maps & Geography by Ken Jennings ($12.34). This book helps kids discover fun facts about the world and guide them to becoming master of geography. It's jam-packed with trivia and adorable black-and-white graphics, making it a fun read for young explorers. This book is an engaging and fun way to learn about geography and maps.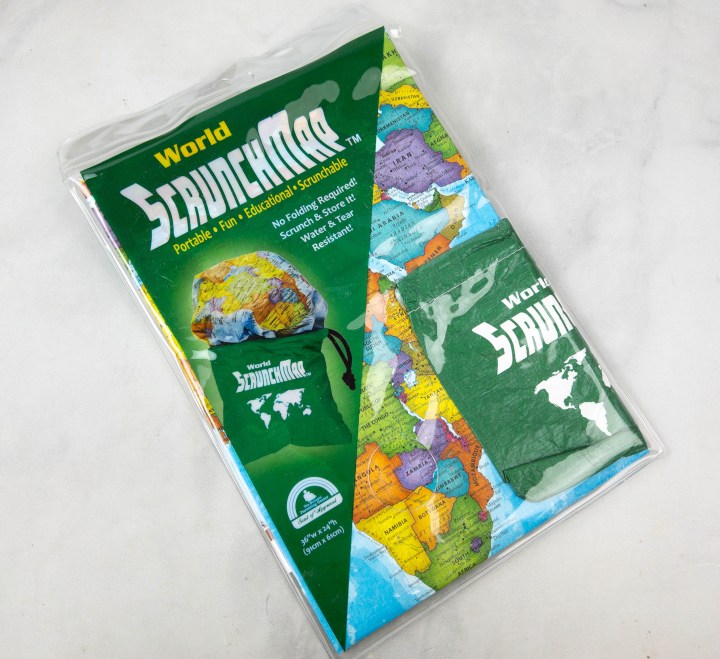 To help kids explore the world and uncover hidden treasures, the box included a World Scrunch Map. It measures 36″x24″, and it looks pretty cool as well! The map is printed on water-resistant and tear-resistant material, ideal to bring on any adventure. It also came with its own storage pouch, and you no longer need to fold it. Just scrunch and store, and that's it! Kids can put it into their pocket, purse, backpack, or anywhere else.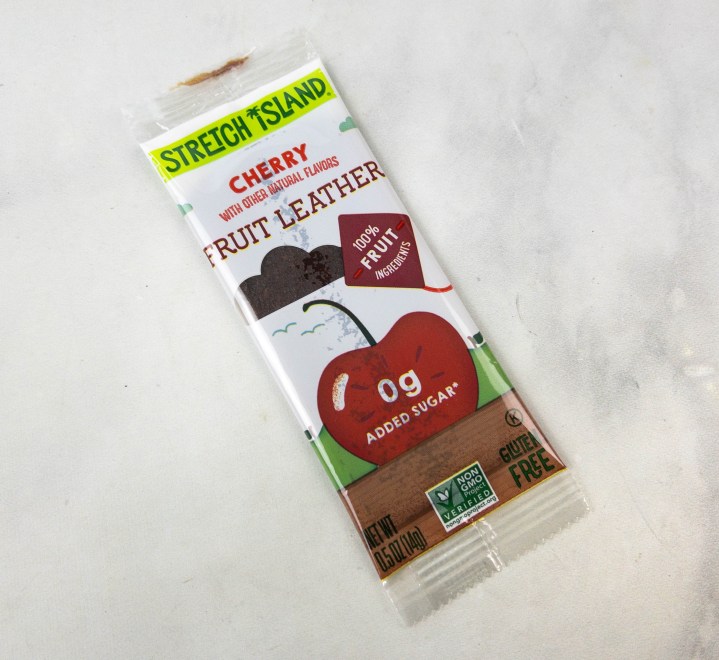 For lasting adventure in the sea, here's a fruity delight to keep young explorers' tummies pleased when sailing forth! Inspired by the experiences of sea explorers, Fruit Leather is made from fresh fruit concentrate that has been dried up to prevent spoilage while drifting far away. It's simply delicious and the ultimate on-the-go snack. My daughter enjoyed chewing on it as we read the adventure books in the box. Made with 100% cherry puree, this sweet delight is gluten-free with no added sugar at all!
Each box also comes with an Adventure Guide that'll steer fun and enjoyment! Inside, you'll find Q&A with the featured author of The Last Mapmaker, Christina Soontornvat. There's also a page with a STEM experiment for little learners to work on! It is "Set You Sights" for this month, and it is about measuring the position against the sun or stars to determine whether or not explorers are on the right track. To make the experiment easier for kids, they included a quadrant template, straw, string, and washer. In addition to discussion questions, there is also a special mapping activity, a recipe for Ginger Cookies, book recommendations, and more!
Crate Expectations takes kids on a monthly adventure across the world with books, treats, and bookish gifts. This month's box is especially enjoyable, with its theme of exploring undiscovered lands! My kids seriously read The Last Mapmaker book and learned fun facts about the world with the Junior Genius Guide book. They also pinned the world scrunch map on the wall and learned more about geography. The fruit leather is a sweet bonus! We appreciate the different themes each month, and my kids always look forward to them.
The box also includes an info card with the theme in it and brief descriptions of the items. Here's a closer look:
Crate Expectations is a monthly kids' book subscription box that sends a quality book paired with a one-of-a-kind Adventure Guide and toys or games. Plans start at $32.99 each month, plus shipping and tax, and they also offer 3-month and 6-month subscriptions. Each box contains their book club pick of the month, 2-4 specially curated toys or games, a book-related STEM activity, and supplies, an exclusive author interview, a book-inspired recipe and menu ideas, book club discussion questions, and recommendations for further reading. The box is suited for 8-12-year-old kids and a favorite subscription box for tweens and pre-teens!
The Crate Expectations middle-grade readers box made our 2022 readers' choice list of best book subscription boxes for kids!
What do you think of the Crate Expectations box?