Butcher Box is a subscription box service that delivers premium quality meat starting at $146 per month. Each box comes with a selection of meat that has been carefully cut and prepared. This subscription often offers For a Year deals, which are valid for the first year of your ButcherBox membership. This means you'll receive the item for FREE in every box that you order. Previous deals include Ground Beef For Life, Wings For Life, and Bacon For Life.
We love Butcher Box and we're delighted to get FREE Shrimp for life (1 pound of wild-caught shrimp in every box for a whole year!) this time around. Read on to find out more about the seafood included in this For A Year deal!
DEAL: Check out the current ButcherBox deal – just use this link to sign up!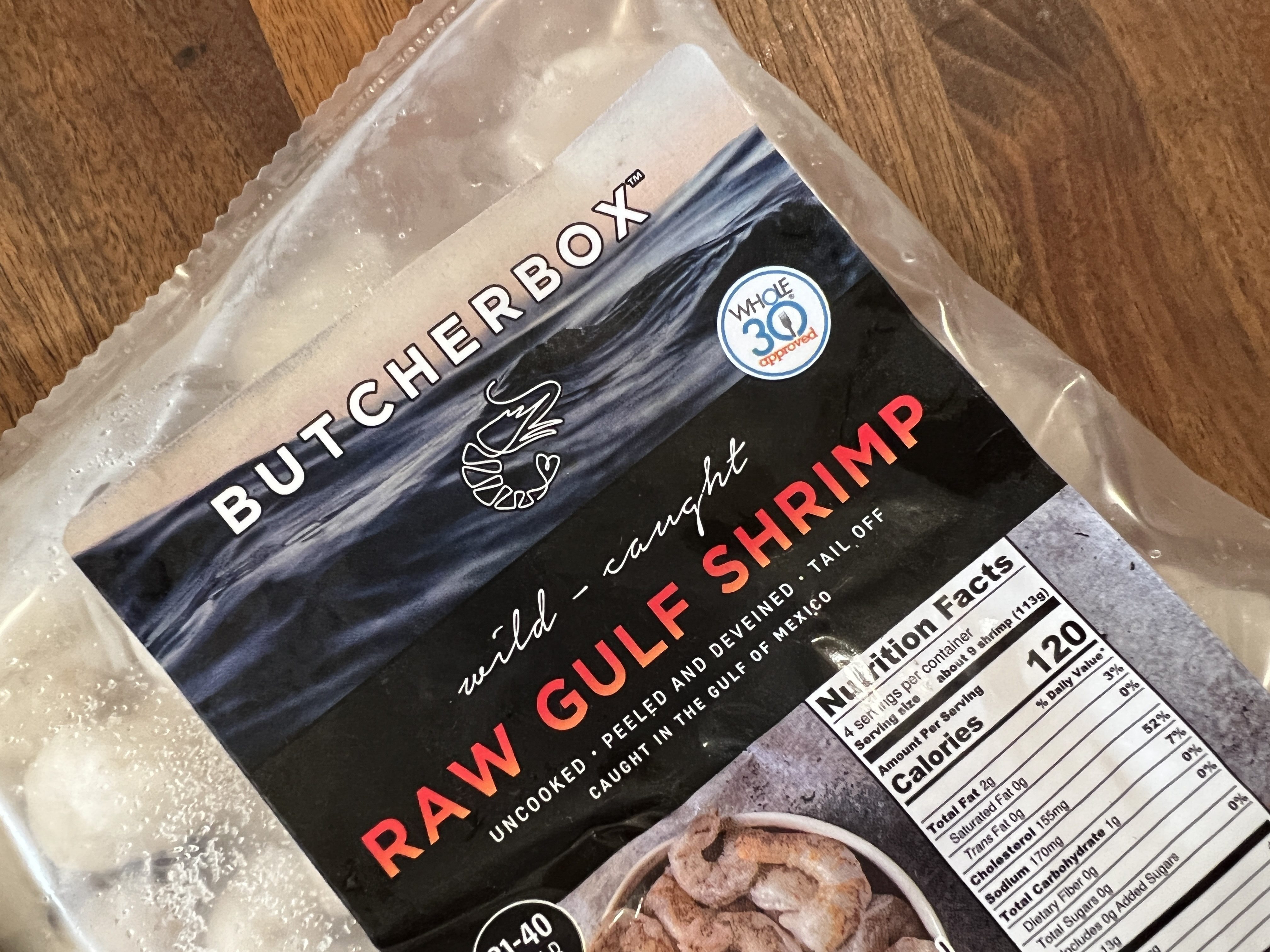 Butcher Box often offers FREE products for subscribers during the first year of their subscription. We had a chance to check out their newest offer their frozen gulf shrimp. These are already peeled and deveined with tails off and wild-caught in the Gulf of Mexico. So easy to just make, there's absolutely no prep besides thawing. They're also Whole30-approved!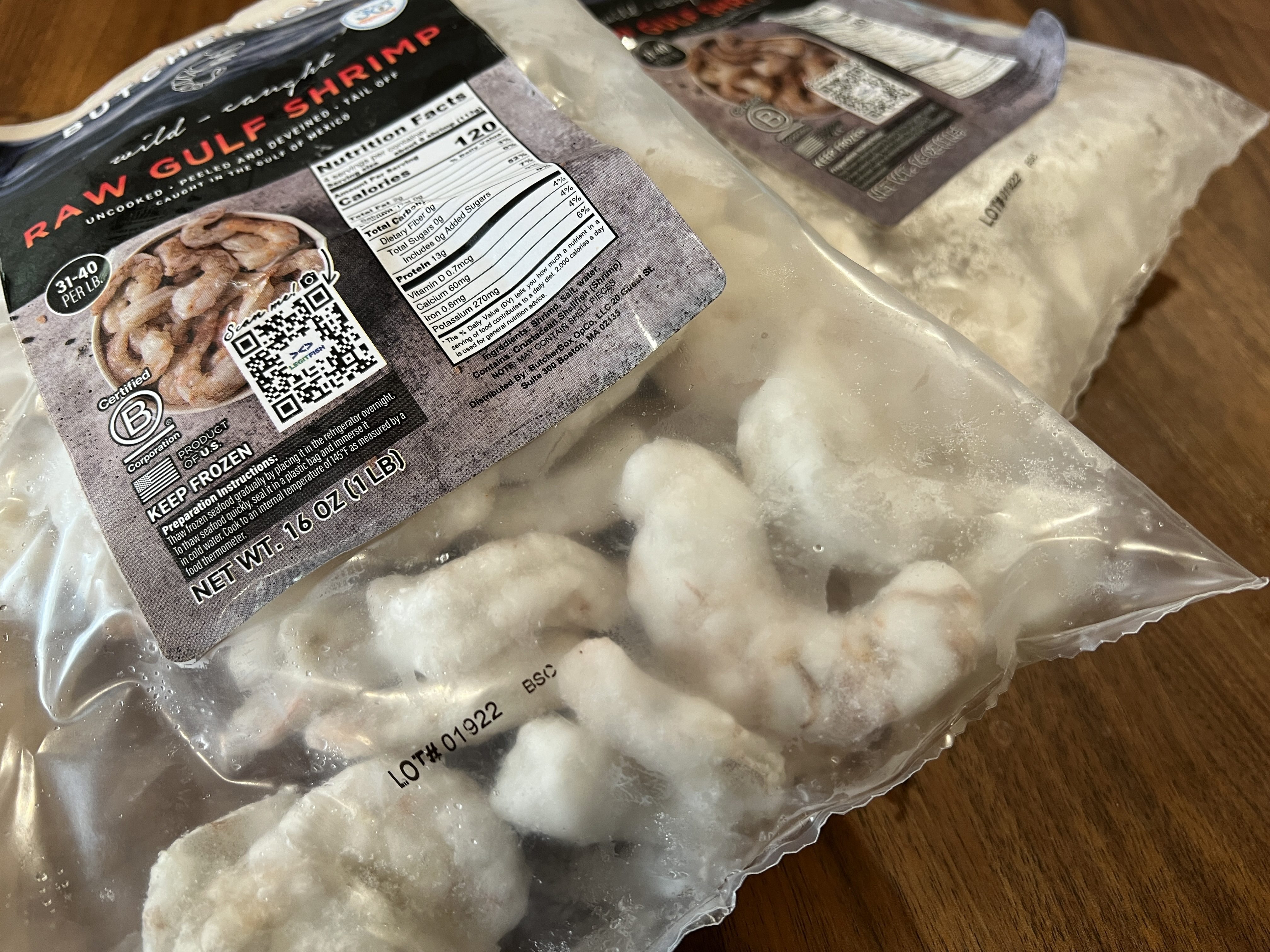 For reviewing this, we received two packs, each weighing 16 oz or 1 lb and containing 31-40 shrimps. You will receive one pack in every box for a year if you sign up with this deal, but if you need to cook more for a crowd, just keep your bag in the freezer. There is also a QR code on the label to trace the origin of every package when scanned, plus complete preparation instructions. It arrived ready to store in the freezer or thaw to use.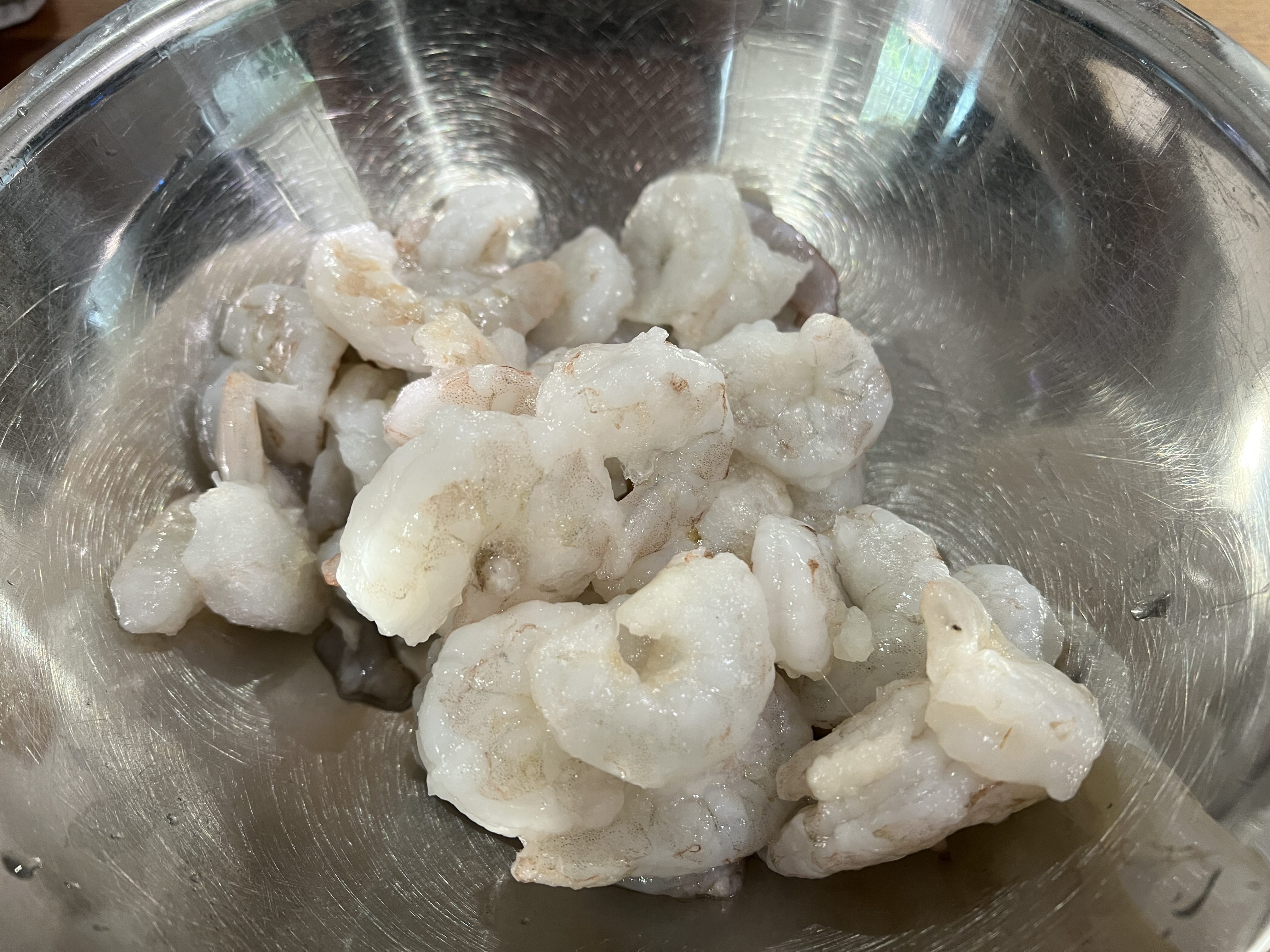 The smaller bowl shows 1 lb of shrimp, while the bigger bowl shows 2 lbs of shrimp. And for our dinner, I decided to cook two lbs of raw gulf shrimp. They came frozen, so I had to thaw them to prepare them for cooking. I just followed the instructions on the pack to thaw them in cold water.
We made a sheet pan shrimp boil. First, I parboiled the potatoes, added corn in the last few minutes, and spread them on a pan. I buttered everything and added Old Bay, then baked at 400 for 15 minutes.
Gently toss to make sure that everything is nicely coated and seasoned with butter and Old Bay for a richer flavor!
Shrimp cooks fast, and it took us about 30 minutes to prepare the ingredients and cook/bake the shrimp. It smells great as it bakes, and I can't help but feel hungry!
Here's a closer look at our sheet pan shrimp boil. The shrimp taste a tad sweet, and the dish turned out great! It's an easy recipe, yet it tastes heavenly. The texture of the shrimp was excellent!
It's flavorful, simple, and filling in just one pan! You can also garnish it with parsley and lemon wedges if desired. The kids loved it as well!
One of the reasons we love Butcher Box is that they always offer great deals alongside the subscription! This time, we tried their FREE shrimp for a year deal and we got really beautiful and easy to cook peeled and deveined shrimps, ready to store or thaw. They were wild-caught in the Gulf of Mexico, and they taste mildly sweet and tender! And the dish I prepared for the whole family is a great choice to showcase the natural flavor of these raw gulf shrimps, combined with the herby spices of Old Bay and creamy, rich butter. Butcher Box is one of the subscriptions to love, especially if you're a meat-lover. Plus, there are also amazing deals to take advantage of!
The Butcher Box brings back that unique experience you get when you visit your local butcher shop. Their specialty is 100% grass-fed beef, but they also offer mixed subscription options. Depending on your needs, you can have the box sent every two or three months.
There are 5 box options, available in Classic Box or Big Box size:
Custom Box – 9 to 26 lbs – Select from up to 29 different cuts (starts at $169 per month)
The Mixed Box – 8.5 to 22 lbs – Curated assortment of beef, pork, and chicken (starts at $146 per month/$6.08 per meal)
The Beef & Pork Box – 8.5 to 22 lbs – Curated assortment of beef and pork (starts at $146 per month/$6.08 per meal)
The Beef & Chicken Box – 8.5 to 22 lbs – Curated assortment of beef and chicken (starts at $146 per month/$6.08 per meal)
The All Beef Box – 8.5 to 22 lbs – Curated cuts of beef (starts at $146 per month/$6.08 per meal)
What did you think of Butcher Box's Free for a year shrimp deal?