The May 2022 BOXYCHARM theme was Super Bloom and had a lot going on for my face, like a primer, a lipstick, and a blush. I also received a resurfacing serum to get some of those rough places smooth in time for warm weather clothing. See what else was in my box below!
Keep in mind that BOXYCHARM sends many box combos so your box items and value may be different than mine. There are variations in the box – see them here.
DEAL: Subscribe now and get a FREE gift: VIOLET VOSS Essentials 2 Palette ($45), CIATÉ LONDON Women's Empowerment Eyeshadow Palette ($68), or ALGENIST Triple Algae Eye Renewal Balm, PLUS $10 credit to May Mega Drop Shop!
FARMACY Honeymoon Glow Body 12% AHA/BHA Resurfacing Body Serum 140 ml ($40) This product claims to eliminate bumps, I'm guessing that chicken skin (Keratosis pilaris) that can appear on places like the arms and legs. I don't think I have that problem but I do have some rough patches just above my ankles on my lower legs so I will keep using it to see if I can get those areas smooth again. It has lactic acid and BHA and can be used a couple of times a week and possibly more often if your skin can tolerate it (but don't use on the face!). I must say, it smells absolutely horrible when you first start applying it (and I don't think I would ever use it on my arms as it made me cough horribly when I sniffed it) but eventually it starts to smell like sweet honey before the scent fades away. It goes on like a silky serum but it may take several uses before I see any difference on lower legs.
SKIN INC SUPPLEMENT BAR Serum Glow Filter ($50) I received two primers in my BOXYs this month (the other was in my Premium) so I decided to do a side by side comparison and this one was the winner. Once they were applied they both looked the same and pretty much felt the same but my base, which is a powder, sat better on the Skin Inc. side. The main ingredients include Gold Hibiscus extract, niacinamide, and hyaluronic acid and I didn't notice any scent.
BASIC BEAUTY Eyeshadow Primer 10 ml ($18) I like eyeshadow primers and use one every day. This one is tough to get out of the tube, I had to press it kind of hard, but the product itself is easy to spread around and it kept my shadow looking good all day long. It has a slight tint similar to concealer but again, it disappears after application.
CIATÉ LONDON Dewy Blush in Coconut (Bronze/Nude) ($22) I get why people wear lip gloss — it leaves the lips soft and kind of greasy (honestly, right?) and provides some shine. I don't get why people would want to use gloss on their cheeks. I applied, thinking it would dry down once on my face but no, it stayed glossy, which also felt, um, kind of gross. My hair would stick to my face. My hands would touch my face and I could feel the stickiness. The color was ok, and it faded to virtually nothing as I rubbed it around. I don't get this product at all, and I have dry skin. Seriously, lip gloss for the cheeks. Swatched below.
V KOSMETIKS Creamy Liquid Velvet Lipstick in Bubbly ($22) Now this was a makeup item that I actually liked. It has a soft flocked applicator and I applied it lightly then went over it with a lip brush so I had a stain rather than super bright lips, but of course it works for that too. I liked the color, which was bright but not stoplight red, and it dried down to a matte finish, and the way I applied it meant that it faded away gradually, I checked in the mirror and there wasn't a line of lipstick outside my lips. I think this color would work year round but I especially like it at this time of year, perfect for spring and summer. Swatched below.
The lip product is swatched on top, the cheek product below. I didn't realize the cheek gloss wouldn't set since I wiped it off immediately after I took the picture.
Refreshments Dazzling 5-Blade Razor Kit in Coral Crush In case you weren't aware, Ipsy has now acquired BOXYCHARM, and Refreshments, a service that sends basic beauty products like razors and body wash, is now available as an add-on to your BOXYCHARM subscription. They sent this razor for me to try and like the primers I mentioned earlier, I decided to compare this to my usual basic razor from the drugstore. I tried using it with shaving cream under my arms but it didn't feel like it was coming in contact with my skin (although I'm sure it did) so when I tried it on my legs, I skipped the shaving cream. I liked the way the handle felt, it was sturdy in my hand, and both legs had about the same amount of stubble the next day.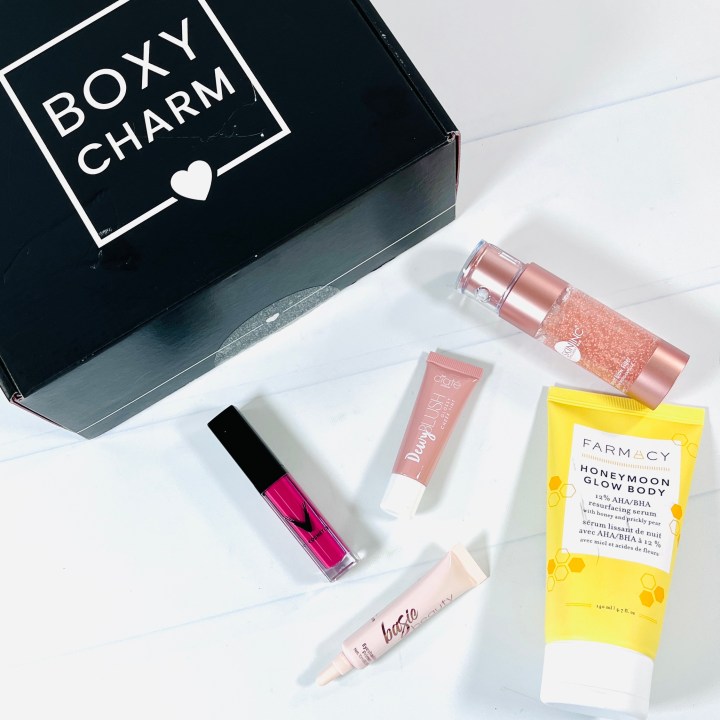 I think my favorite item this month was the lipstick because not only did I adore the color, the formula worked well for me and stayed in place like it should, no worries about having ring around the lips. I also liked the face and eyelid primer, although I'm sure the lid primer will get the most use, I prefer to only wear face primer for special occasions. Although the resurfacing serum smelled horrible at first, I will keep using it to see if I can send those rough patches above my ankles packing. The only thing I really didn't like was the blush, it left a weird feeling on my face and I can't see me using that product again. The value for my box combo was around $152, not including the promotional razor from Refreshments.
Below is a box opening photo as well as the product info card.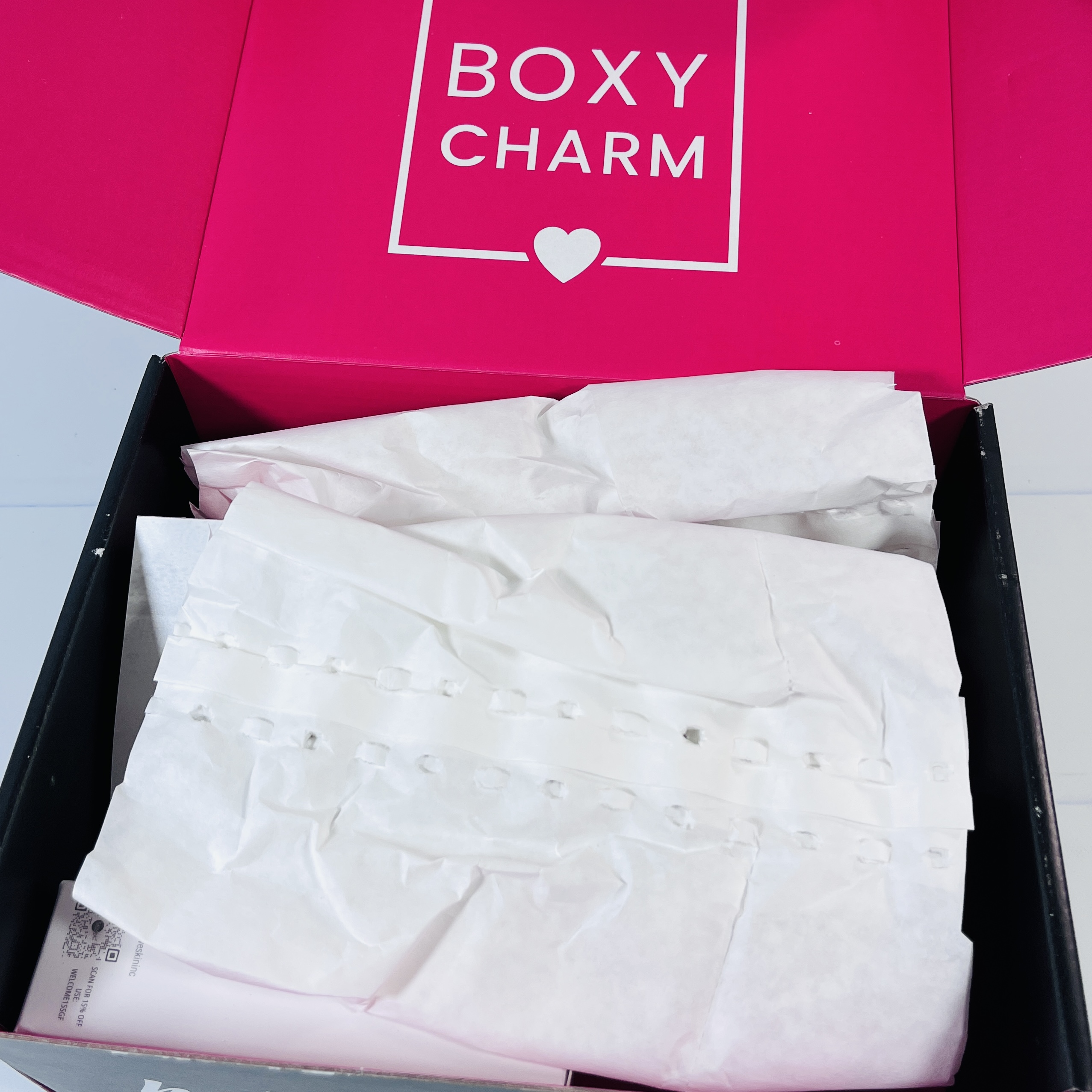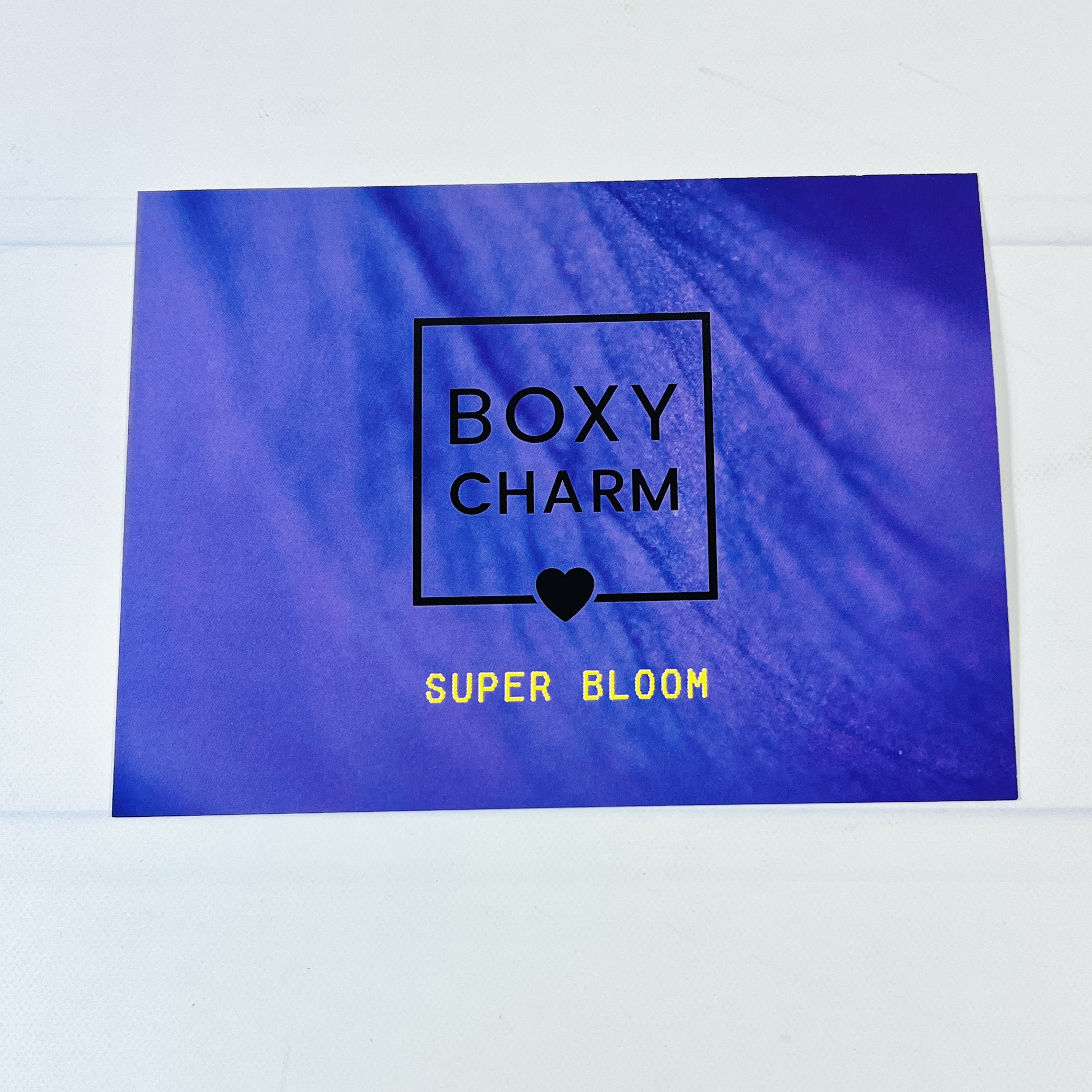 BOXYCHARM is a makeup and beauty subscription box that sends out 5 full-size items every month. Products include makeup, skincare, and beauty tools and each box has an average value of around $175. BOXYCHARM is $27.99 a month with discounts for those who prepay for longer terms. This subscription was the top pick of our subscribers for the best makeup subscription boxes in 2022!
What's your favorite item in this month's BOXYCHARM?