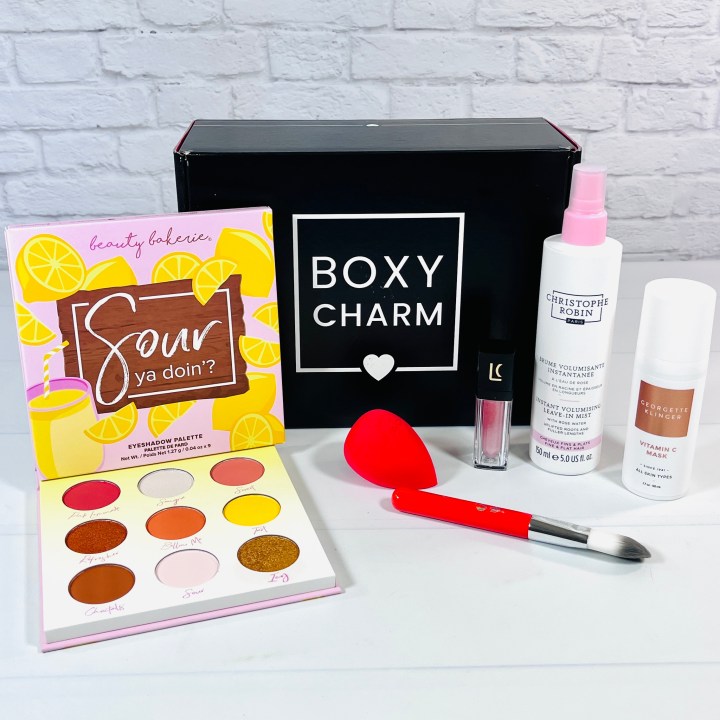 The April 2022 BOXYCHARM theme was #BoxySpringRevival to celebrate the return of warmer weather! It looks like I received a pretty balanced box this month, with skincare, makeup, and even a hair booster. See what else was in my box below!
Keep in mind that BOXYCHARM sends many box combos so your box items and value may be different than mine. There are variations in the box – see them here.
DEAL:
Subscribe now and get a FREE gift: Farmacy Filling Good Hyaluronic Acid OR Illamasqua Eyeshadow Palette, PLUS $10 credit to April Drop Shop!
Use this link and pick your FREE gift at checkout AND get your exclusive $10 Drop Shop code via email within 24 hours of subscribing.
Christophe Robin Instant Volume Mist With Rose Water ($39) I received this product in my February BOXYCHARM Premium box so I'm going to stick with my recent assessment, as I prefer not to use perfumed products on my sensitive scalp: "I generally won't use perfumed products on my scalp but since this one was for volumizing hair, and because I haven't used a scented product there in quite a while, I decided to give it a try. It smells very strongly of rose perfume, and that scent sticks around for a while so I would suggest using it only if you really like rose, like rose potpourri. I didn't see any volume boost at all, but at least it was non-sticky and was easy to brush through."
Georgette Klinger Vitamin C Mask ($36) This mask is supposed to help skin look younger but also is supposed to suck up the oil from pores, which seems at cross purposes. Vitamin C is supposed to fight off free radicals that cause damage to skin, while argan and avocado oils are supposed to nourish the cells. I gave it a good shake before pumping out the product but the first few squirts were really watery. The overall consistency and color reminded me of liquid foundation and it made a mess in my sink. I applied it to my chin (my testing area) and couldn't stand the scent, I'm pretty sure some of those oils were rancid. The testing ended because I had to immediately wash it off, so I'm not sure of the effects, short- or long-term, of this product.
Flirtacious Looks Cosmetics The Perfect Duel: Foundation Travel Set ($30) This set has both a blending sponge and a foundation brush to get the perfect base, including while on the go. I currently use a powder base so the brush isn't for me but a sponge can be used to apply liquid blush, highlighter, or bronzer so I think I personally will get more use from that item, so I guess it wins the "duel".
Lucky Chick Color Cosmetics Liquid Eyeshadow ($22) I was a big fan of this product! It's a liquid eye shadow that dries to a finish that doesn't budge. It comes with an applicator that is kind of like a mini spatula but you don't apply it directly to your lid — you apply to the back/side of your hand, then pick up the product with your finger or a brush and place on the lid. I got a nice layer that wasn't over the top but you could apply more layers to build up the color payoff. It dried and didn't move and I added a contrasting color to my crease and that was it. It stayed in place all day too. I love it!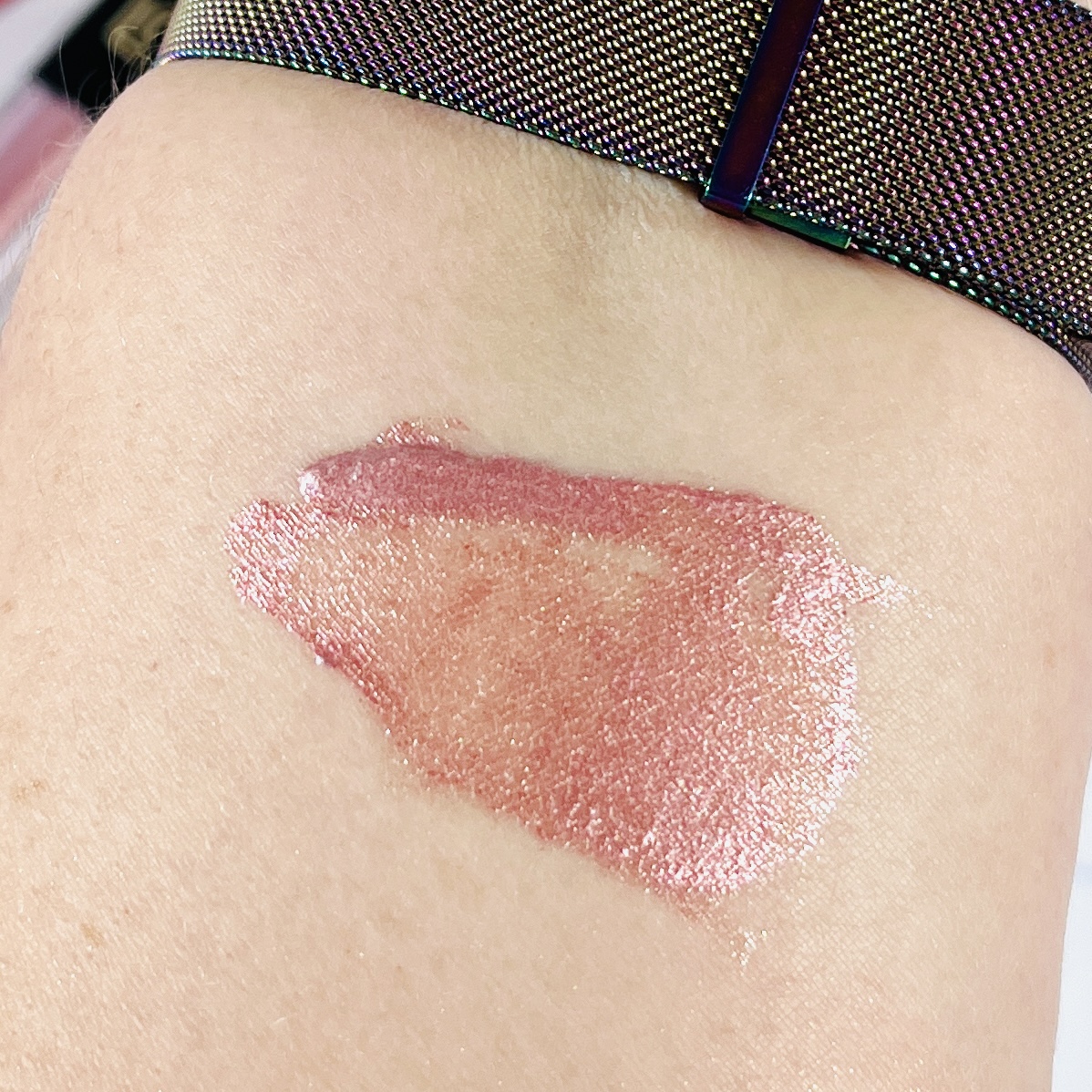 Here's the shadow swatched and kind of sheered out a bit on bottom.
Beauty Bakerie Sour Ya Doin'? Eyeshadow Palette ($38) I recently visited family out of state and I was talking to my nieces, who are decades younger than me, and showed them pictures of this palette, which has colors that don't go with my skin tone and that I don't think look good on me. One of my nieces said she loves these colors, so I know who to gift my bolder palettes to in the future! I used Sour as an all over neutral base and then applied Sangria to my lid, it has such a pretty shimmer to it. I used a combo of Sweet and Chocktails in my crease but it was too brown I guess? The product itself was easy to use and without too much fallout. I would like Sangria to come as a single shade.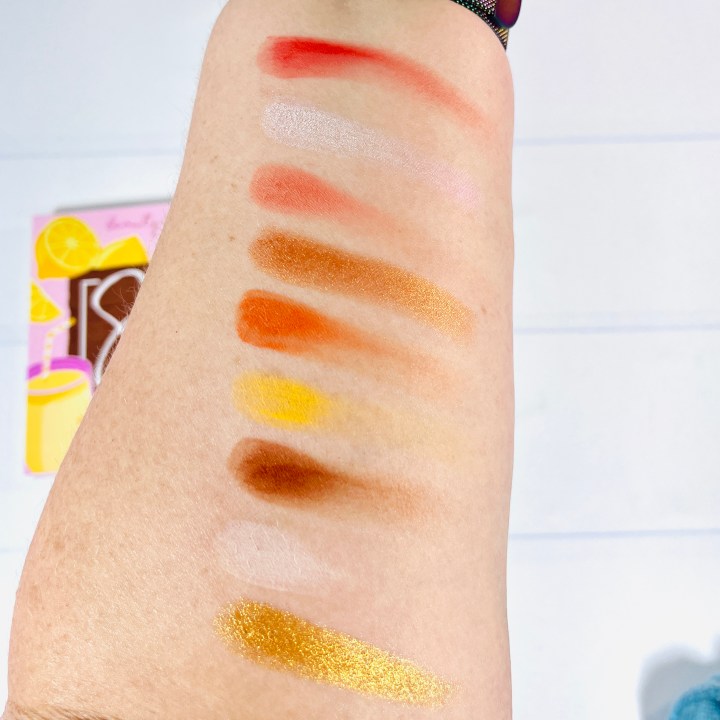 Here's all of those colors swatched!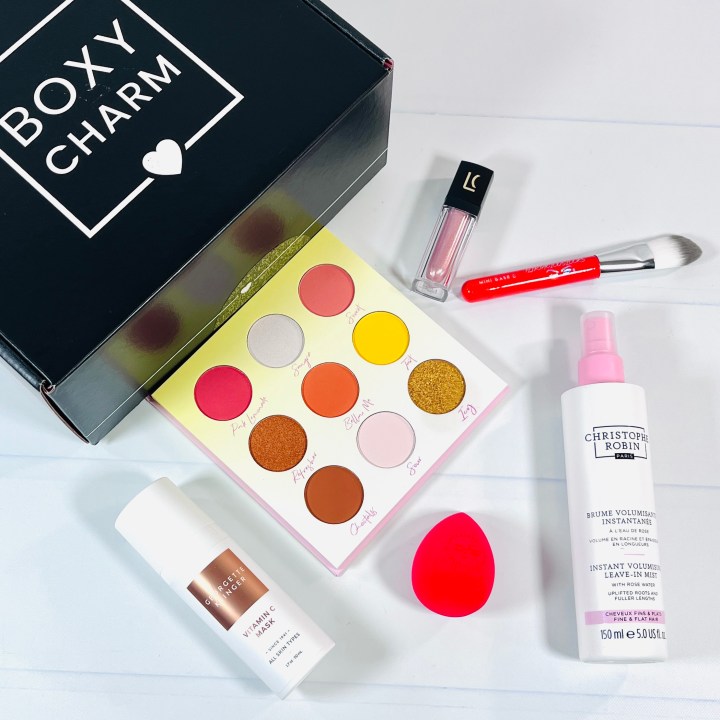 Sometimes I get a box combo that works well for my beauty needs, other times it's a little off and I think this was one of those instances. My favorite item was the liquid eyeshadow, it was easy to use and I liked the color and formula. I also liked the beauty sponge, I can use it to apply various makeup products. The eyeshadow palette had colors that are too bright for my preferences but that's ok because BOXY sends products that work for a variety of beauty likes and I know my niece will love it (and I had no problems with the formula, it worked well). The hair product smells to strongly for me so I will share that too but the mask sadly smells like it has gone bad so no sharing of that item with others. The retail value for my box combo was around $165.
Below is a box opening photo as well as the product info card.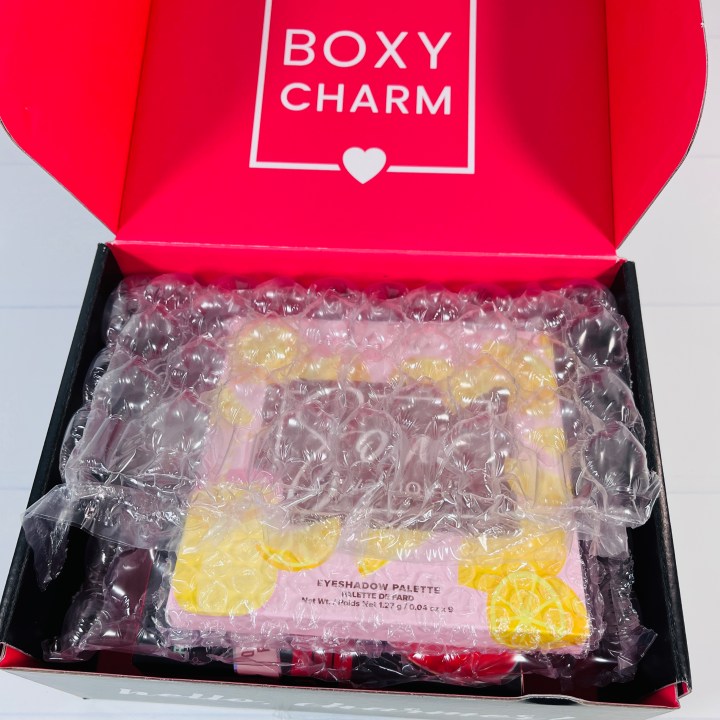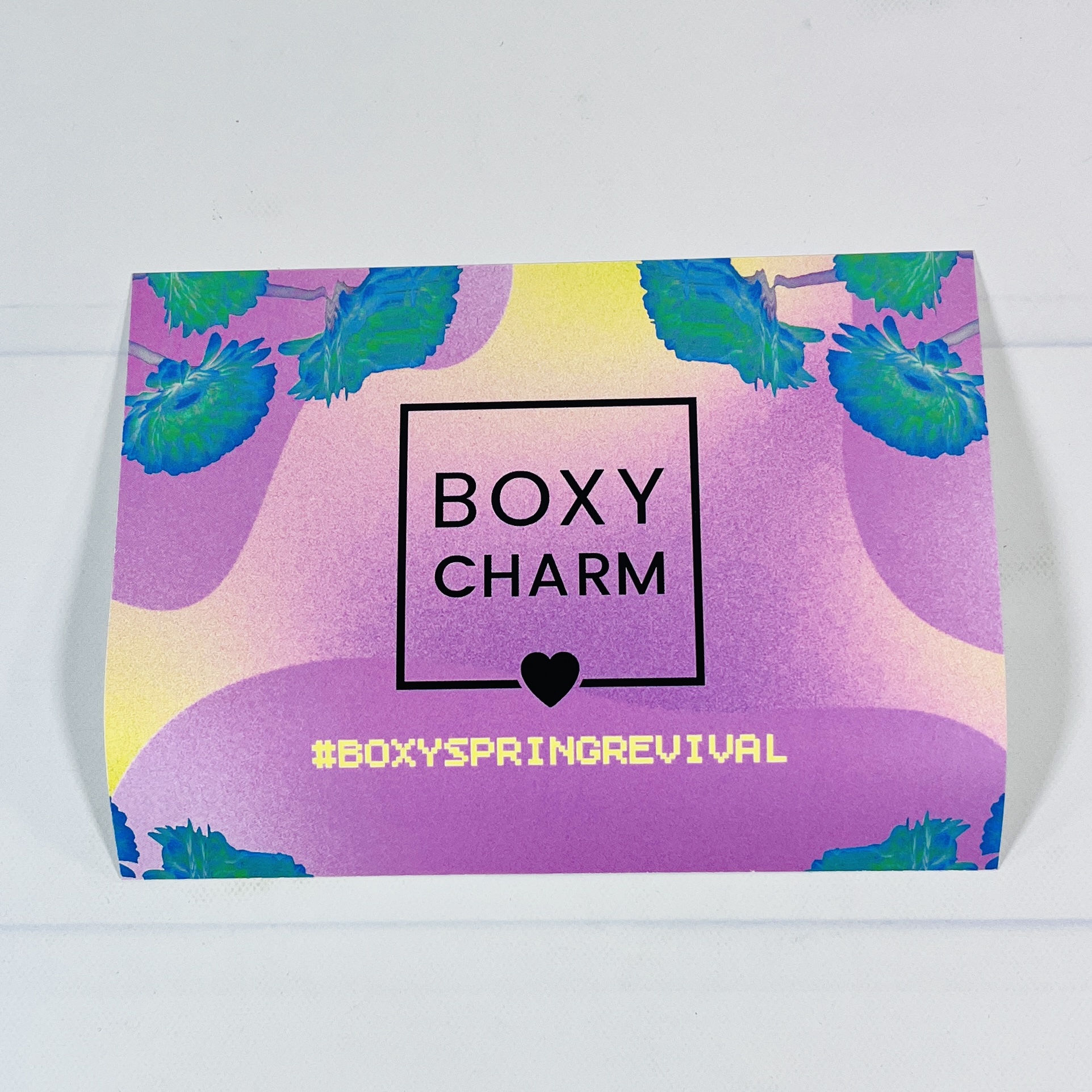 BOXYCHARM is a makeup and beauty subscription box that sends out 5 full-size items every month. Products include makeup, skincare, and beauty tools and each box has an average value of around $175. BOXYCHARM is $27.99 a month with discounts for those who prepay for longer terms. This subscription was the top pick of our subscribers for the best makeup subscription boxes in 2022!
What's your favorite item in this month's BOXYCHARM?