To give our spring beauty routine a renewal, Allure Beauty Box sent a fully loaded box with eight beauty must-haves! The May 2022 curation is filled with expert-approved, editor-tested products, including toner, serum, and sunscreen. Continue reading to find out which beauty brands were featured this time!
DEAL: New members will get their first monthly box for just $15+ FREE full-size mascara from Rare Beauty! Use the coupon code VIP15 at checkout.
FYI – you can see the full spoilers for the May 2022 Allure Beauty Box, in case you want to know all the variations.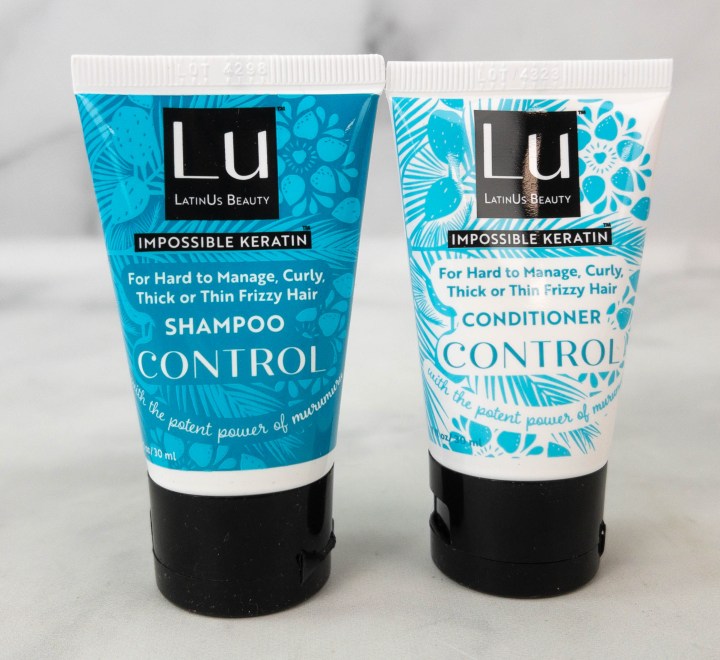 To keep hair soft and manageable, the box includes LatinUs Beauty Hair Care Control Shampoo & Conditioner ($3.33). This duo works together to give your hair a healthy boost, using a rich blend of murumuru seed butter and keratin. The shampoo lathers well, while the conditioner rinses easily and leaves no sticky residue. These products also help tame frizz and add shine to the hair. They even have a sweet and empowering scent, with notes of sweet almond, jasmine, tonka bean, and musk combined with Sicilian blood orange. Another reason to love this duo is that they are sulfate-free, paraben-free, colorants-free, and cruelty-free.
Hand creams are a must to keep hands soft and well-nourished! Ahava Mineral Hand Cream in Cactus & Pink Pepper ($36) is a great choice for a daily hand cream, with its lotion-y texture and an uplifting floral scent. The formula contains Osmoter, a blend of potent minerals sourced from the Dead Sea that pulls hydration for skin replenishment. It also includes witch hazel for relieving inflammation and allantoin that removes dead skin cells. Just a small dollop goes a long way! It moisturizes the hand without the sticky feeling. It's alcohol-free, GMO-free, paraben-free, and vegan as well. And – it's a full size product!
Pyunkang Yul Essence Toner ($2.85) has a hydrating formula with only has seven ingredients, giving the skin a refreshing treat with no stickiness ever! Instead of purified water, the formula contains concentrated astragalus extract, which gives deep moisture to the skin while keeping it firmer, radiant, and healthy-looking. This nutrient-rich, cruelty-free toner is light, refreshing, non-irritating, and absorbs quickly into the skin! Although it smells a bit earthy at first (probably because of the astragalus root), it's fragrance and dye-free. No need to use cotton pads! Just sprinkle a few drops onto fingertips and apply over the skin before anything else.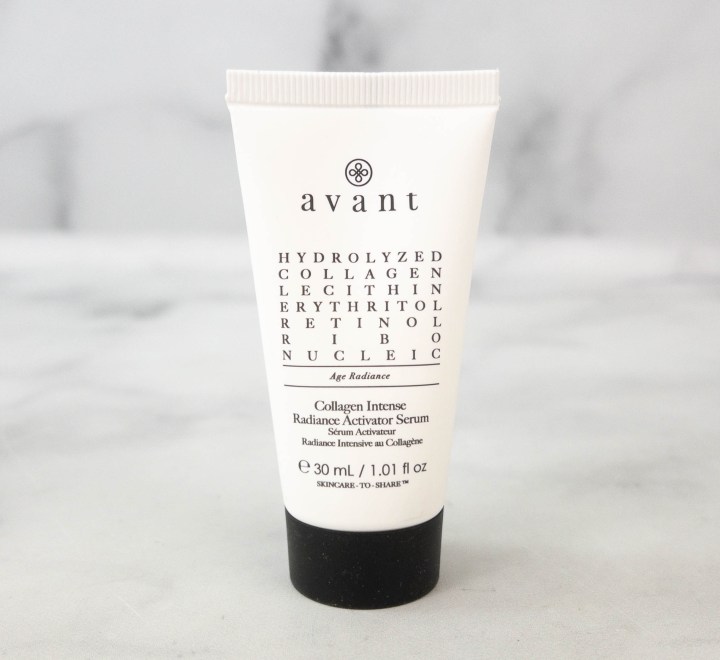 Another moisturizing item in my box is Avant Collagen Intense Radiance Activator Serum ($125). I've got a full-sized one, and it contains a blend of hydrolyzed collagen and lecithin that improves skin elasticity and reduces the appearance of fine lines and wrinkles while also hydrating, replenishing, and repairing the skin. The formula also includes hyaluronic acid that attracts moisture and niacinamide that strengthens the moisture barrier! This serum is lightweight and non-greasy, making it feel luxurious when applied to the skin. Avant makes great products, but they have a very high MSRP, so that will throw off the value calculations for this box.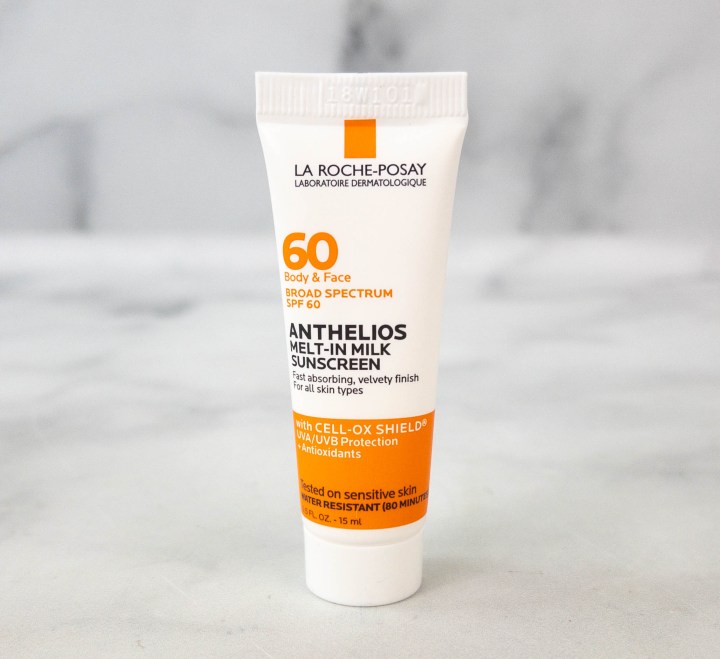 La Roche-Posay Anthelios Melt-In Milk Sunscreen SPF 60 ($3.70) comes in handy when you need to protect your skin against the heat of the sun! It's formulated with Cell-Ox Shield Technology that combines a broad spectrum SPF 60 UVA/UVB protection with antioxidants. Ingredients also include selenium-rich La Roche-Posay thermal spring water, which is a natural soothing antioxidant. This sunscreen is water resistant for up to 80 minutes, and leaves a velvety, smooth texture. It's lightweight, so I have no problems wearing it under makeup. This sunscreen is suitable for even sensitive skin, as it has been allergy tested and dermatologist tested for safety. The formula is free of paraben, oil, and fragrances!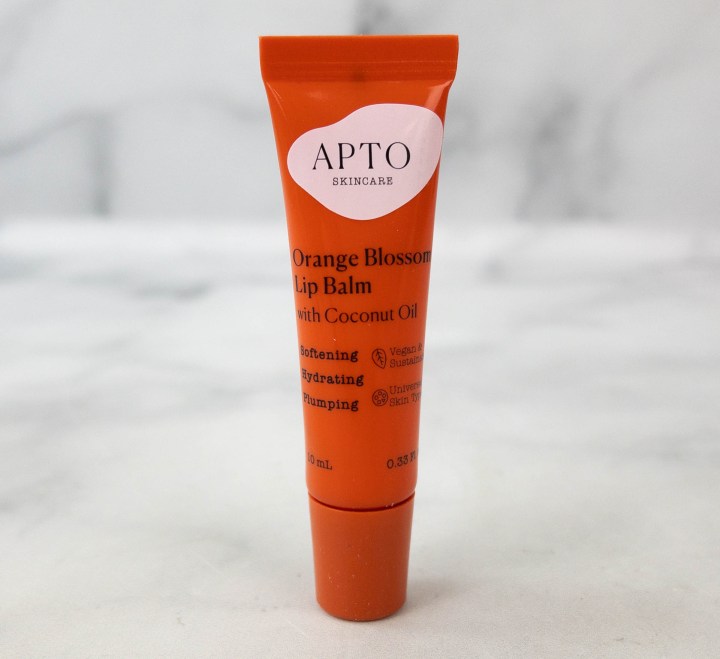 Taking care of the lips should be a part of our daily beauty routine! Apto Skincare Orange Blossom Lip Balm ($5) gives the lips maximum hydration in a couple of swipes. This lip balm contains a blend of natural oils, such as coconut and soybean oils, that provide moisture and a subtle gloss to dry and chapped lips. I like that it leaves my lips feeling plump and soft. The balm's plant-based formula is free from parabens, phthalates, or synthetics. The citrusy orange scent is also a plus!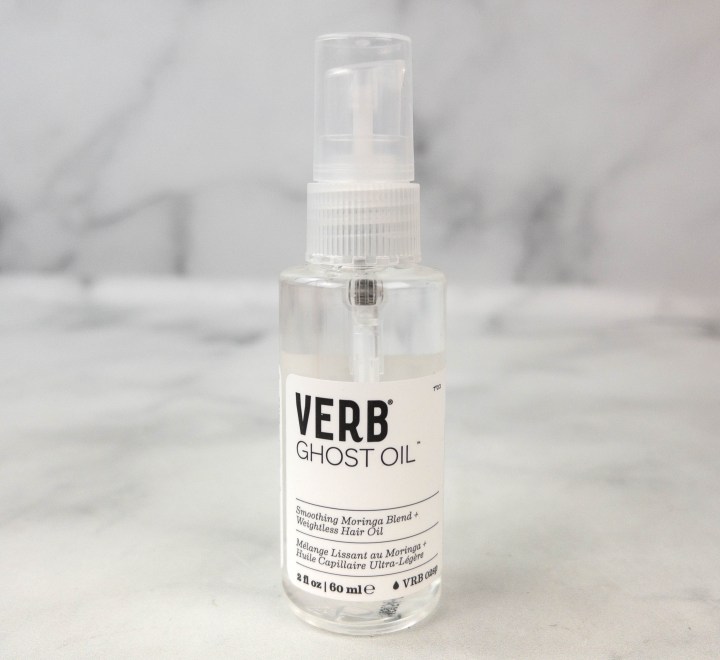 Verb Ghost Oil ($20) helps restore hair health and bring back its shine. This weightless hair oil is formulated with moringa oil that nourishes hair strands and deeply conditions the scalp. It seals split ends and strengthens hair follicles to promote healthy hair growth! Infused with bamboo extract and hydrolyzed soy protein, it retains and locks in moisture as well. You can apply the oil whether on damp or dry hair, and all you will need are 2 to 3 drops to tame down frizzy hair and smoothen flyaways. It even adds shine all over without weighing down the hair! This hair product works well for all hair types – curly, fine, coily, straight, thick, and wavy. Plus, it's full-sized!
I'm pretty impressed with this month's selection of beauty items, especially since there were several full-sized items in it! The box is packed with moisturizing products, whether it's for the skin, hair, or lips. On bad hair days, the shampoo and conditioner combo along with the ghost oil would be quite useful. The toner, serum, and sunscreen also make great additions to a regular skincare routine. I like the overall curation. The total box value is $198.73, which costs way more than the subscription fee! Again, it gets thrown off by the Avant, but there's still tons of value in this box. If you're interested in trying deluxe samples with guaranteed full-sized beauty products, Allure Beauty Box is a perfect choice.
Monthly boxes also include a booklet with brief descriptions of the items. Here's a closer look:
Allure Beauty Box is a monthly beauty subscription service that sends 6 or more beauty products (at least 3 of those will be full-sized) with a value of at least $100+ and is curated by the editors of Allure Magazine, who choose and test the products themselves. Allure Beauty Box is $23 a month or sign-up for a year and the price is closer to $21 a month. There are sometimes sponsored products in the box, plus you'll be eligible for special discounts on Allure editors' favorite luxury products and limited-edition boxes. Allure's beauty subscription box took home first place in our 2021 readers' choice list of best skincare subscription boxes!
If you are a new member then your products may be slightly different, but continuing subscribers should not receive the same product twice.
Have you tried Allure Beauty Box yet? What did you think of this month's box? Let me know in the comments!