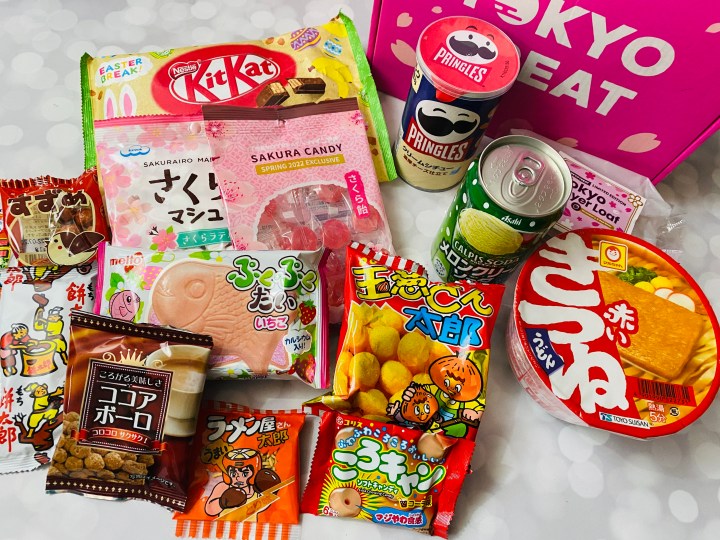 Cherry Blossom season in Japan is a huge deal, as the beautiful pink flowers bloom all over Japan from coast to coast! "Hanami", or flower-viewing, is a super popular activity that takes place as the cherry blossoms bloom — some people even travel across Japan to follow the pattern of the blooming. This month's Sakura Picnic themed Tokyo Treat box included a selection of tasty sakura-flavoured snacks! Read on as I try all of them!
DEAL: Use this link and use the coupon code STARBUCKS22 to get Starbucks Sakura 2022 Bonus! Ends 4/30 JST.
Strawberry Taiyaki. Tai is the Japanese sea bream, a popular fish! This sweet version is a fish-shaped wafer filled with chocolate. If you have ever had Aero chocolate (it's popular here in Canada) the bubbly texture of the chocolate will be familiar to you! This version has strawberry flavoured chocolate instead, perfect for spring! The strawberry reminds me of strawberry milk, so it's overly sweet.
There's a lot of detail!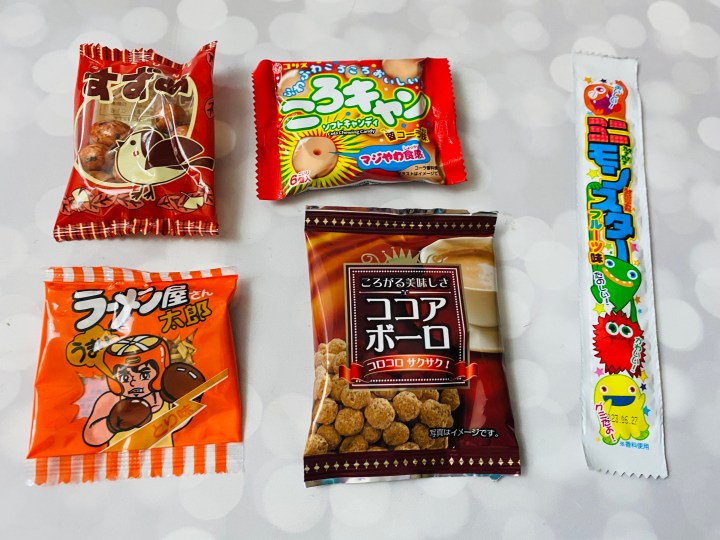 Suzume Egg Candy. "Suzume" is sparrow in Japanese, and the speckled design of these fried peanut snacks look just like eggs! They are glazed with soy sauce so they have a salty, savoury flavour and are very crunchy.
Cola Chewing Candy. One of my faves! Not quite gum, more like a taffy? They are chewy but dissolve unlike gum. The cola flavour is perfect to evoke warm weather with an icy drink!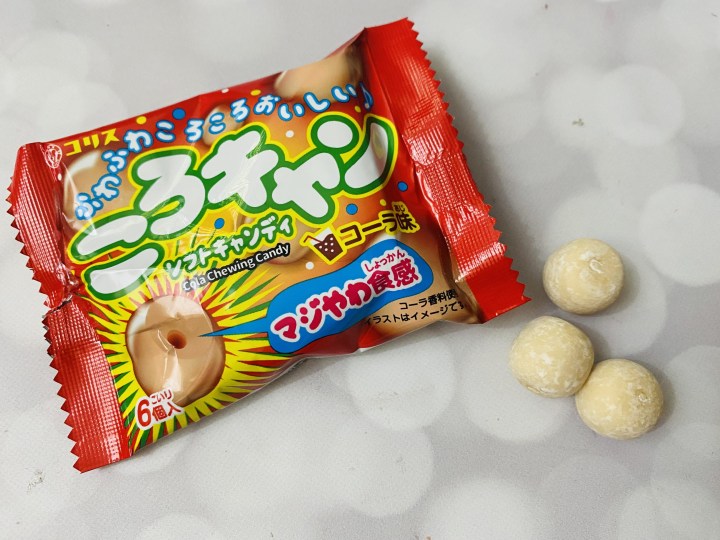 There were only about 8 pieces of candy in the bag. I wanted more!
Ramen Snack. Back in the day my friends and I would eat dry ramen from the package, but this snack takes it to a whole other level, frying the ramen noodles in the flavour so every bite is full of deliciousness!
Cocoa Bolo. A small, cocoa puff style candy. These aren't my favourite as they're kind of plain, but if you love chocolate you'll likely enjoy the cocoa flavour and the crunch! Interestingly the TokyoTreat crew recommends putting them in milk or topped onto yoghurt!
Japanese Mini Monster Gummies. A striped fruit snack.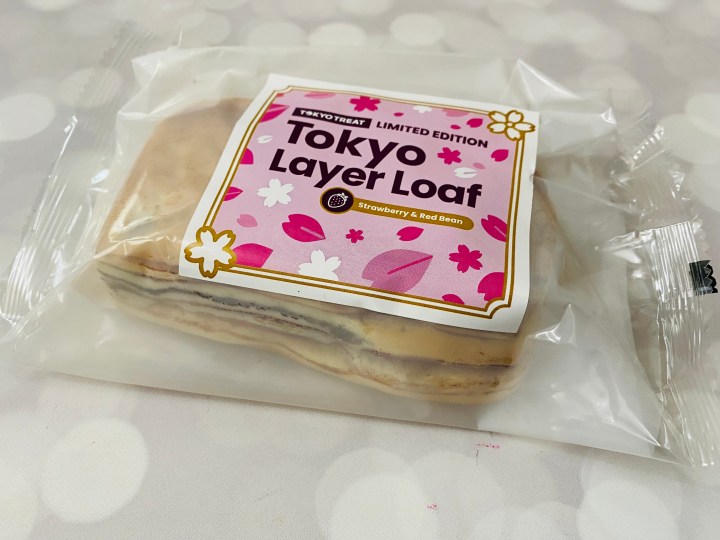 Strawberry and Red Bean Layer Loaf. Okay, THIS is amazing. Not only did TokyoTreat send us a fluffy, fresh bread loaf from Japan but this is an exclusive just for us! Layers of fluffy bread are filled with strawberry and red bean paste. The blend of sweet strawberry with mild red bean paste is great!
It's not at all what I expected – in my head I was imagining a fruit-filled center. But the flavour is woven in through all of the thin layers of bread, so every bit you get a taste!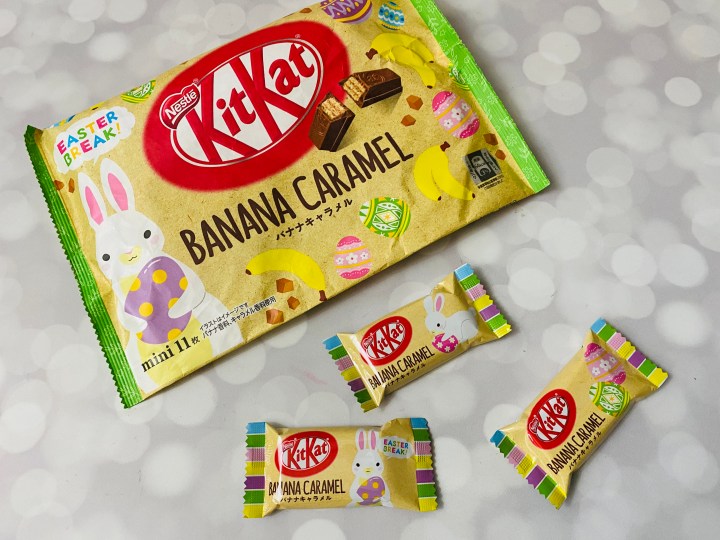 Banana Caramel KitKats. This month's KitKat selection is Banana Caramel and the packaging is Easter-adorable. The blend of banana and caramel itself is interesting. Sometimes I taste more banana (an artificial banana) and sometimes I taste more caramel. I think the addition of the caramel makes it more palatable because artificial banana flavouring can be super sweet on its own. This was more balanced, but it's probably not among my favourite KitKats.
Cream Stew Pringles. Pringles with a cheesy stew flavour. This was a bit of a harder flavour to pinpoint, since I don't eat a lot of stew. But I could definitely taste the cheese along with a general savoury flavour. I would absolutely eat these again!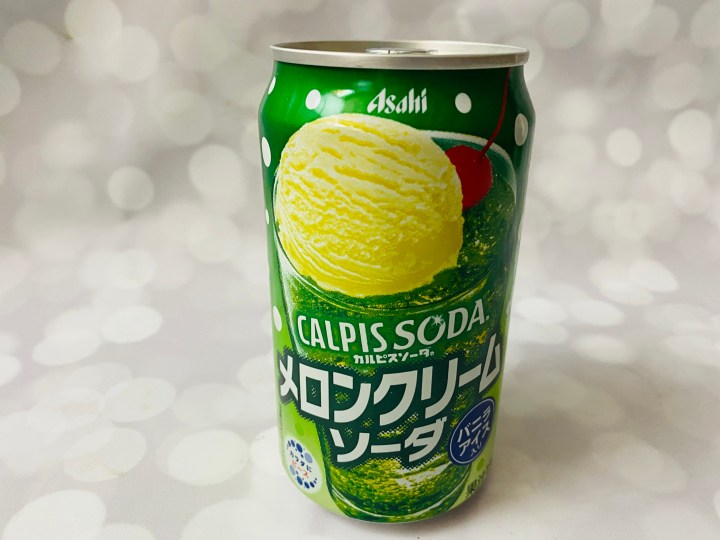 Melon Calpis Soda. Calpis is a popular yoghurt drink in Japan and this is their limited edition Melon Cream version! I don't normally like melon flavours (like honeydew or canteloupe) but I was really into this. It's fizzy and refreshing and not super sweet. I should have taken a look at the drink inside — do you guys want me to take a photo of it in a glass next time it's a crazy drink like this?
These next two snacks are often spotted in TokyoTreat boxes and are my favourites!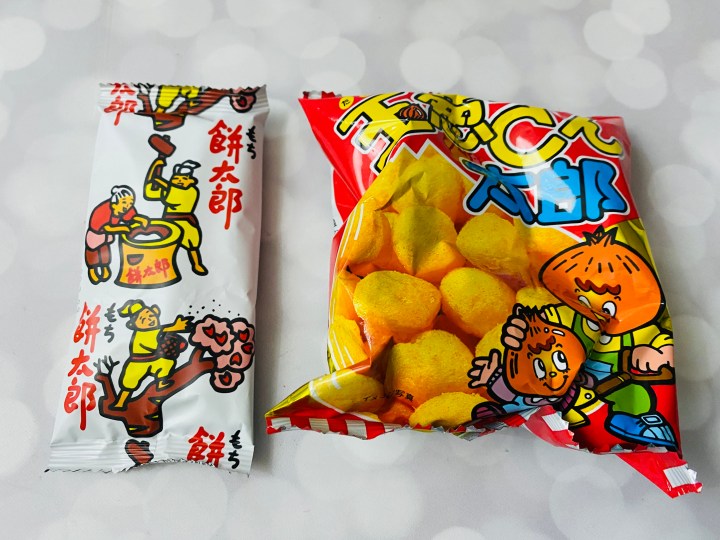 Mochi Taro. I can't get enough of these little rice crackers! In fact, while I made an effort to take more snacky photos for you all this time around, these basically get inhaled as soon as I get a smell of them. There are a few kinds we've tried, from these classic soy rice crackers but there are also some spicy or savoury kinds too!
Onion Taro. Another favourite because the onion flavour on these is really strong! They are a corn puff not a rice puff like the Mochi Taro but they are just as addicting!
Sakurairo Marshmallows. Soft and mildly sweet marshmallows in the shape of sakura petals!
Pine Ame x TokyoTreat Sakura Candy. Another TT exclusive! Pine Ame, or Pineapple Candy, is a very famous and popular candy in Japan. The ring-shaped candies remind me of our Lifesavers brand. This special cherry blossom flavour is mildly sweet and very unique!
The petal marshmallows were fun to play with!
Kitsune Udon. Kitsune Udon, or Fox Udon, gets its name from the fried tofu that is included. It's said that the tofu poking out of the broth looks like a crouching fox! This dish is served with thick udon noodles to soak up all that delicious dashi broth. I don't usually like dashi broth, which can be heavily fish flavoured from dried sardines, bonito flakes, etc, so I unfortunately didn't enjoy this udon as I have with other TT noodle inclusions. If you enjoy a good, hearty, fish broth I think you'll really like this, as it is quite flavourful and umami! I just prefer a simpler shio (salt) or shouyu (soy) broth with my noods!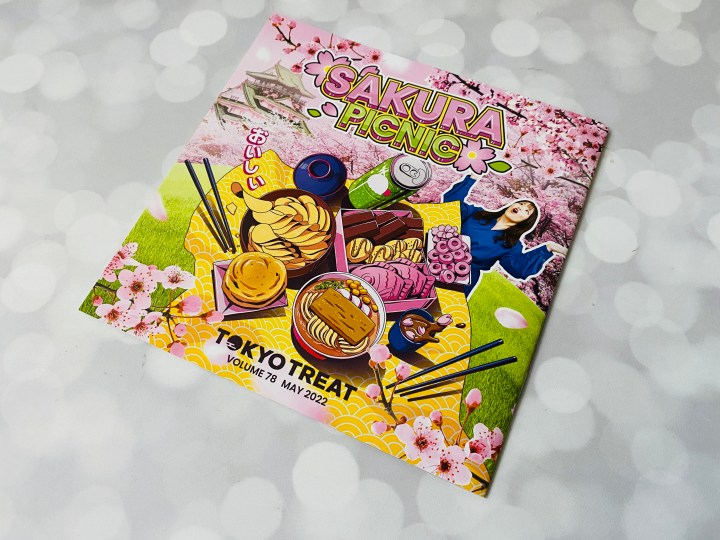 The snack menu goes through the whole magazine, giving more details on why the item was chosen, if it's safe for vegetarians, and allergy info all in one easy place! See it here:
The May box felt like deja-vu with another box packed full of sakura snacks! We had another sakura box back in April, but I am not complaining because I love everything cherry blossom!
Check out the special limited edition pink box, too!
Tokyo Treat is a monthly Japanese snack and candy subscription box that is shipped directly from Japan. Tokyo Treat's Japanese snack and candy subscription box is a reader fave and made the list in our 2022 readers' choice picks of best snack and candy subscription boxes!
ICYMI, Tokyo Treat boxes just got bigger and better! Starting December 1, they removed the Classic option to ensure all TokyoTreat subscribers received the full Japanese snacking experience. Tokyo Treat boxes are now $37.50 per month. Some of the yummy things you can expect in this new version include ramen, udon, soba, jelly, purin, and Japanese desserts. There will still be a Culture Guide, but it will now have 24 pages – which means more articles and cultural information about Japan!
What did you think of this month's Tokyo Treat?