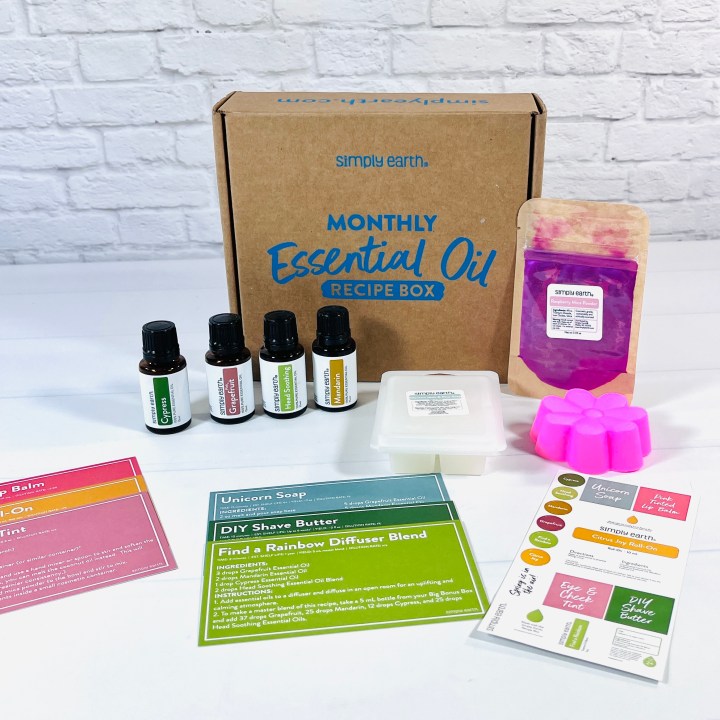 It's time to see what's in my Simply Earth March 2022 essential oil box! This month I received 3 single oils and one blend and we're making our own beauty and skin care products! I got to use mica for the first time, and what a thrilling process that was, I was entranced by how fun and beautiful it was to work with.
DEALS: Receive a FREE Big Bonus Box with your first box. Deal applies automatically, just VISIT AND SUBSCRIBE. Plus, get a $40 gift card you can use for your next box or future purchases!
Cypress Essential Oil ($12.99) is supposed to provide calm vibes and is even supposed to help soothe grief and I just watched the last episode of 1883 last night and I cried so I am glad I have this to sniff. It kind of smells like pine and is fresh and yet woodsy at the same time.
Pink Grapefruit Essential Oil ($12.99) Pink Grapefruit is another scent to lift the spirits, and since I also love to eat this fruit, it makes my mouth water. Like most citrus oils, it can make the skin sensitive to the sun so use it at night and please use sunscreen during the day.
Head Soothing Essential Oil ($18.99) is our blend of the month and it is made with Ho wood, lavender, and Frankincense. It is supposed to ease tension headaches and smells mainly of lavender.
Mandarin Essential Oil ($13.99) Here is another citrus oil and it smells like a blend of oranges and what I can only describe as "green". It is supposed to be uplifting and can be used in cleaning products.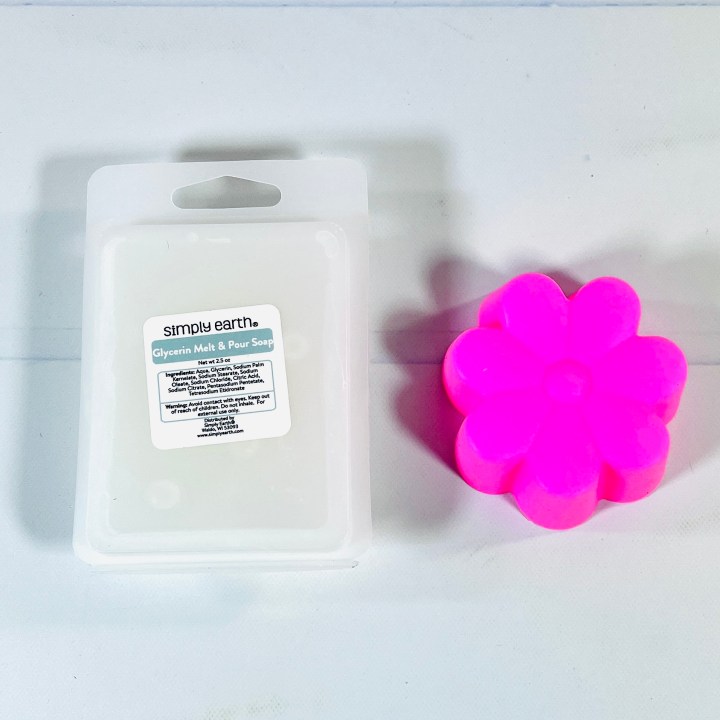 Glycerin Melt & Pour Soap Base and Soap Mold: Pink Flower One of the recipes in this month's box is for a unicorn soap (the lead aromatherapist, Katie, recently had a unicorn book for kids published). We get to try our hand at making our very own sparkly soap.
Raspberry Mica Powder I have never worked with mica powder before but it sure was fun and in case you didn't know, mica is a primary colorant in natural makeup. This one had a cool metallic chrome tint thingy going on and was such a beautiful color.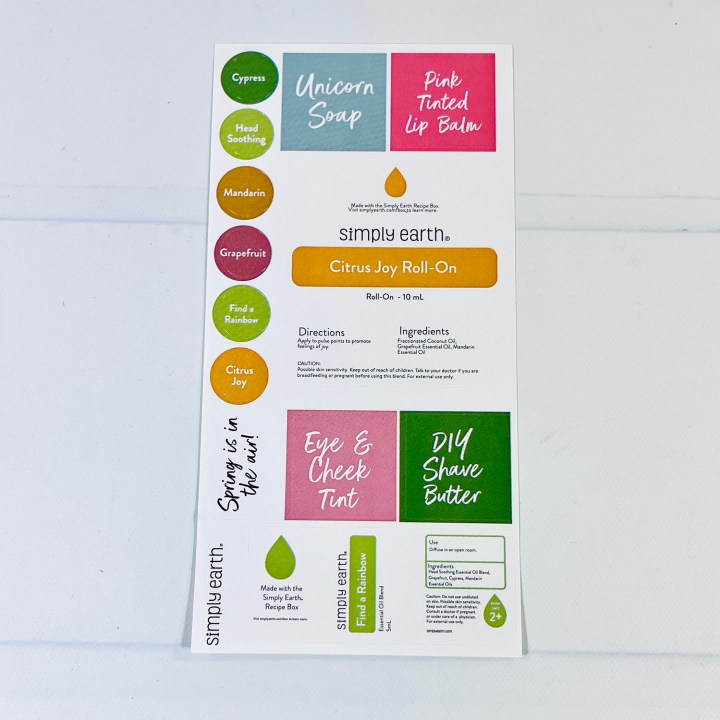 Simply Earth always sends pre-scored stickers to place on our bottles and finished products.
Simply Earth sent 6 recipe cards and it looks like some of the other items we will be making this month are lip balm, eye/cheek tint, and shave butter. There was also a recipe for a rollerball blend and diffuser scent, which come standard in every box (although the scents always change). Some of the cards have the recipe continue on the back of the card, other discuss the items in the box, idea behind this month's box, the chosen charity to receive proceeds (always to fight human trafficking), and a sneak peek at next month's box, in case you need to switch out any of the oils if you have them already.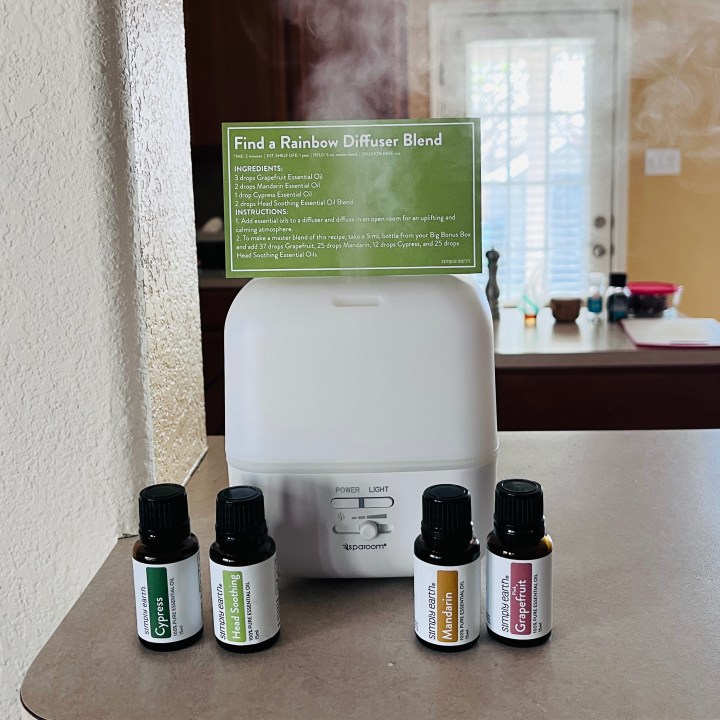 I always start with the diffuser recipe since I need only drop the oils in the diffuser, add water, and press "on". This is a warm, citrus blend and I liked it!
Next I made the rollerball blend. The coconut oil and roll-on container came in the Big Bonus Box that Simply Earth sends when someone first signs up (and then every 6 boxes after that). I placed the pre-scored label on the bottle and added the required essential oil drops, then topped it off with the roller ball and lid. I'm a huge fan of citrus scents and this one didn't disappoint, it's like a breath of fresh air, if you live near citrus trees.
The final project I attempted for now was the Pink Tinted Lip Balm. I grabbed the necessary oils, plus items from the Big Bonus Box (solid coconut oil, beeswax, and almond oil), the included mica powder, and a mini container that I had on hand. I melted the coconut and almond oils plus beeswax in the microwave, stirring every few seconds, for less than 2 minutes total. Next I added the mica powder, which is so cool. When I dropped in the essential oils it started to swirl magically, I even recorded it because it was so neat to watch. Finally, I poured it into the container and let it dry, which doesn't take long at all. The color payoff is barely there but the flavor is warm and has some citrus scent to it and it feels so nice on my lips, it's very silky in texture. Mica colorant in other shades can be found online in case you want to try your hand at making more lip balms. The mica powder is also used in the unicorn soap and a lip/cheek tint (recipe cards were included) but I haven't made those yet, and have no plans to make the shave butter recipe.
Simply Earth makes it easy to make your own beauty items at home, with little needed from you except maybe a few household/kitchen ingredients and maybe some containers for storing your projects. I was excited to use the mica powder this month, what a fun experience that was and the lip balm turned out so beautifully, I could certainly see how someone might want to make it in more colors or to give as gifts. I'm going to make the unicorn soap with my daughter when she comes home from college and maybe we'll try making the eye and cheek tint then too. I liked the blend for this month, I hope it can help relieve some of the headaches I get now and then. Please remember that Simply Earth oils are fun to use but skip them until consulting with a doctor if you are pregnant, nursing, or using around children under age two. I see a lot of advice given (not by Simply Earth, but by members) on their Facebook group that makes me cringe, and I wouldn't try to use oils to alleviate serious health problems and of course dilute before using on skin with a carrier oil. These are oils, not magic elixirs.
Simply Earth is a monthly subscription that sends high-quality essential oils along with recipes and ingredients to make natural beauty and home products! Each box comes with 4 essential oils, containers, extra ingredients to make the recipes, and 5 – 7 recipes on recipe cards. When you sign up (and every 6 months thereafter) you will receive a free Big Bonus Box full of extra containers and ingredients needed for the recipes, such as carrier oils and bottles. Simply Earth is $39 a month. They feel strongly about giving back and donate 13% of all profits to help end human trafficking.
Simply Earth's essential oil subscription made the list in our 2022 readers' choice best green & eco-friendly subscription list!
What do you think of the Simply Earth box?