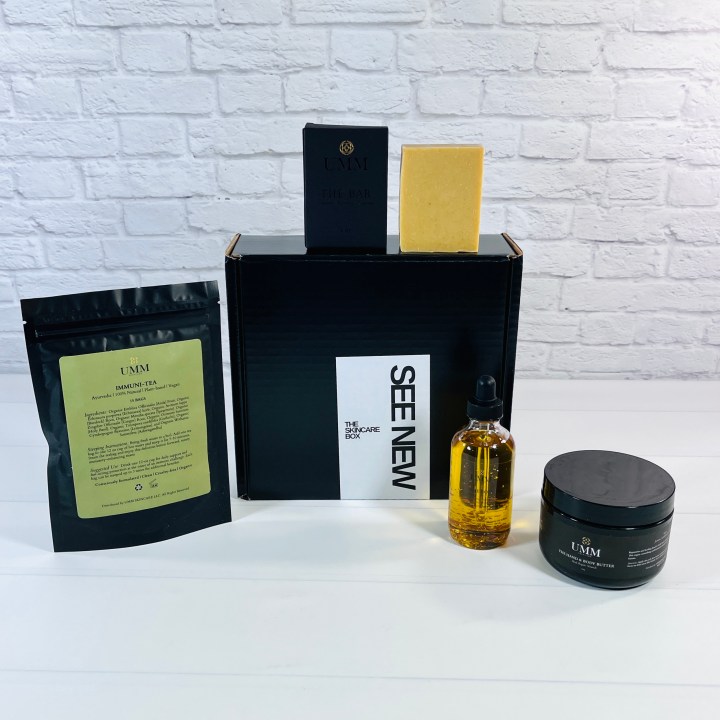 The March/April See New, The Skincare Box featured 4 products from UMM Skincare, which was a new-to-me brand and I love discovering natural beauty brands. UMM products are made in the USA using Ayurvedic principles.
This is a review of The Skincare Box, which includes 4-5 products so you can get a real feel for the brand. You can purchase past boxes in the online shop, which also has makeup, hair care, and lots of other items too.
DEAL: Get 10% off sitewide! Use coupon code HELLO.
UMM Imperfectly Perfect ($19.99) My soap says "The Bar" on the box and looks different from the Imperfectly Perfect bar shown on the UMM website and the ingredients are slightly different from those listed on my box. The major difference is that my bar has sesame seed oil, Fuller's earth, and ashwagahanda listed on the box but it doesn't list calendula petals and there are no petals on the side of the bar (as shown on the UMM and See New website). The UMM website says this can be used on the face, body, hands, or hair. It smells wonderful, like a clove-studded orange, so warm and comforting. I will keep this next to my kitchen sink to avoid staining my washcloths but this is a lovely bar of soap.
UMM The Body Oil ($64.99) I want to start by saying that UMM has a disclaimer stating their products aren't intended to treat health conditions and info is for educational purposes only. This body oil is made with several plant oils like safflower, almond, jojoba, grapeseed, and sesame seed plus ashwagandha (an herb), a couple of essential oils, saffron, and 24 k gold (See it floating? It's so pretty!). The oil can be used on the face, body, hair, and/or scalp, and I chose to use it as an after-shower oil. Here's where it gets new-agey: UMM says this oil is deeply nourishing (ok, that's good) for the bones, tissues, and muscles (that sounds not quite right). Massage may be good for the bones, tissues, and muscles but putting oil on your body, no matter how hard you rub it in, isn't going to do much. Ashwagandha may help all of the above if taken internally as a supplement. Ok, now on to the review. I liked this oil because it's wasn't super greasy and it had a light scent that was pleasant and that faded quickly. I managed to pick up some of those gold particles and rubbed them over my skin and they disappeared completely, I didn't realize that gold was so soft of an element.
UMM Hand & Body Butter ($49.99) It is already summer practically here in my part of Texas, so I was happy to discover that this body butter, despite having shea butter listed as the second ingredient (after aloe juice), wasn't super heavy or greasy! Some of the other ingredients are jojoba, sunflower, and neem oils; willow bark acid; and a blend of essential oils and fragrance oils such as rose, lavender, sandalwood, black currant, and jasmine (which is listed on the website but not on my container). The fragrance reminds me most of roses and jasmine and it smells even better as the day goes on. I can sniff my skin hours later and it has a light floral scent that makes it seem as if my skin soaked up the scents of the flowering trees I passed on my walk around the neighborhood! Fanciful thinking, I know, but if you want to smell like a spring day, then this is it.
UMM Immuni-Tea ($14.99) I think this is the first time I've received a consumable from See New! This is an herbal tea, also known as a tisane, as it has no actual tea leaves from Camellia sinensis, which is what black and green tea etc. are made of. Instead it has herbs and other plant ingredients such as amla fruit, ginger, echinacea, holy basil, and ashwagandha. It may help boost the immune system, either as a protective tonic or to help fight the first signs of an illness such as a cold. This doesn't excuse us from seeing a doctor if it is something serious but I had a stuffy nose last night (maybe as a reaction to a booster shot) so I am happy to sip this. I steeped it in 12 ounces of water brought to the boil. After 10 minutes I removed the tea bag and tried the tea, wary that it might taste medicinal or bitter but nope, it tastes like a combo of the holy basil (sort of like basil and spearmint combined) and maybe citrus (it has lemongrass) and just a hint of ginger. No sugar or honey was needed although if you consume honey for health reasons (it may help soothe a cough and some think it may fight seasonal allergies) then by all means stir it in! It says the bags can be re-steeped up to 3 times so if you don't plan on using it within a couple of hours then you could store it in the fridge overnight.
See New took us in a different direction this month, sending products not for the face but mainly for the body, and they even sent a tea! I actually really liked the curation since products meant to be used on the body are my favorite types of products to receive (along with tea and perfume). I especially liked the body oil since it was absorbed quickly by my skin and had a light scent that I enjoyed but could still wear my perfume afterwards. The body butter/lotion had a unique scent that I decided not to pair with perfume, and I could smell it all day long, even if I had to sniff my arm, as it wasn't the wafting type. The tea was tasty and I'm hoping it will help knock this stuffiness out of my nose but even if it doesn't, it was enjoyable to drink. The bar of soap was another winner since I prefer to use that type of item on my hands when I'm in the kitchen preparing food (because scented hand soaps are not meant to be used before handling food during meal prep, but that's just my opinion). This box had a value of right around $150.
Below are a couple of box opening pictures along with the product info card.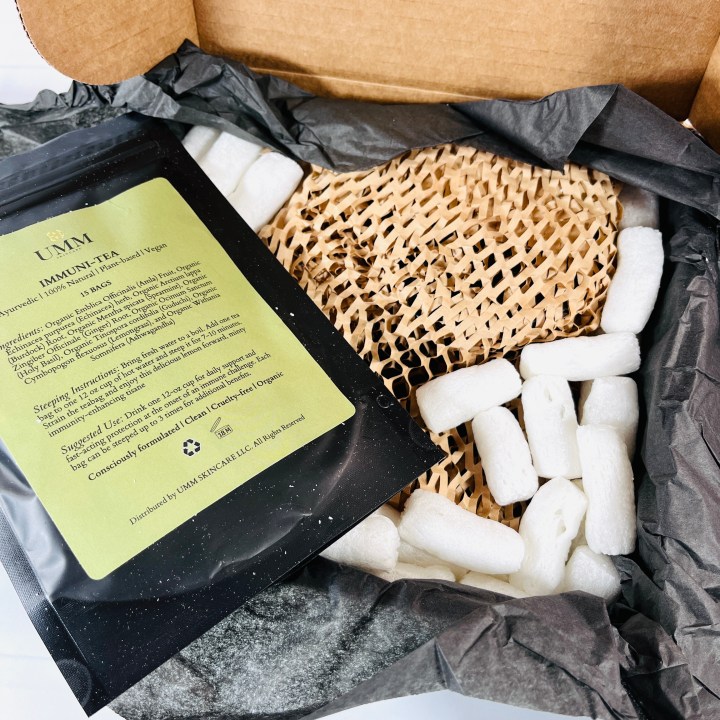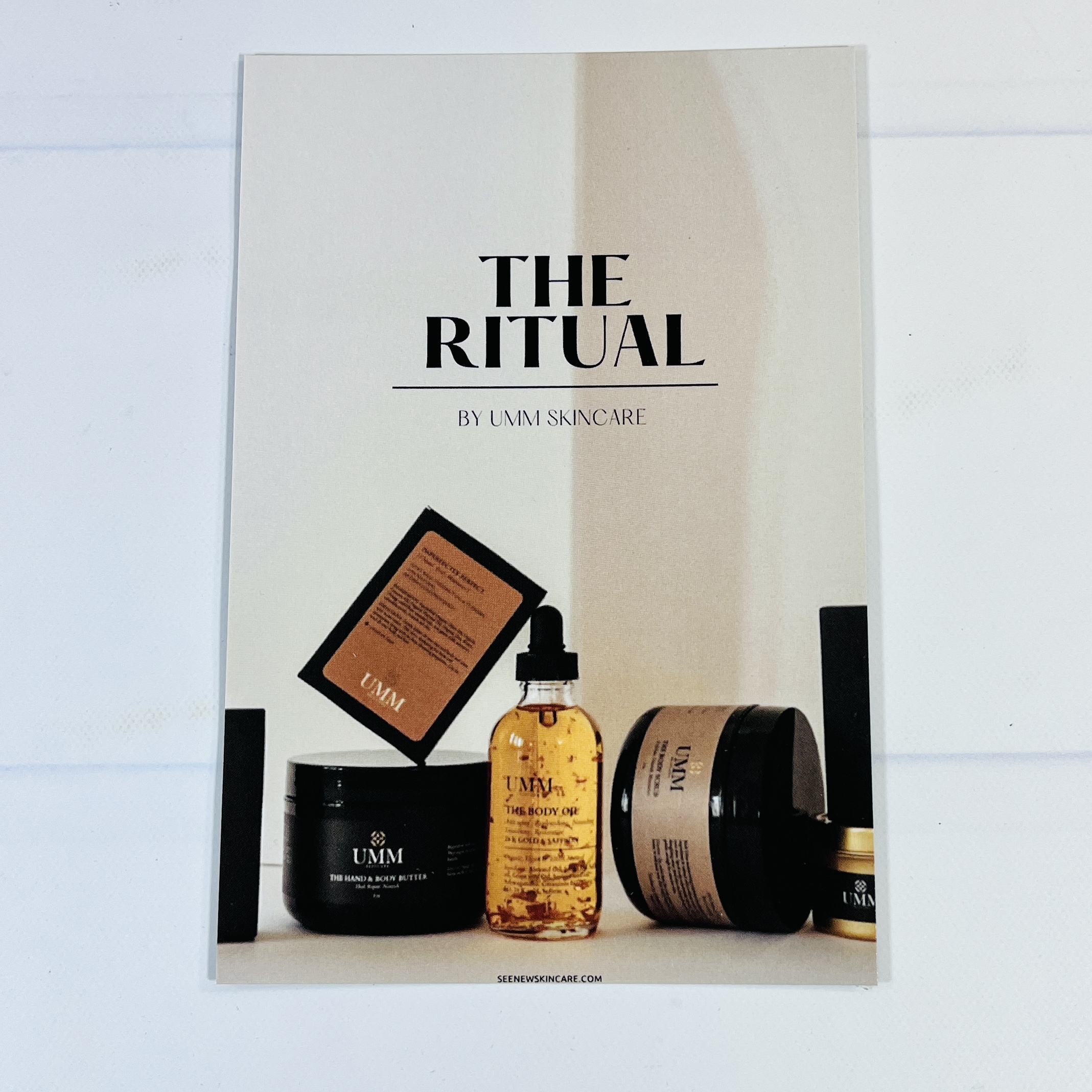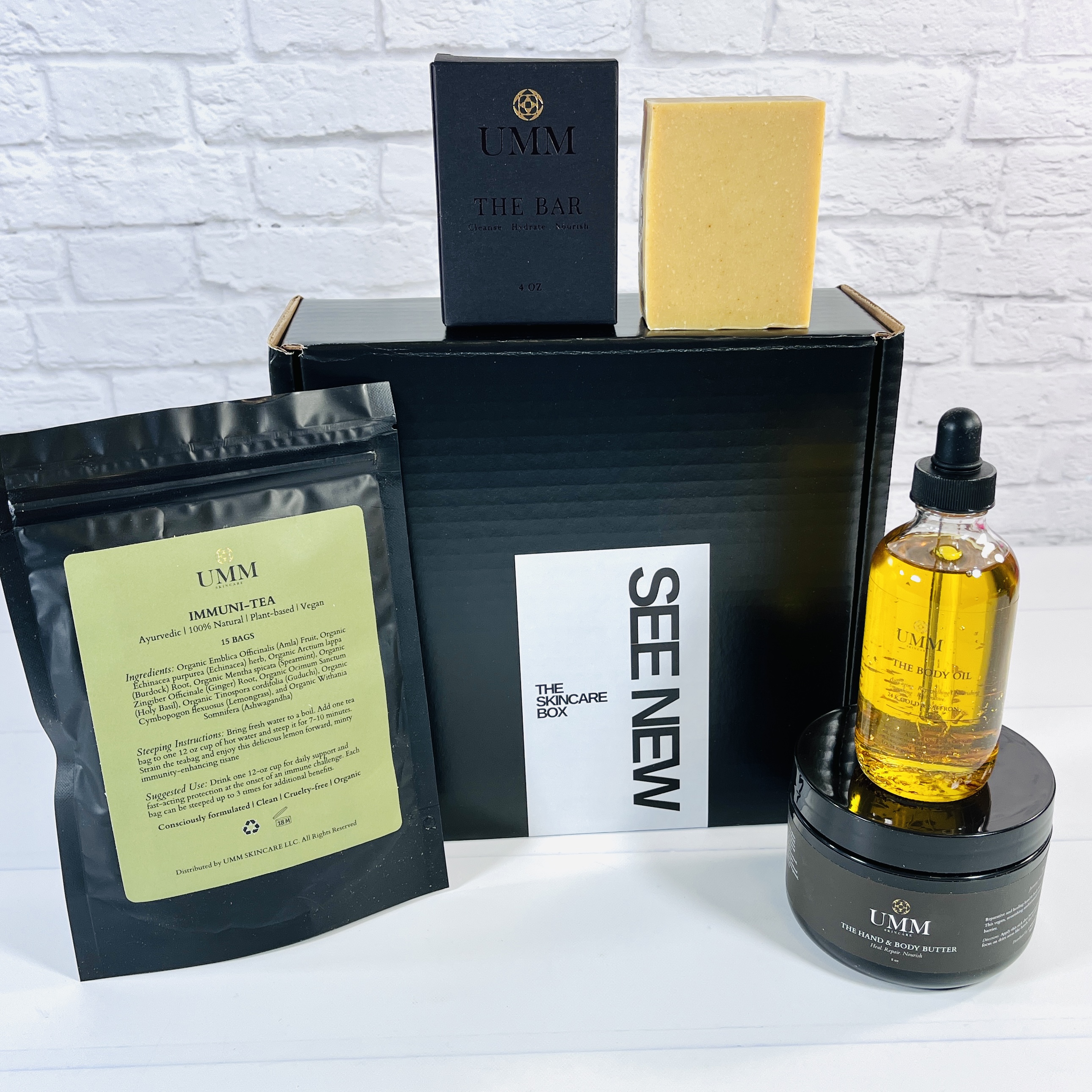 See New is a skincare subscription that features brands focused on cruelty-free, chemical-free, and sustainably sourced ingredients. Choose from three kinds of boxes: the Skincare Box with 4-5 full-sized products ($56 bi-monthly), the Essentials Box with 3 full-size essential routines ($47 bi-monthly), and My See New Custom Box ($68 bi-monthly) which allows you get to pick 3 products. See New makes donations to Dress for Success, Pride Foundation, and Australian Red Cross. This subscription was also voted by our readers as one of the best skincare subscription boxes for 2022!
What do you think of this box?