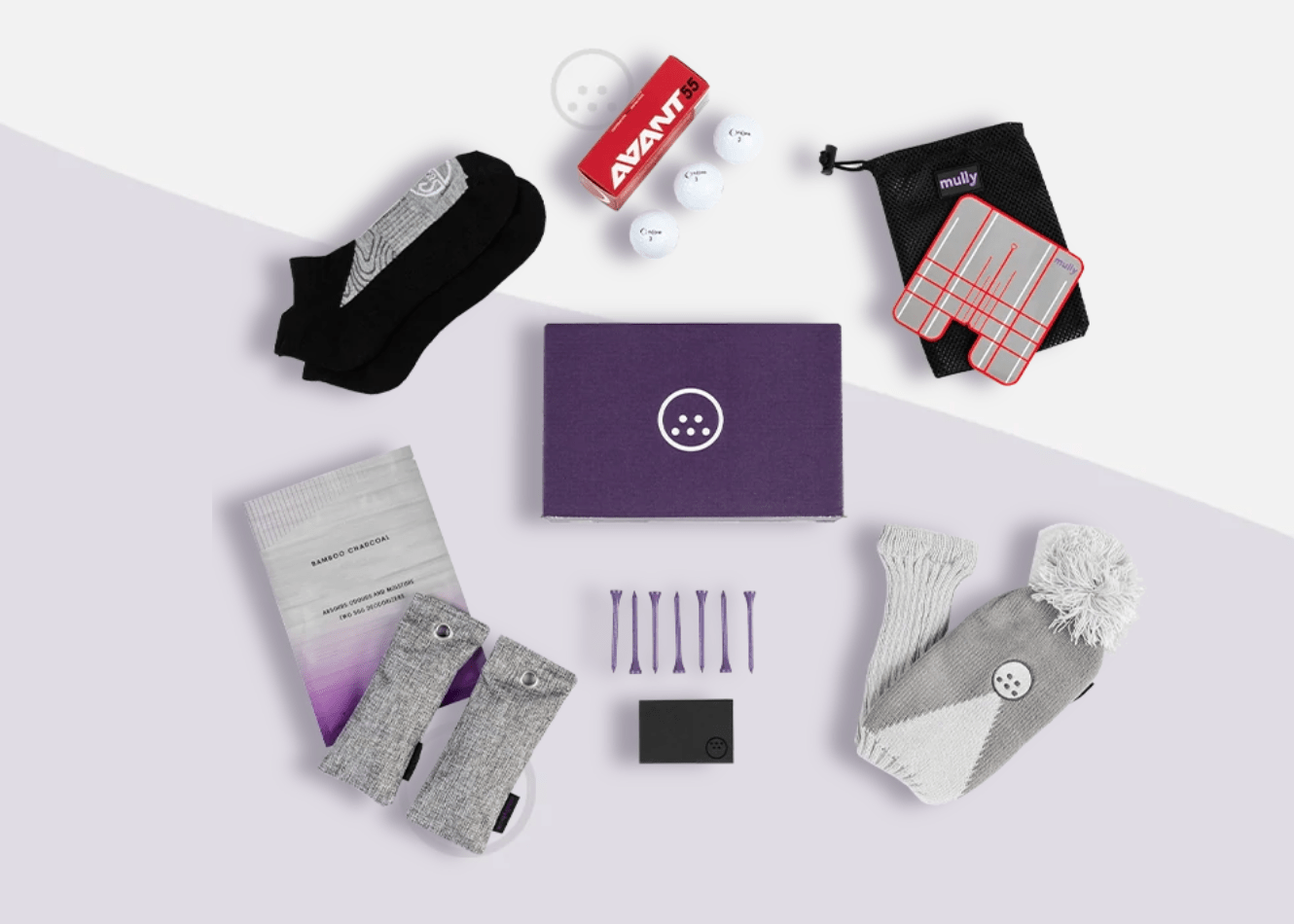 It's no secret that golf is one of the most expensive sports in the world to get involved in. From shoes to gloves to tees, you must have all the golf essentials before you can start playing on the green. But there are always ways to beat this odd, one of which is getting a Mullybox subscription.
Geared towards improving new and experienced golfers, Mullybox styles itself as a golf improvement box. When you sign up for their subscription boxes, you will receive carefully selected golf gears, balls, branded tees, accessories, training aids, and all other golf essentials, all of which will be delivered directly to your mailing address.
Mullybox offers four subscription packages! Their Basic Package Subscription starts at $19.99 per box, which includes golfing gear, two sleeves of golf balls, and 1-2 additional accessories. But if you want 2-3 accessories and a box of equipment, their Essential Package Subscription priced at $39.99 per month will suit your preference. These two subscription boxes are ideal for those who are starting to get hooked to the game.
The Premium Package Subscription is their bestseller, and it comes with a pack of 12 premium balls, tees, one glove, and 5-8 other accessories. You can get this for only $99.99, but the products in the box are worth up to $250. The last subscription option is their Luxury Box, which includes almost everything you could possibly need to expertly play golf, including luxury apparel and accessories. You can get it for the price of $199.99 but its total value could be as much as $400.
As part of the subscription process, you will be asked to provide some details such as your shirt size, pants waist, and golf glove hand. The 2 lower plans (basic and essential boxes) are available on a monthly basis while the 2 higher plans (premium and luxury boxes) are delivered quarterly.
If you're looking for something specific, branded items that are limited edition, such as Mullybox water bottles, Mullybox towels, and even Mullybox hats, you can find them all in their Mully Pro Shop.
The experience that comes with each box includes elements of coaching, instruction, and game improvement. While there are a few fashion items and a few gimmicks included, you can tell that the box was put together by people who genuinely love the game.
What do you think of Mullybox?
We at Hello Subscription love to discover the most fun and unique subscription boxes and share them with our readers. Say Hello is a series of articles featuring up and coming subscriptions, as well as other interesting subscriptions that our readers might love!