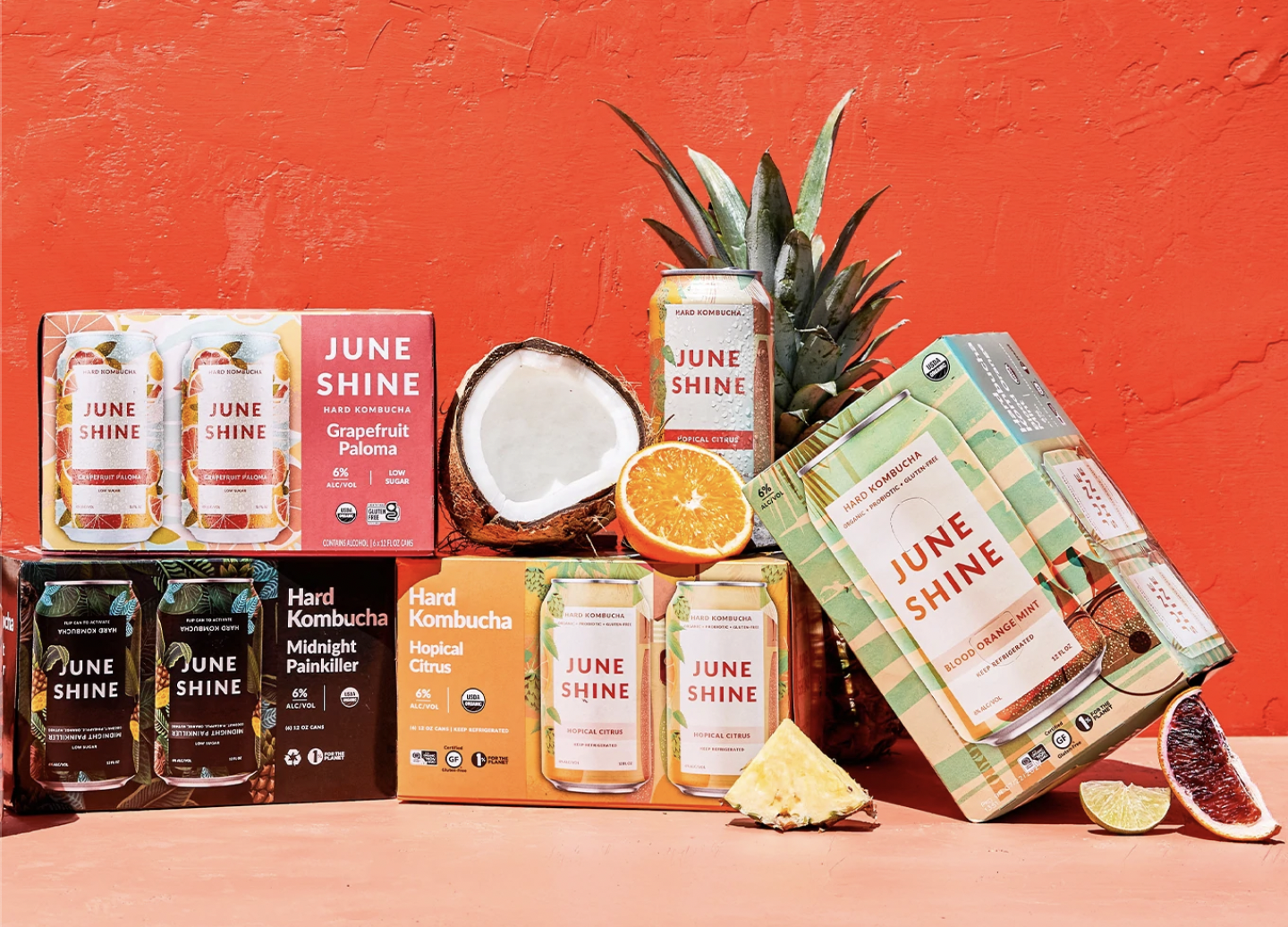 Relaxing with a delicious drink, whether alone or with friends, is always a great idea. Getting alcoholic drinks delivered straight to your home? Even better. There are plenty of options for booze subscriptions out there, but if you're looking for an honest alcohol choice, JuneShine is the way to go! They made hard kombucha more accessible to all by offering it in cans, so you can conveniently enjoy it at home or bring it on the go and add a dose of freshness to your day.
JuneShine's core flavors are available for 12-pack ($33), 24 pack ($66), or 36 pack ($99). Subscribe to save 15% on every shipment. Subscribers can also choose their preferred delivery frequency: weekly, biweekly, or monthly. Shipping is free for orders over $50.
What's hard kombucha?  This refreshing drink is basically the alcoholic version of your favorite kombucha. It's made in a similar way as regular kombucha, so it's still tea-based and you will still get your dose of antioxidants! JuneShine's hard kombucha is organic, sustainable, and gluten-free, all brewed with real ingredients like green tea and Jun kombucha. Fermented twice, it has less sugar and is fizzier and tastier. The kombucha is then flavored with organic fruit juices and spices, creating a mouth-watering parade of flavors that's impossible to resist. Can hard kombucha get you drunk? Absolutely yes, so enjoy it in moderation. Each can of JuneShine contains 6% ABV.
JuneShine hard kombucha flavors include Mango Daydream, Grapefruit Paloma, Blood Orange Mint, Midnight Painkiller, Hopical Citrus, Acai Berry, Honey Ginger Lemon, and more of rotating seasonal flavors! It tastes smoother than usual kombucha and contains a list of NOs – no additives, no preservatives, no GMOs, no pesticides, no coloring, no rice syrup, and no corn syrup.
Aside from hard Kombucha, JuneShine also offers spirits or ready-to-enjoy cocktails. They've given classic canned cocktails a modern twist by crafting each can with 2 shots of premium, award-winning spirits, real juice, sparkling water, and no added sugar! Also, they donate one percent of all sales annually to 1% For the Planet to fight climate change. And that's one more reason to love JuneShine!
Are you getting anything from JuneShine?
We at Hello Subscription love to discover the most fun and unique subscription boxes and share them with our readers. Say Hello is a series of articles featuring up and coming subscriptions, as well as other interesting subscriptions that our readers might love!