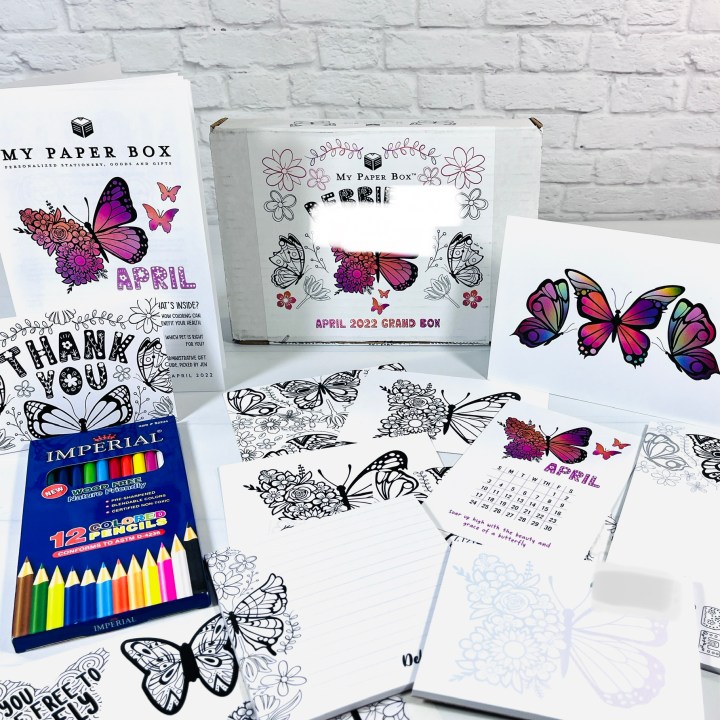 The items in the April 2022 My Paper Box feature one of my favorite insects, butterflies! Not only that, they also sent items that can be colored in to create your own beautiful bugs, plus there were colored pencils to make that happen instantly, no searching required. They have a couple of different subscription options, including a brand new greeting card option, but this is a review of The Grand Subscription, which is $32 a month.
DEAL: Get $5 off your first box. Use the coupon code 5OFFMYBOX.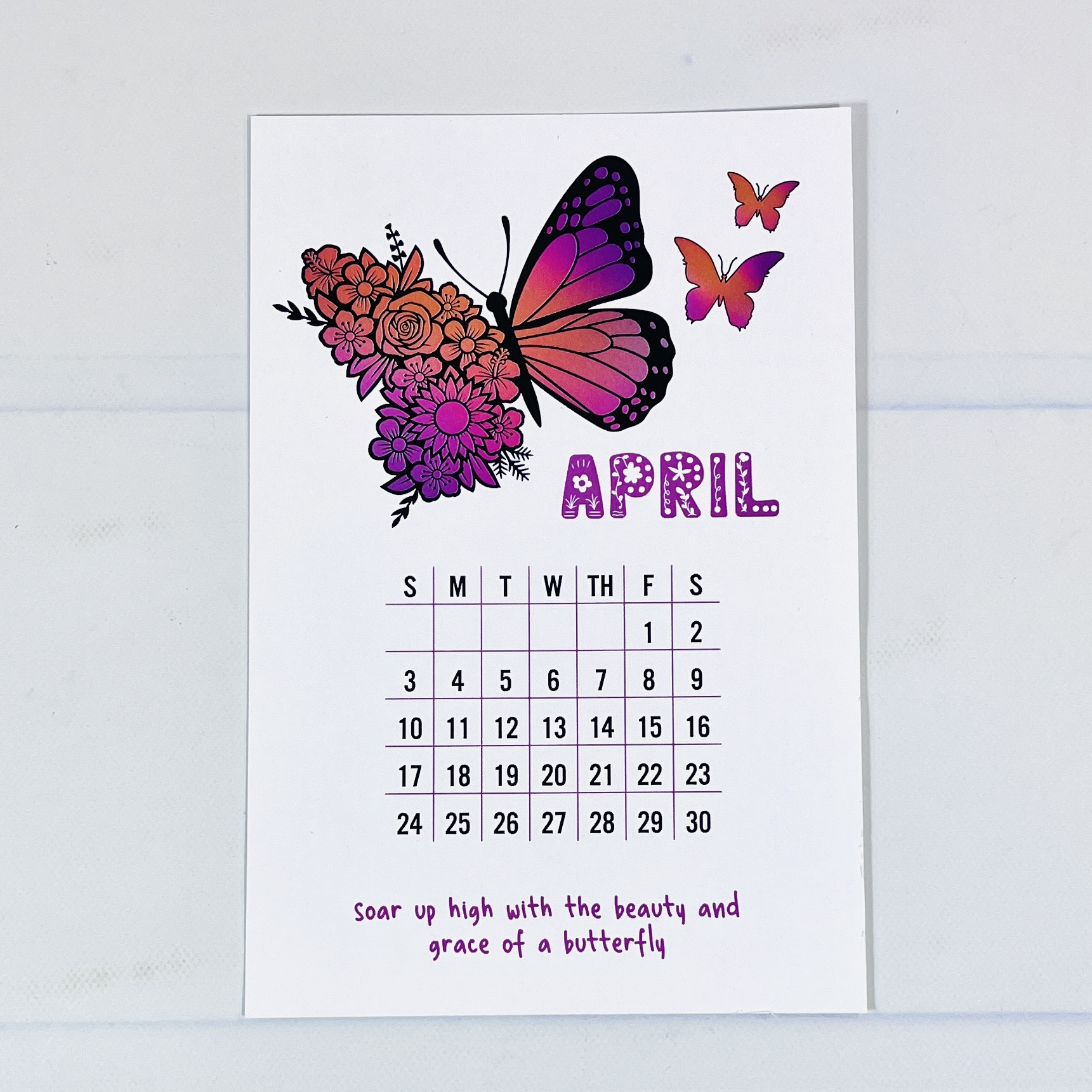 Desk Calendar The desk calendar is a card that you can slip into a holder and see instantly on your desk or table. The back side has a list of all of those unusual holidays so that every day can be a celebration if you want it to be.
Greeting Cards There were two greeting cards this month and both come with their own colorful envelopes. The Thank You card measures 3.5″ x 5″ and is blank inside, but feel free to color in the front before sending if you prefer. The Butterfly card measures 5″ x 7″ and has a colorful greeting inside that reads "YOU GIVE ME Butterflies" followed by "Love" and my name.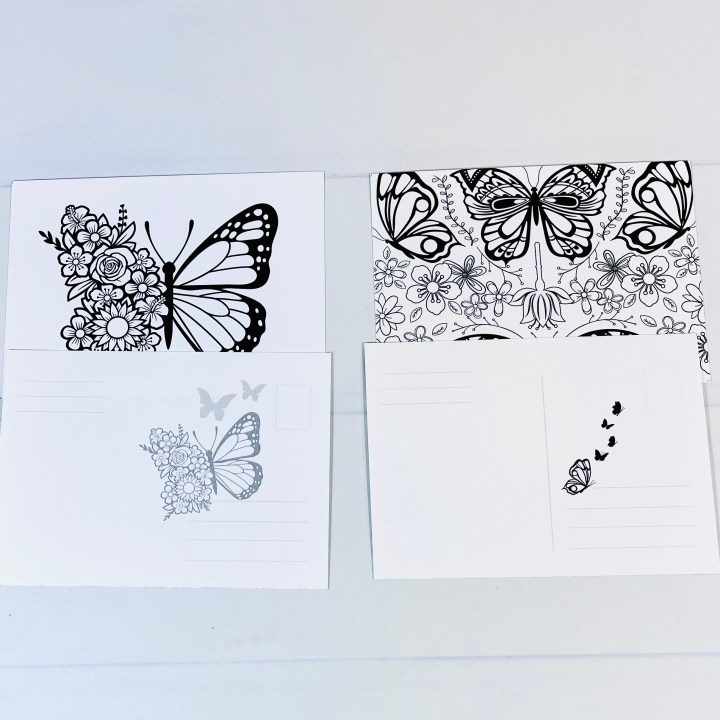 Postcards Four 4″ x 5.5″ postcards, two of each design, were also included. Even the backs of the cards had butterflies on them!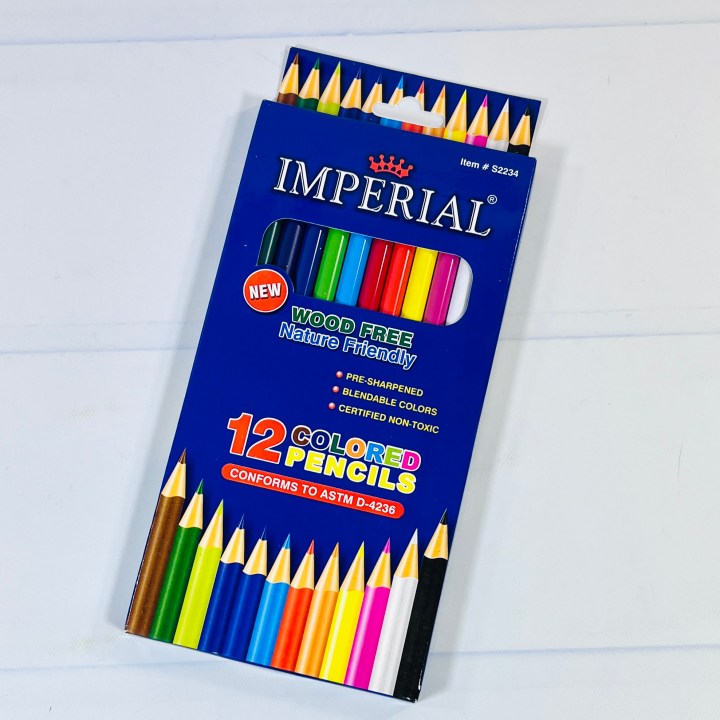 Colored Pencil & Sticker Sheets I'm not sure I could find pencils right away if I looked so I appreciate that My Paper Box sent some to get me started immediately! There were two sheets with matte stickers that can be decorated any way you like.
Personalized Notepads My favorite part of this subscription are the notepads, and you can even get a separate notepad subscription if you like (and the designs are different from the Grand subscription box). The pad on the left is 8″ x 5″; the pad on the top right is 5″ x 5″; the pad on the bottom left is 4″ x 5″. The best part is that these can be colored in too! All of them have my name on them and I'm sure if I counted I would find at least 30 pages on each one.
In case you couldn't tell, I really look forward to receiving My Paper Box each month, and this month was extra special as I adore butterflies! The themes are always adorable and the products are helpful and of course personalized. The notepads are all over my house and keep me on track with my multiple lists here and there. Below you will find some more opening pictures (even the sticker holding the tissue paper closed was personalized!) along with a few pages of the 23-page booklet, which has, yes, even more coloring opportunities!
My Paper Box is a monthly subscription box filled with personalized stationery! Each box will be curated to a theme and you can choose from three different levels and price points. The Mini Subscription is a collection of 3 personalized notepads and is $18 a month; The Grand Subscription comes with a Personalized Paper Box and a selection of items such as personalized notepads, cards, planners, and more and is $32 a month; The Greeting Card Subscription comes with 4 cards, envelopes, and USPS Forever stamps and is $15 a month. Each month there will be a new theme and you receive the order for the month before so you will have everything ready to go when the calendar changes. My Paper Box made it to the list of our readers' favorite stationery subscriptions!
What do you think of this month's box?