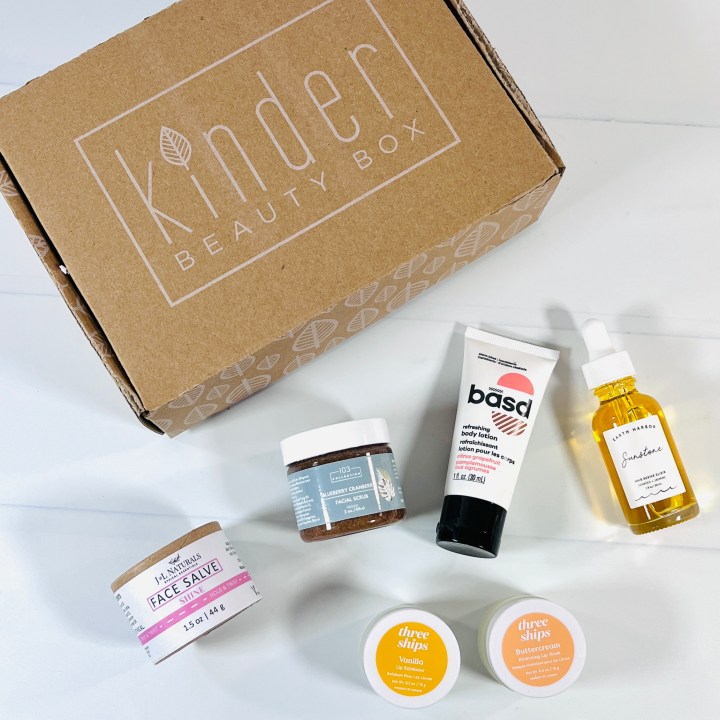 Kinder Beauty Box is a vegan beauty subscription box. This subscription sends out two variations every month and I received the RISE box for March (the other box was called AWAKEN). I received a face salve, body lotion, and more! My box got here kind of late this month, at the beginning of April. Please note that new subscribers will receive a Kinder Faves box for their very first box, which is different from the box in this review but which can be found here.
DEAL: Use coupon code HELLO5 for $5 off your first order!
Earth Harbor Sunstone Hair Revive Elixir ($30) I have a hard time evaluating hair oils because my hair is so thin and straight, so these types of products leave my already oily scalp even more so. I ended up using it on my hands and body and it was absorbed quickly and it had a light scent that faded quickly. Kelly, the lady from Kinder Beauty who demos the products on their website, says this product can help hair grow, which would be a good side effect of continued use. Some of the ingredients include coconut, jojoba, and sesame oils plus seaweed, calendula, and jasmine extracts.
Basd Refreshing Body Lotion ($2.12) It's time to move away from heavy lotions and body butters and onto lighter formulations for spring and summer, depending on where you live of course. I live near Austin so I can take lotions most of the year, and this one fits the bill. Aloe and sunflower seed oil are the first two ingredients, plus cocoa butter, shea butter, coconut oil, coffee extract, and a naturally derived fragrance. It's supposed to smell like citrus and grapefruit but I think it smells a lot like lemongrass, which also smells kind of like natural bug spray, but it's not bad and it fades quickly. The lotion takes a few seconds longer to rub into skin compared to something like Lubriderm but it doesn't leave the skin greasy. I liked it!
103 Collection Blueberry Cranberry Facial Scrub ($7.50) This next item was another winner! It is a scrubby mousse textured facial scrub (but of course, you can use it on your body if you like). It has stuff like aloe, olive, cranberry seed fibers, jojoba esters, cica (gotu kola/Centella asiatica), and some plant oils. I applied it to my damp face and really enjoyed the exfoliating massage, it felt effective but not harsh. I rinsed it off in the shower and when I applied my facial moisturizer, my skin was as smooth as could be.
J&L Naturals Face Salve in Shine ($16.99) Trying to open this container was a hoot – it wouldn't simply twist off for me, so I used a knife around the dotted line but no luck so I finally had to have my husband twist it off. The instructions say to use on a damp face and if using a serum make sure to apply that first. This thick salve has shea butter, olive and argan oils, plus rose geranium and lavender essential oils. If you're not into face butters then I would suggest applying to hands, cuticles, elbows, or heels. It smells most like the rose geranium. I used it in the morning and needed to scratch off a little bit off the top twice, but still used a very small amount (and a mini spatula might be more hygienic rather than using your fingers). It felt good on my face but a little while later when I tried applying my sunscreen it was like there was a barrier and I couldn't get it to rub in very well. I would suggest saving this for nighttime use.
Three Ships Lip Treatment Kit Retail ($30) There was another scrubby product in this set, but it is specifically for the lips! To follow it up we received a lip mask, which seems like a super silky lip balm to me, although it's not waxy so it might not protect from blustery winds. The mask has sunflower seed oil, coconut oil, and shea butter plus a soft vanilla frosting flavor/scent. The scrub has sugar, coconut oil, shea butter, and avocado oil and also smells like frosting and both products come in frosted glass containers. I used the scrub first and then wiped off the residue first with a tissue and then with a warm, damp washcloth, and the balm went on afterward. Both products worked well and smelled lovely.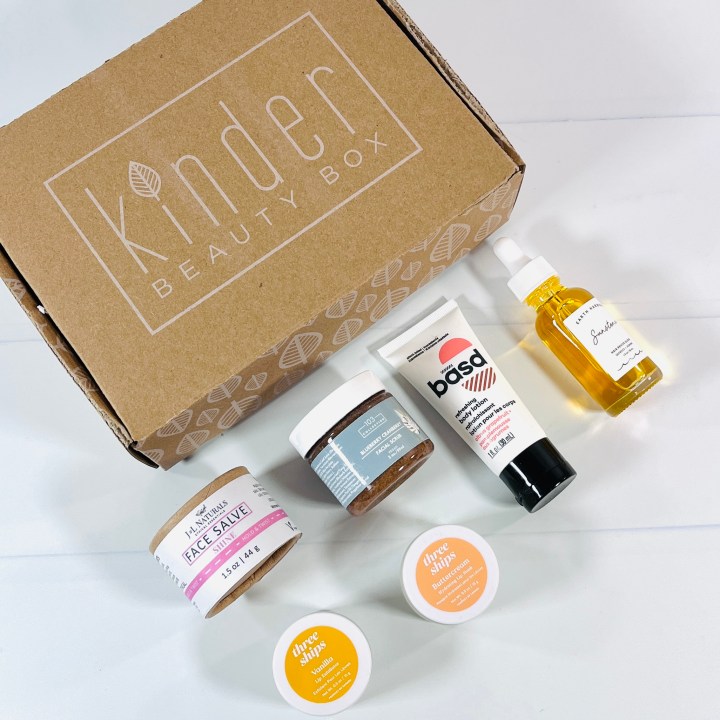 I liked the items I received in the March Kinder Beauty Box! I was especially happy with the facial scrub as it was gentle and worked well for my needs. I also liked the salve, body lotion, and lip products, they all smelled pretty, some more natural than others, and also worked well. The hair oil isn't for me but it makes for a nice body oil. The difference between this box (RISE) and the other one (AWAKEN) is the scent of the body lotion and the type of face salve but otherwise they are very similar.
Below is the product info card and a couple of box opening pics!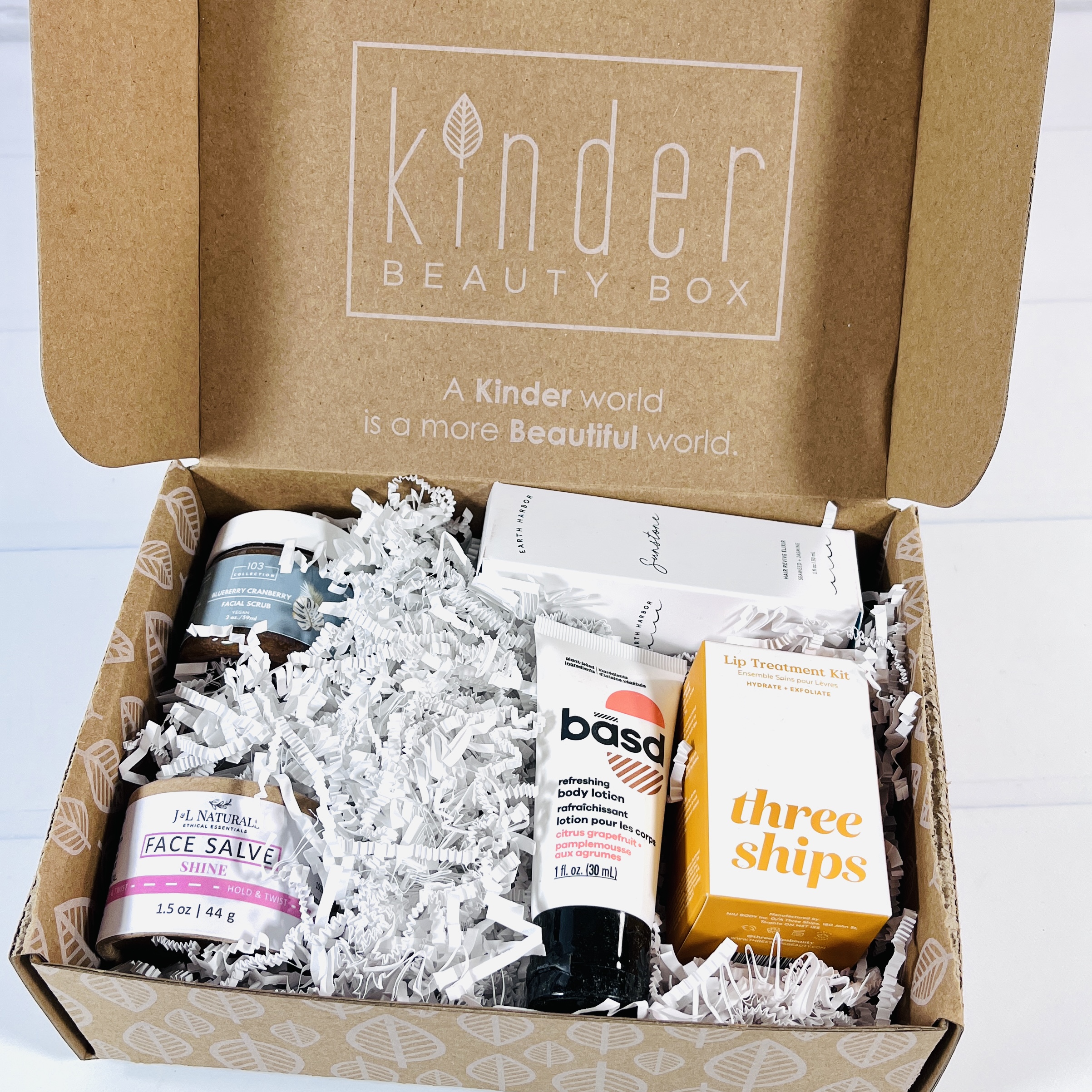 Kinder Beauty Box is a vegan and cruelty-free subscription box that sends skincare, hair care, makeup, and accessories. Each month you will receive more than $85 worth of products. The items are compassionately curated by Daniella Monet and Evanna Lynch. All Kinder Beauty Box products are guaranteed to be 100% vegan and cruelty-free. Kinder Beauty Box is $26 a month, with free shipping to the US, $5.95 elsewhere. Price drops to as low as $23 a box with a prepaid 6-month plan. Those who order a 3-month plan will receive a bonus box and those with a 6-month plan will receive a bonus box and be able to choose which box they prefer (after the first box). A portion of all sales will go towards benefiting the founders favorite animal rights and environmental causes.
Kinder Beauty's subscription box made the list in our 2022 readers' choice picks of best skincare subscription boxes!
What do you think of Kinder Beauty Box?