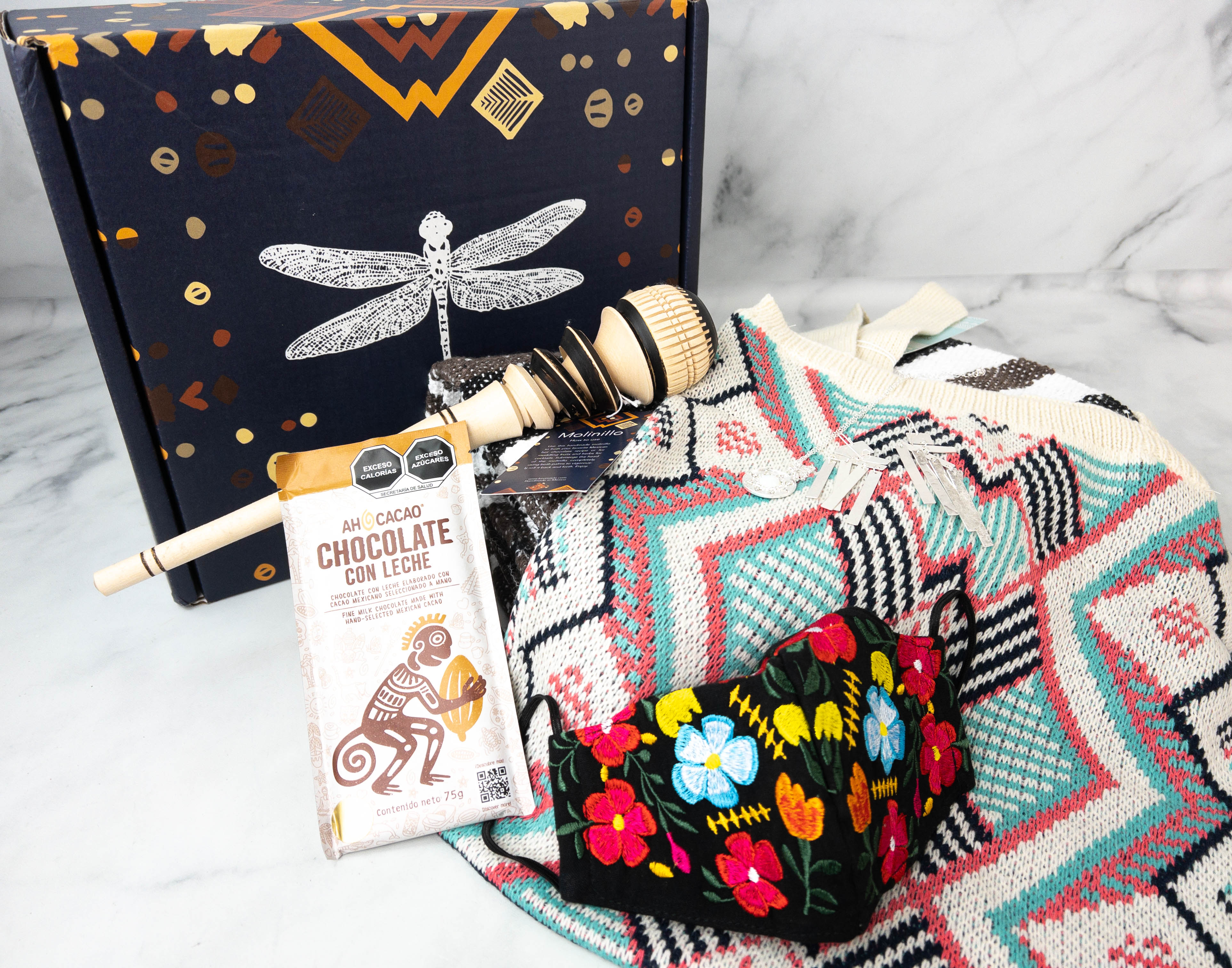 JourneeBox by Kevia took us on a tour of the breathtaking landscapes and rich culture of Riviera Maya, Mexico through a box! They also gave us a glimpse of the well-preserved ruins of an ancient Mayan port city, which are absolutely stunning. There's a total of seven items, including beautiful lifestyle pieces and a bar of chocolate for our indulgence!
FYI – we encourage you to read the comments regarding this company's shipping issues. JourneeBox has not shipped the Nottingham box, had multiple shipping issues delaying the box shown from holiday to March, and claims to have been hacked:
Dear Kevia Style and JourneeBox Subscribers, 

We regret to inform you that, unfortunately, our email address was used to send 500 spam emails. Emails were not sent to our customers, however, the action led to our account being briefly flagged, without prior notice, so that we were unable to send or receive emails. Again, the hackers had their own list of emails that they spammed. Also, our email account and payment processing data are in two separate systems so no data such as personal or financial information was breached. Your information has stayed confidential. We apologize for any concern this may have caused. If you sent an email inquiry and did not receive a response, feel free to forward your message or access customer service at [email protected] or through the live chat on keviastyle.com. 

We are extremely sorry for this incident. We have implemented improved account security measures to ensure that our account is less likely to be targeted in the future.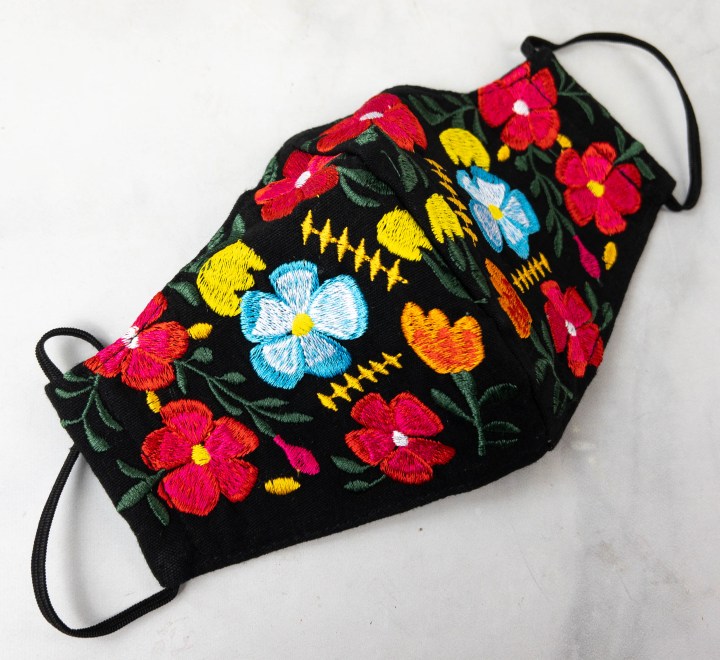 The Mexican Embroidered Face Mask was available in two base colors: Black and White. The color scheme subscribers received was determined by the colors we selected for the other customizable items in the box. This face mask is made of 100% cotton and features silk embroidery of flower patterns in many hues! The idea behind it is to show subscribers the traditional embroidery motif that varies from region to region. It's 2.5″ by 10″ in size, and it fits my face just right! It's comfortable to wear and stylish at that!
There is also an indulgent edible item in the box! Subscribers were able to choose between Ah Cacao Chocolate Con Leche (Milk Chocolate) or Ah Cacao Chocolate Maya (Dark Chocolate with Spices & Chili).
Although the Chocolate Maya sounds interesting, I've received the Chocolate Con Leche. It was creamy and decadent, it's impossible not to eat the entire bar in lightning speed! This chocolate treat is produced by Ah Cacao, a Mexican brand that uses high-quality and sustainable cacao. It was even named a socially responsible company by the Mexican Center for Philanthropy for its nature conservation efforts and collaboration with ethical farms.
Molinillo is a traditional whisk that was introduced to Mexico by Spanish colonists. The craftsmanship is evident in its beautiful shape! It has carved grooves and ridges that make it easy to foam up beverages. It's commonly used in Mexico to give your favorite drink a foamy consistency, especially hot chocolate. You can also use it with the Ah Cacao Chocolate Con Leche in the box. To use, just place the handle between the palms and twist it up real good, repeatedly. I'll surely use this one to try with other ingredients in the kitchen!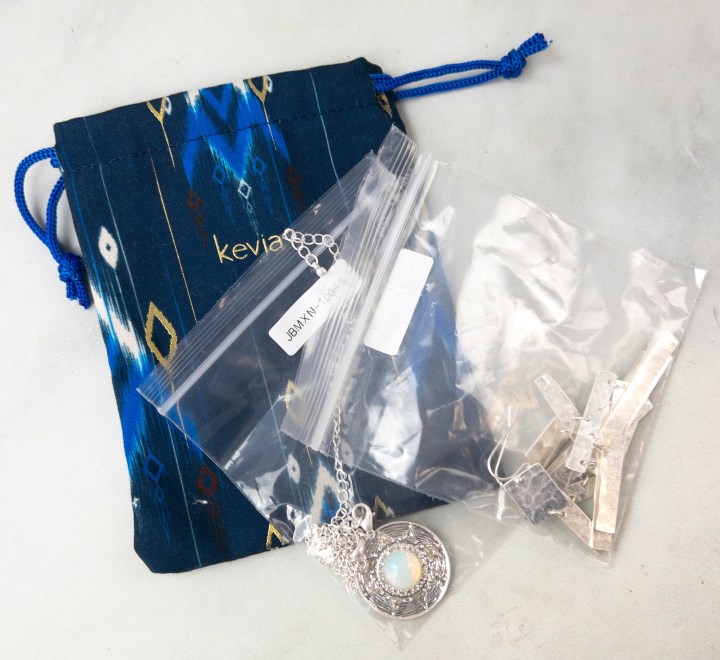 I also received two sets of jewelry in the box. They came in a blue protective drawstring pouch with a Maya-inspired design and Kevia branding on the front. Each jewelry was locked in a zip pouch.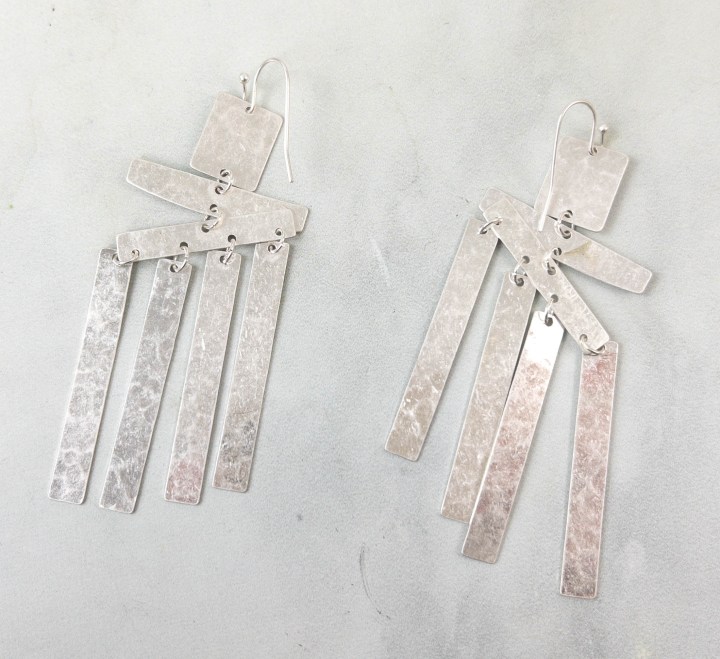 Annual subscribers like me received a bonus item from Journee Box: a pair of Tulum Earrings! This jewelry pays tribute to the architecture of the Mexican City of Tulum. The pre-Columbian Mayan walled city inspired the vertical and horizontal sections. It features a simple hammered style and texture that goes with almost everything. It is amazingly lightweight too! It looks cute! Annual subscribers can choose between an antique 18k gold or sterling silver finish.
Next up is an item from the Riviera Maya Jewelry Collection! The Mayan Sundial Necklace looks simply elegant with a pendant representing the sun. On the center of the pendant is an opaque stone bounded by rhinestones. The sun's rays are likewise encrusted with gleaming rhinestones. Subscribers were able to choose between two color options: an antique 18k gold or sterling silver finish. The chain is just the right length for me. Overall, it looks exquisite and stunning!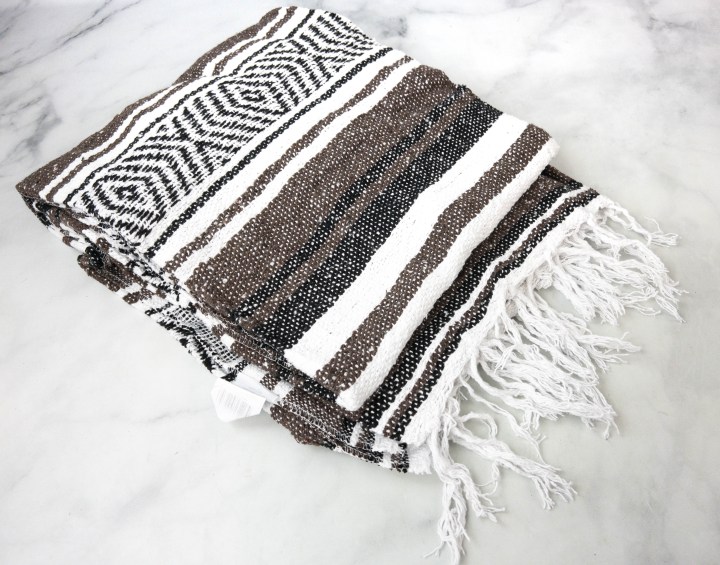 This Sabana Maya Blanket is the perfect way to keep me warm whether I'm at home or on adventures. It can be used on picnics, at the beach, or simply as home decor! It's made with 100% cotton, including 40% reclaimed material, and measures 40″x 70″. The overall product feels so snuggly and comfortable. There are three color schemes available: Indigo, Mocha, and Merlot. I chose the mocha blanket and I wasn't disappointed!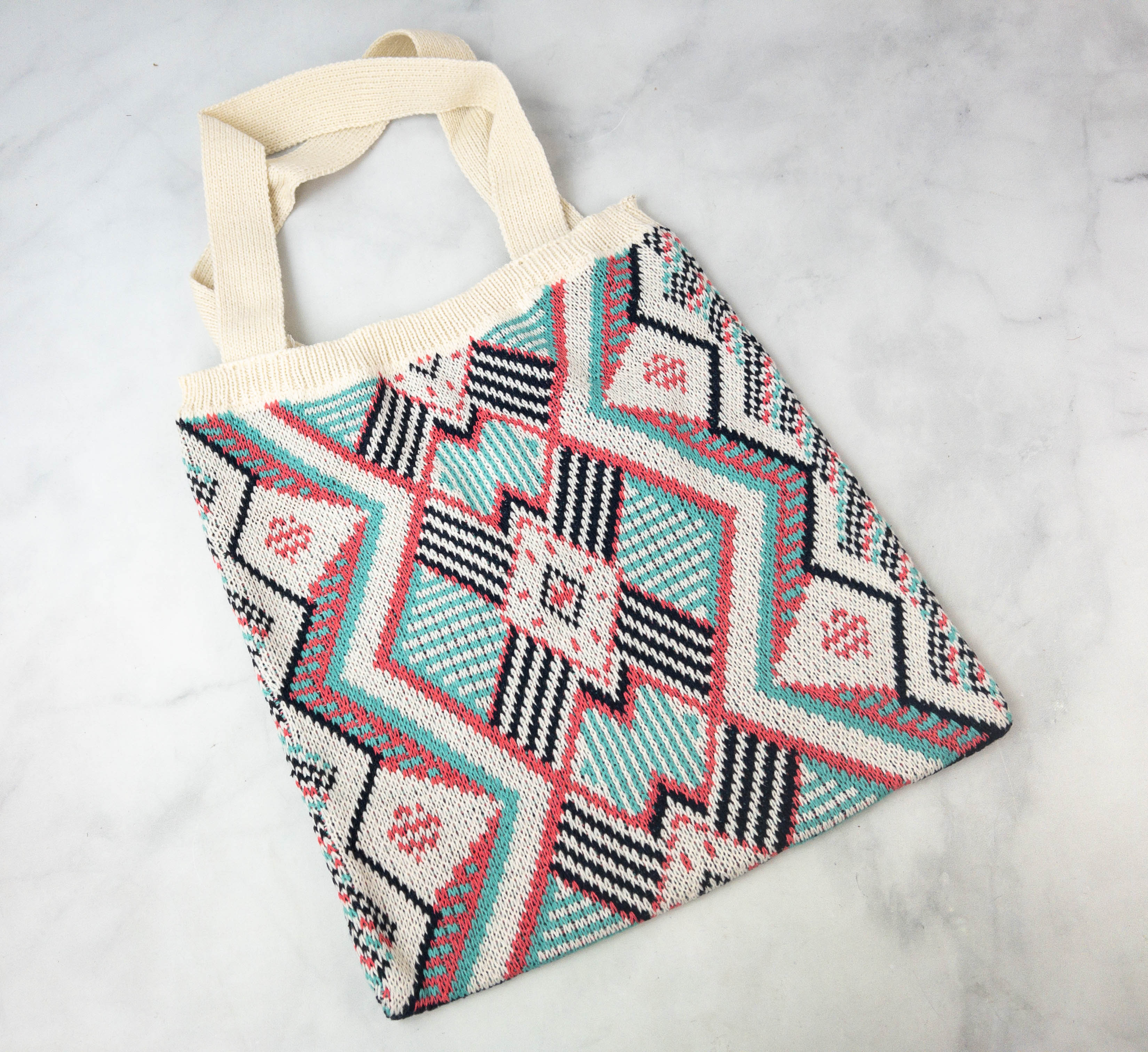 To end the box with a bang, here's a Riviera Tote Bag! It's a knit bag that measures a bit larger than regular totes, and I'm not complaining because it means more space for my essentials. It looks pretty with the Aztec-inspired pattern. The colors used were great too! You can choose between the indigo one or the cream tote, and I decided to go on with the latter choice. It's pretty durable and feels so soft when brushed on the skin! It's definitely worth adding to my favorite line, as it is perfect to use for a weekend brunch with friends or a cozy afternoon at the beach with my family!
Having JourneeBox makes you feel as if you've traveled to a specific location without actually doing so! Everything in my Riviera Maya box was fantastic, and I'm certain each item was chosen to represent a piece of the region's rich history, culture, and traditions. From the face mask to the tote bag, it is filled with Mayan inspiration! Picking out a favorite is hard, but I chose the knit tote bag and the sundial necklace at the end. The tote bag is a perfect go-to bag, while the necklace amps up my style. I just love the whole vibe of this box! They did great in curating the box, and I'm excited for more!
Each box also includes a booklet with loads of information about the place and descriptions of all the items. Here's a closer look:
Journee Box by Kevia is a quarterly subscription box filled with ethically-made and sustainable luxury goods. Expect jewelry, accessories, beauty, and home items in this box! It's $54.99 per quarter, down to $49.99 per quarter on a pre-paid annual subscription.
Journee Box is one of our readers' choices for the best subscription boxes for social good in 2022!
What do you think of this quarter's box?