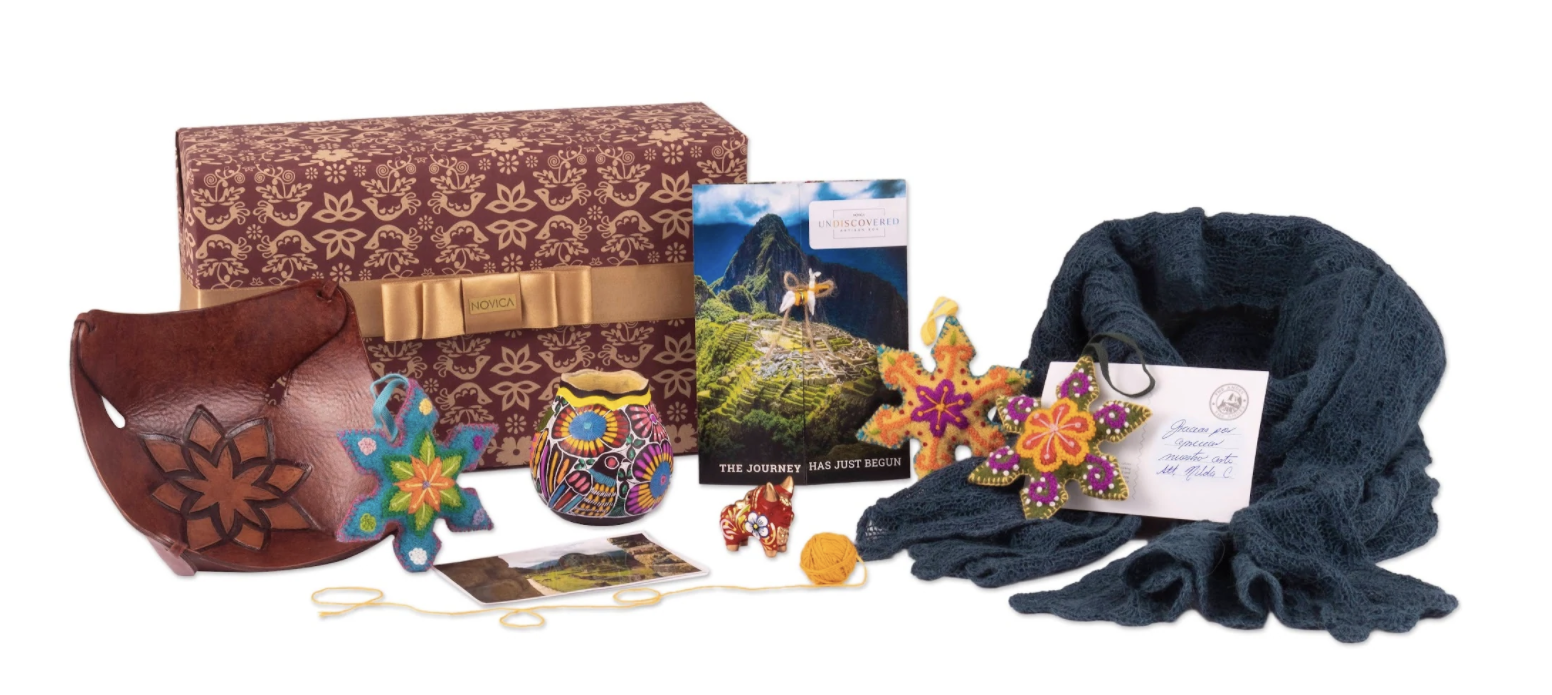 Getting a gift for someone who appreciates artisanal products? Going from one shop to another and searching for the best handmade products is challenging, but what if Novica Undiscovered can do all the work for you? This subscription box highlights authentic artisan products from different regions around the world every month – an easy way to discover handmade fair-trade gems and a perfect gift for any collector of artisanal goods (and even for those who seem to have everything already)! From dresses and scarves made in India to Guatemalan textile products to handmade journals by Mexican crafters to handpainted Thai dinnerware, each box will be packed with high-quality artisan items your giftee can proudly use, wear, or display.
Gifting this fair-trade subscription also means you're supporting undiscovered local artisans around the world! A Novica Undiscovered subscription gift starts at $59.99. Each box consists of 5+ handcrafted items, and what's great is that you can either customize the box for your recipient or choose to leave it up to the curators. Apart from the beautiful artisanal items, the gift box will also include behind-the-scenes stories and insider facts so the receiver will really feel immersed in the region showcased. Of course, food is always a part of the discovery and they always include a great recipe to try.

Expect unique and authentic artisanal goods in every box you gift! If they like home decor, there will be tableware, decor accessories, and even seasonal display items they will enjoy. If they are into fashion, stylish artisan items like scarves, accessories, and bags may also be included in the boxes. All products are fair trade, socially conscious, and ethically handmade by artisans from Asia, Africa, and Latin America.
Here's what one of our readers, Angel, said about her first box:
It blew me away. Everything about it feels special. Everything was lovingly packed in beautiful, coordinated packaging. There was a handwritten note on a postcard. The handcrafted items are gorgeous and feel unique. It truly feels like joy and love from Peru, and not like a cargo shipment of more mass-produced-in-China stuff. There were little personal tidbits about each artist and item. Even though I was able to customize/ choose every item in the box, the unboxing felt very special and exciting. I honestly probably won't use everything in the box, but I love everything and I'm thrilled to be able to support the incredibly talented artists and their traditions. I'm already very impatient to receive the next box!
Sending an Undiscovered Box as a gift is just as easy as signing up for a subscription for yourself. However, instead of your own address, you have to provide the shipping details of the recipient. Enter a personalized gift message and it will be included inside the first box shipped to them. If you wish to purchase more than one gift subscription, simply place them as a separate order. Every gift subscription automatically renews every three months but you may skip a box or cancel the next gift subscription or after a certain number (i.e. cancel after two boxes). The box will be gift-wrapped as well!
Are you gifting Novica Undiscovered?
Looking for more subscription box gift ideas? See our full subscription box gift guide!