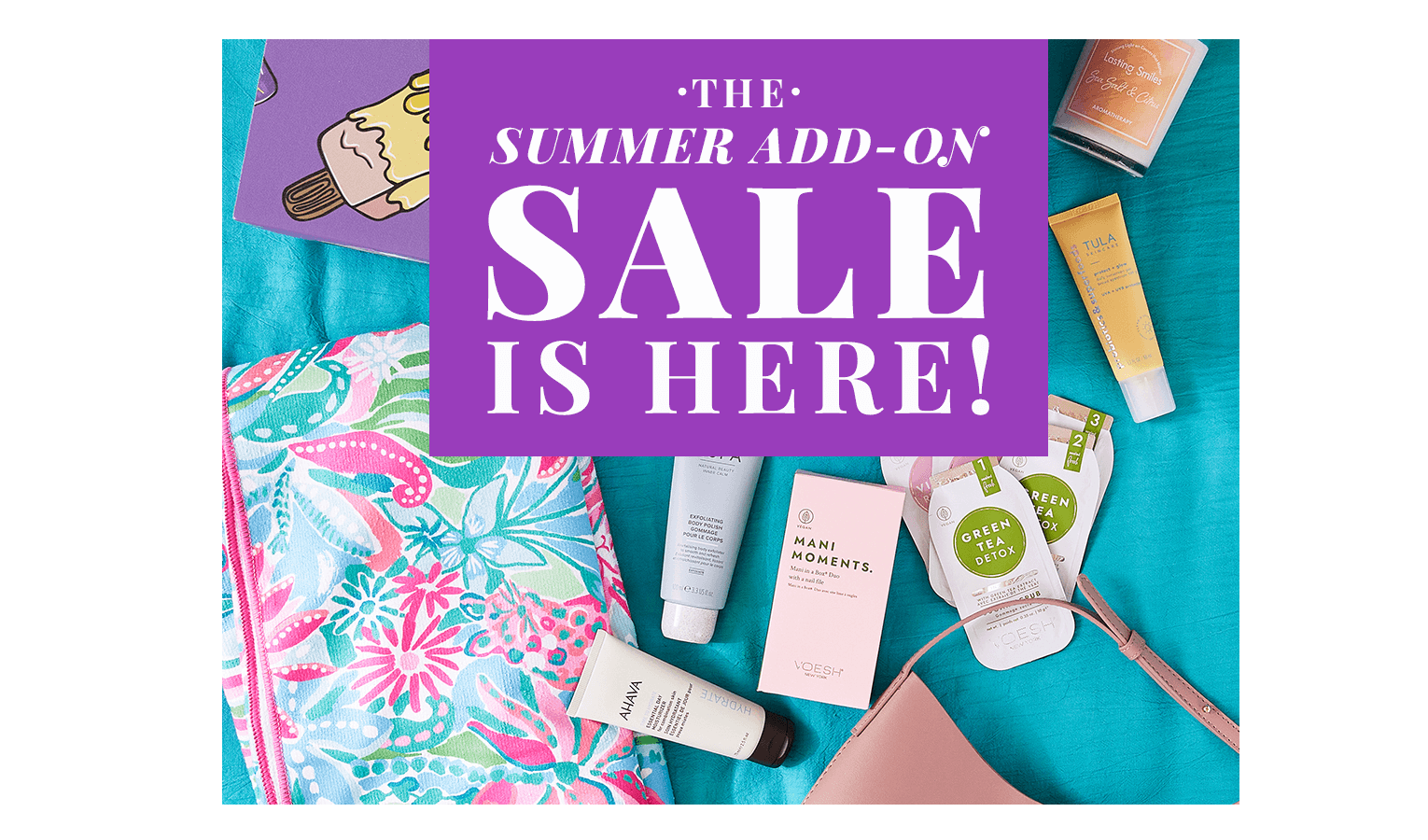 FabFitFun Box Summer 2022 box add-ons are available now with early access for Annual subscribers!
Shop the Sale – Add items to your cart up until the sale closes on May 3 at 11:59 pm PT.
No Checkout Required – Everything in your cart will be automatically billed on May 4.
Get Excited – Your items will generally ship within 1 month of your bill date. Check your inbox for updates.
Add-ons always ship free with your box, but if you're shopping for Add-Ons and not getting the current seasonal box, shipping fees will be charged in accordance with the prices listed for the Edit Sale. That's $5.95 to orders under $25 and FREE for orders over $25 to 48 contiguous states in the US.
Here's a sneak peek at the Summer 2022 Add-Ons!
Kate Somerville ExfoliKate® Cleanser Daily Foaming Wash $14 $44
An exfoliating cleanser that's gentle enough for daily use but powerful enough to rid the skin of dirt, impurities, and makeup – it's made with fruit enzymes and glycolic acid to help refine the appearance of pores and remove dead skin cells.
8 Other Reasons Checkered Clip Trio $14 $54.95
A three-pack of acrylic hair claw clips with black and white checkered patterns in varying sizes and shapes.
ELEMIS Warm Up Massage Balm $27 $62
Add some much-needed relaxation to your day with this soothing massage balm. The advanced formula provides a warming action to comfort and relax the body. Infused with a softening blend of linseed, blackcurrant seed oil and black seed oil.
MineTan Dream Glow Overnight Tanning Treatment & Mitt $19 $42.90
An overnight tanning treatment that nourishes, rejuvenates, and restores skin while you sleep. Enriched with hyaluronic acid and vitamins A, C, B3 & E, this treatment delivers a long-lasting, deeper, more natural-looking tan.
The Beauty Crop Avocado Milk and Avocado Poreless Primer $9 $28
An essential vitamin-packed duo to prep and prime the skin. Prep and hydrate skin with the Avocado Superfood Serum, then prime with Avocado Poreless Primer to minimize pores and smooth skin.
R+Co DREAMHOUSE Cold Pressed Watermelon Wave Spray $14 $29
A multitasking mist that moisturizes, protects hair, helps enhance color, and even accentuates natural waves.
Check out FULL SPOILERS for the Summer 2022 FabFitFun!
---
The FabFitFun Summer 2022 schedule is here and we have all the details!
Annual Customization: Annual Member Customization & Boost My Box & reFills starts April 29 through May 2.
Annual Member Swap for Credit: Swaps for the Summer 2022 season are available now until May 1.
Add-Ons For All: All Members Summer Add-Ons begins May 12 10 and ends on May 16
Seasonal Customization: Customization & Boost My Box & reFills open to seasonal members May 13 and ends on May 16
Seasonal Members Swap for Credit: Swaps for the Summer 2022 season are available now until May 15
All opening times are at 9am PT and all closing times are at 11:59 p.m. PT.
FabFitFun is a quarterly subscription that sends full-sized items for a fraction of the cost. For $54.99 per quarter, you'll get a box filled with premium beauty, fashion, and lifestyle items. Annual members can now fully customize their subscription, while Seasonal members have more choices than ever.
Subscribers also get unlimited Swap for Credit – if you don't like the products included in your box, you can swap them for credit! Use the credit on FabFitFun sales, add-ons, refills, and more!