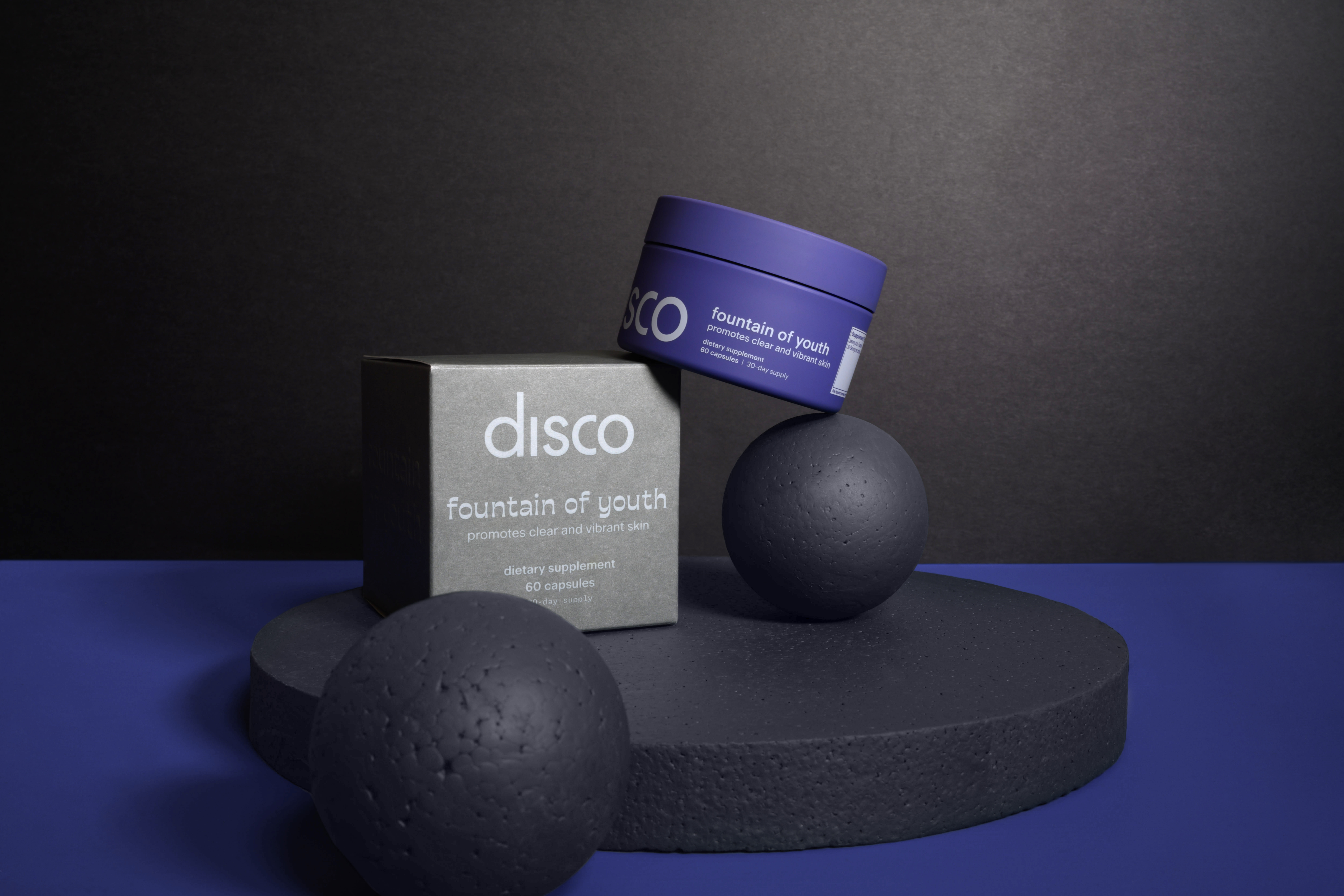 Men are not spared from skin issues, and taking care of them doesn't have to be complicated. Disco is an award-winning skincare brand that makes it downright easy to deal with acne and other male-specific skin problems like dark circles, razor burns, wrinkles, oily skin, and more. If you want to attack skin issues at the source and think deeper think, they have Fountain of Youth skin supplement which promotes clear skin, fights off breakouts, and diminishes the appearance of blemishes and wrinkles, all while fortifying gut health.
Disco Fountain of Youth Skin Supplement is only available as a subscription, so you never have to run out of supplements for a better complexion. Each bottle contains 60 capsules, enough to last a month. It costs $40 per month with a 30-day money-back guarantee. Shipping is free for orders over $50.
OR, join discoVIP to receive discounts and free shipping, members-only gifts and drops, and exclusive access!
DEAL: Get 50% off your first delivery of the Fountain of Youth supplement – just pay $20 instead of $40! Use this link to shop and use the coupon code FOUNTAINOFYOUTH at checkout.
Skincare supplement formulated for men. Disco Fountain of Youth Skin Supplement promises to give the skin a glow from the inside out! This skin supplement for men is the result of thorough research by their in-house dermatologists. It's vegan, all-natural, cruelty-free, and tailored to male-specific skin issues, providing men the solution for their skin problems without compromise!
Each capsule carries a blend of probiotics, antioxidants, vitamins, and minerals that all work together to improve the skin. The 5-strain probiotic blend specifically supports gut health and promotes a clearer complexion. Other natural skin-loving ingredients also include niacin to protect the skin cells from sun damage while smoothing wrinkles, vitamin B6 and zinc for normal immune function, and pantothenic acid to increase skin cell rejuvenation.
The recommended daily intake is two capsules after your first meal of the day. In addition to Fountain of Youth Skin Supplement, Disco also offers skincare products for men such as eye sticks, face cleanser sticks, face scrubs, face masks, moisturizers, sunblock, body wash, and deodorant. There is also a skincare quiz to help you discover your own skincare routine. It helps you in finding the most appropriate products for your needs. Tell them a bit about yourself, your skin concerns, and your current routine so they can personalize product recommendations.
Looking for similar subscriptions? Check out some of the best kits, systems, and subscriptions for clear skin!
Are you getting anything from Disco Skincare?