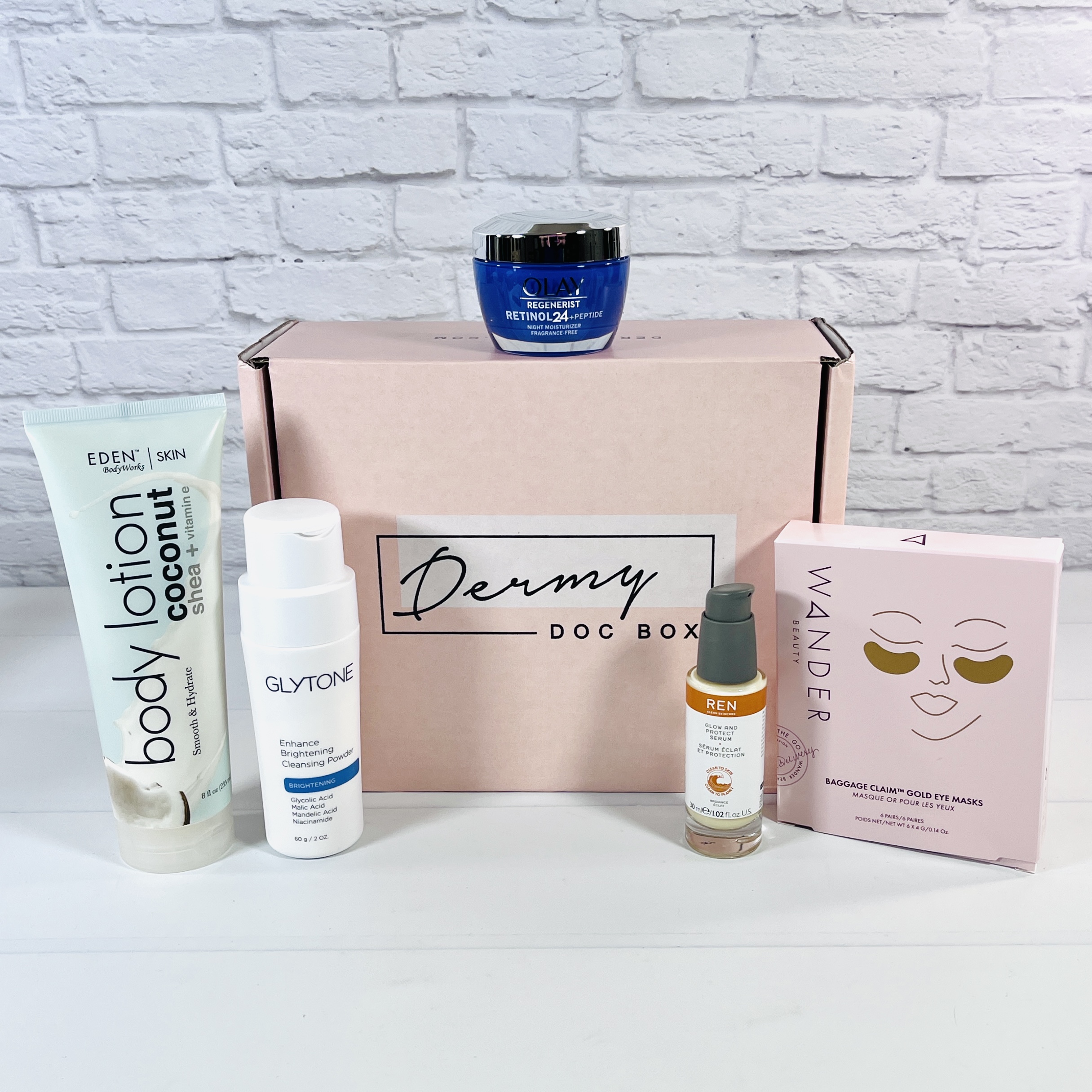 The Spring Dermy Doc Box is here to help us brighten up our skin care routine with products chosen by Dr. Fatima Fahs, a board-certified dermatologist. We received a cleanser, nighttime moisturizer, eye masks, body lotion, and vitamin C treatment! See what I found in my box below!
DEAL: Get $5 off your first box! Use coupon code HELLODERMY.
Olay Regenerist Retinol24 + Peptide Night Moisturizer ($29.99) Years ago I used Olay day and nighttime moisturizers, they worked pretty well. I even remember seeing them in the UK, where the brand was called Oil of Ulay (they've since changed it globally to just Olay). This is a non-scented, non-greasy before bed cream that is supposed to keep skin moisturized while improving fine lines and wrinkles and reducing age spots. It should be used every few nights until the skin adjusts as retinols can cause irritation. Of course, don't forget to use SPF during the day as retinols can also increase sun sensitivity.
Glytone Enhance Brightening Cleansing Powder ($50) This is a powder cleanser that you pour into your hand, add some water to create a light foam, and then apply to your face. You need to remove the lid first because there is a plastic stopper inside, then place the lid back on before using. It felt pretty gentle on my skin, although it virtually disappeared, maybe I needed more product or more water. I wasn't a fan of the scent — possibly one of the ingredients is either strongly scented or maybe a bit "off". This cleanser has an AHA, niacinamide, and glutathione and is supposed to "visibly brighten dark spots" (wait, I thought we wanted them to fade into the background?) and increase cell turnover for smoother, younger looking skin. I think this is a travel-friendly item, just place that stopper back inside and no worries about spillage.
Ren Glow and Protect Serum ($68) is a creamy serum that is supposed to leave the skin noticeably brighter after just 14 days, while antioxidants prevent further damage. It has three different types of vitamin C plus hyaluronic acid and some of the other ingredients are glycerin, pomegranate seed oil, and sunflower seed oil. It has both parfum and bitter orange oil and the scent is pleasant. I like the pump dispenser, as I dislike sticking my hands into products over and over again (like in the Olay shown above). You can apply this twice a day but make sure to wear sunscreen!
Eden Body Works Coconut Shea Body Lotion ($9.25) I used to choose sunscreens that smelled like a tropical vacation so this lotion brought back memories of the good old days, and it's a wonderful scent to remind us that summer approaches! This is a light body lotion, not a creamy butter, so again, perfect for when the weather turns warmer. I tend to use scented products on my arms and unscented on my legs, simply because I can't really smell my legs and it helps pricier lotions last twice as long. This lotion has soy oil, glycerin, coconut oil, and shea butter. It was easy to rub into my skin and the scent lasted no longer than an hour, during which time my husband complemented me on how good I smelled.
Wander Beuty Baggage Claim Eye Masks ($26) These eye masks are shiny gold on one side, white on the other, so they are cute if you like taking selfies or that sort of thing (I prefer gel masks personally, because the foil has to go in the trash, I can't recycle them, but I guess the foil acts like a blanket to keep product inside). These are supposed to do 7 different things with only one mask, like depuff, brighten, and cool the area. I appreciate that they are scent-free and they have ingredients like glycerin, aloe, calendula, and sodium hyaluronate. There was some serum left afterwards so I let it evaporate which did leave the area feeling cool but there was no noticeable effect otherwise.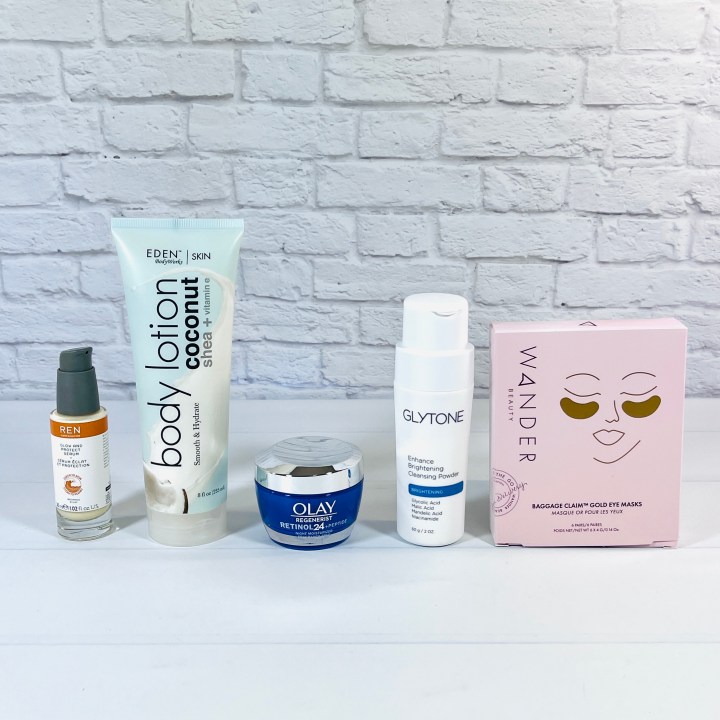 The Spring assortment from the Dermy Doc Box had a cleanser, brightening serum, retinol moisturizer, eye masks, and body moisturizer and a retail value of around $184! My favorite items were the body lotion (smells like summer!) and the eye masks (because I am an optimist when it comes to that delicate area). The moisturizer, serum, and cleanser were the pricier items in the box and worked well enough for my skin type and should work for most people. The box isn't customizable but the items are pretty universal and the product info card reminds us that all products may not be a fit with everyone and to test them to make sure you aren't sensitive to the ingredients.
Below are some more box opening pictures plus the product information guide and a laminated card with a suggested skincare routine and the order in which to use products both day and night (although not necessarily every step every time!).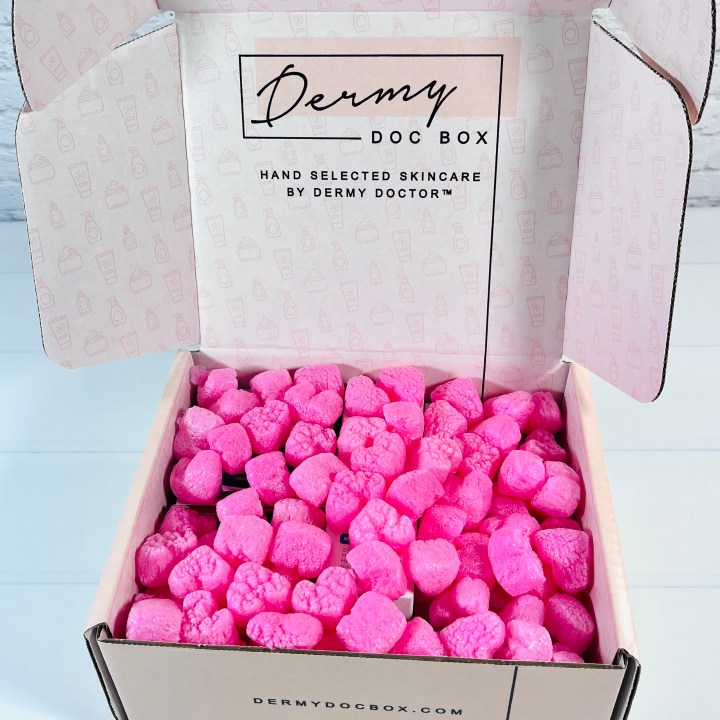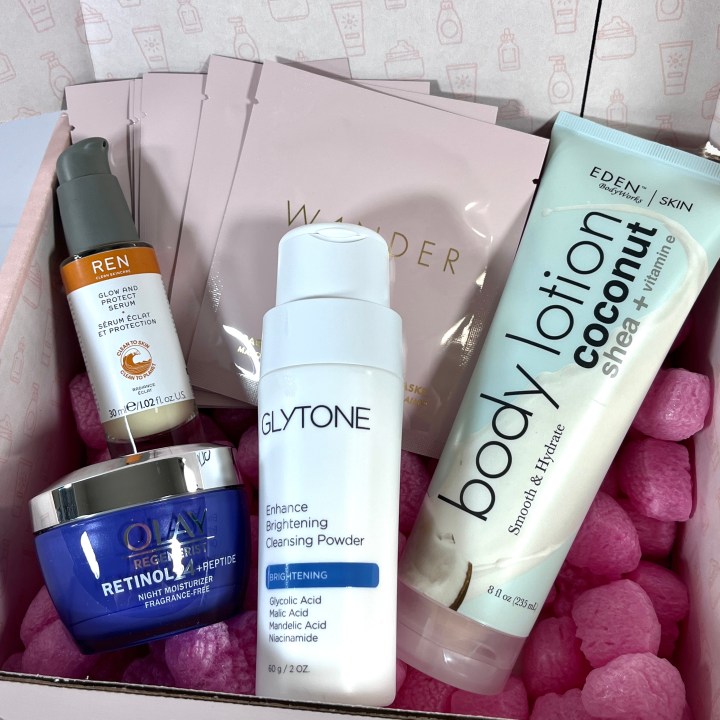 Dermy Doc Box is a quarterly subscription box full of skincare items that are curated by a board-certified dermatologist, Dr. Fatima Fahs. The boxes will contain 5+ skin and hair care items and will have a value of more than $100. The brands will be both drugstore and high-end and will be a combo of samples and full-sized. It's not customizable at this time but perhaps will be so in the future. Dermy Doc Box is $59.99 for a one-time purchase or subscribe and the price drops to $49.99! Shipping is free to the USA and it can be shipped to Canada for an additional fee.
What do you think of the Dermy Doc Box?