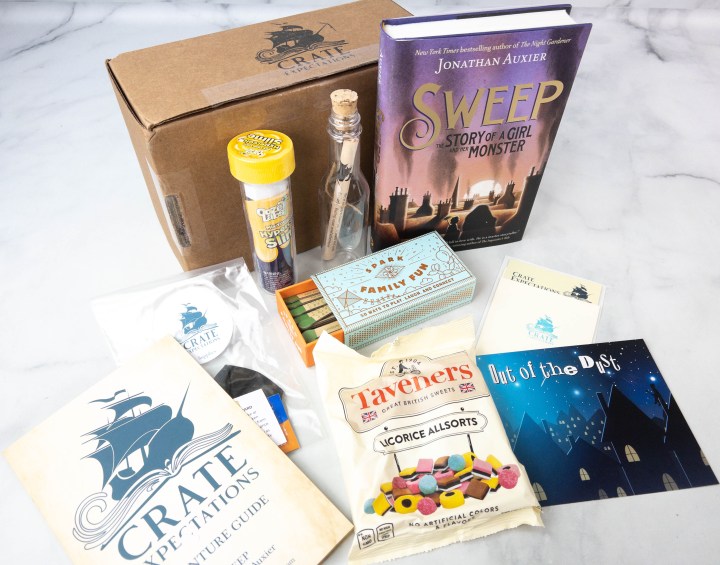 A new box means a new adventure for Crate Expectations! For March 2022, the box gave young explorers a way to get OUT OF THE DUST. The box included one book to read, a treat to enjoy while reading the story, and STEM-inspired items that'll bring out all the fun of friendship, hope, and wonder!
DEAL: Get 10% off your first purchase! Use coupon code HELLO10.
The featured book to keep is Sweep: The Story Of A Girl And Her Monster by Jonathan Auxier ($11.39). This novel is about a girl named Nan Sparrow, who is orphaned and alone in London. This story will bring a roller coaster of emotions to your heart. It is a tale about bravery, selflessness, and friendship. It also has bits of history in it, showcasing how orphans from Victorian London were barely surviving.
Like all books from this subscription, it came with a library checkout card on which kids could rate and review the book they had just read. It arrived in an envelope, and you can stick it on the book's endpaper.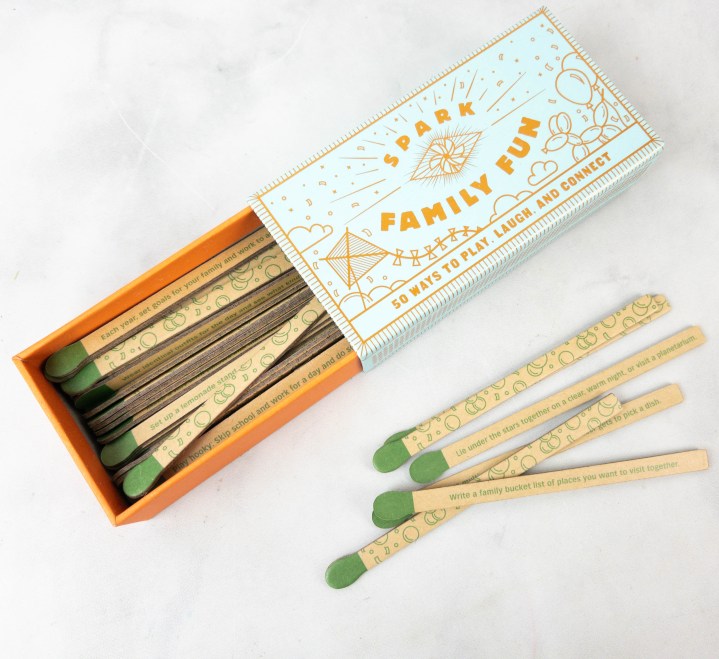 The first bookish item in the box is called Spark Family Fun, a game that contains ways to play, laugh, and connect! It's fun and thrilling for all ages and is a very creative way of having a family night. The box includes 50 faux matchsticks with printed prompts that will serve as conversation starters for the whole family. It's a magical process to create fun memories that'll last a long time.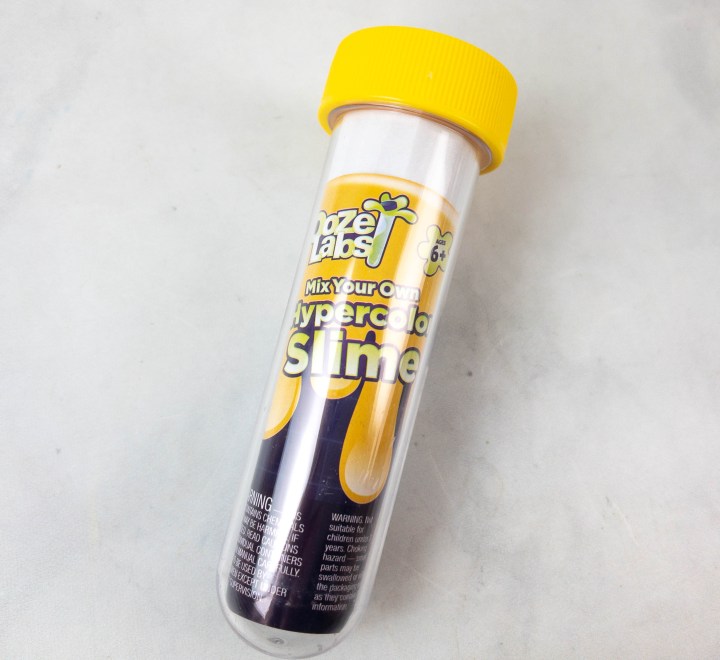 For an exciting STEM experiment, here's a tube of Thermocolor Slime, which changes from green to blue depending on the temperature. Reacting to heat just like Nan's golem, Charlie, it's a fun magic surprise for young bookworms! This experiment kit allows aspiring scientists to make their own color-changing slime. It comes in a big and chunky test tube containing kid-safe materials.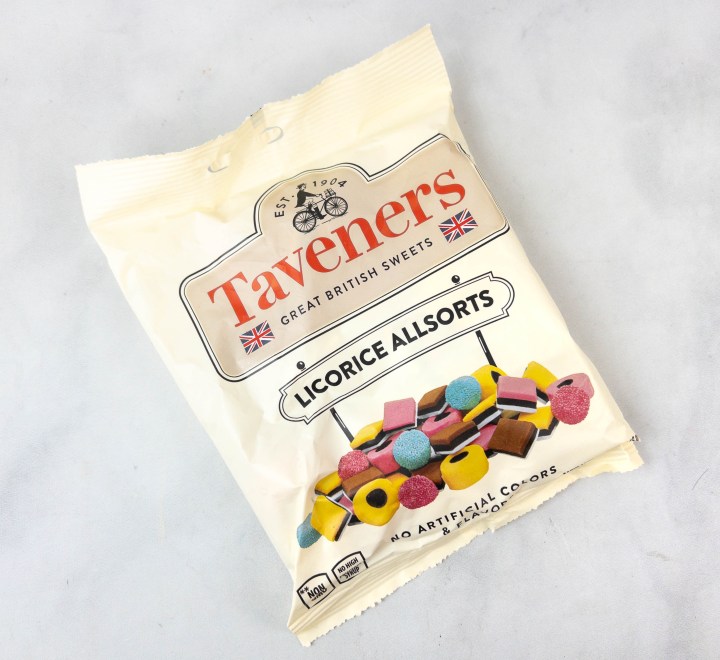 The box even includes Nan's favorite treat! It's a pack of licorice treats from Taveners. Each piece has a unique texture and flavor that my kids liked. There are blue and pink aniseed jelly buttons, pink and yellow rolls with a licorice center, and assorted colored fondants sandwiching a layer of tasty licorice. It comes in all sorts of colors and flavors, making it quite interesting for kids.
Each box also comes with an Adventure Guide that'll steer more enjoyment! Inside, you'll find Q&A with the featured author, Jonathan Auxier. There is also a page with a STEM Activity for kids to work on. For this month, it is Change Matters in relation to what made Charlie, Nan's monster, sparked to life. It came with a balloon and Alka-seltzer tablets to help your children get on with the experiment. In addition to discussion questions, the guide includes a Bookaner log, a special writing activity, a recipe for Spiced Soot Cakes, and more!
Crate Expectations monthly boxes are always full of fun and excitement! They're themed differently and thoughtfully curated with young explorers in mind. This month, the book included in the box had us teary-eyed. It's a heartwarming tale of not just bravery but also friendship, sacrifices, and selflessness. Also, the bookish goodies included were all in line with the book. My kids had fun playing with the color-changing slime! Plus, there is an Adventure Guide that contains all kinds of information. It's the subscription you need to instill kids' love for reading, all while having fun!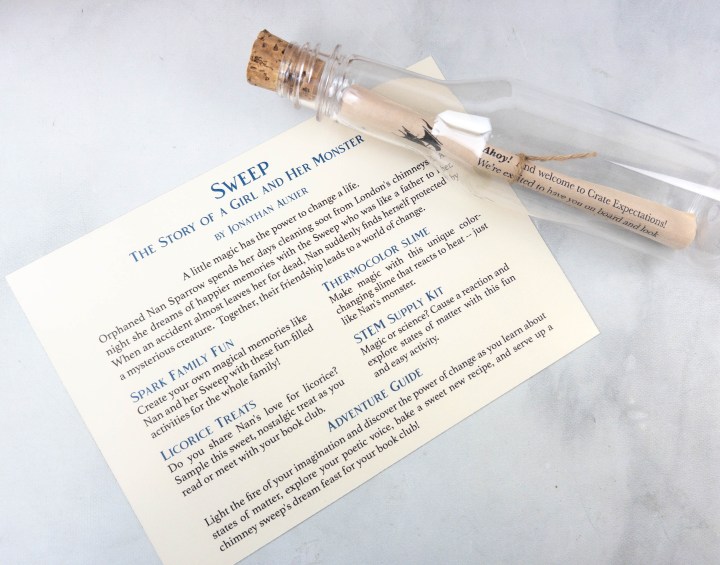 Crate Expectations is a monthly kids' book subscription box that sends a quality book paired with a one-of-a-kind Adventure Guide and toys or games. Plans start at $32.99 each month, plus shipping and tax, and they also offer 3-month and 6-month subscriptions. Each box contains their book club pick of the month, 2-4 specially curated toys or games, a book-related STEM activity, and supplies, an exclusive author interview, a book-inspired recipe and menu ideas, book club discussion questions, and recommendations for further reading. The box is suited for 8-12-year-old kids and a favorite subscription box for tweens and pre-teens!
The Crate Expectations middle-grade readers box made our 2022 readers' choice list of best book subscription boxes for kids!
What do you think of the Crate Expectations box?